time for another tahoe recap! i need to get this in the bag before i forget all the details. if you are just tuning in, i went to south lake tahoe for my first wedding anniversary back in july. i recapped day one here.
day two was friday. marshall and i woke up and rode our bikes to a cute breakfast spot we had spotted on our way into town.
heidi's looked promising. it really did! it was quaint, cozy and decorated with ridiculous knickknacks. all the necessary components to a delicious local breakfast, right?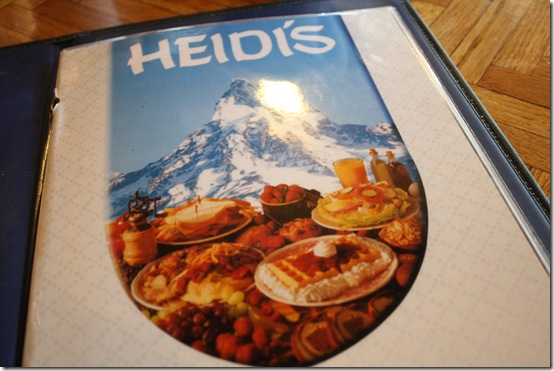 wrong. i eventually found out that heidi's is a chain, that's my first rule for vacations: do not eat at chains. ugh.  it's not a big chain—but a chain none the less.
we were seated within about 5-10 minutes, but then we waited quite awhile for anyone to come to our table.  eventually we received some water, but it tasted FOUL.  if you have ever had bad restaurant water, then you know the taste i am talking about.  our waitress finally came and right off the bat she was a little snippity.  we'd had plenty of time to review the menu, so we ordered right away.
i wanted something that i don't always get, so i went with the crepes.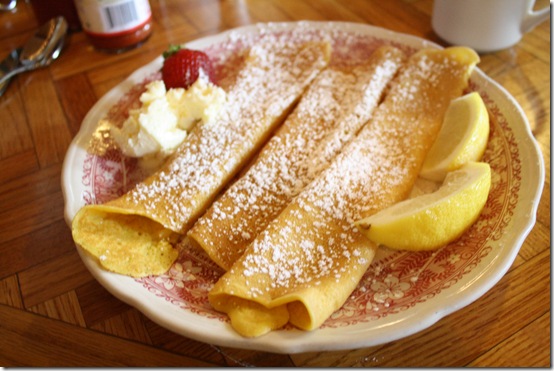 i also got a side of egg whites for protein.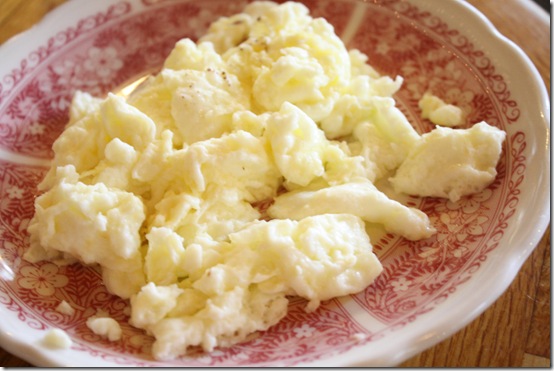 my whole meal was cold. marshall wasn't a big fan of his meal, either.  and it was expensive! after the tip, we paid nearly $60 for a crappy breakfast. of course, we still tipped the usual 25% because that's what we do, but it was really just a huge letdown. it had 3.5 stars on yelp, so for the rest of the trip we decided we'd only go to 4 or 5 star yelp-rated restaurants.
after breakfast we biked around the town and browsed some of the shops.  we also booked a massage for saturday!
i honestly could not tell you what happened that afternoon, because the photos on my camera skip straight to dinner. my guess is we napped and listened to the hunger games audiobook—but i could be wrong. the world may never know.
we went to a highly recommended restaurant for dinner that night. the main reason we went there is we could take the dogs to dinner! SOLD.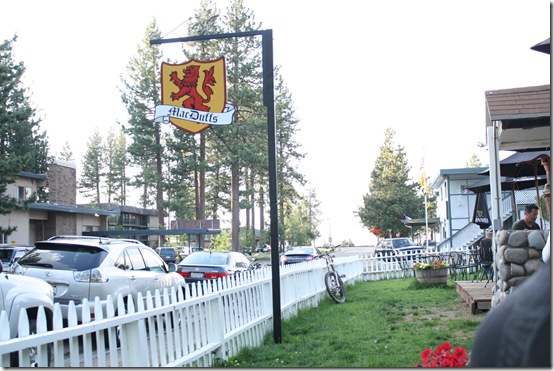 macduff's was a very short walk from where we were staying. how convenient! we were given a warm welcome, the employees squealed at penny and randy and we were immediately seated in the outdoor area.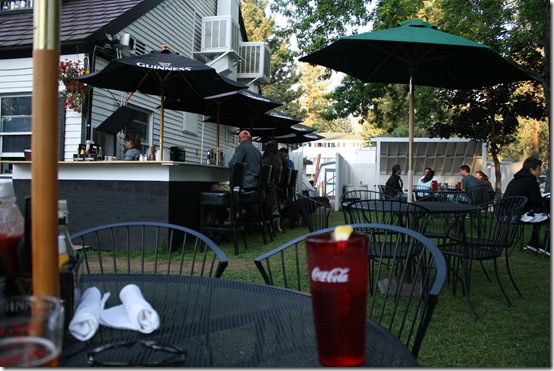 we looked over the menu and ordered drinks. i rarely drink beer because i would rather eat ice cream, but i was on vacation and at a pub—it was a no-brainer. side note, did you know that "pub" is short for "public house"? i didn't! until i read the menu!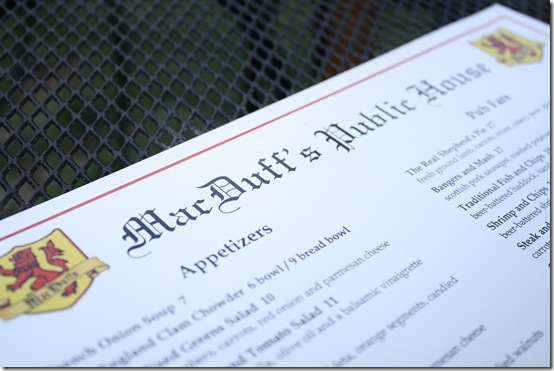 the beer menu was cool because it told you not only the alcohol percentage, but how many miles between the restaurant and the brewery it came from.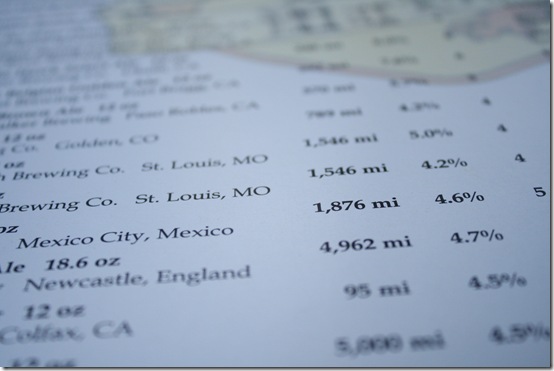 i ordered a monkey knife fight pale ale, which was brewed 102 miles away in sacramento, california. i ordered it because it was local AND because of the name.. which happens to be the title of one of my favorite minus the bear songs. what?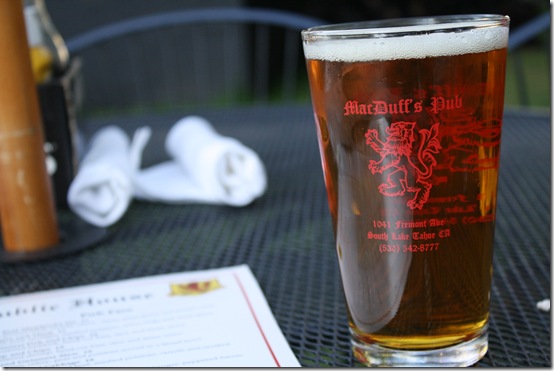 marshall doesn't usually drink alcohol, but he saw that there was an all natural pear cider on the drink menu and decided to give it a try (he loves pears).
this was after he ordered his usual coffee. three drinks.. it ain't no thing.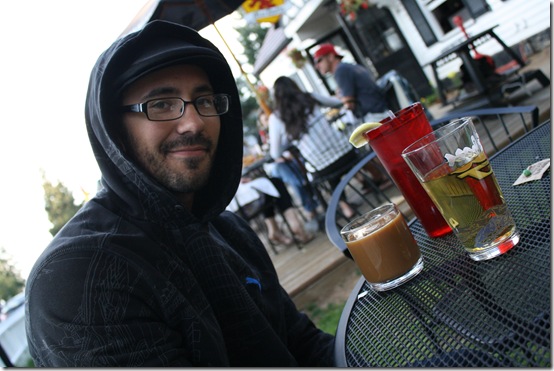 the food menu was amazing. it was SO hard to decide! i eventually picked the lake tahoe forester burger..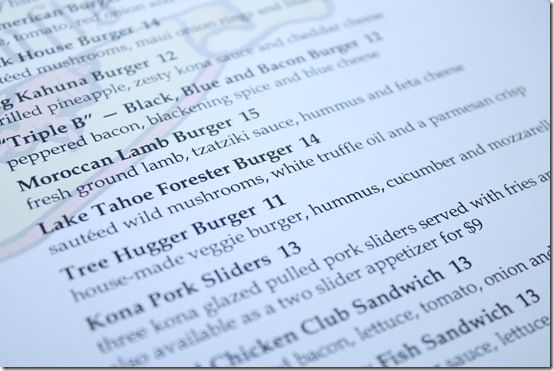 sauteed wild mushrooms, white truffle oil and a parmesan crisp. yes, please!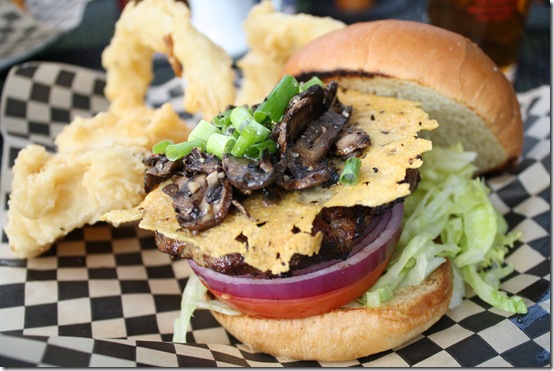 instead of fries, i got the most amazing onion rings i've ever had in my life.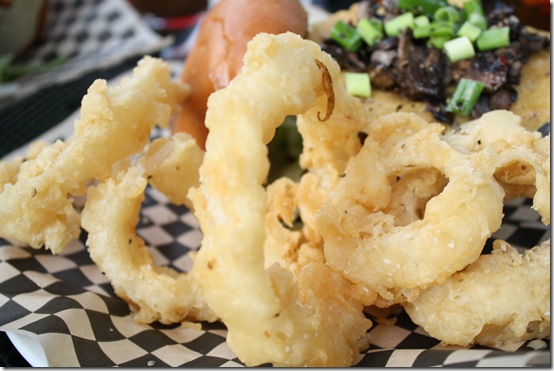 marshall ordered a burger, too. his had the meltiest blue cheese and lots of bacon. it was SO delicious.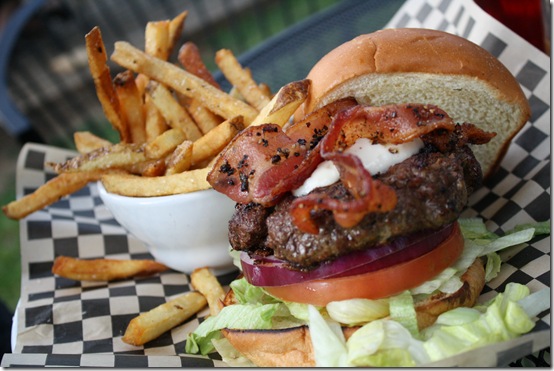 his fries were just as tasty as the onion rings. we ended up sharing, because sharing is caring.
the pups may or may not have had a few bites of hamburger. they are SO spoiled.
bringing your dogs to dinner is basically the best ever.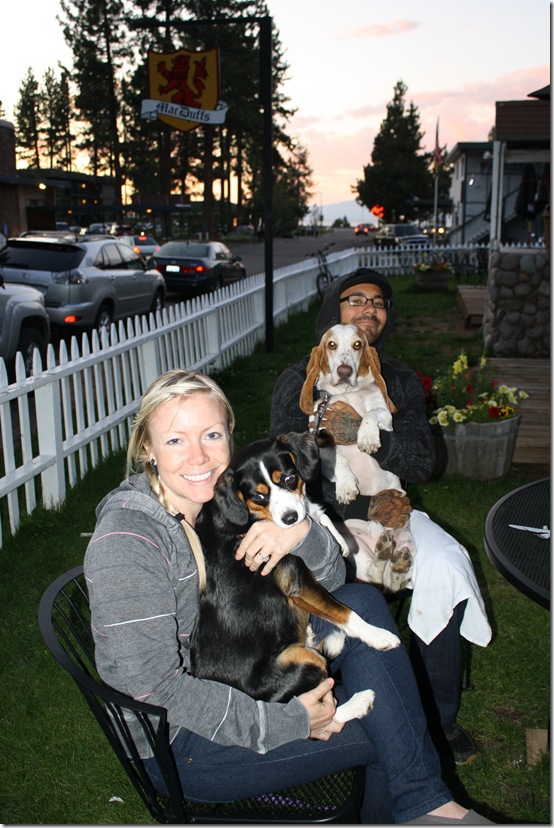 after dinner we decided to walk down by the lake. we caught a few shots just before it got dark—lake tahoe is STUNNING.
we walked out on a dock with the pups—they weren't quite sure what to think.
we sat on the dock for awhile, just soaking up the outdoors.
by the time we started walking back to where we were staying, our sweet tooth (teeth?) had kicked in. lucky for us, there was an ice cream parlor on the way back :)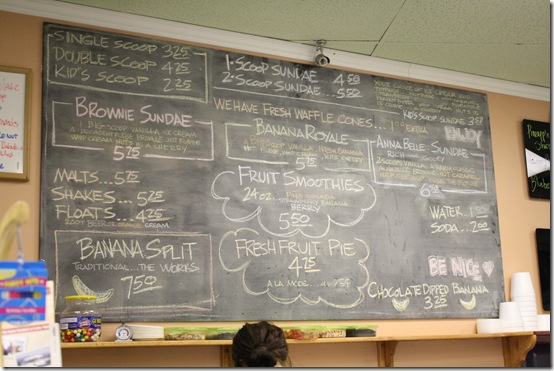 i got one of faves—cookies & cream. it's only second to vanilla bean with fresh peaches.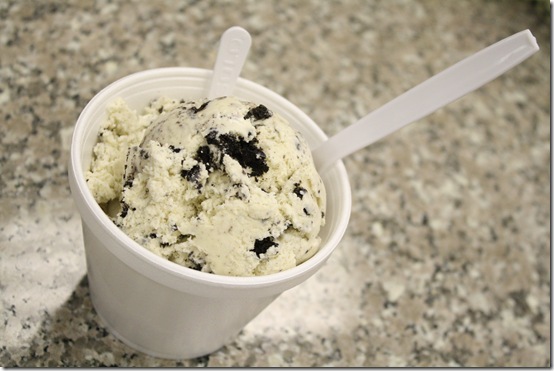 we meandered back to holly's place and called it a night. a good, good night.
Qs~
1. are there any chain restaurants you like? it's hard for me to love chain restaurants. they all taste the same (and honestly kind of "blah"). i do love eating at chipotle, cafe rio and whole foods. but, for the most part, chain restaurants are dead to me. and if i am on vacation, they are an absolute BAN.
2. when dining out, do you usually order a drink? (non alcoholic or alcoholic) i get water 80% of the time. there is that 17% of the time that i order coffee and the remaining 3% of the time when i order a beer. 
xo. janetha g.