YOU GUYS! I MISS BLOGGING!
don't get me wrong, invoicing 198 winning bidders, collecting over $26k and matching up buyers to sellers is fun and all.. but i definitely miss my daily blog posting and reading. like you wouldn't believe!
with the amazing help of morgan, all TGFA auction invoices have now been sent out. if you think you won something and didn't get an invoice, let me know.
a couple fun things..
also, a big huge congratulations to my favorite vegan momma around, mama pea, her book is now on shelves! go buy it!
i am not even going to bother catching you all up on my life lately. i will tell you that it's been full of fundraising and family fun. my sister and her family headed back to california today :( it is always nice to see them when they visit utah each summer, but it is also sad to see them go. we will be heading to san diego in november to visit them.. cannot wait! (also, i would love to do a san diego blogger meet up!)
********************************************************
flashback friday: tahoe day 1.
remember how i went to tahoe back on july 14th for my first wedding anniversary? well, i have more than just instagram photos of the trip! i want to flash back and recap the highlights. i will be honest and say it is more for me than for you. i love looking back on past vacations!
marshall, penny, randy & i made the 585 mile drive on thursday the 14th.. leaving right around 8 AM.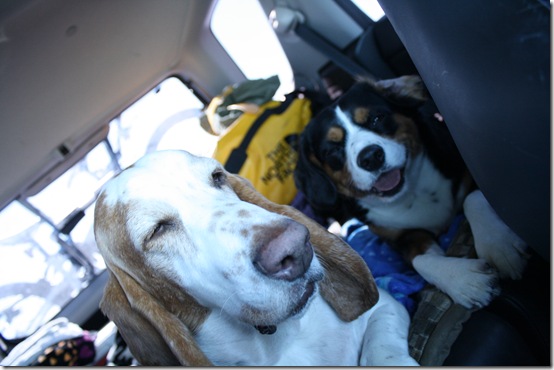 it was a loooong drive, but seemed to go by fast.
we were happy when we finally arrived south lake tahoe!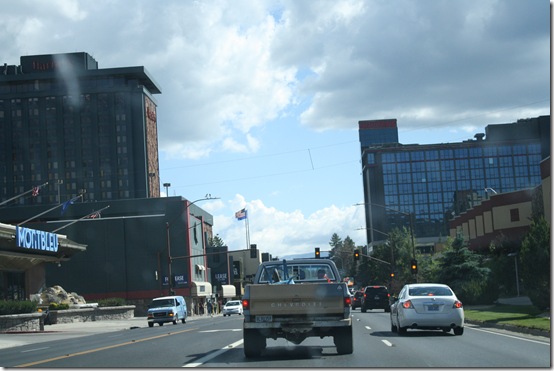 we were staying at a dog-friendly resort called holly's place. it was acres of fenced in land with tons of trees and plenty of space for the pups to roam freely.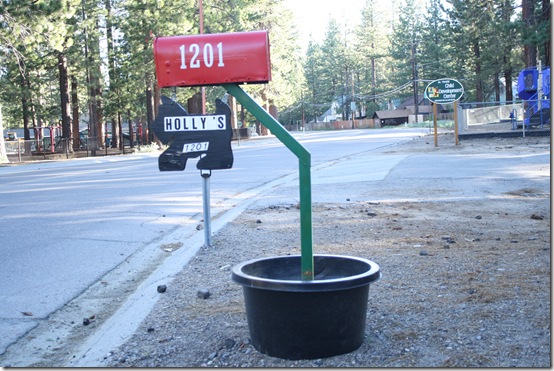 we headed to the office and checked in. there were tons of little knickknacks all over the place. super cute!
we were staying in "the king suite" which mean king size BED. you guys, this was rad! marshall and i hardly have any room in our queen bed at home because penny & randy are bed hogs. the king sized bed was a dream come true! the room had its own little patio, a kitchen area, a nice bathroom and a whole lot of purple. my favorite.
there were also some welcome bones for the dogs!
holly's place had a community room with a full size kitchen, games, movies and other, uh, community-ish things.
it was dinnertime when we finally got settled, so marshall & i left the pups to roam at holly's and headed to a highly recommended restaurant called freshies. it was walking distance from where we were staying! or biking distance.. so we took our bikes.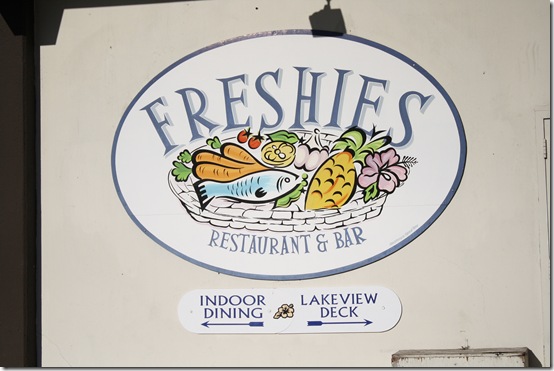 there was a nip in the air, so we had coffee.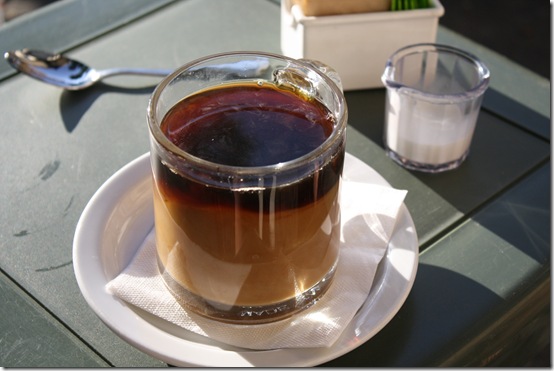 we sat on the upper deck that overlooked the lake. it was gorgeous!
everything on the menu was either local, organic, all natural or all of the above.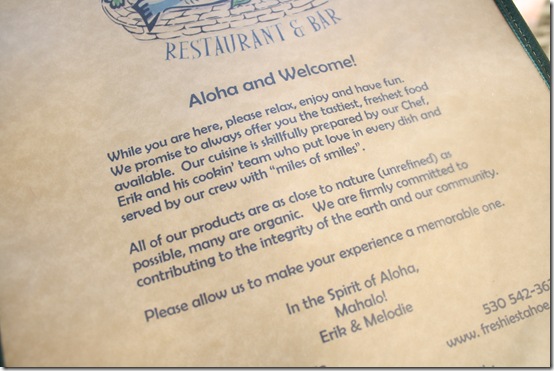 we ordered the "magic potato balls" for an appetizer. the name alone sold us.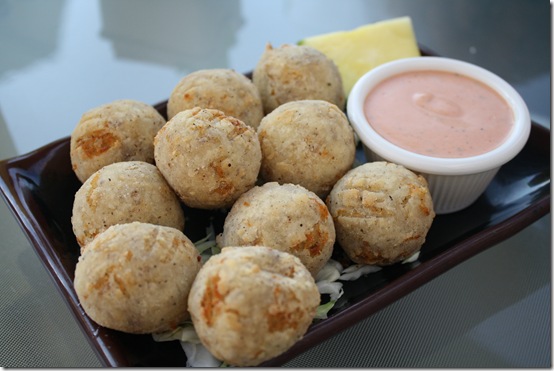 Erik's Croquettes or "magical potato balls": Organic Russet potatoes, shredded then mixed with sour cream, garlic and cheddar, rolled and tempura fried.
they were tasty and the sauce was a spicy delight.
for my entree, i ordered a single fish taco (because it came highly recommended) along with a small order of the local's favorite salad: the crunch.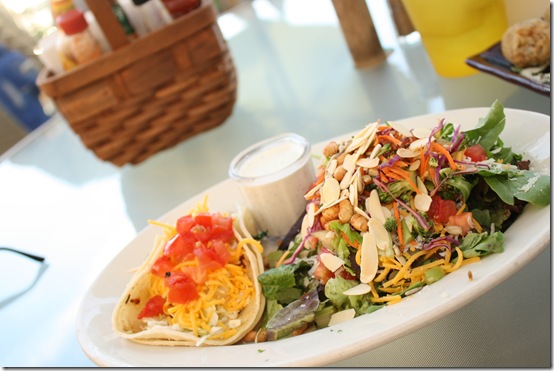 Fish Tacos: Fresh and delicious Red Rock Cod on 2 corn tortillas with shredded cabbage, cheese and tomatoes.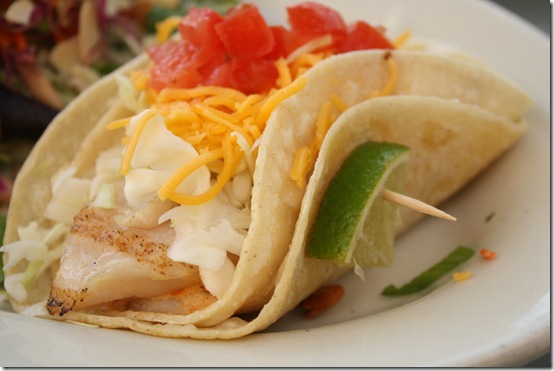 Undeniably, The Local's Favorite: The Crunch – Tender organic greens with organic carrots, tomatoes, celery, broccoli, red cabbage, two cheeses, almonds, sunflower seeds and roasted soybeans all with creamy basil dressing. Whew!'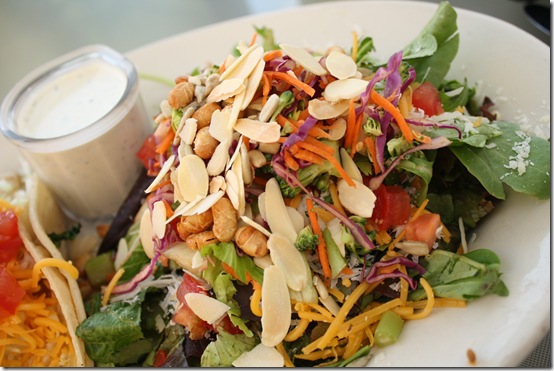 this salad was AMAZING. i can see why it is the favorite. i can't wait to re-create it!
after a delicious meal, we biked back to holly's place where we were greeted by two whining pups. yes, penny & randy stood whining at the gate the whole time we were gone! little babies.
we cuddled up with them…
and with a pint of this…
and called it a night.
it was the perfect first day of our vacation.
that's enough tahoe flashback for today. i will be sure to recap the more exciting days sometime soon!
********************************************************
even though this week was a short (4 day) work week for me, it has seemed to drag on FOREVER. i am super excited that it is finally the weekend! we are having a BBQ tonight with some friends, i am sleeping in until 2 PM tomorrow (not joking) and then the rest of the weekend will be filled with a whole lot of nothing. i absolutely, positively cannot wait to be lazy.
hope you all have a wonderful weekend, whatever you do!
Qs~
1. have you ever taken your pets on vacation? where did you go?
2. what is the most exciting thing on your weekend agenda?
xo. janetha g.