Square Palm Leaf Plates – Set of 25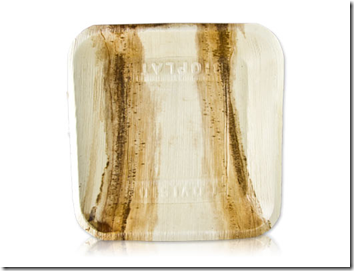 Description:
These environmentally friendly square palm plates are made from a natural, renewable, and biodegradable raw material. Naturally discarded sheaths of the leaves of the Adaka palm tree are collected, which in the course of its biological life cycle, dry, fall and regenerate. No trees are cut down. The palm sheaths are then cleaned in fresh spring water and molded into shapes (read How Palm Plates are Made for more info).
Palm leaf plates are durable and leak proof, able to withstand hot and cold temperatures without getting soggy or flimsy. They are tough enough that you can cut steaks on them, standing up to both the serrated blade and the pressure required to cut the meat.
Even though these are disposable plates, each durable piece is unique with an attractive wood pattern finish that fits into both rustic and elegant events.
Will ship to USA & Canada.
Contributor: Marx Foods
Bidding starts at $10 USD. Bidding closes at 10.45pm Eastern Standard Time.
If you would like to bid, leave a comment with the US $ amount below.