Swappeez Sandals
Description: Step out in style this summer with the latest from Swappeez Sandals.  These super chic sandals are elegant and VERSATILE, giving you fabulous feet wherever you go.  A series of interchangeable straps, buckles and accessories offer a number of style options with just a single sole.  Available in a variety of colors with a limitless number of mix n' match accessories.  Simply swap out your straps and tops to create a new sandal instantly.  Finally a pair of trend setting sandals for all your occasions!
The Swappeez organizer offers 5 looks in one. Go sans any buckles to create a sexy strappy sandal or choose from one of the four buckles to create a look thats all your own.  Additional mix n' match accessories are available for purchase at www.swappeez.com.  The styles are always changing, so stay tuned.
Available in ten different colors; black, white, tan, silver, gold, bronze, pewter, fuchsia, turquoise, and yellow.  Available in size 5 to 11. Winner picks size and color.
*Winner will receive a pair of sandals that will come in a case that has been autographed by lots of well-known celebrities!*
This autographed Swappez case, signed by James Van Der Beek, Katie Holmes, Terrell Owens, Aubrey Fischer, Drew Carey, Gary Busy, Blake Lewis and Mark Walberg just to name a few can be all yours with your choice of any color Swappeez and their mix n' match accessories!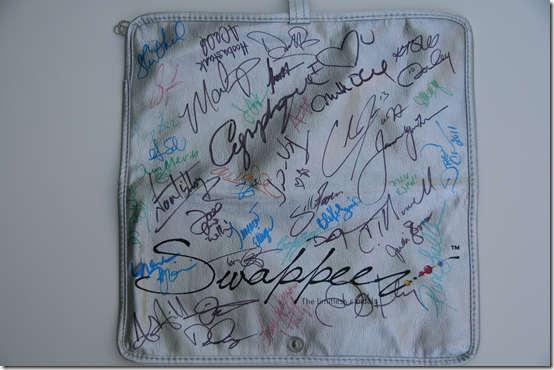 Will ship worldwide.
Contributor: Swappeez Sandals
Bidding starts at $10 USD. Bidding ends at 6.00pm EST.
If you would like to bid, leave a comment with the US $ amount below.