i better get my blend retreat recap written before i forget what happened! pregnancy brain is a thing—i had THREE reminders for last week's dentist appointment (they call, they text, and they email) and i STILL spaced it. i rescheduled for tomorrow at 9.. so i really hope typing that out will help me get there.
anyway.. blend retreat! it has already been a week since it ended, which seems pretty crazy. considering all the planning in the months leading up to it, to have it over in the blink of an eye is so strange. i am going to try to wrap the weekend up in one post, so grab a snack and get your reading glasses.. this could get a wee bit lengthy. you know me.
this year's event was number three. the first year it was in boulder, CO, last year it was in park city, UT, and this year we were back in park city once more. this year we did it a few weeks later than last, which was a stellar idea because the weather was WAY nicer. i love PC!
side note.. i am gonna be stealing a bunch of photos that travis took because i only had my phone and his photos are way better than any i could ever take, fancy camera or not. thanks, trav.
although it was in the same location, this years retreat was quite different from the last for a couple reasons. number one? well—pregnant. duh. my life has changed a whole lot since last year and i am not the up to par planner that i used to be. another reason? katie resigned from the company and lauren took her place. i was sad to see katie go, but lauren has been an awesome replacement and she is one of my favorite people around, so it's been fun to get closer with her! and, of course, i always love a reason to get closer to lindsay.
it was fun to have it local for me again this year, because my sisters, SIL, and mom were all able to attend! it was so great to have them there and a million thanks to them for all their help! (yes, i was as tired as i look.)
i won't bore you with thursday's preparation.. but it was long and hard and it always sucks but in the end it's totally worth it. thanks to all those who helped this year!
the event kicked off on friday with registration. it was so fun to see familiar faces and meet plenty of new ones. there was no shortage of hugs. the early arrivers set off for a fun run put on by oiselle. afterward there was the most adorable snack break by arctic zero.. mason jars, chalk boards, and stripey straws. this had pinterest written all over it.
the afternoon whizzed by and it was time to shower for the cocktail hour before i knew it. the cocktail party was put on by sizzlefish and FLUROwater, two new-to-me companies. the FLUROWATER custom cocktails were refreshing and delightful. sure, they would have been better with booze.. but my fetus would have not appreciated that very much. sizzlefish prepared a tasty salmon appetizer that was grilled on cedar planks. it was definitely a hit among the crowd.
cheers! (and, no, this awesome color coordination was not planned by my family!)
the one glitch we had was that the photo booth folks had technical difficulties and so there was no photo booth. i LOVE photo booths, so i was super bummed, but hopefully it didn't piss too many people off. actually, it probably didn't, because i think people were more focused on being pissed about dinner. haaa..
so, dinner followed the cocktail hour and we thought it would be a fun and different idea to serve pizzas and salads instead of your typical chicken-or-fish-with-two-sides meal. (it was the same price either way, and we wanted to be different from last year.) rumor has it that people were really put off by this plan, because it wasn't a healthy choice(?!?) and this was supposedly a healthy retreat. (haha.. healthy food is not the focus of the retreat. at all.) i will say that the first batch of pizzas were a little cold (the kitchen's fault and timing was off) but overall, it was a delicious idea and hopefully most of the attendees were stoked on it. it's never fun to get bad feedback when planning event, especially when 81% of the ticket price went to the dinner that got bad feedback, but i guess that's part of the ballgame. noted for next year. ok, that was my one low-light.. back to rainbows and sparkles and whatnot.
dessert was a trifecta of tarts, and i can't decide which i liked most. luckily i was able to eat all three, and so i didn't have to decide.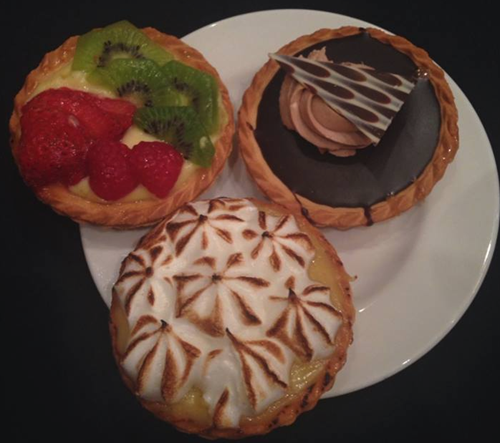 saturday came too soon (probably because i was up late laughing with my family) and so i slept through the onnit boot camp. let's be honest, i was never going to actually DO the boot camp, but it would have been fun to watch.
instead, i rolled into the quest breakfast with an appetite and excitement—mainly because i love quest bar! they had an incredible spread of scrambled eggs (scrambled tofu for the vegans), breakfast potatoes, chicken apple sausage, sweet pastries, and a quest treat. it was definitely my favorite meal of the weekend!  every attendee received a bag-o-quest bars at their breakfast seat. such a generous company.

photo from lauren
saturday afternoon was definitely the best part of the weekend. it was GORGEOUS weather. i had arranged to privately hire the canyons gondola for the retreat. my BFF jessica's husband happens to be the man in charge at the canyons, so he was there to help make sure everything went smoothly. thanks, simon!
family love!
organic valley led a hike from mid-mountain (where the gondola let off, 4 miles from the base.)
i hung back with jessica (who came up for the afternoon) and a few others. it was nice to bask in the sun and enjoy the day.
there was some time between saturday activities, so a bunch of us headed to the pool to cool off. i loved that the weather was so nice! it was awesome to have more time to just chit-chat with all the girls attending the event. that's what blend is all about.. relaxed, easy-going good times. i split a sandwich with my mom, but made sure to save room for the kidzshake snack break at 2. they were whipping up delicious chocolate banana protein shakes and i also popped a couple strawberry protein balls.
the remainder of the day we were on our own. marshall came up and joined a big group of us for dinner. i was missing his face, so that was nice that he made the journey. after dinner we headed back to the hyatt and my mom started whipping up her infamous utah scones. she did this last year and it was a big hit, so she had to again! back by popular demand!
i love it because everyone comes and just chills out and chats and eats scones and has a good time.
sunday kicked off early with another boot camp, this one led by GPP. i got my butt out of bed and headed to the boot camp, simply because i haven't seen my GPP friends in months upon months.  i didn't participate, but i did watch everyone and took photos. much easier than burpees.
breakfast on sunday was sponsored by yoplait greek and nature valley. it was a spread of steel cut oats with toppings, an egg white frittata, yogurt, granola, and various bars.
after breakfast, we wrapped up the weekend with a closing ceremony and raffle. the raffle is always great because everyone gets to win something. our sponsors are always so generous and it's fun that everyone can win. we gathered almost everyone together for a group photo before saying our goodbyes.
a few final thoughts..
blend this year was definitely different for me. yes i was pregnant and so that changed things a little.. but i also have been SO out of the blogging loop lately. i haven't blogged much at all and i definitely haven't been reading blogs. i won't lie, if i wasn't one of the event organizers, i probably would not have attended the retreat this year. my life is so focused on other things these days. however, i am so grateful to be a part of the planning-and-executing team for the retreat and i am VERY glad i was there. i had an awesome time! even though my involvement in blogging has changed over the years, the friendships i have made are still good as gold, and there is always room to make new friends. i am sure people noticed i wasn't as focused on this as i have been in years past, but that doesn't mean i didn't enjoy the weekend any less! right now, i don't really care about working out or photographing my food or blogging about my every day. i am just in a different place in life, and that's okay.
the cool thing about this event is you don't need to be super into blogging to go and have a good time. i had a ball with my family, none of whom are bloggers. many girls use the weekend as a reason to get away and have a good time together—it really is a unique event where you just come and have fun, do things you love with likeminded people, and don't care about how to make your blog better.. because, really, that shouldn't be your main goal in life. am i right??
needless to say, my enthusiasm towards fitness took a back seat at blend this year. that didn't mean i couldn't have a blast at the retreat. so many people think it's a weekend jam packed of exercise and eating like birds, but i assure you that is not the case. sure, there are four organized events to get your sweat on (a run, a hike, and two boot camps).. but nothing is mandatory. i know that very few attendees did ALL four activities. we just like to have a variety! something for everyone.. or if you don't want to do any of it, then don't. i didn't. (although i somehow got more exercise over the weekend than i have gotten in months.. all that running around!)
same goes on the food front. we try to have a large variety of options. two breakfasts, a dinner, a cocktail hour, and two snack breaks.. a little something for everyone. plus some spare time to try the local cuisine.. and then, of course, the scones! and, if none of that appeals to you, well.. shit.. you can always eat the swag! there was a lot of it.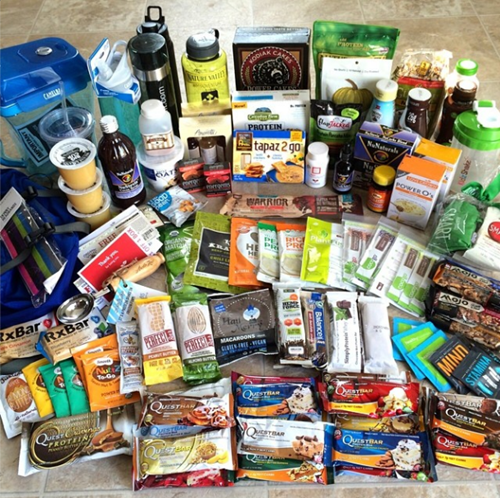 photo from heather
it is definitely hard to organize an event where so many different people are in attendance, but we do hope to please everyone in one way or another! i think everyone had a fun time this year, and hopefully everyone will come back next year for the fourth retreat.
we already have it booked! it will be back in boulder, colorado.. where we had the first retreat! we are going back to our roots at chautauqua.. it is going to be a ton of fun! plus, i won't be pregnant, and i will actually have my little dude (and my big one) with me. i am already super excited!
thank you to ALL the attendees and sponsors that participated in blend retreat this year. i had an awesome time and it was great to be a part of it.
xo. janetha g.