hi!
it's been raining all day.
i drove about 20 minutes on the freeway to meet my friends for lunch and i was legit white knuckling it the whole way. hate driving in sheets of rain.
i almost didn't go to the gym.. but i did drag myself there.. i mean, i'd been sitting indoors all day, moving just a little bit was probably a good idea.
so.. yeah. it's cold. and wet. and my poor, sweet husband works outdoors. bless his soul.. i could NEVER do that! he's tough.
sooo.. we had a meal plan switcharoo and i made this quick, comforting, healthy chicken noodle soup. SO good. SO perfect for the damp, drizzly evening. (actually, i had soup for lunch, too! soup is just so good on rainy days.)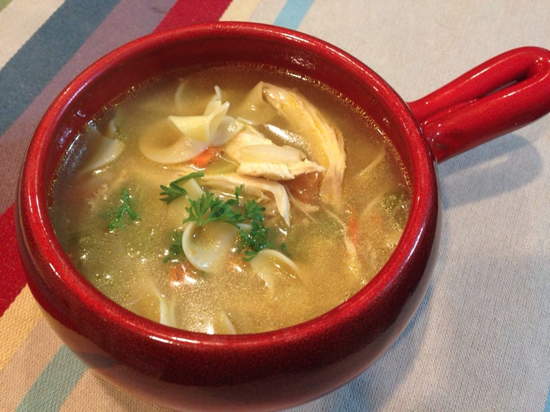 quick & clean chicken noodle soup
makes six large servings
(i totally cheated and bought a bunch of pre-chopped, pre-cooked ingredients.. so we will call this semi-homemade. it came together quickly and was delicious, which is all that really matters!)
ingredients:
1 TB olive oil
14 oz diced onion, celery, and carrots (pre-chopped from the store.. you can find this at target, trader joe's, whole foods, probably any grocery store) OR 1 onion, 5 stalks of celery, 3 large peeled carrots.. all chopped up!
1 TB minced garlic
2 quarts chicken broth
4 oz wide egg noodles
3 bay leaves
a few sprigs of fresh thyme
1 tsp each of salt and pepper
16 oz rotisserie chicken, shredded
fresh parsley for garnish
directions:
heat a large, deep pot (i used my le creuset dutch oven) over medium heat.
add veggies and garlic, sauté for 5 minutes.
add broth and bring to a boil. boil 5 minutes. 
add noodles, bay leaves, thyme, salt, and pepper. bring back to a boil.
reduce heat to low, cover, and simmer until noodles are cooked through.. about 5-8 minutes.
stir in chicken. add more salt & pepper, if needed.
enjoy!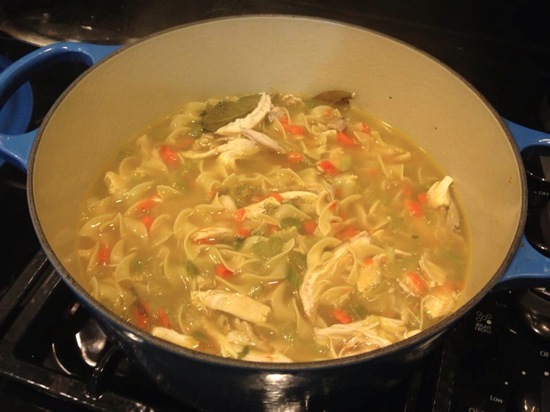 this recipe has great stats! lots of protein from the egg noodles and chicken. the sodium content may be higher than you are into, but you can always leave out the added salt! check it out: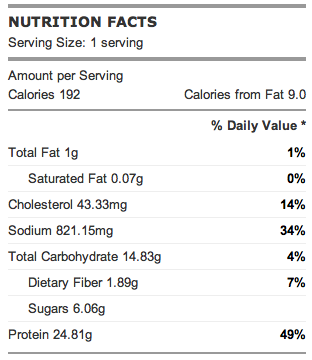 there are plenty of leftovers for tomorrow. hoping it's not quite as rainy… but at least it's friday! hooray!
Qs~
1. what is your favorite kind of soup? 
2. i say "comfort food".. you say "fill in the blank".
xo. janetha g.