hey! happy saturday. hope your weekend is going well. i am just about to head out to my dear friend michelle's wedding. it's a beautiful day–perfect for a lovely outdoor wedding. i am so excited for her!
my day up to this point has been semi-lazy and semi-productive. a little bit of both–it's a good balance. i initially planned to get up and do the GPP workout this morning, but the last class is at 8:45 on saturday and i slept until 10. whoops! oh well, a late night out with mandy was totally worth the hours i lost while sleeping in.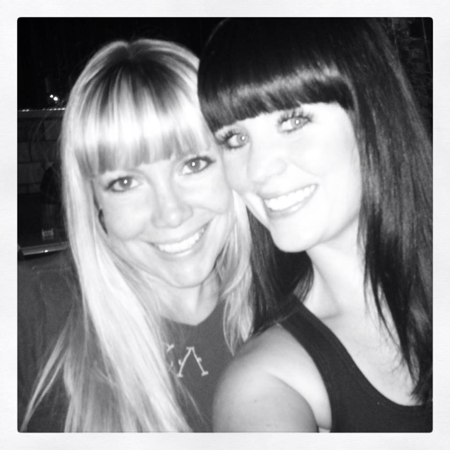 we went to gracie's and poplar last night. those of you who are utah locals need to check out the food at gracie's. it was my first time there and it was super good. they have a sunday brunch that i definitely need to check out–for the creme brûlée french toast alone!
anyway, i slept in today and then ran a few errands, picked up an americano with extra soy, and then headed home to make breakfast. or, i guess it was lunch, since it was 12:30.. but it was my first meal of the day.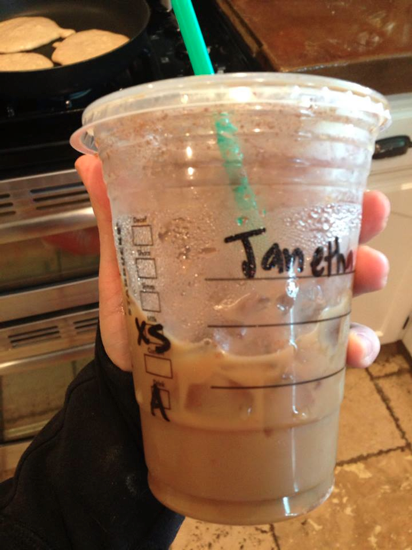 i really felt like waffles, but i was too lazy to get my waffle iron out (i know) so i decided pancakes would have to suffice. i've been eating steel cut oatmeal every morning for about two weeks, so pancakes seemed like a nice switch up. i totally forgot about some gluten free, vegan protein pancake mix i received as a sample awhile back from wholesome chow… so i decided to give it a whirl.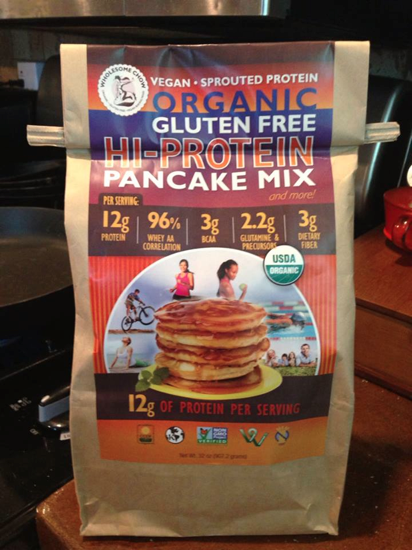 i made it non-vegan by adding an egg to the batter. the recipe calls for a scoop of pancake mix, 1/2 cup of nondairy milk, and either 1 tsp of apple cider vinegar OR an egg. i went with the egg option, because the only reason i was trying the pancake mix was for the nondairy aspect of it.. not the vegan thing. i also added a bit of vanilla bean paste and ground cinnamon to the batter.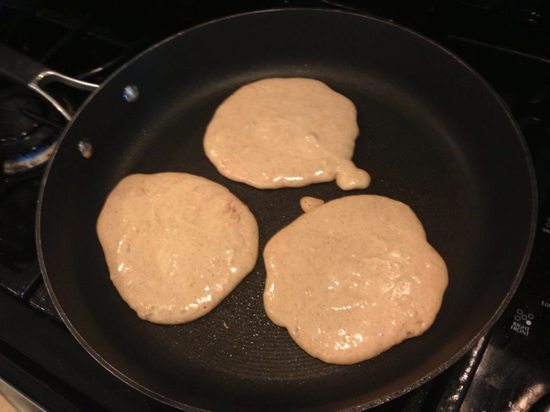 the single-serving batch made three good sized pancakes. i topped them with butter and syrup. i don't do dairy, but for some reason butter doesn't bother me (thank god, because it's so good.)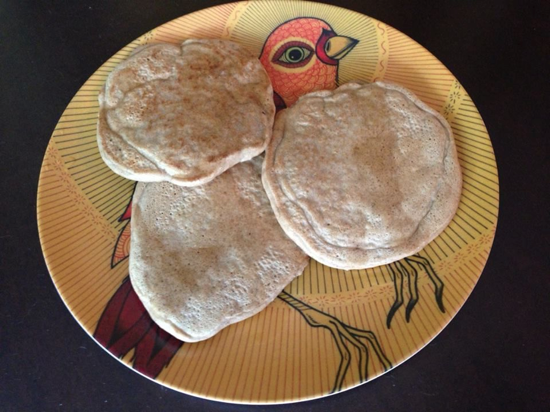 these pancakes were heavy, thick, and dense. definitely not your typical fluffy pancake. they tasted… healthy. that's the best word i have to describe it. don't get me wrong, they were good, but they had that distinct "i am healthy" flavor to them. know what i mean? but they are a great option! i like that they are organic. if you are vegan or have a gluten intolerance, you may want to check this mix out.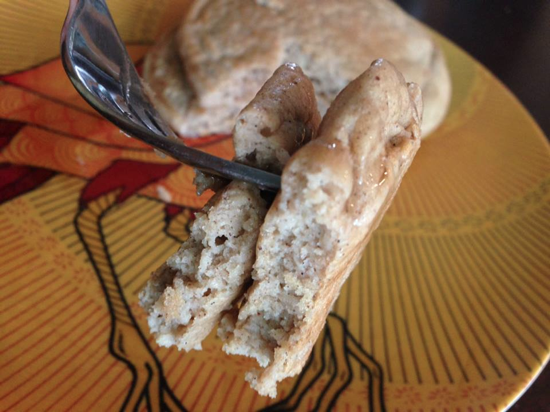 soo.. those were good. not something i would opt for all the time, but i didn't hate them. they claimed to be high protein, and in one serving there was 12 grams of protein. not a ton, but i added 6 more grams of protein with the egg.. so 18 grams is better. i aim for 20-25 grams of protein in my meals. 
okay, about the title. i am getting a much-needed massage tomorrow! marshall and i decided we deserve them and so we booked a couple of 110-minute massages. i am a complete nut job and prefer to be super sore when i get a massage. i love getting DOMS (delayed onset muscle soreness) from working out and what i love even more is getting a massage when i have DOMS. so much that i kind of feel like the massage isn't as "worth it" if i'm not sore. i know, i know.. i'm a strange one.
my glutes and quads are CRAZY sore right now from yesterday's workout, but i wanted to hit my chest, hamstrings, triceps, calves, and lats today in order to get a little sore before tomorrow's massage. i wrote up this quick at-home workout to target all those areas!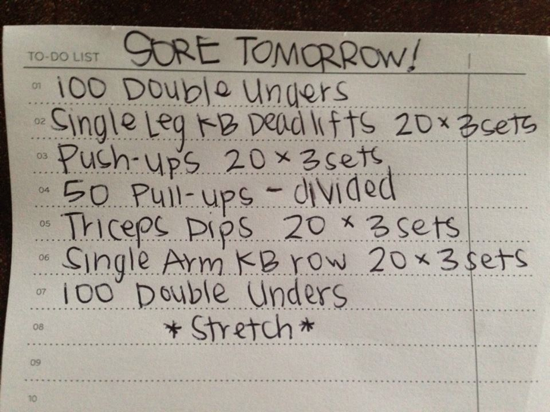 the equipment required for this workout is a jumprope, a couple of challenging weight kettlebells (or you can use dumbbells), and a pull-up bar. i was kind of all over the place in the order of things.. this is what i did:
100 double unders (longest string was 15) –these make my calves way sore!
then i super-set the deadlifts and push-ups and threw some pull-ups in:
20 single leg KB deadlifts (each leg) using 35# KB (hits hamstrings)
20 push-ups (hits chest)
10 pull-ups (its lats)
repeat 3 times
next i super-set the dips and rows and finished up the pull-ups:
20 triceps dips (obviously hits triceps)
20 single arm KB rows (each arm) using 20# KB (hits lats)
5 pull-ups (lats again)
repeat 3 times
i had 5 pull-ups left, so i did those and then finished off the workout with 100 more double unders. my longest string of that set was 28–a new personal record for me! i love that i am finally getting the hang of those things!
after this speedy workout i hit the showers to get ready for the wedding… which i actually need to leave for now!
hopefully my speedy little strength session will get me a little sore for my massage tomorrow. and, if not, at least it was good for me regardless ;)
Qs~
1. do you like to have sore muscles?
2. what was your first meal of the day today?
xo. janetha g.