hi! happy monday. mine was rough.
it was my first day back to work after ten days off, so there was lots of catching up to do. i am so sick of quickbooks… after work i headed to the gym for burpee surprise (and not the good kind of surprise) followed by a bang trim. then i raced home and made dinner for marshall. i fixed chicken breasts stuffed with olive tapenade and goat cheese served with spinach linguine and steamed asparagus. i made a sauce to accompany the chicken by combining a can of diced tomatoes, a few tablespoons of tomato paste, fresh basil, dried oregano, salt, pepper, and a heavy handed pour of the best sauce on the planet–grandma sandino's. we buy it here locally at the farmers market, but i saw you can buy it online. you really, really should.. it's THAT good.
anyway, after fixing dinner (i put my serving in the fridge and am actually eating it now) i headed to the second workout of the day. like i mentioned yesterday, it's Rx+ week at my gym. for five days i will be participating in 2-a-day workouts (one on site at the gym and one offsite somewhere else.) today's offsite workout was hill sprints. it was a lot of fun! there were so many people in attendance which made the workout more of a good time rather than hard work. i am looking forward to the rest of the week and participating in all the workouts!
tonight i want to recap day three of my summer vacation. this was definitely a jam packed day, so grab a snack and get ready to read a novel!
after two days in boston, we woke up wednesday morning and checked out of the hotel so we could head to portland, maine! we needed some breakfast, first, so we stopped in at trident bookstore because i'd had a recommendation from someone (thanks to whoever suggested it!)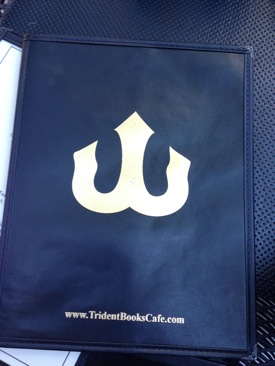 we sat on the patio so we could enjoy newbury street (my favorite!) the service ended up being slow, but the server soon apologized and let us know that someone hadn't shown up for his shift. i can appreciate that! i am glad he explained. i had coffee and a fresh beet-spinach-carrot-apple juice.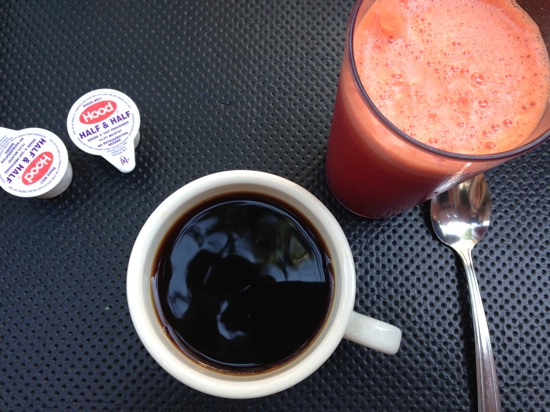 i also ordered the breakfast burrito which came with a side of homemade salsa. i loved the mushrooms and avocado in the burrito. it was the best breakfast i'd had on the trip yet!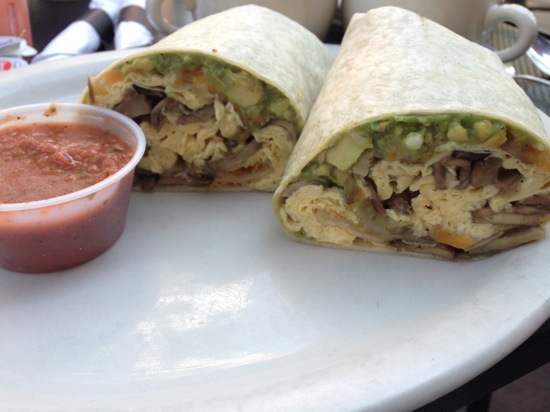 marshall had the huevos rancheros which came with fried plantains. i tried one and they were on the sweet and mushy side, but they were tasty and reminded me of jamaica.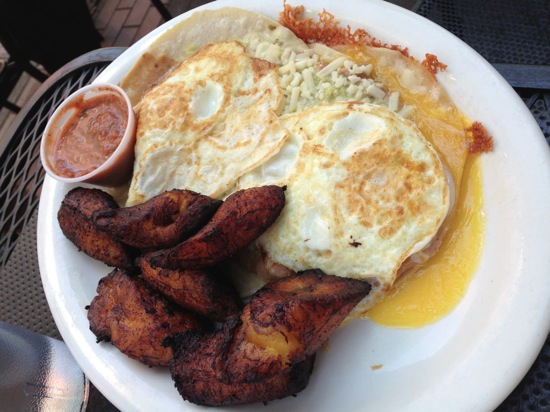 after breakfast we hit the road. we had plenty of time, so we decided to drive through salem on our way to maine. we toured the salem witch museum which was interesting and educational. salem is an adorable town!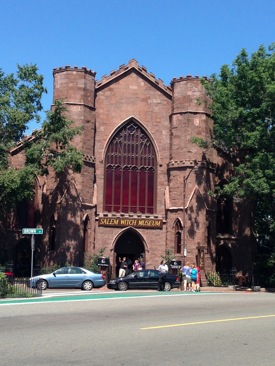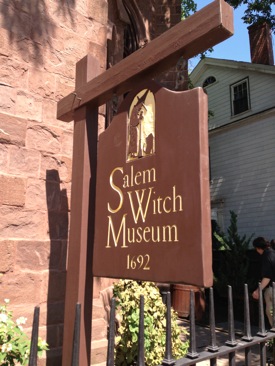 after about an hour in salem, we got back on the road. i can't believe how many toll booths we passed, we don't have those in utah so it was different for us.
we made a pit stop in kittery, maine so we could shop at the outlet stores. we went to puma, nike, reebok, and under armour.. haha.. can you tell we like workout gear? i got a pair of under armour shorts and a pair of nike shorts. marshall picked up a few things, too.
we rolled into portland, maine just after 3 o'clock. we checked into pomegranate inn, which is a cute little bed & breakfast on the west end of town.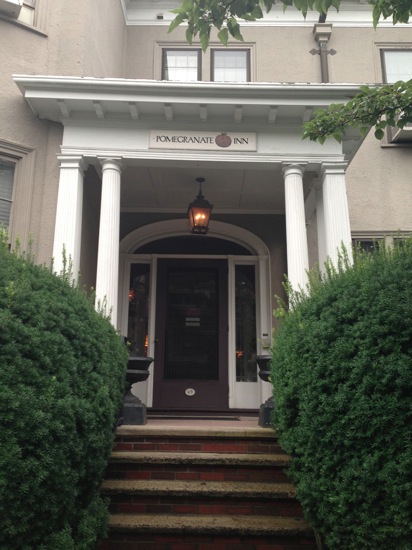 i can't tell you how much i adored pomegranate inn! the decor was my favorite part–so many mismatched items that somehow worked perfectly together. they refer to the inn as a "living piece of art" and that could not be more correct. i know it's photo overload, but you have got to see this place!
there were a few different sitting areas throughout the inn.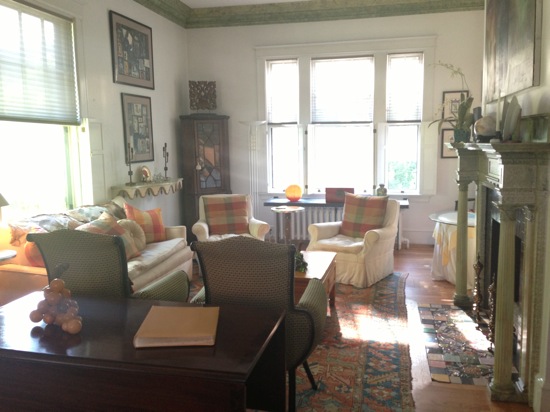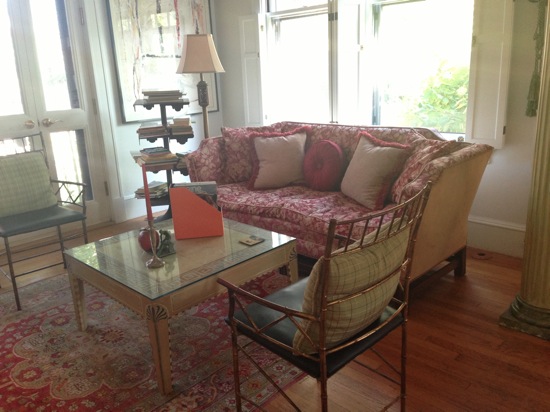 the crazy staircases were so fun. so many different patterns, knickknacks, furniture and pieces of art. the windows throughout the inn were also all very beautiful.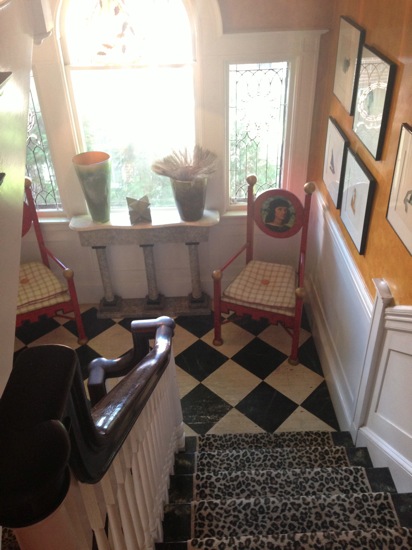 our room–we stayed in room #2.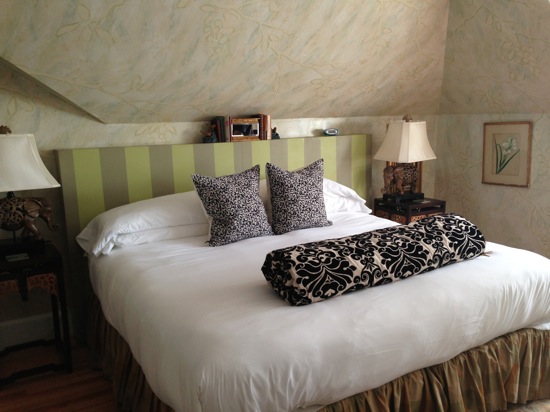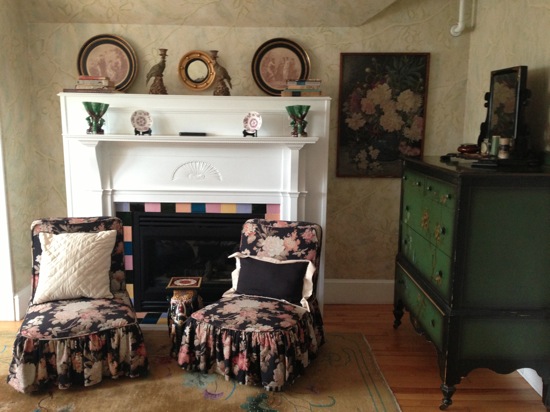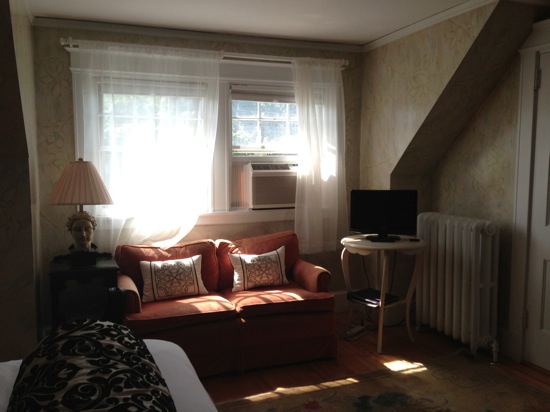 hi!
and the bathroom.. complete with old school tub. loved it. the tile was rad, too.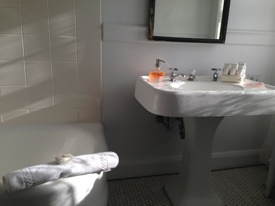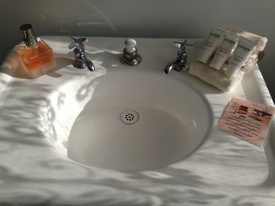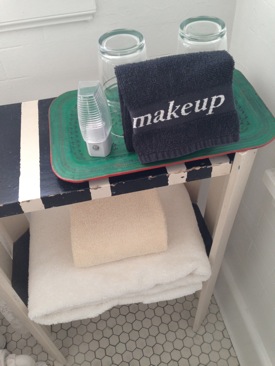 we hadn't eaten since boston, so we decided to head out to find some food immediately. once again, i turned to my trusty suggestions and we decided to go to silly's for a late lunch/early dinner/whatever you want to call it.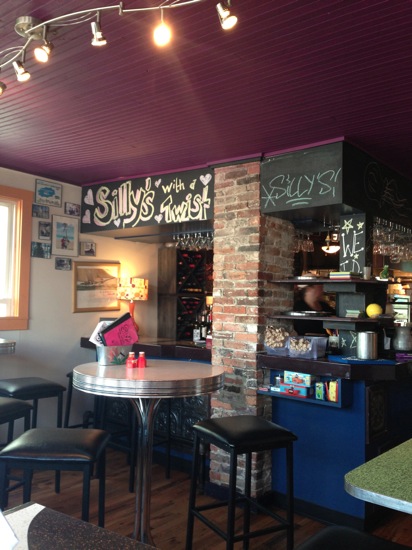 the first thing i noticed was a different set of salt & pepper shakers on each table. it immediately made me think of momma b, she is an avid S&P shaker collector! we had these cute snails.. to which marshall pointed out the irony since salt kills snails. haha.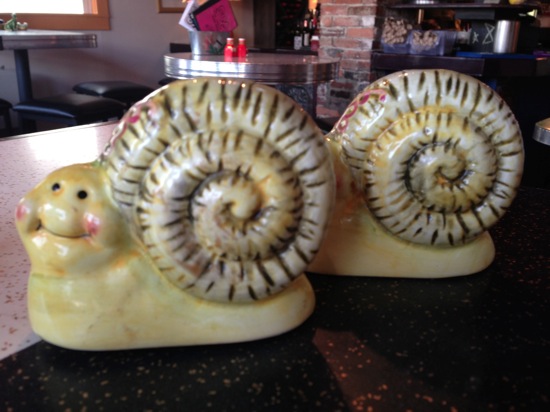 we started with a couple of drinks.. i had an allagash white, brewed right there in portland. LOVED the tin can it came in. cheers!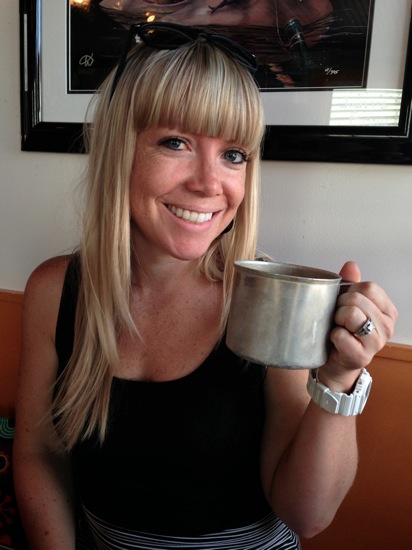 marshall ordered a burger with white cheddar + fries. i had a bite and can vouch that it's one of the best burgers i've tasted in years.. maybe in my life!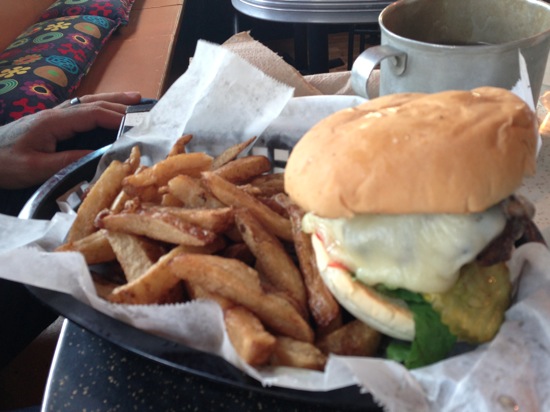 i ordered the "birdhouse in my soul" per our server's suggestion. it was toast with roasted turkey breast, spinach, tomato, onions, avocado puree, and bacon. i also ordered the sweet potato fries which were INCREDIBLE…especially when dipped in a mixture of their house made hot sauce (it had a buffalo tang to it) and their honey mustard. i could have just eaten that concoction with a spoon.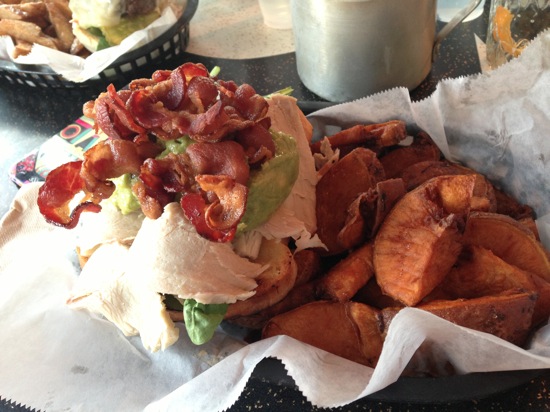 this was definitely the best meal of the trip (so far) but i can't say it was the very best, because EVERYTHING i ate in maine turned out to be "the best meal we have had!" i really had no idea that portland was such a foodie paradise! we went there for a concert, but i could have stayed for a whole month eating at all the great restaurants. we definitely lucked out by randomly choosing portland as our vacation destination.
we walked back to the inn and did some shopping on congress street along the way. portland has just as many beautiful sights as boston did. i quickly fell in love with the little city.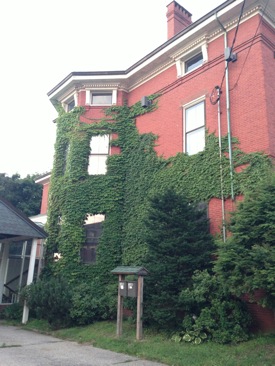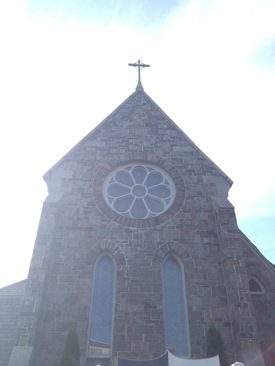 once back to the inn, we rested for a bit and then cleaned up to head back out for the concert. the whole reason for our trip was to see beach house perform at the state theater. the venue was immaculate and the sound was incredible. the lights and display throughout beach house's set left me in awe. unfortunately photos don't do it justice. i did post a little video snippet on my instagram here. the show did not disappoint, we had so much fun!
after the show we needed a late-night snack, so i turned to yelp to see what was open. we wanted pizza, but didn't really want to go to a bar and the only place open at that hour to get pizza was a bar. then i randomly pulled up the blue rooster food co and saw they were open until 2 AM. we decided to drive there to grab a bite.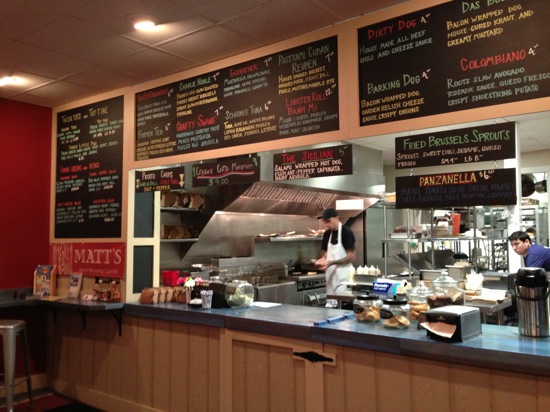 marshall and i shared an order of tot-tine–tater tots topped with fresh cheese curds and house made chicken gravy. i had never had poutine before so this was my first experience with it, even though it was a spin off. INSTANT LOVE. i mean–cheese, potatoes, gravy.. what's not to love?
we also split the red eye breakfast sandwich. it was a buttermilk biscuit filled with pork belly, a fried egg, hash browns, and red eye mayo. we doused it in their homemade hot sauce.
this was ridiculously delectable. words can't even describe how much i loved both items we picked. i had to go tell the guy running the register how awesome it was! i also grabbed a homemade brownie on my way out. it was thick and fudgy and nothing short of fantastic.. as expected.
whew.. told you our third day was a doozy! it was definitely the best day of the trip–partially because of the show but also because of the great food, the fun shopping, the scenic drive, and discovering portland. i always say i never want to go back to the same vacation destination twice because there's so much to see.. but you wouldn't have to twist my arm to get me back to portland.
i still have two more days of the trip to share. can't wait to tell you more about amazing maine!
Qs~
1. what was the last live show you attended?
2. what town(s) have you been to that you would call a "foodie paradise"? in addition to portland, san francisco and london are both on my list.
xo. janetha g.