hey, guys! there's a cool new (friendly!) goal-oriented competition i want to share with you today.
i will be participating in under armour what's beautiful 3.0 campaign along with hundreds of other fabulous females—hopefully including YOU.
i'm part of the what's beautiful sponsored campaign. over three hundred fitfluential folks have signed up for what's beautiful. this is a whole movement and i want you all to get in on the fitness-filled fun!
what's beautiful is a competition born from a mission to redefine the female athlete. this is a chance for women to push past their limits, cross their current boundaries, and come out victoriously on top. under armour is asking you to set a big goal for yourself and work as hard as possible to achieve that goal. this can be an individual goal or a team goal!
from the under armour what's beautiful site:
Together we're redefining the female athlete by setting epic goals and pushing past where we've ever been and where we thought we could go. Join us. Set your own personal goal. Then document your journey by posting videos and photos that tell your story from start to victory.
We'll continuously post challenges for you. But that's just the beginning. Show us your journey. Show us what makes your story the one that stands out from the rest. If you meet your goal, set a new one. Make it even bigger. Prove to everyone, and yourself, that you have more than what it takes.
each week, under armour will be giving away swag bags full of loot to participants. they will feature top performers on their website. after 8 weeks, they will announce 10 finalists who have documented the most impressive & motivated journeys toward the goals. mid-july, winners will be announced! three winners will receive a trip to costa rica (LOVE IT THERE) for a 4-day retreat.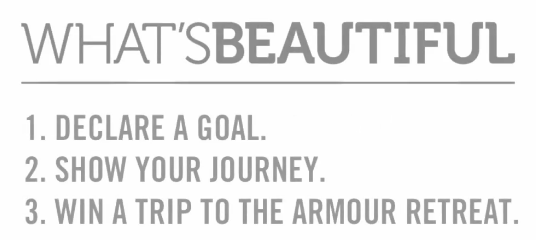 the what's beautiful website is super cool and interactive. go there to read more about the competition, get the nitty gritty details, see the other competitors, and to sign up for yourself!
the competition will be using the hashtags #whatsbeautiful and #iwill. follow along both hashtags on instagram and twitter to stay motivated and dedicated to achieving your goal!
i have set a goal to achieve in these next eight weeks:

i wanted to set a goal that was challenging yet still achievable. i think i have set the bar pretty high with a full five minute plank! my longest ever is three minutes.. so i have some work to do.
i only recently caught on to double unders (which is where the jumprope passes under your feet twice in one jump) and my longest string is fourteen. clearly i will need lots of practice to hit 50!
i will be posting periodically about my goals and what i am doing to reach them. i plan to develop a training plan so i can work on these goals each day. i started a team for the goal.. so if you want to join me, please do! all you need is a jumprope! also, if you only want to participate in half of the goal (the 5 minute plank OR the 50 double unders) that is totally cool, too.
once you have a profile made on the what's beautiful site, you can click HERE to join my team, 5 & 50!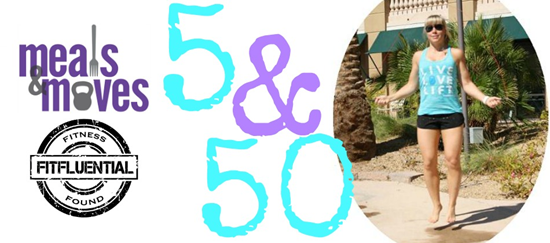 like i said, i will be using #whatsbeautiful and #iwill on instagram and twitter throughout the challenge. i hope you decide to join my team and work toward this goal with me. if not, i hope you set a goal of your own and play along so we can all inspire and motivate each other. it's FREE to join the competition and it's going to be FUN! let's do this!
Qs~
1. what is one goal you are working toward at the moment?
2. wanna join me on my 5 & 50 goal?!
xo. janetha g.