i am suuuper pumped to introduce my guest poster tonight! meet mandy.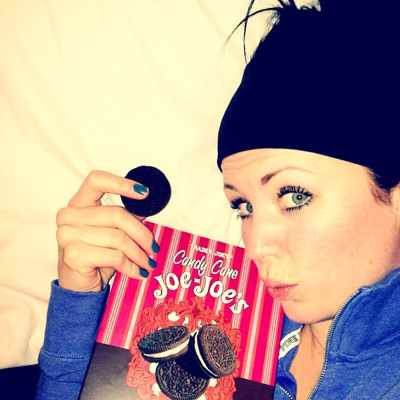 she's one of my very favorite people in the world.. and i've only known her since august. we have decided we must have been friends in another life, because it really seems like we've known each other since we were born. or before that. this girl keeps me sane and entertained all day long. she's incredibly fit, sharp as a tack, and is a loving momma to four cute kids. i know–FOUR. girl's crazy. in a nutshell, mandy is the bees knees and i love her to bits.
anyway, i wasn't planning on blogging tonight because i'm sleepy and my eyes hurt and i just wanna be lazy! mands made some delicious looking cookies today so i told her she should write me a guest post. much to my surprise, she agreed! this is her blogging debut! she has never guest blogged anywhere before nor does she have a blog, i mean she's not even on facebook..  so i am pretty thrilled that she agreed to write up a post for me on a whim. i have to say, she's got a knack for this blogging thing… here she is!
*****************
Hi friends of Janetha, my name is Mandy and im lucky enough to call Mrs. Gallegos my friend and this friendship comes with some important duties, one of which I was called upon to preform tonight because Janetha wasn't in the blogging mood. So here is my debut!
I ordered Girl Scout cookies over a month ago but they haven't arrived. Grrrrr. As I continue to watch my friends and family happily indulge, I decided I didn't need the Girl Scouts and took matters into my own hands today and threw together some Samoas!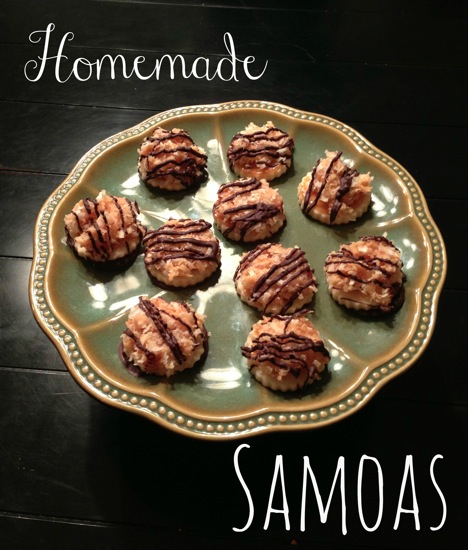 Homemade Samoas (also known as Caramel DeLites)
recipe from Just A Taste via Pinterest 
This recipe has two parts–the cookies and the chocolate & coconut topping.
Ingredients: (For the Cookies)
1 cup of unsalted butter (at room temperature)
1/2 cup of sugar
2 cups of All Purpose Flour
1/4 teaspoon of Baking Powder
1/2 teaspoon of salt
2 tablespoons of milk
1/2 teaspoon of vanilla extract
Directions for the cookies:
Preheat oven to 350.
In the bowl of a stand mixer, cream together the butter and sugar until light and fluffy.
In a separate bowl, whisk together the flour, baking powder, and salt.
In three increments, add the flour mixture to the creamed butter, mixing between each addition and scraping down the sides.
Add the milk and vanilla extract, blending until combined and the dough begins to come together in large pieces.

Use your hands to divide the dough in half, pressing it together to compact it into two disks. 

Wrap the disks securely in plastic wrap and refrigerate them until firm, about 1 hour.

Once the dough has chilled, roll each disk out onto a lightly floured surface until it is 1/8-inch thick. Cut out as many cookies as possible with a doughnut-shaped cookie cutter. I couldn't find a doughnut cookie cutter so i went to Michael's and found a linzer cutter for $5.99 and LOVED it and will be using it again.                                                                                                               

Place the cut-out cookies on a Silpat or parchment paper-lined baking sheet and repeat with remaining dough.     

Bake the cookies for 10 to 12 minutes, rotating the baking sheet half-way through, until the cookies are pale golden brown. 

Transfer the cookies to a wire wrack to cool completely.
Ingredients: (For the Chocolate & Coconut Topping)
3 cups of shredded sweetened coconut
15 oz. of store bought (or homemade) caramels
3 tablespoons of milk
1/4 teaspoon of salt
8 oz. of dark chocolate
Directions for the chocolate & coconut topping:
Spread the coconut flakes onto a baking sheet lined with parchment paper. Bake the coconut for about 10 minutes in a 350ºF oven until toasted, stirring frequently to ensure even browning and so that it does not burn. Remove the toasted coconut from the oven and set it aside.

Melt the caramels, milk and salt in a double-boiler by placing the caramels in a medium sauce pot set over a large sauce pot of simmering water. Cook, stirring, until the caramels are fully melted. Remove the sauce pot from the heat and combined 3/4 of the caramel with the toasted coconut in a large bowl.

Carefully spread the remaining 1/4 cup of caramel atop the cooled cookies then press on a portion of the coconut mixture. Let the cookies cool for 30 minutes. If the caramel-coconut mixture thickens too much at any point while pressing it onto the cookies, return it to the double-boiler and warm it until it's spreadable again.

Melt the dark chocolate in a double-boiler or in the microwave. Dip the bottoms of the cookies in the chocolate and place them on a wax paper-lined baking sheet. Use a fork to drizzle the tops with chocolate. Let the cookies sit until the chocolate hardens fully.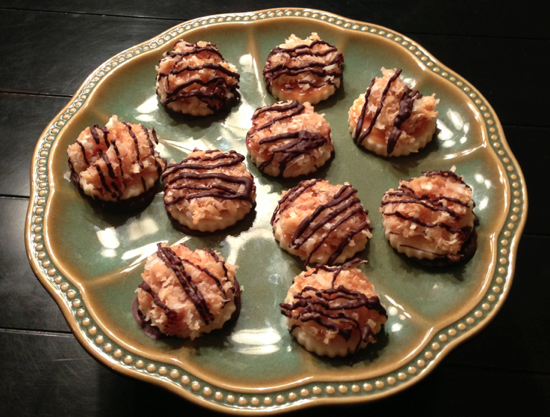 I am not the cleanest baker but oh well!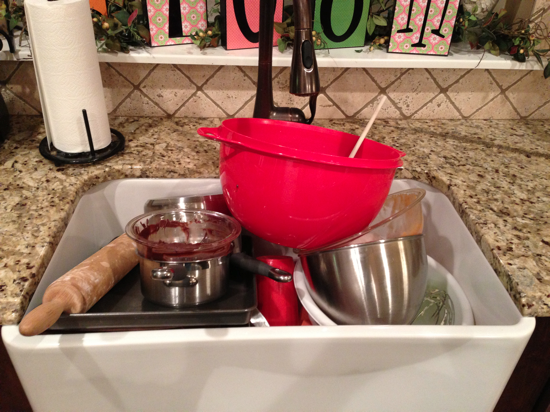 The only thing i would have done different is I would have added more caramel to the coconut but other than that they were a hit.. and while I am trying to not eat sweets, I did have one bite and quickly threw away.
SO YUMMY!!  

Qs~
1. what is your favorite girl scout cookie?
2. what do you call them–samoas or caramel delite?