yo!
so, let's talk about the dominican republic. specifically punta cana. even more specifically the resort where we stayed: the barcelo bavaro palace deluxe. let's get something straight before i talk about the resort.. i hate all inclusive resorts. seriously. hate. give me a dodgy hostel or a run down beach house or even a freakin' hammock in the jungle.. just don't put me in an all inclusive resort and tell me to eat the same gross food and stay confined in the same small spaces for a week straight. now, don't get me wrong, i am sure there are all inclusive resorts with delicious food and amazing activities that EXIST—i have just never stayed at one.. unfortunately. so, my opinion stands, this girl isn't a fan of the all inclusive resort vacay.
now that you know my stance on all inclusive, i will say that the barcelo bavaro was the second best all inclusive resort i've been to (the first being the iberostar in montego bay, jamaica.)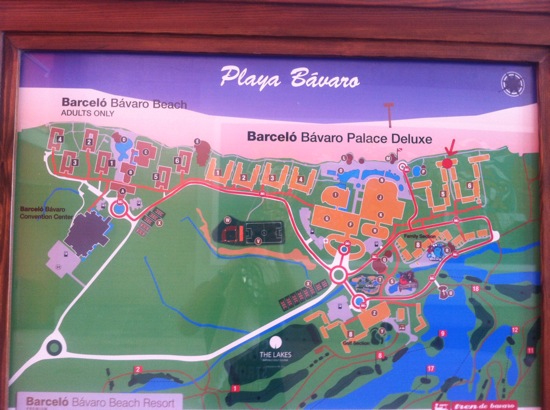 this resort was BEAUTIFUL. it was also very large with lots of pools, bars, and restaurants.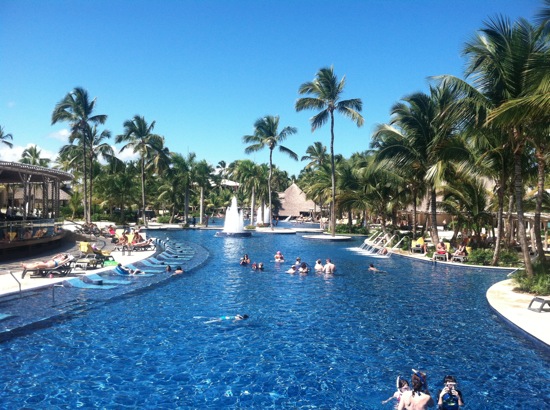 the rooms at the barcelo bavaro were fabulous! however, i think the layout was great for couples and could have been awkward for people who weren't into letting others see them fresh outta the shower or hear them poop.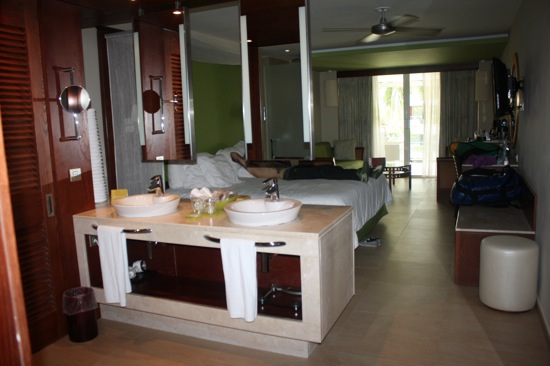 the bathroom flowed right into the bedroom with no walls or doors, and the shower and toilet doors were just foggy enough so you couldn't make out details, but you could see silhouettes and hear everything.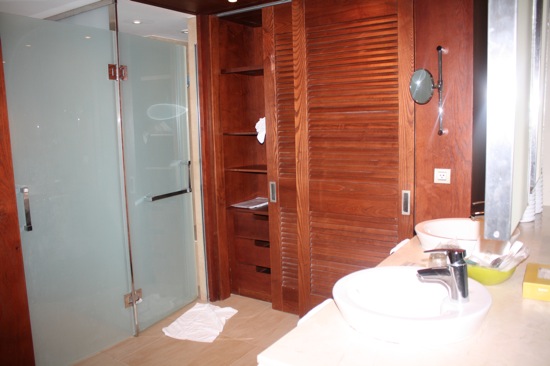 i am a sucker for all the little mini things at hotels. i squealed.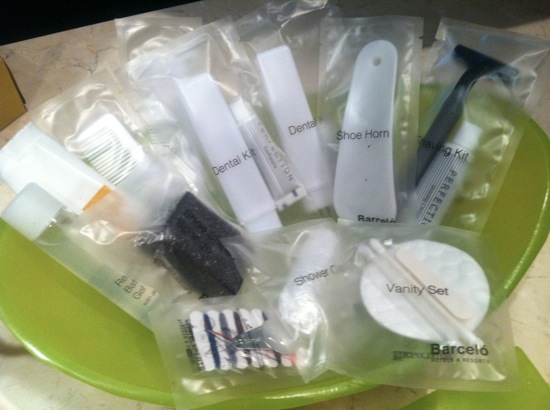 the junior suites had a hot tub on the balcony which was pretty rad!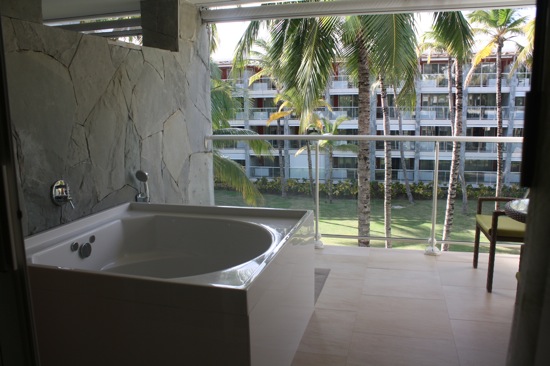 one thing to note was the delicious pear juice boxes stocked in our room's fridge. they were phenomenal and, like, 10% juice.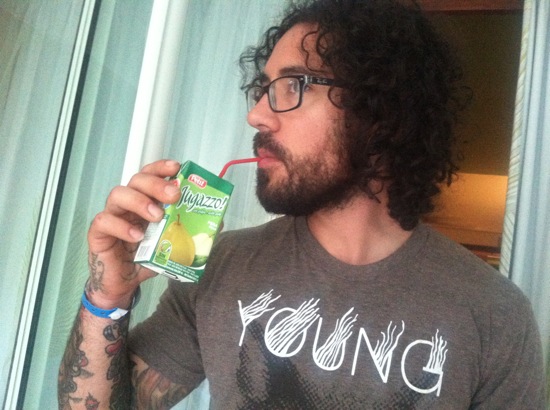 as i mentioned already, the food at the resort wasn't that great. breakfast was my favorite meal because i could always get eggs made to order. some days i would get a couple over medium fried eggs and other days i would get an omelet. i always got a little bit of bacon, too.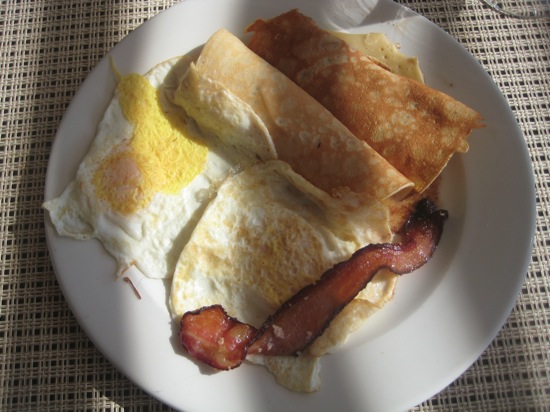 by the third day i realized there was a crepe station so i always balanced my eggs out with crepes topped with syrup and cinnamon sugar.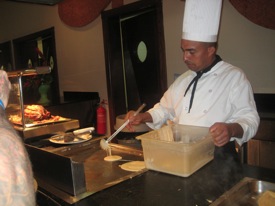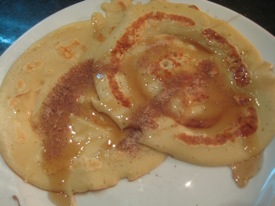 i was bummed that there was no nondairy milk or a hot tea selection since i can't do dairy or coffee anymore.. but i was fine without either all week.
lunches and dinners were mediocre. what can i say, i am a foodie and i like delicious food. i think the downfall of all inclusive resorts is that there is so much WASTED food, so they really can't justify spending money on a better menu. it was seriously sad to see all the food that was wasted day in and day out. kinda ridiculous! but one way they minimized waste was the way they turned leftover cereal into dessert. yep, you read that right!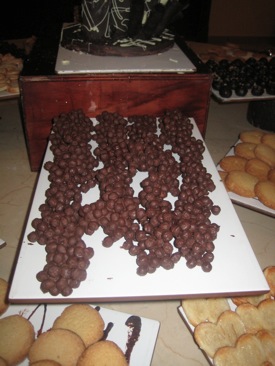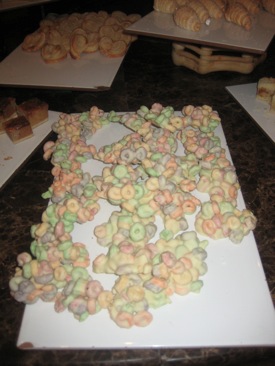 chocolate covered cocoa puff clusters and white chocolate covered froot loop clusters. INGENIOUS! and so, so good! i gotta make those from home.
we did make a couple reservations for the specialty restaurants–they had a variety including mexican, seafood, steak house, italian, spanish, french (for an extra charge), and japanese. the reservations were always pretty full, but i tried the mexican and the japanese. the mexican was great because i love chips & salsa and they didn't have those anywhere else on the resort. the japanese was tepanyaki-style so it was a good time with our large group! plus, since the food was cooked in front of us, it was the freshest we had all week.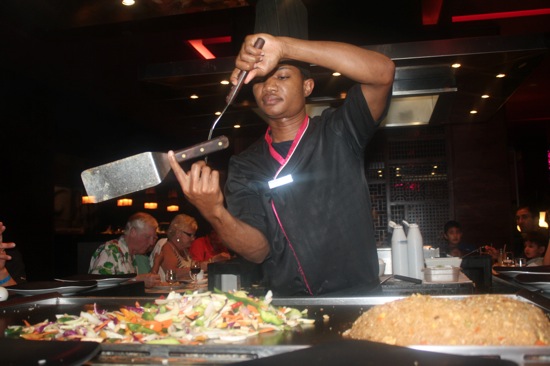 the gym was actually really nice! it was somewhat small, but the three times i went it was not crowded at all. probably because i went around noon–after everyone had came and went and was already at the beach!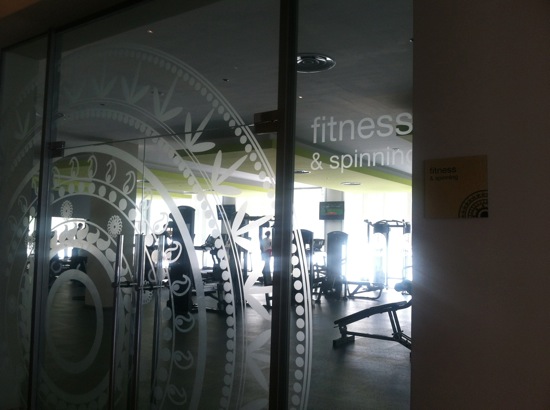 i was definitely a fan of the gym, even though i only used it a few times.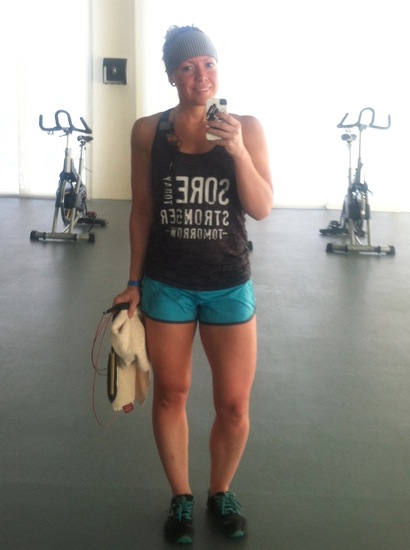 first off, i did :30s burp-o/thrust-o for one of my workouts, so that was easy because it just required a plate weight. i finished that workout up with 1000 jumps of the rope in the spinning room–i brought my jump rope from home. for workout #2 i did a modified version of puff & push (i subbed the row with a run.) for my third and final workout of the vacation, i made up a little tabata routine that involved jumping rope, air squats, OH triceps press, sprinting, sit-ups, and aussie pull-ups. covered all the bases with that routine: push, pull, squat, core, and cardio!
even though i wasn't working out the majority of the time, i was walking a LOT. the resort was big and so i covered a lot of ground. i hit a record stepping day on thursday and was surprised to see i broke 20k steps on my fitbit!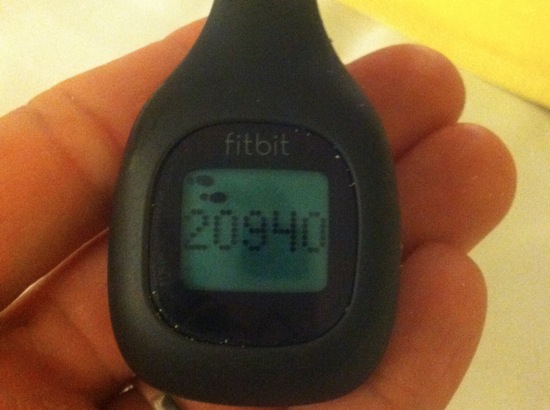 the night life at the resort wasn't too exciting, but since we were with a large group we made it fun.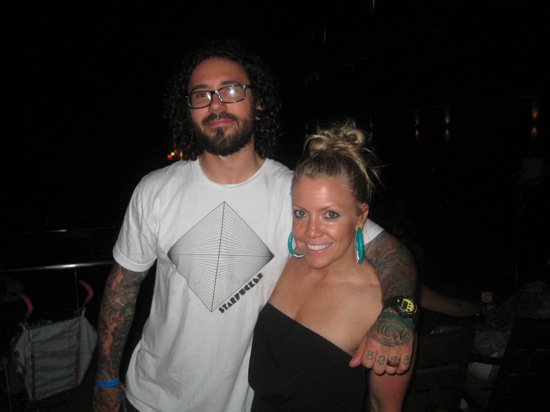 there was a show each night but we only went one time.  the stage was nice and big and there was a large area for the audience. there was a bar at the very back area behind the audience.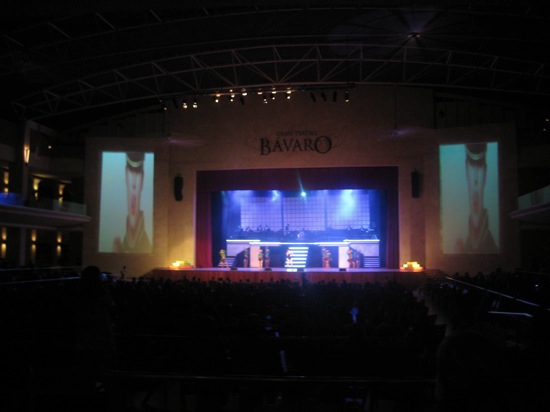 we spent a couple nights in the disco, which opened at 11 PM. i am not a big dancer (okay, i totally hate dancing) but it was fun to watch everyone get down with their bad selves!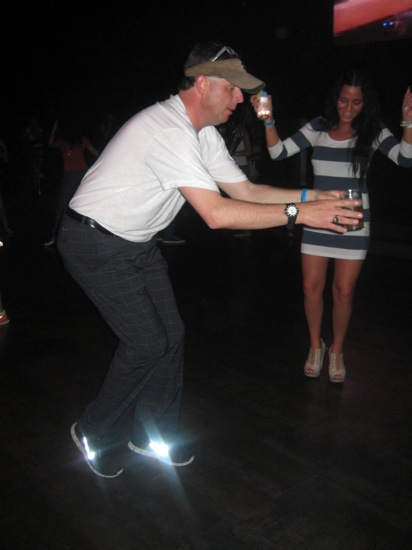 a few of the nights were spent in the 24-hour casino. i didn't gamble, but i watched marshall and the others win a lot of money and then learn that they lost it all. oh well, at least they had fun!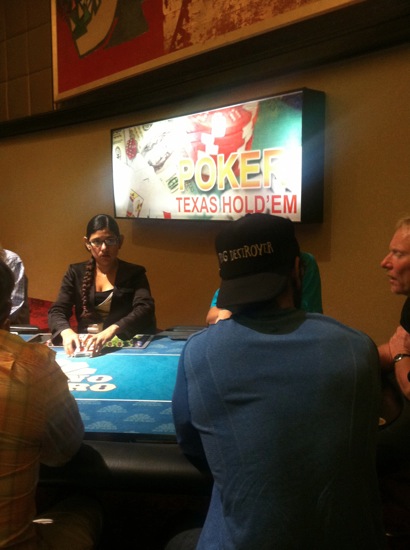 there were several bars throughout the resort—a couple of them really close to the pools and the beach. if you are a big drinker, this type of vacation is ideal for you since the alcohol was included. i ended up only drinking once the entire time—i was told i HAD to try the mama juana shot, so i did.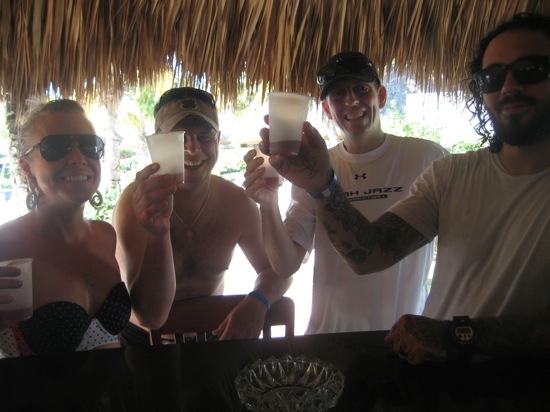 mama juana is a drink made up of rum, red wine, and honey that has soaked in tree bark and herbs. it was super popular in the DR and it was served and sold everywhere you'd turn, but i have to say i wasn't a huge fan. i am just not a liquor lover, i guess. i'd rather have a really delicious beer. or ice cream. yeah, ice cream sounds way better. unfortunately (for me) i am off the dairy train and so i couldn't take advantage of the all-you-can-eat ice cream cones. it was painful. i actually did eat the ice cream twice and my guts paid for it dearly. i don't even care, it was worth it!
so.. i saved the best for last.
the best part about the resort was definitely the beach! this beach is ranked among the top ten beaches in the world. the sand was soft, the water wasn't too cold (well, it was a little cold), and the sun was shining 95% of the time. can't complain about that!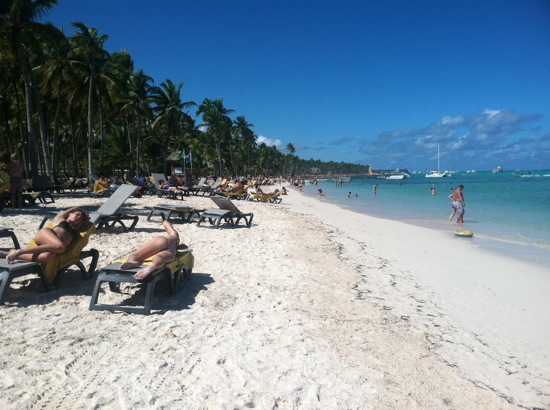 we were able to soak up the rays and sink our feet into the sand a few of the days of our vacation—on the days we weren't off on an excursion (more on those later.)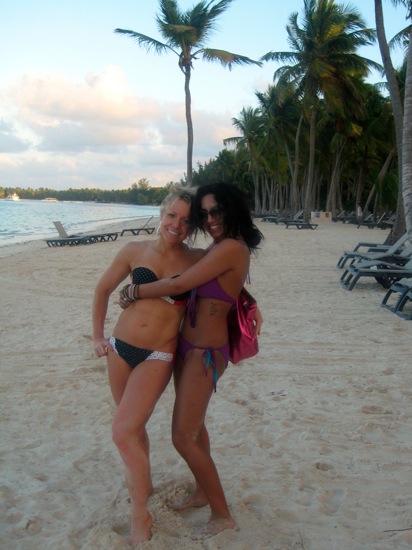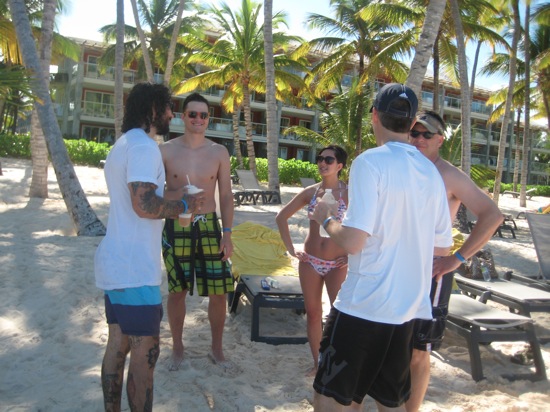 it was a good time to hang out with my co-workers and have fun in the sun.
well, that sums up my recap of the barcelo bavaro palace deluxe all inclusive resort. next time i will tell you about the four excursions i did!
Qs~
1. have you stayed at an all-inclusive? thoughts?
2. what is your dream vacation destination?
xo. janetha g.