it's been a long time since i've done a whole day post! i thought today would be the perfect day to do just that. it's been a long one, so grab a snack and let's get started.
i was initially supposed to get up and meet kerryne and amanda at the gym for a circuit workout this morning at 6 AM… but we all decided it was too cold, we were too tired, and our beds were too cozy. hah! it happens. instead of getting up and hitting the gym, i hit my pillow for another hour before getting up for work.
i quickly got ready and blended up my breakfast. i didn't have to pack a lunch because i planned to eat out, so i just grabbed my shake and headed out the door. as i was backing out of the garage, marshall flagged me down. he was having problems starting his truck (due to the bitter, bitter, bitter cold) so he tried to jump it using my car.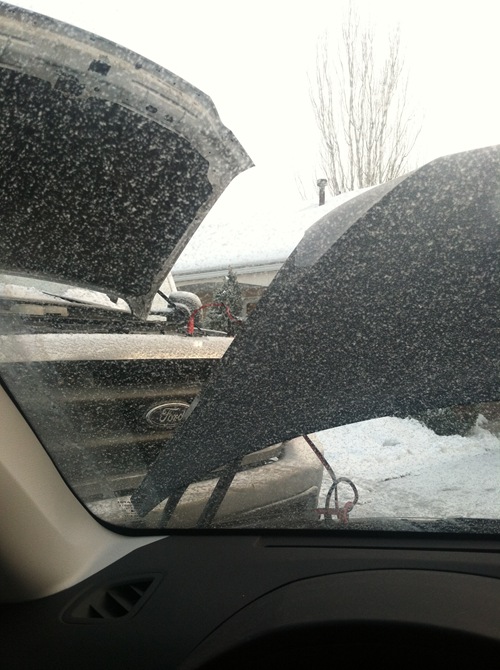 no such luck.. sadly.. but he did eventually get it started. i hit the road and was stopped dead in my tracks by a freakin' train.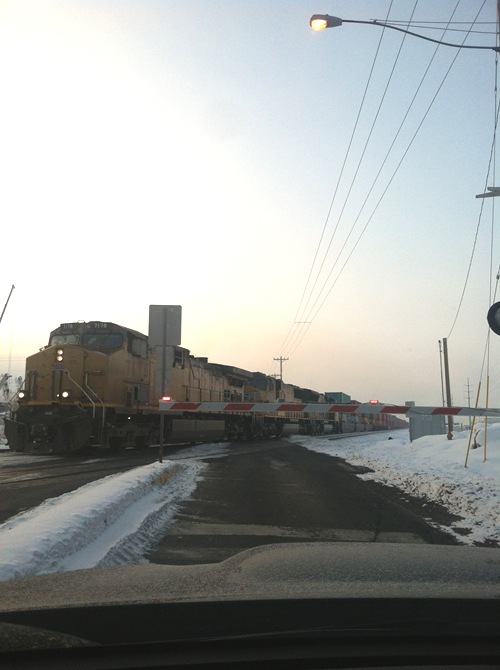 every. single. day. of. my. life. i waste so much time sitting at train crossings.. it's stupid. at least i had my breakfast to keep me cold company. i polished off my protein shake whilst waiting for the big, bad train.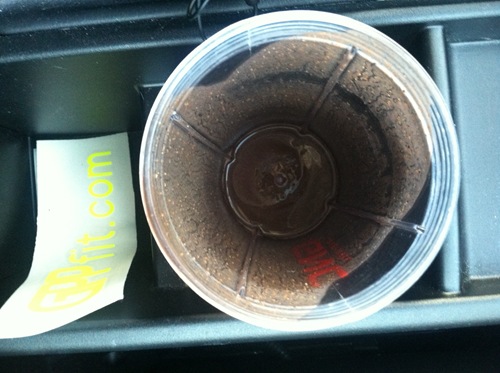 my shake this morning had a cup of almond milk, 1 scoop of plant fusion chocolate raspberry protein (new to me!), half of a banana, 2 TB ground flaxseed with blueberries (from trader joe's), 1 TB dark cocoa powder, and a whole bunch of ice. it clocked in at 305 calories, 26g protein, 26g carbs, 13g fat, and 8g fiber. perfectly balanced!
we have been hit with a really bad case of inversion and salt lake city looks freaking gross, guys. i miss the sun!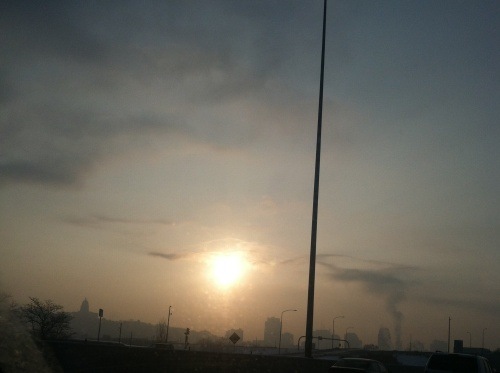 yuck. inversion and pollution and grossness. which brings me to my next item of business…
when i got to my office, marshall called me with some alarming information. he told me that the radio said the drinking water in our town had been tainted by dry cleaning chemicals! um, excuse me? i googled it and, sure enough, tainted agua. shit.
i called our water filtration service (superior water & air for those locals who are curious) and asked them if our water was safe. they said it probably was, but to play it safe and buy bottled water. i called the city to see what the deal was, and they told me that the tainted water was all in wells that are not currently in use… so… i guess we are fine. still, it makes me worried! geeeez.
after a couple hours of working, i took a break for a small snack and some tea.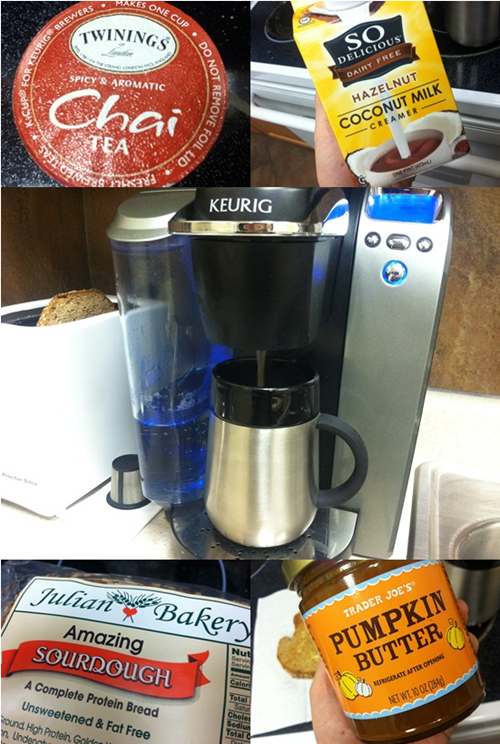 i love this bread from julian bakery! it does have a slight amount of whey in it, but luckily doesn't bug my guts. it must be a very trivial amount.
my boss came in and i typically make him breakfast every day.. but it was already noon. so, instead, i made him a breakfast sandwich for lunch. it was a multigrain english muffin, a slice of cheddar, one egg, and two turkey sausage patties.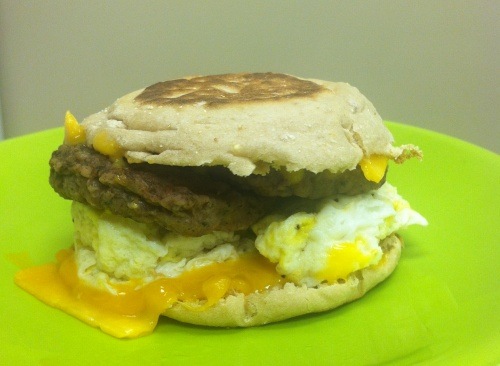 yes, if you work with me, i WILL cook your meals for you.
after that i darted to my lunch date at whole foods. i was pretty hungry and inhaled my salad before remembering to take a photo. whoops! it was $9 worth of greens, veggies, hard boiled egg, chicken, tempeh, and balsamic dressing. yum.
i needed something sweet afterward, so i went with a vegan peanut butter cookie and a piping hot bhakti chai almond milk latte<—so addicted to the bhakti chai. it's spicy-sweet and stupendous!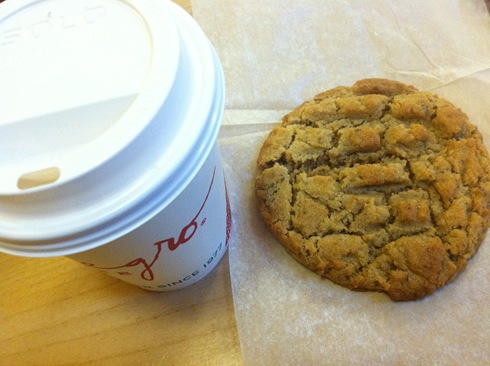 after lunch i hit up lululemon since it's just next door. i had a gift card burning a hole in my pocket since christmas! i also had 3 pair of wunder unders that had been in for hemming and were ready to pick up. so i bought some crops and picked up my pants. it all worked out nicely!
i headed back to my office for a couple more hours of work before calling it a day. i have a lot of random things to do in order to leave the country for a week, so i am definitely keeping busy at work. all the extra effort will definitely pay off when i am laying on the beach next week!
i headed home and changed for my workout. i was super sad to be out of my shroom tech sport pre-workout pills. ugh. we ordered more last night, so my stash should be replenished soon! instead i tried a sample of some random pre-workout powder and had a serving of grapes. my optimal health challenge nutrition assignment this week is to eat five raw fruit servings and five raw veggie servings each day. i fell short today on the fruit, but i am working on it…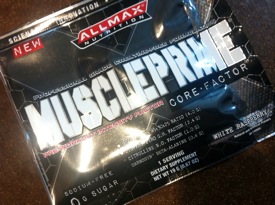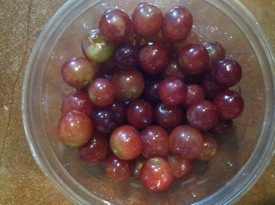 my workout today was a typical tuesday—we focus on strength and achieving personal bests! today was rowing and front squats.
i am happy to say i beat my personal bests on both–i did ten consecutive front squats at 110# (previous record was 80#) and i rowed a 500m in 2:01 (previous record was 2:06.) i finished off my workout with 30 minutes of walking on the treadmill with candice. i had to get my 10,000 steps for the day!
by the time i got home it was already 8 o'clock and i couldn't wait for dinner, so i ate a few strips of turkey and some more grapes.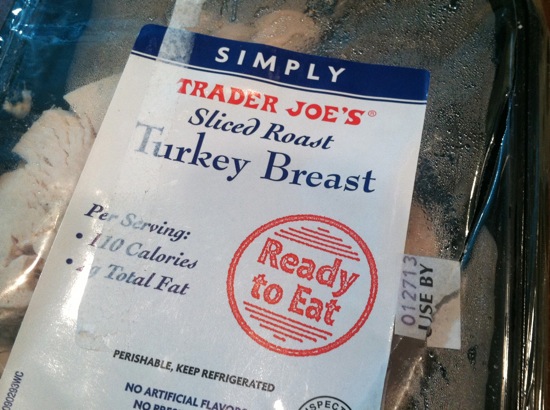 while snackin' on turkey and grapes, i made dinner. it was pizza night! i started with a ball of whole foods multigrain dough then topped it with pizza sauce, baby heirloom tomatoes, roasted red bell peppers, prosciutto, and a balsamic glaze drizzle. i put cheese on marshall's 2/3 of the pie.
pre-cooked: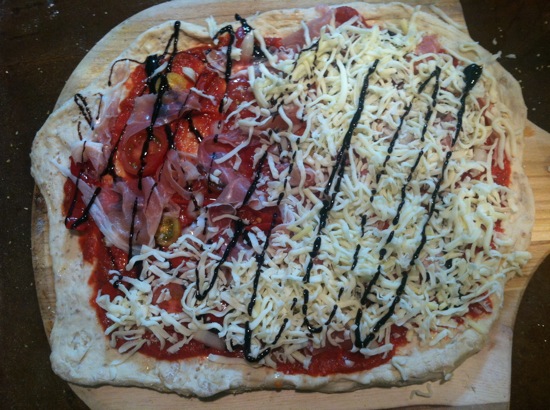 hot out of the oven: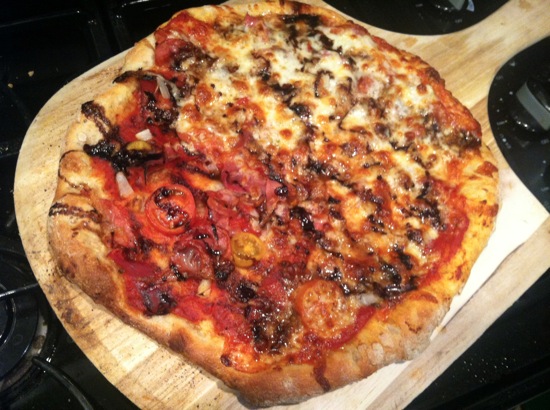 mmmm. it was super good! i ate three slices. it does suck to not be able to eat cheese, but this pizza was seriously awesome without it.
oh, forgot to mention that i also had CLA, ALA, an adora calcium disc, and some gummy vitamins today. yep, i am an eight year old.
it's now past 9 PM. i am probably going to have some hot apple cider from the keurig before i hit the sack. i promised my friend, melissa, that i would go to GPP at 5:45 AM.. so i better hit the sack soon.
and that, my friends, was my whole day.
Qs~
1. do you use any pre-workout supplements? which ones?
2. what goes on your dream pizza?
xo. janetha g.