happy friday!
two things on this post's agenda: a survey and a recap of this week's breakfasts we made at the office. enjoy!

stole it from ashley!
1. Last food you ate?
i had a bowl of cereal with a protein shake for the milk. yep, that was dinner. the shake was 1 cup almond milk, 1 scoop plant fusion vanilla bean protein powder, 1/2 scoop hemp force chocolate protein powder, and 2 TB almond butter blended with some ice. easy.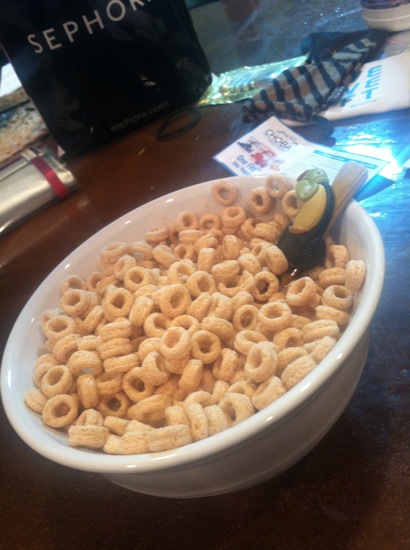 yep, my counter is messy. and, for the record, cascadian farm purely Os have NO added sugar! goes right along with my turkey day challenge.
2. Last beverage you drank?
not counting that cereal "milk"? hmmm.. that would have been water. although i am about to go have a trilogy kombucha. love that stuff.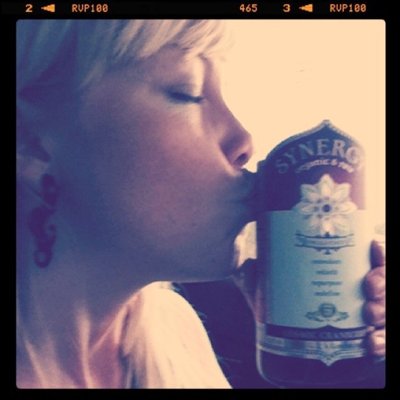 3. Last workout?
i just did "sketch" at GPP. not counting the warm up, it only took me 8:57… i feel like that is WAY too short for a workout, right? but i don't question the programming.. i just show up and do the workout. and if it takes less than ten minutes, so be it.  it was a fun workout. i love deadlifts.
4. Last thing you pinned?
well, let's go see!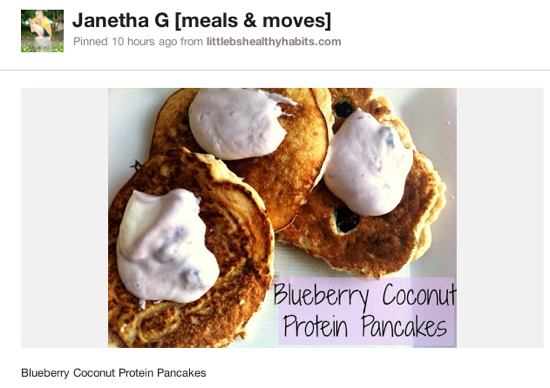 looks like it was brittany's pancake recipe from today!
5. Last text message you sent?
haha.. yeah.. my friends and i have a 6-way text chat going on at all times. nikki took a photo of her cookie dough she was eating, and i sent back a shot of my cereal.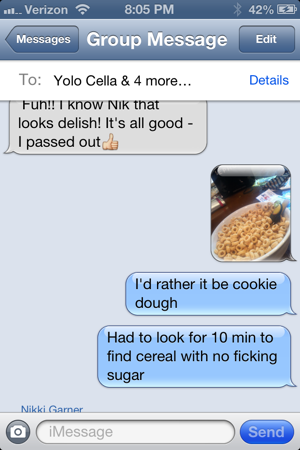 yeah, that says "ficking". it's a word around here.
6. Last blog you visited?
hmmm had to think hard about that one. i haven't done a lot of blog reading today. or lately. in fact, my google reader is up over 600 right now. yikes!
but i believe the last blog i visited was jess's, truly.into.fitness.  love her!!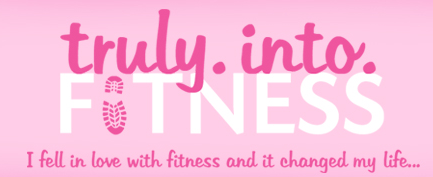 7. Last tweet you sent?
i don't tweet a lot. here it is, along with the convo it was in reply to.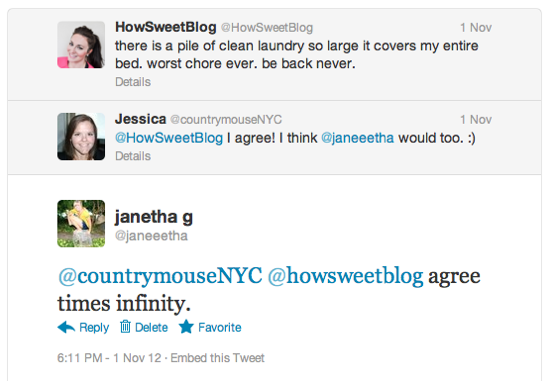 YES, i am notorious for hating folding laundry..hahaha.
8. Last place you visited?
i went to GPP and then to smith's (grocery store) on my way home to get the following: cheddar cheese, cereal, apples, kale, red cabbage, and bananas. random.. but marshall wanted a grilled cheese for dinner and i wanted cereal. we also needed some veggies and fruit for our juice tomorrow morning!
9. Last time you did ab work?
OH MY GOSH, you guys. my obliques are SO sore from wednesday's ab workout. killing me. the "A" in the BAT medley. yikes.
10. Last show you watched?
the jazz game is on right now.. is that a show? no? well then it would have been the family feud last night. my evening ritual.. we love the family feud in our house. it was with steve harvey.. he is funny, but not as amazingly dreamy as the OG richard dawson!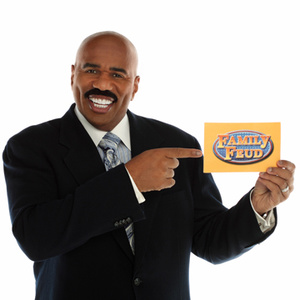 11. Last thing you baked?
mini banana muffins! no sugar added and they were SO flipping good. i used a recipe from kerryne with a couple changes:
1.5 cups flour
1 tsp baking powder
1 tsp baking soda
1/4 tsp salt
1/3 c applesauce
1 egg
2 TB agave
1 tsp vanilla
3 mashed bananas
combine dry ingredients first, then add wet ingredients. fold in bananas. bake at 400 degrees for 15 minutes. makes 3 dozen mini muffins!
12. What is the last thing you Instagrammed?
these two goons: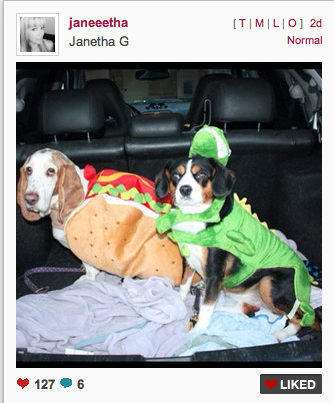 13. Last item on your to-do list today?
to do list.. it's friday! i don't have one! haha. but i suppose it would be to wash my face using the oil cleansing method and then hitting the hay. but first, i will be going to meet my friend michelle's new puppy! that is where i am heading in a minute!

this week's breakfasts were an even balance of sweet and savory. excuse the iPhone pics again.. i need to start bringing my camera to work.
monday: raspberry cream cheese stuffed french toast.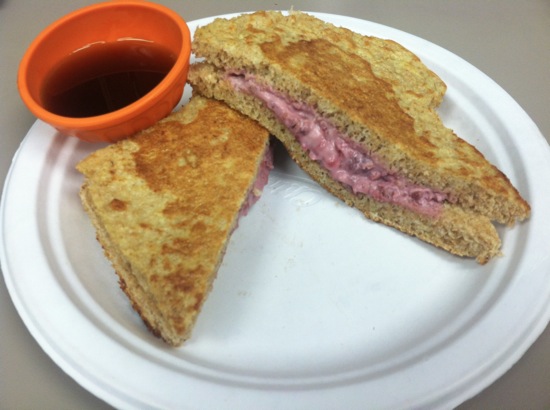 probably my favorite one all week!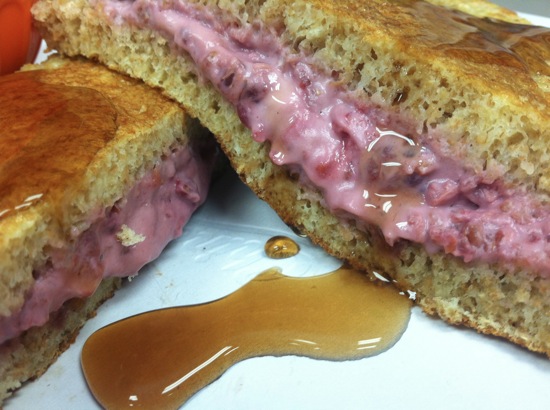 tuesday: individual egg crust pizzas.
yes.. that is right. pizza with an egg crust. i had leftover pizza sauce and toppings, so i made it into a breakfast thang. we simply whisked two eggs (for each person) and cooked them in a frying pan so they resembled a pizza crust. then we topped them with pizza sauce, pepperoni, peppers, and onions. they were finished off with some cheese (a mix of mozzarella, smoked mozzarella, and feta) then popped it under the broiler until melty. so random, but SO good!
wednesday: halloween luncheon so we took the day off (i just had an almond chocolate protein shake.)
thursday: eggs on toast with creamy spinach mushroom sauce. with an unattractive dollop of spicy avocado hummus.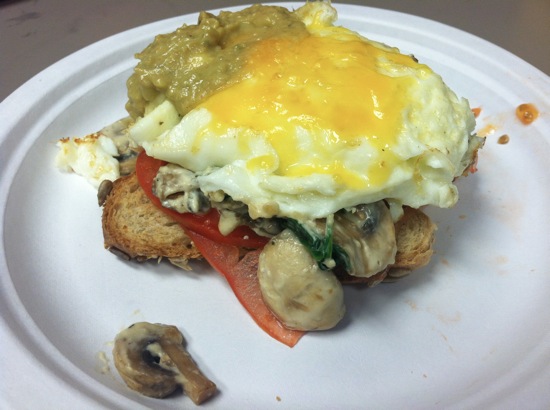 friday: protein pancakes.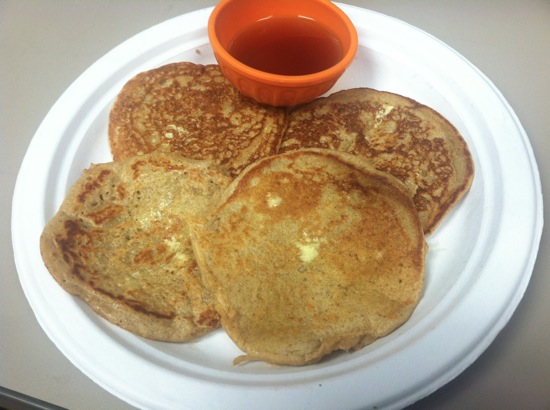 we made the pancakes using protein powder and kodiak cakes boxed pancake mix. easy peasy.
i am loving these group breakfasts! can't wait to make more delicious food next week.
Qs~
1. last thing you baked?
2. last blog you visited, before mine?
3. breakfast time! sweet or savory—what's your pick?
xo. janetha g.