hey! i took yesterday off. in honor of father's day.
naw, not really because of father's day.. but just because i didn't feel like blogging. why force it if it's not there, right? right.
i did have a fun day. marshall and i celebrated first with his dad at breakfast. we went to porcupine–suuuch a delicious breakfast spot in the SLC! and then we celebrated with my dad. my whole fam (minus the californians) gathered at my brother's house for enchiladas. it was a fun fiesta! in between the two fatherly celebrations, marshall and i treated ourselves to deep tissue sports massages at the kura door. when you don't have kids, you celebrate things like mother's and father's day with each other.. at the spa.
i have something fun to tell you guys! my friend, nick, has hired me. nick is vegan. nick wants to get fit. nick wants to eat healthy. nick came to me. i am flattered. designing a healthy, nutritious, vegan meal plan is a challenge… but a fun one. i had a great time designing it and i am excited to create recipes along the way.
i designed nick a 12 week eating plan. he got his body fat tested friday. i worked on his meal plan over the weekend. he started the plan today. in conjunction with the healthy eating regimen, i have nick coming to GPP for workouts. today was his first day!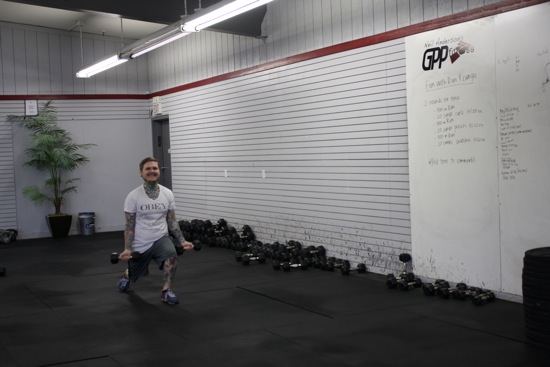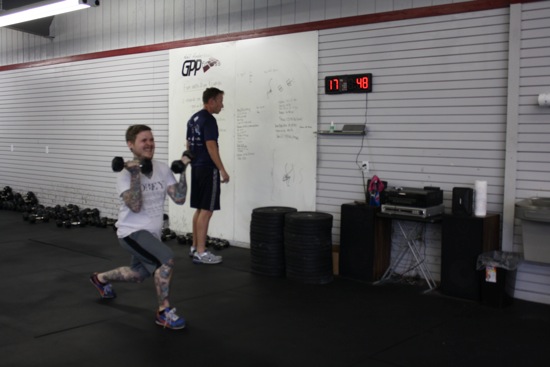 he scaled the workout to 50% as beginners are instructed to do. we also took his weight, measurements, and before photos so his progress can be accurately tracked over the next three months. i am really excited to see the changes he makes!
i actually was at GPP for over two hours today. good times. i went in at four so neil could teach me the basics of a squat and how to teach a squat. i was humbled. let me tell you something: knowing how to execute a squat and telling someone how to execute a squat are two VERY different things. i have a lot of work to do.. but i am happy to do it. i am excited to learn. i am excited to train people. one day.
after our hour-long squatting crash course, nick came in and did the 5 o'clock workout. i ended up walking and talking him through it and not doing the workout myself until the 5:45 sesh.
this was a blessing in disguise because my favorite workout buddy, lil' kate, walked in the door. i love working out with her! she pushes me to the max. i just checked the first time i did this workout (i had to do it at gold's) a little over a month ago–my time was 22:54 and i had to drop the weight to 12# on the snatches. today's time??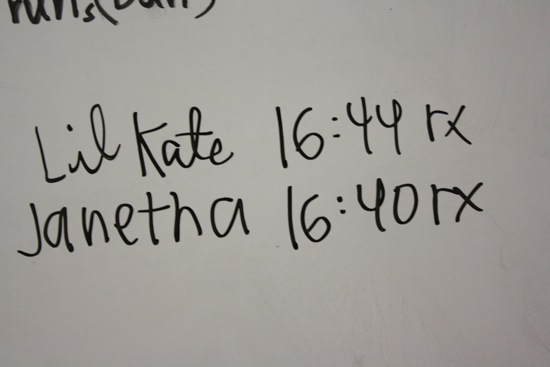 over six minutes faster! and in way hotter conditions. and i didn't have to drop the weight at all. wow. that REALLY goes to show that working out among others pushes me harder. it also shows that GPP workouts are working. i am not one to toot my own horn too often, but i'm not gonna lie.. i'm proud of myself. stoked.
stoked.. but dead. there was some floor laying post-workout.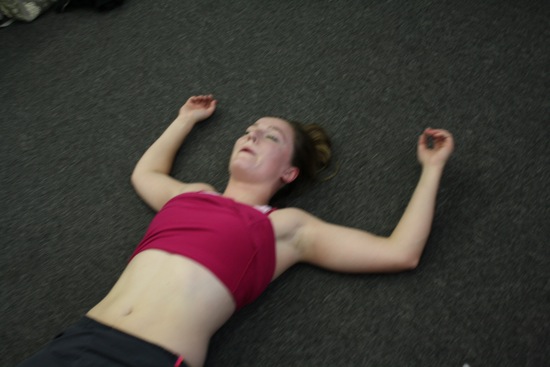 going to GPP in the evenings is rough now that it's getting hotter. running in 95 degree dry heat is no fun at all. but the evening classes do usually give me a chance to see my friend ali! she rocked the workout today. she's so inspiring.. you have to check out her weight loss story on her blog.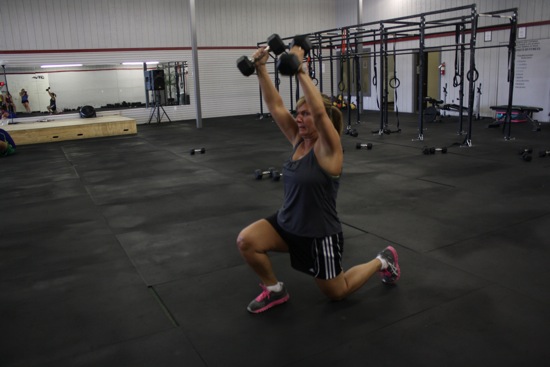 i love GPP so much–the new friendships i've made and continue to make are the best! surrounding myself with fit-minded people is one of the best things in my life right now.
oh. are you wondering what the title is all about? vegan balls? yeah, not talking about nick.. i am talking about something i MADE for nick! i created a protein-packed vegan recipe on a whim last night. i wanted to give nick a healthy treat to get him through his first week on the new plan. i literally just started throwing things into a mixing bowl and the ingredients ended up working really well together!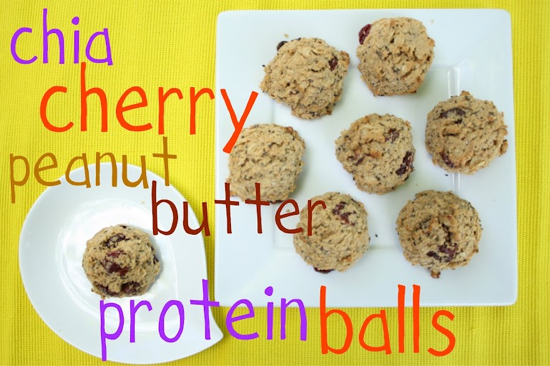 [pinit]
prep time: 5 minutes
bake time: 10 minutes
makes 13 golf ball-sized balls.. yep, they are big balls
i know, i know. the name is LONG. but i managed to omit the word "vanilla"! that should count for something…
ingredients:
1 cup old fashioned oats
2.5 servings plant fusion vanilla protein powder (or other plant-based, vegan protein powder)
5 TB natural peanut butter
5 TB xagave agave nectar
2 TB chia seeds
2 TB unsweetened applesauce
1/2 TB vanilla bean paste or extract
1/2 tsp baking powder
pinch of sea salt
2-3 TB water to reach desired consistency
1/2 cup dried cherries
directions:
preheat oven to 350 degrees. line a cookie sheet with a silicone mat, cooking spray, or parchment paper.
combine everything except cherries and water in a mixing bowl.
slowly add water until the consistency is a thick paste.
fold in cherries.
scoop golf ball-sized chunks of dough onto cookie sheet. i used a 2 TB sized cookie scoop!
bake for 10 minutes. balls will not look cooked, but if you leave them in any longer they will be dry.
let cool completely before eating.
store in an airtight container for up to a week… if they last that long.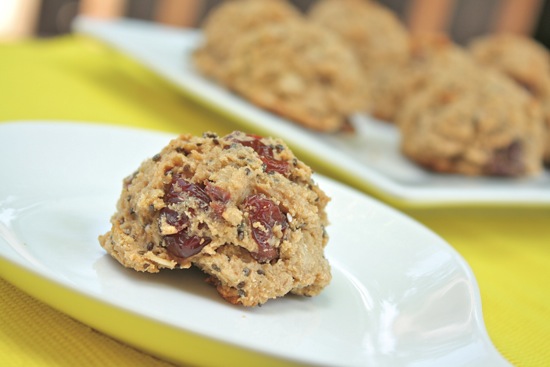 here are the stats!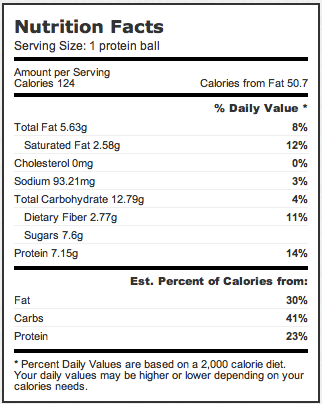 not bad, not bad at all.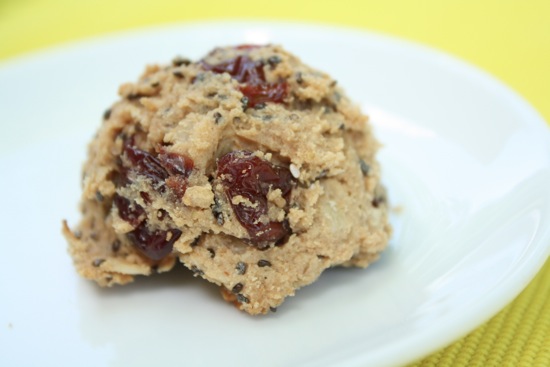 Qs~
1. when is the last time you were proud of yourself–and why?
2. what is your favorite healthy, vegan meal or snack? i am sending nick as many ideas as possible, so i figured i would ask you guys! links welcome (and appreciated!) the simpler, the better.
xo. janetha g.