hey guys! i am in denver and will be having a sleepover at katie's house tonight! we are busy tying up all the last to-dos for blend retreat.. oh boy, there are a LOT of last to-dos!  which leaves lettle to no time for blogging. luckily it happens to be thursday, and you know what that means!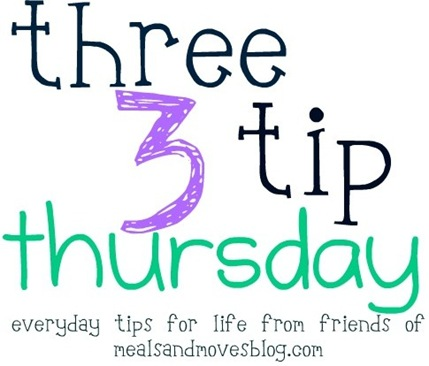 i am going to turn the time over to my buddy neil today. you have been reading about me going to GPP fitness regularly for about two weeks now. well, neil is the proud owner of GPP and he happens to be VERY knowledgable.  i asked him to share a few of his special tips he gives folks who are looking to change their bodies–and change their lives. i am thrilled with the tips he came up with, and i think you will love them, too.  here he is!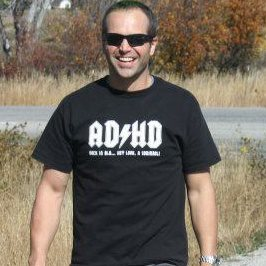 Hi! I'm Neil Anderson.  I'm the creator of GPP Fitness.  GPP stands for "General Physical Preparedness."  It is a minimalist health and fitness philosophy aimed at getting you optimally fit and healthy, on every level – fast.  My friends and I run a little fitness factory in Centerville, Utah where about 300 people per day come in and storm our daily workout with us.  For those who are off-site, our programming is available online at 
GPPFitness.com
.  It's free!!

I'm a veteran trainer of a little over 17 years.  I have been lucky enough to discover and create some unique techniques for changing the human body.  These techniques have taken me all over the world teaching trainers and fitness professionals my methods.  I have a degree in Exercise Science and have obtained 13 professional certifications.  I have personally trained over 60,000 one-on-one sessions.  Thousands more in group situations.  I've had my own health and fitness talk radio show (for 5 years).  Did some T.V. (local CBS affiliate for 3 yrs). And my writings have been featured in every type of news and print media.  I've even done 27 workout videos. But they are cheesy as HELL.  Please don't watch any of them.
Tip #1 – Running is Lousy for Weight Loss!  
From a weight loss perspective, running is a pretty lousy tool.  It is really only helpful in small doses.  Like very small.  I won't let my clients with a weight loss goal run more than 30 min per day.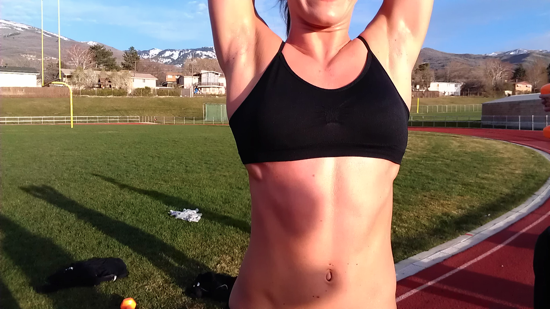 Chenelle is NOT a runner.  I won't let her!

Running for weight loss, only begets more running at infinitum.  In other words, the better you get at running, the more it takes to keep it up.  This has no end.  In fact, the more you do, the more you HAVE to do to get the same effect from what you have already done.  See, getting better at running is just your bodies way of getting more efficient at going places.  Now, for those of us who are trying to watch our shapes, getting more efficient at going places is the LAST thing we ever want to do.  We want to remain INEFFICIENT.  It burns more calories to be inefficient.  Becoming efficient at something means I have to do MORE of it or do it HARDER to get the same out of it.  This has no end.  It is precisely why most people GAIN weight when they train for a marathon.
Running was NEVER meant to be used as a weight loss modality.  It's only purpose is to get you to be better at running.  This is very useful for those who like to run and participate in running events.  The rest of us should rethink.
Running can be a big part of your weight loss success, but keep it to no more than 30 minutes per day and mix it with full body, high intensity movements done with constant variation and you'll get more from your workouts in terms of weight loss.  Remember, INefficiency is key.
Tip #2 – Strong is NOT the new sexy.  Sexy is just plain sexy, but it helps to be strong to get sexy!

A lady (rookie – new to us) walked up to me in my gym the other day with a very concerned look on her face.  We were about to do a very heavy lifting workout where we slam a lot of barbells around and grunt and sweat and strain.  She was daintily beside herself.
"Hey, you guys aren't going to put a bunch of manly looking muscles on me, are you?"
I hate this question.  I never really know how to answer it.  It is ridiculous in the first place due to the fact that it is quite impossible (trust me, if I'd have presented the workout we were doing that day at a symposium on bodybuilding techniques – they'd have all laughed me off the stage).  In the second place, it quite directly insults my knowledge, character, and taste in women.  I know she wasn't trying to call me a thick headed, lying ass, who loves Starla quality women.  But that's what I hear.  So, it makes me a little snippy.
"No, heavy lifting is the very thing that would have prevented you from getting those saddle bags."
…is what I would have said if I'd have let my anger get the better of me.  Instead, I urged her to start doing some bone crunching heavy lifting by explaining some of the benefits.  The benefits are cool.  Heavy lifting helps your body produce HGH.  You want this!  It makes your skin younger looking and your muscles, joints and bones stronger.  Heavy lifting also helps your body produce testosterone.  Yes ladies, you want this too!  Testosterone is responsible for your drive and passion.  It even helps you regulate fat!  There are tons of other benefits from heavy lifting.
I suggest working your way up to: 3 bodyweight Deadlifts , 10 Perfect pushups (from your toes) and 10 kipping pullups.  These should be on every females list of things to accomplish on their way to achieving a ROCKING body!  Those who can do these will find it easier to burn fat, shape up and smoke that little black dress.  Need proof?  EVERY one of my Jazz Dancers can do them.  All of my Blaze Dancers can do them.  Most of my vets at GPP can too.  Want to see what it looks like on?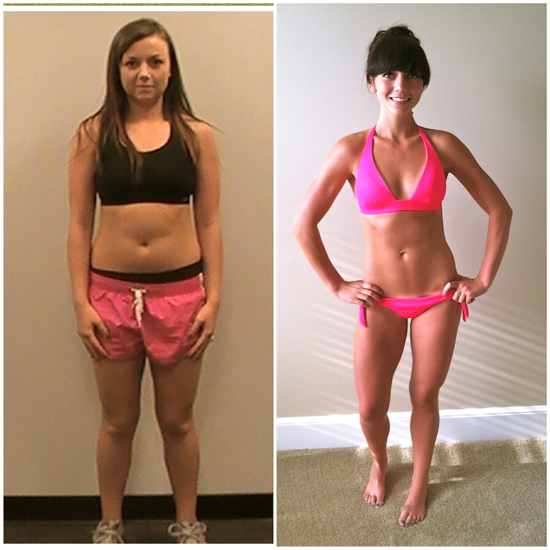 This is Tara after 3 years of "Heavy Lifting" GPP Style.  There are few people on earth as physically capable and strong as she is.  Tara NEVER misses a day.  Most importantly – DEAD SEXY.
Tip #3 –  Men will call their women big.  It's how you know you are killing it!  It is also how you know they love you.
Over the years, I have learned that men are sometimes intimidated by their significant other starting a workout program.  Oh, they'll act supportive at first.  And they'll (almost) never say they want their woman to stop.  But as you get more successful, they will try sabotage you in certain ways.  The most common way?
"Wow, your arms are looking dudish."
If you hear this from your man, please don't freak out.  It is his way of saying, "Damn girl, your arms are looking hot."  It came out "dudish" so that you'd be embarrassed by the perception of having tree trunk like arms and cover them up.
Objective accomplished! For the Man.  Now, he doesn't have to worry about other dudes out there checkin out your newly minted hot guns and doing the two things your man worries about the most.  Which Are:
1.  Other Men potentially hitting on you.  And if he's let things slide a little in the "Trunked Junk" dept. this is bound to make him more than just a bit insecure.    
2.  Men look over at you, go … WOW!  KAZAAM!  Eyes scan back to see what lucky Godlike creature must be with this Goddess and everyone in the bar hears, "pshhh!  Him?"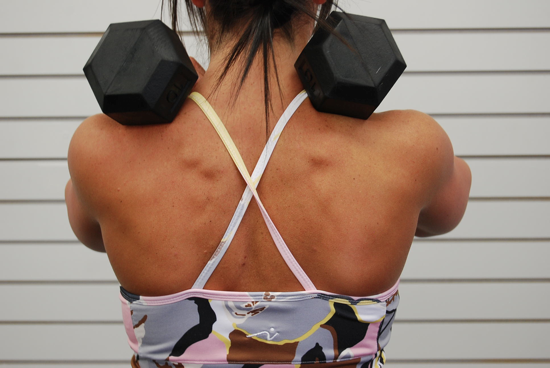 "Dudish?" Hardly!
When your man tells you (subtly) that you are starting to really, "bulk up."  Take it as a huge compliment.  You are getting there.  Enough so that you have made your man sit up and take notice.  If his initial reaction is a little insecure, well, that just means you are getting there a lot faster than he thought you would.  That's two scores if you are keeping track.  And the fact that he is (sort of) sabotaging you just means that he loves you so much that he'd rather have a meaner, more tired and somewhat less attractive version of you, rather than lose you altogether.  It's kinda sweet, in a messed up sort of way.  But, it's also another score!
No matter what, just stay the course.  Trust me; he'll like the newer version of you.  So will you.  And THAT is entirely the point!
****************************
big HUGE thanks to neil for taking over three tips thursday this week. these are all super helpful! my personal favorite is #1.. gotta keep that body guessing!!
hope you enjoyed these fitness tips! leave some love below and be sure to check out GPP's site for more great information.