wow, the month is already halfway over! crazyyy.. time flies. how are your adventures going? have you tried something new? if not, don't worry.. you still have time!
here is a video of my week two recap plus marshall's BIG ADVENTURE. enjoy!
so, all the submissions from week two have been fantastic. i smile every time someone sends me an email about what their adventure was. here is the week two compilation!
April says: So today I finally forced myself to run on the treadmill. I have been deathly scared of not only falling off while running but also making a huge spectacle of myself at the gym. I did three 1-minute runs at a higher speed then went back down to my normal speed (walking fast). It was incredibly challenging but afterwards, I felt so much more powerful in my body and very proud of myself. I hope to keep working up to more minutes and I also have a 5k next Sunday that I really want to improve my time at. Here is the post on it: http://cannonapril.blogspot.com/2012/04/adventurous-april.html
Cheri says: I had the first week of April off for Spring Break and spent the first several days more or less in a coma – recovering from a combination of strep/bronchitis/stress/blue funk. That said, I have to say that my "adventures" seems pretty dull. First, I tried out steel cut oats for the first time and then tried making my own. Love! I'm going to try some variations in the coming weeks. I also applied myself at my second job … making some suggestions on how we could improve our business. I designed ads, flyers, and a brochure. Scary, but my ideas were actually accepted and are going to be used! I also got together with a coworker from my primary job that I didn't know very well, but who had said that she wanted to get to know me better. I found that we had many things in common and made a new friend.
Stephanie says: I am only a few months away from my exams and I am on study leave. In the past, when I am not busy (ie I dont have classes all day to distract me) and I am stressed from studying I always revert to dieting and pick-nicking my body.  But, I haven't dieted for 4 months and despite the urge to diet these past few weeks, I will keep saying no. Since starting therapy I am slowly starting to truly love myself and despite having gained 8 pounds I will NOT restrict in ANY way. This is my April challenge, as it is extremely uncomfortable, both mentally and physically (since my clothes do fit a bit tighter). However, I know that as I continue my therapy and learn to stop eating emotionally and I continue to exercise… I will eventually reach my previous weight. To accomplish this- I focus on my studies, friends, family and fun activities :) I let myself feel emotions and talk them through with people. Life is short and I am challenging myself by not using dieting as a coping mechanism.
Becca says: Today for lunch I tried a new type of pizza – Fantasy – which consisted of sun dried tomatoes, roasted garlic, spinach, feta and pesto. Such a delicious diversion from my normal plain cheese pizza!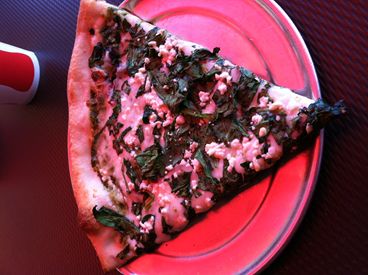 My other adventure was last night's dinner. I went to a Brazilian steakhouse for the first time. It was the best meat I've ever tasted!
Betty says: I'm usually ALWAYS in dark colors, especially at work. Black and gray are my go to colors. I saw this dress at target and loved the colors! I paired it with a turquoise beaded necklace for some contrast (which I never do, because I have no style) I love the combo and have received a ton of compliments today!!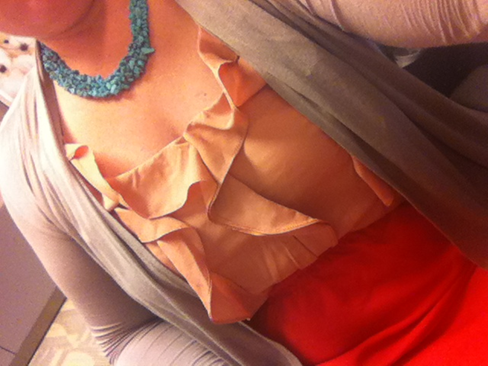 Also from Betty: First time using nooch, silicone mat, and cauliflower as crust. Mine def wasnt 'crusty' but I made 2 pizzas and they were devoured by 4 people in a matter of minutes. I think the nutritional yeast was a big player.. It was in my cabinet for other a month and I've used it 4 times since!!! Love it!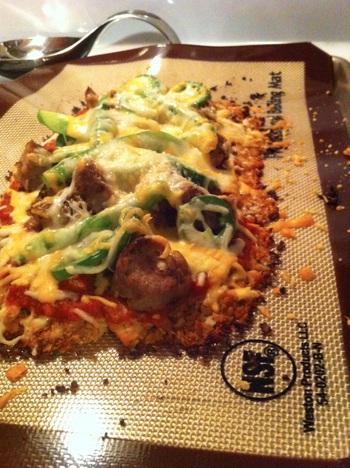 Kat says: My adventurous April pants were on and I tried a new CrossFit benchmark workout named "Cindy" and had brussels sprouts for the first time.  I can really see myself getting better at the workout over time,and I actually really like brussels sprouts. So glad I tried both the new workout and the new-to-me food! http://balancingkat.com/cindy-and-brussels-sprouts/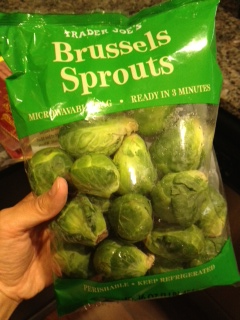 Natasha says: So I hit up the bulk food aisle at Whole Foods and got some random colored lentils….a whole rainbow's worth.
I love lentils but never bother or forget to get them.  Sloppy Janes and lentil salads are on the menu this week.  Made some "lentil concoction" last night with tomato puree and spices….it was great though it looked bleh (:
Tamara says: I filmed a YouTube video for Tuesday Trainer's Adventurous April post. My family and I ventured in to the big city for a day of walking, scootering, aquarium wandering and gelato eating. In the process, I learned that I'm not very adventurous (and need to be more so!).
Here's the link to my blog post (video included!). http://fitknitchick.com/2012/04/10/adventurous-april-put-some-adventure-in-yours/
Holly says: My "adventure" this week is that I tried a new to me food. Rutabaga! I made rutabaga fries out of it, and it was delicious. Surprisingly, a lot closer to "real" French fries than I thought it would be. I attached a pic from my phone, but it's pretty dark and terrible so you don't have to include it on the blog if you don't want to. I'll understand ;) I had it with a grilled cheese with spinach and tomatoes on it. Yum! Like a childhood comfort food classic. It was perfect.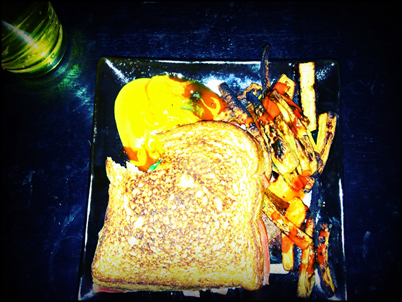 Shannon says: My adventure involved trying out a new fitness class–TRX!  I'd been wanting to try for awhile and jumped on a deal for 3 classes at a local gym.  What did I learn?  That the right instructor can make all the difference!  Just like every instructor has their own style, every attendee has their own preferences for what they look for in a class.  Love to be challenged and pushed, and today's instructor did just that.  I may not have been happy waking up at 5am (it's been awhile), but I had a smile on my face all day!
Meg says: My adventure for this week is huge! I have goals for myself regarding my fitness and training, so, in order to achieve these goals, I have finally hired myself a personal trainer! I hired Tara who blogs at Sweat Like a Pig for online personal training. This is by far the biggest adventure I have done in a while and most definitely the biggest adventure I have ever taken regarding my fitness journey! I have accomplished quite a bit training on my own and figuring things out for myself, but when hiring Tara I received a training program and nutrition plan that had been developed specifically for me. Throughout my time training prior to hiring Tara I have always felt sort of lost. I always needed someone assuring me I was doing "OK", but now with a program specific to my needs I can be confident and sure that I am doing everything correctly :) I am so excited for this new adventure in my fitness journey begin! Today was my first day of training using Tara's program and it was amazing! I had my "game face" on this morning :)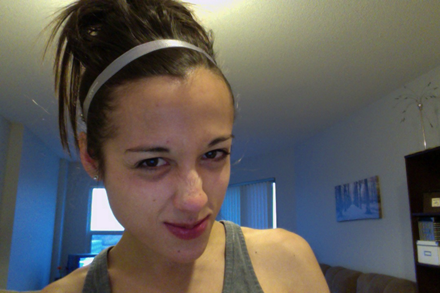 Sarah says: The past week I've been experimenting more in the kitchen and had two successes: a really good protein oatmeal and a savoury stuffed squash. The new-to-me items in my oats were a new ground cardamom and chia seeds, and for the savoury recipe I tried out a different variety of squash called gem squash. You can read all about it here if you like http://the-healthy-diva.com/2012/04/11/adventurous-april-takes-a-bite/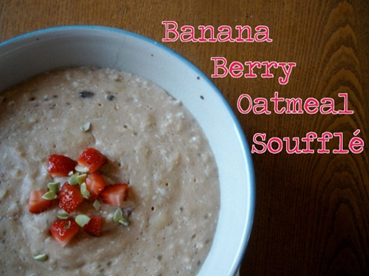 Amanda says: So I've been really wanting to try to make my smoothies green but am still kinda freaked out by the idea of putting leafy greens in my smoothies. I think it's a texture thing, and until I get myself a rich boyfriend, well, the vitamix is on the back burner. I love my veggies and all but when I want a smoothie, I like 'em sweet (current fave is a pumpkin banana concoction) and smoooooth and all icy and delish. SOOOO, I got this smart idea of trying spirulina (and/or chlorella) in my smoothies. It would make them "green," add some nutrients and a help make them more alkalizing (which is, I assume, why anyone would put veg in a smoothie, right?). Anywho, I did it! I added some spirulina to my smoothie, and guess what? It was delish. I feel like I'm totally on my way to having "real" greens in my smoothies. Baby steps, right?  So today at lunch I had my first, real green smoothie.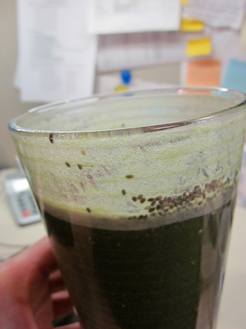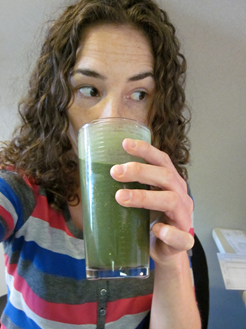 Fox says: I decided to gauge my ears! I love the look of gauged ears on women and I've never been ballsy enough to do it before. You can see some pictures on my blog at http://fox.tinybike.net/2012/04/what-i-ate-wednesday-happy-birthday.html While I was at it, I got inspired by "The Girl with the Dragon Tattoo" and made a mohawk as well… I didn't blog that but here it is!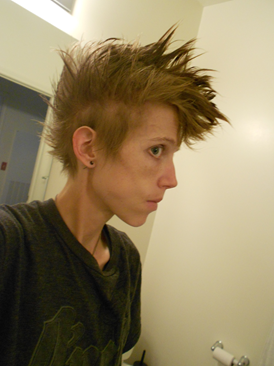 Yes, I am wearing it like that in public and not just in my bathroom today. It's super fun. And I am not in the least bit ashamed. It's good to be my punk rock self!
side note.. fox, i think this hairstyle is so cute! you totally rock it! SUPER adventurous if you ask me.
Sara says: I bought the aloha blend flavor of Love Crunch that just arrived as a new product at my local health food store. It is dangerously delicious and I will definitely be going back to buy the other three flavors! :)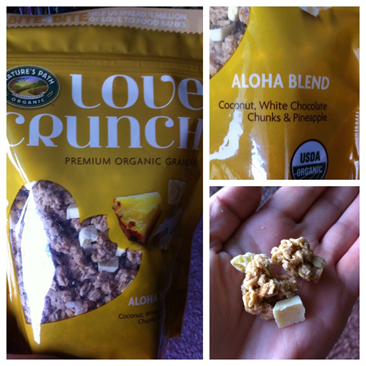 Kait says: More new foods and great experiences!  Zima tomatoes, corn pasta, my new fave drink (Zukáy Raw! SuperRoot), my first attempt at growing my own food (!), and a beer tasting involving every.single.one of those bottles.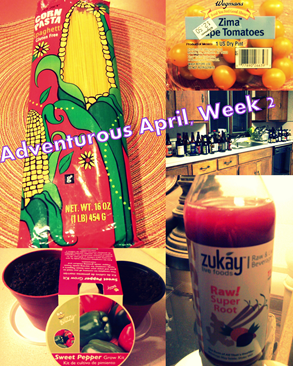 Kristin says: I signed up for a marathon that is just 7 weeks away! Please read all about it here: http://stuftmama.com/2012/04/12/rock-n-rollin/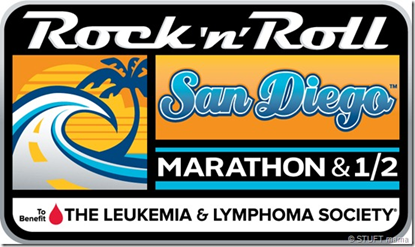 Courtney says: My friend has been bugging me to go to a S.W.E.A.T. class with him, and last night I had no excuses, I finally went! I was scared at first but it was awesome and i'll be back every week from now on! Also, when I got home, I made my own nut butter for the very first time! I used pumpkin spice almonds, and ohhhhh my goodness. Delicious. Probably never going to buy nut butters again.
Missy has been busy! She says: I've done a Kamut flour banana bread and wanted to use spelt. I actually used spelt and coconut flours.
I didn't show all ingredients but the spelt flour was the main new to me ingredient.  The batter in the bowl (tasted good!), in the pan, pre and post baking.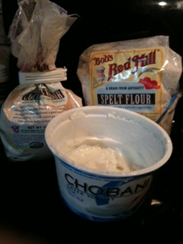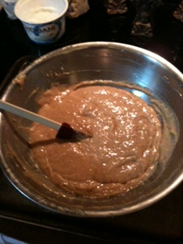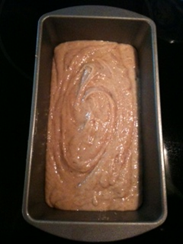 What I learned: not much difference in taste from the Kamut but the texture was (may be from coconut flour?). This was browned on outside but really really gooey on inside even though my cake tester came out clean. Did I enjoy? Yes it had a good flavor and I may do muffins to see if they'll bake better, because cooking this longer made a hard dark crust that pulled away from the middle which was still very undone. I sliced and toasted it :)
Also from Missy: One food I've been wanting to try but was scared to is tofu. So I bit the bullet and used this Tofu that I've had for a long time! I wasn't sure where to start but wanted to do something simple and in something I like. Having never tried it, I didn't want to make an elaborate dish only to hate it and waste ingredients.  So I landed on a smoothie and a tofu mousse.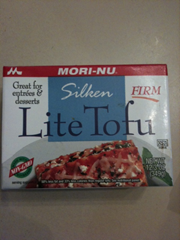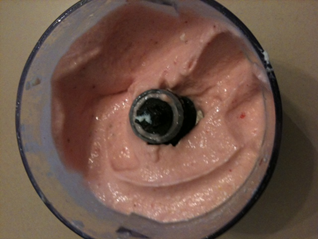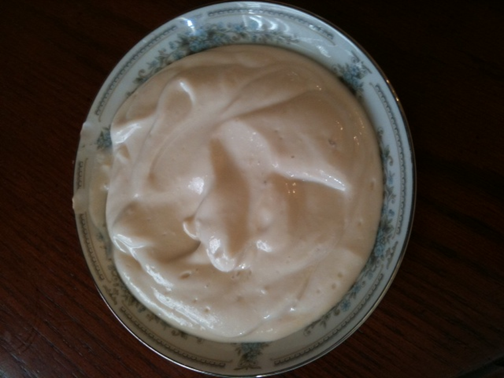 The second pic is the smoothie, which was thick so I thinned it with almond milk. The third pic is the cheesecake mousse. What I learned: Tofu is not my favorite smoothie addition/base. While not bad in these recipes, I much prefer my cottage cheese for ultra creaminess. The smoothie was a bit gritty and it's never that way when I use cottage cheese. The mousse had a good flavor but nothing earth shattering. Would I use again? Sure, I didn't hate it at all and I may like it better in a savory dish. I may play some more since I finally tried it.
Calee says: This week I was a little less adventurous. I randomly decided to do a date night on Tuesday after we were done at the gym. Totally out of my rip-off-my-clothes-and-put-on-my-PJs-weekday-norm. I'd recently adventured and tried Indian food for the first time on the Friday before, so I suggested we go out to the other Indian place and give it another try. Date night was a success. Mark even had a mini adventure. We went to Target after dinner to pick up some stuff we needed, and he got a different "flavor" of body wash. He's kind of a freak about the way he smells and doesn't like to change it up. I convinced him to give it a go. So far, so smelly. :)
Tanya says: Just over a month ago I joined a crossfit box with a friend. We always go together because we aren't confident enough to go alone yet.
Today I checked the Workout of the Day before I left the house and really considered bailing because it included Turkish Getups which looked really hard, and I have never done before. Well I sucked it up, went alone and learned how to do one and completed the WOD. After I was done I felt silly for not wanting to go alone, everyone is so friendly. Plus I learned a new move, that wasn't nearly as tricky as I thought is would be! I felt great after class :)
Maggie says: For this week's adventure I stepped outside of my comfort zone and had my entire workout completed before 9am! Now, I know this probably seems like NO big deal to most people, but for me this is a pretty big deal. I've always thought I would have no energy for my workout or I'd be too tired all day if I worked out first thing in the morning but this week I decided to just get it done and I loved it! It felt amazing being done with my workout and still having the entire day ahead of me, and I really didn't feel any more tired than usual. Success! I blogged about it here: http://runningonfroyo.wordpress.com/2012/04/12/fitness-friday-2/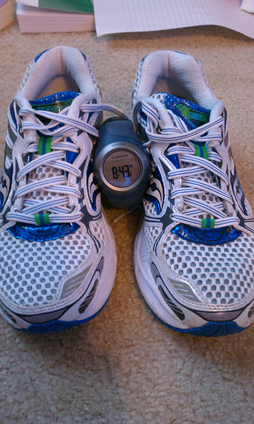 Debbie says: Challenge this week try a new food! And I picked a scary one! Parsnips! Something about this veggie always scared me. Last trip to the farmers market I maned up! I ended up cutting it up and roasting it. Loved it!! This is why we need to take the risks with new foods. Gets our creative juices flowing too in how to cook it. And if you don't like it, well don't get it again! Also eating more green and supporting local farmers feels good too!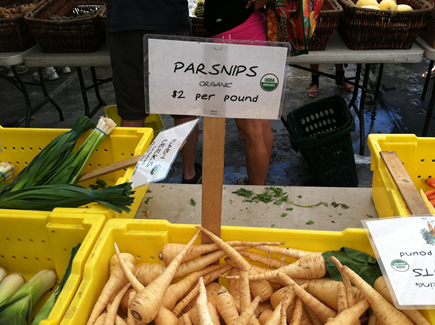 Carly says: My boyfriend and I have talked about joining a baseball team for quite a while now, but always missed the cut off date. This year, we signed up early for a co-ed league in our new town. I was excited….until the day before our first game. I haven't played baseball in 10 years and was terrified to go play with a bunch of strangers. What if I am horrible? What if we lose? What if I'm the worst person on the team? I actually tried to talk my boyfriend in to not going as I was so scared. He told me to suck it up, who cares if I'm bad? So we went, and we played. And I wasn't very good, and we did lose, but I had such a good time, and have met some awesome people. I am so glad I followed through with it, and now just hope I can improve throughout the season! :)
Kattreena had FOUR adventures:
Adventure #1: I tried new flavors of Lara bars and a brand spankin' new drink! I usually go for chocolate and peanut butter flavored bars, but I though hello?! Adventurous April! And I love carrot cake and pecan pie, so why not try the healthy alternatives! The lemonade is sweetened with organic Stevia! Ahh! Healthy and yummy! These were AMAZING products that I definitely want to try every month of the year! :)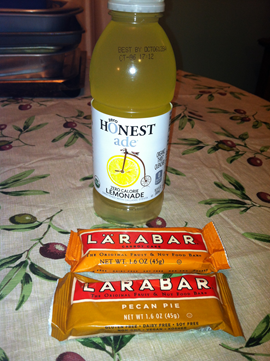 Adventure #2: Oat Smash for breakfast! I am also a new reader to Healthy Diva Eats's blog! I LOVE oatmeal and basically eat it every day, and I always thought about making her oat smash, but usually just stuck to my routine way of making it! Except for this time! Again, I though, Adventurous April! It was great! It really just changed the texture and made it look like so much more food! Haha definitely making it again :)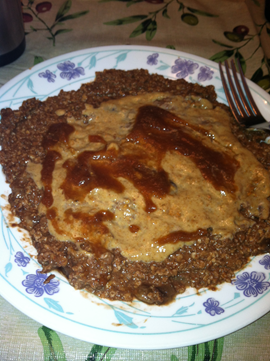 Adventure 3: So this adventure was your 20 minute HIIT elliptical workout! I was always nervous about doing HIIT elliptical workouts for some strange reason, but I'm so glad I tried this! The time went so fast with the change of resistance every minute! And I burned over 200 calories in just 20 minutes! :) Freakin' loved that!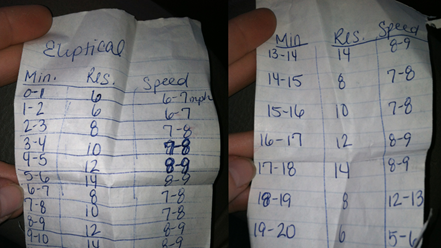 Adventure #4: A sweet potato for breakfast?! Only if it's made Healthy Diva Eats's way, which is topped with Chobani's apple and cinnamon Greek yogurt, some natural granola, and her peanut butter sauce! Soo yummy! Adventurous April gave me the extra boost I needed to try this! :)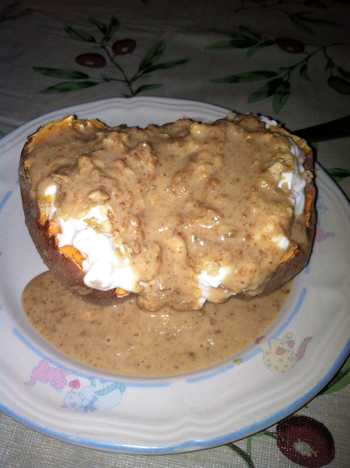 Colleen says: I'm preemptively writing you about my adventure, since it will happen tonight but I'm not sure I'll get to a computer by end of tomorrow. My best friend and I are trying out a local raw, vegan, gluten-and-dairy-free restaurant tonight!  I'm a wee bit afraid (not of actually eating the food; I'll try anything!  But spending good money on food so experimental is out of my comfort zone!), but also excited!  I'll send pics in a later email if I get any.
Haley says: I did something I swore I would never do again: yoga class. The classes I went to before weren't my thing but I decided to give it another try. The teacher really made the class awesome! I was sweating and my arms were shaking by the end. Now that's my kind of class. I also went for a bike ride around Sonoma, which I have never done before. I put my bike in the back of my car and drove to town. I had no idea where I was going or what to expect but it was gorgeous!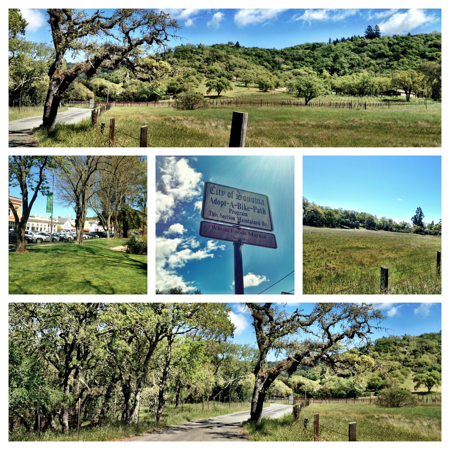 Griselda says: Today I went with a friend to try a Xtend Barre class! It was pretty intense and I knew nothing before I walked in. I really loved it! My friend bought me a Living Social deal and we went together. I am so glad we tried it and will be going more often.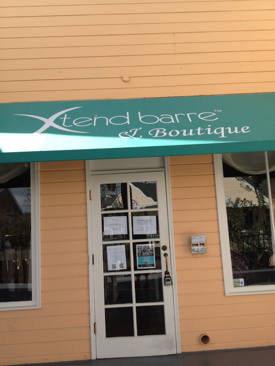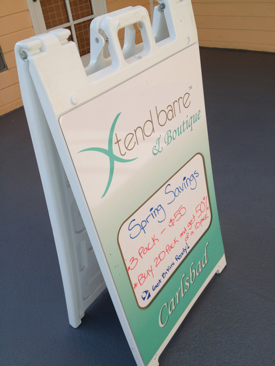 Kerryne says: A new to me gym and a new to me type of workouts… GPPfitness baby!  Its kicking my Ass and I like it! Blogged about it here: http://figurecompetitors.blogspot.com/2012/04/things-that-make-you-go-ow.html
Meggie says: This week I did 2 things I haven't done before.  The first was get a spray tan!  I am pale.  VERY Pale.  And got a spray tan today before we leave on vacation.  My oh my, I was nervous :)  The second thing I did was kind of silly but a whole lot of fun.  My husband has been trying to find a venue for his CD release that is somewhere new he has never played.  We took an afternoon and did a "venue-crawl" … basically we scoped out a bunch of places that had live music by having a beer at each place.  It was really fun and a good way to check out the place/staff/crowd etc.  Never been bar-hopping during the day ;)

Kathryn says: For my adventure this week I went to the grand opening of a new frozen yogurt store, Forever Yogurt, and waiting in line for over 3.5 hours! The first 50 people in line got free fro-yo for a year, and I did it!!! My fingers and toes went numb, but I stuck it out and got my card! So excited!!!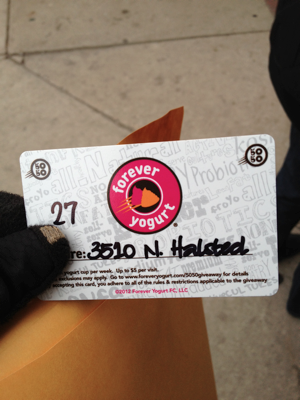 Kimberly says: 1. Jazzercize. Just think Richard Simmons Sweatin' to the Oldies. I'm debating if I should give it another shot. Was a little creeped out by the teacher yelling at us through her microphone. She also sang to the songs and told us how Christina Aguilera was talking dirty.
2. Cardio Kickboxing. One of the toughest workouts I have done. I got to strap on bags and punch a bag and loved every sweat dripping moment. Not sure how the teacher had so much energy and did the moves so fast. I look forward to trying it next week. Bonus was they had some PB2 for us to try after working out. Yummy and going to grab some of that. I was telling them about your smoothies.
And last, but not least.. Momma B had THREE to submit!
#1: I was so excited to go to a body pump class with my girls, Janetha and Suni. I love to lift weights but this would be a first for me.
A few observations:
* you need a lot of equipment!
* there's a lot of repetition—that was good because it did fatigue my muscles
* the instructor was excellent and I could keep up with most of her instructions
* putting the equipment away was a little nuts because of the next wave of members starting the next class
* i could have used heavier weights for my upper body
* my degenerative disc problem was aggravated for a week (because of all the squats)
Final thoughts:
I will probably stick to my home gym workouts changing them up as needed
It was a great night of exercise with my girls!!!  Love those ladies.
#2: This was very new to me. Getting my teeth whitened at a What a Woman Wants expo! Janetha and I both gave it a shot. I learned that even tho I didn't think my teeth were that much whiter as soon as Janetha told me they looked better I felt great!! I also bought a brightening pen to whiten up some pesky spots. Haven't tried that yet. Overall it was a fun thing to try and boy do I ever have a pearly white Ike now!!!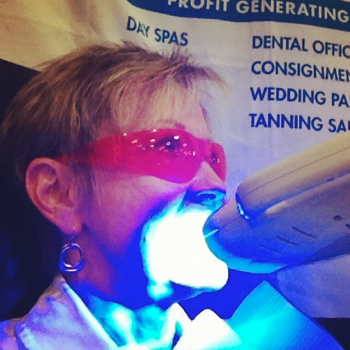 #3: I tried a new flavor of fitmixer! This stuff is so good it must be against the law to drink!!  Seriously I have a love affair addiction with the punch flavor. Now I've tried the grape oh man now what do I do…..totally love them both.  I'm working real hard to only drink Fitmixer during my workouts (yep you'll find me in the gym most of the day!!!)
Buy some today!!!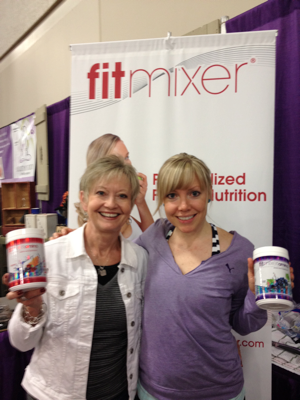 haha.. my mom really is a fitmixer junkie. it's awesome.
so, the winner for week two is…*drumroll*…KRISTIN (stuft mama!) congrats! please email me your mailing address and i will ship your fitmixer to you.
send in you entries for week three! this week's prize is a sample pack of the simply bar protein bars.
be back tomorrow with a full weekend recap!
xo. janetha g.