hello and welcome to thursday. or.. chances are.. it is already friday by the time you read this.
fabulous.
whelp, i am still sick. worse today than yesterday, in fact. but isn't there some bit about it having to get worse before it gets better? so i am crossing my fingers that tomorrow brings better health.. at least slightly better, that is. i am not asking for miracles, i just want to breathe. and taste.
i did make quite a flavorful, sinus-clearing dinner tonight.. recipe courtesy of jessica over at how sweet it is.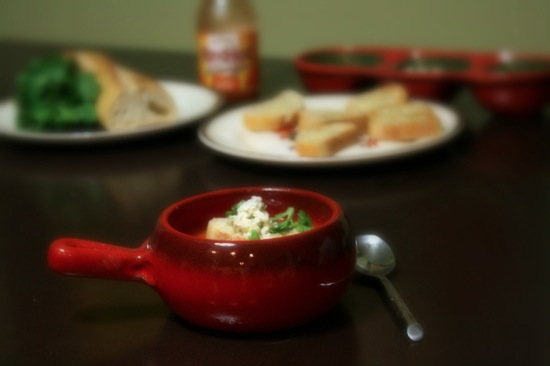 the girl knows her soup. and her chicken. well, and her cookies.. but that is neither here nor there. anyway, i made her buffalo chicken soup tonight.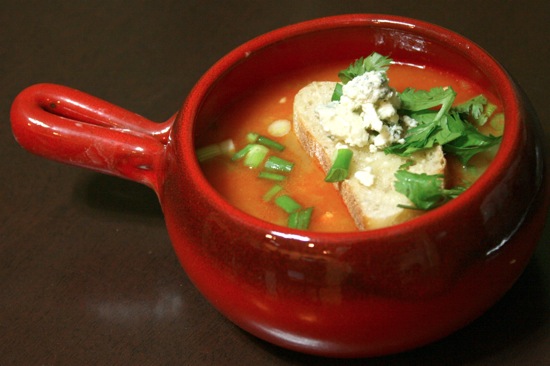 the one and only tweak i made to her recipe was i used a sourdough baguette topped with melted romano cheese instead of using multigrain.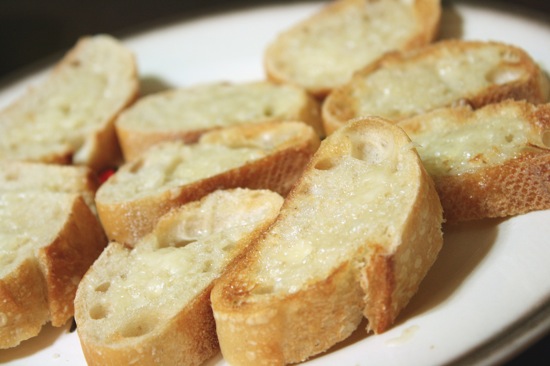 marshall has a new love affair with sourdough bread. we have gone through three loaves justlikethat and now this baguette is also gone.  time to buy more.. or try my hand at making it. any good sourdough starter recipes you'd like to recommend? anyone?
anyway, back to the soup. it was delicious. i could actually taste it! spicy food for the win. if you are after a tasty, spicy, fast, easy recipe.. try this one.
in other news.. i made it to the gym today for the second time in the past week. i am trying not to force anything, but after sitting at my desk for 8 hours straight, i get antsy and really just want to MOVE. so, despite my sinus pressure and stuffy nose, i headed to golds for a back/bis workout:
wide grip pull down: 3 x 12 @ 80#
single arm dumbbell row: 3 x 12 @ 20#
seated cable row: 3 x 12 @ 70#
underhand cable pull down: 3 x 12 @ 70#
alternating dumbbell biceps curl: 3 x 12 @ 20# each
single arm preacher curl: 3 x 12 @ 12#
straight bar cable biceps curl: 3 x 12 @ 40#
if this looks familiar, i am not surprised. it is day 2 of the livefit trainer program. i have no real direction as to what to do at the gym right now.. so i am just doing some of the livefit workouts over again. they are solid, hit every muscle group, and require no thinking. what's not to love? plus, the phase 1 workouts take it easy and don't take long to complete, so that fits perfectly into my "i-am-sick-and-don't-want-to-over-do-it" attitude.
i did polish off my workout with a slow, easy 20 minutes on the elliptical. i eventually had to stop because i felt like my head was going to explode from the building sinus pressure, and i am sure the gym employees wouldn't like to clean such a mess up.. so i left. and made the soup. that i already raved about.
it was really good, though. did i mention that? oh, and my mom made it tonight, too. she and my dad had it and loved it just as much as marshall and i did. she even instagrammed it. oh, yeah, did i mention that momma b is on instagram? yep. she's so hip.
the sunset was stunning tonight.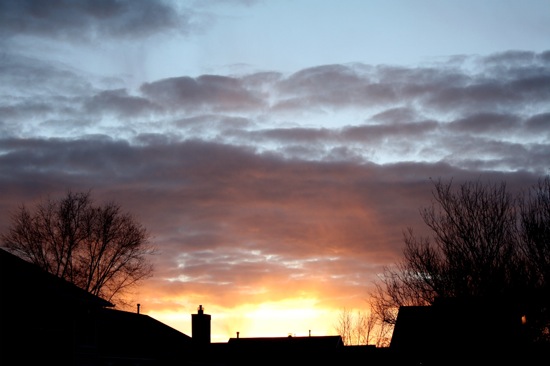 the little things, folks.
a few more random thursday items for your reading pleasure:
today is national banana bread day.. celebrate with a loaf of THE BEST BANANA BREAD IN THE WORLD. hands down.
today is also national dog biscuit appreciation day. the whole "appreciation" part was kinda weird to me, but whatever. i didn't eat any dog biscuits, but i gave my kids a few. they appreciated them, i am sure of it.
i have an almond protein cookie recipe i am trying to tweak a bit to get the consistency perfect.. and then i am gonna share it with you.
i am going to do this cleanse thingamajig next week in an attempt to clear all the poop out of me. i am still at a loss as to what's making my guts be so lame. work in progress.. trial and error. anyway, i will tell y'all more about the cleanse another day.
speaking of my guts, i still owe you guys a post about the colon hydrotherapy. hmm.. there isn't much to say, but a lot have asked. i will try to type a blurb up this weekend.
my dogs went to daycare again and loved it! randy was humping all the other dogs.. sometimes he tried to hump their faces. he is a dirty dog, but i love him.
it's almost march! weird.
that's enough out of me. i need to take my contacts out (i haven't taken them out of my eyeballs since january 3rd, i know.. i am horrible. i bought the ones you could wear safely for 30 days and apparently i have gone 20 days over that limit) and call it a night.
hope your friday is all you hoped for and maybe more!
xo. janetha g.