happy martin luther king, jr day! did you have the day off? if so, hope you enjoyed it. i didn't. i was at the office all day.. my company does not observe very many holidays. only six, to be exact.
how about a little meals & moves action before my topic of the day?

after a full day of work and then an appointment with the doctor regarding the mass in my left breast, i headed to the gym. i have less than two weeks until my trip to mexico, so i am completing the workouts from phase 3 of the livefit trainer. these workouts focus on leaning out through circuit workouts, plyometric moves, and sprints.
today's workout was legs. i did each set below three times through at the weights/reps listed.
set 1:
leg press (245# x 15 reps)
squat jump (body weight x 15 reps)
set 2:
bulgarian split squat using smith machine (85# x 15 reps each leg)
butt kicks (1 minute)
set 3:
walking barbell lunge (65# x 20 reps)
long jump (body weight x 20 reps)
set 4:
leg extension (65# x 20 reps)
lateral bound (body weight x 20 reps)
set 5:
smith machine squat (105# x 30 reps)
set 6:
standing calf raise (140# x 20 reps)
high knees (1 minute)
set 7:
leg press calf raises (135# x 20 reps)
imaginary jump rope (1 minute)
if that looks like a long workout, your eyes aren't fooling you. it was long. and intense! but it was fun. i like plyo and active rests, so i had a good time. not sure my tune will be the same after the sprints on tomorrow's agenda.

i am going to try to carb cycle. i am not going to beat myself up if i screw up, but i do want to give it a shot. the way it works with livefit trainer is 3 low carb days followed by one high carb day, repeating for up to three weeks.  on the low carb days, i am going to aim for 70 grams of carbs. on high carb days, i am going to aim for 170 grams of carbs. my overall calories won't change, just the source of those calories. so on the low carb days, i will eat more protein and fat than on the high carb days.
i don't want to dive into this too much, because i know not many of you are interested in hearing about it, but i will be sure to let you know how it goes and if i follow through with it. if i can do it easily without it bothering me, then more power to me.  however, if i get too cranky, i will likely bag it. i would rather be happy and carby then crabby and cut.
dinner should be interesting tonight since we are meeting our friends for indian food and a movie.. but i will figure it out!
okay! moving on. let's get trendy!
there are a lot of health trends out there. it's hard to decide what is worth trying or what is just full of hype. you can google things til the cows come home (where did those cows go, anyway?) but i think the best way to see if something lives up to its trendiness is to just try it for yourself.
here are five supposedly healthy trends in the food & fitness world that i have my eye on and want to try.
1. dry brushing.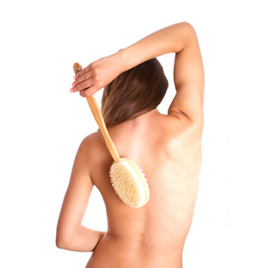 image source: terawarner.com
i first heard about dry brushing from ashley's blog, but i have since read a lot of magazines that mention it.
i learned from ashley's post that dry brushing can help with:
removing dead skin
hydrating skin
reducing cellulite
support your immune system
tighten skin
aid in digestion
detoxify lymphatic system
i want to buy a brush STAT!
*********************
2. juicing.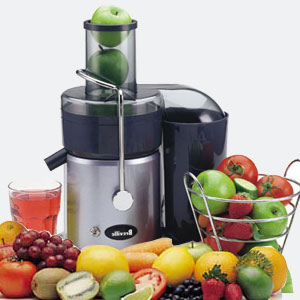 image source: targetwoman.com
the popular juicing documentary, "fat, sick, and nearly dead" has been on my to-watch list for months now. i really need to sit down and watch it already! since that film came out, there have been several magazine articles and blog posts popping up about juicing and the benefits.
i have a hard time eating my vegetables. there are nights that i will sit down to blog and realize that i didn't consume a single vegetable all day long. it's true.  yesterday, for example, the only veggie i ate was a few mushrooms that were in a sauce i made for the chicken we had at dinnertime. i guess i am just not a veggie monster.
aside from all the health benefits that juicing offers, i really just want to start drinking juice to make sure i consume more vegetables. i don't struggle eating fruit.. i ate 13 clementines yesterday.. but vegetables? yep. problems. right here. and i know momma b has a juicer that she'd be happy to let me borrow. right, mom? plus.. i really want to try out all of kristina's juice recipes!
*********************
3. sitting in a sauna.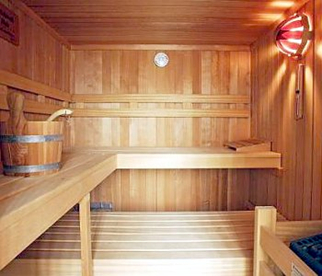 image source: mustknowhow.com
okay, maybe this isn't very trendy.. but i caught wind of this idea in a health mag i was reading the other day. i can't remember which one, but it stuck with me because my mom and dad actually have a sauna in their house.. so i thought, "why do i not take advantage of their sauna?!"  a lot of gyms have saunas, too, but i am not really one for communal sauna sitting. that's just me.
saunas make me a little crazy.. i think it's the claustrophobic in me. i get a little bit anxious when i go in.. but after a few deep breaths and really focusing on finding relaxation, i am able to let go of any anxiety that is associated with sitting in a ridiculously hot box. i get this same anxiety when i go to a bikram yoga class, by the way.
some of the reasons sitting in a sauna is good for your health include:
relieves stress
relaxes muscles
flushes toxins
cleanses the skin
may induce better/deeper sleep
improves cardiovascular performance
source: finnleo.com
it's not like i have some dying urge to start sitting in a sauna every day.. but since i have one close to home at my disposal, i want to try making a habit of it. i do know that once i get past the initial freak-out, it really does allow me to relax, clear my mind, and feel good.
*********************
4. bodypump.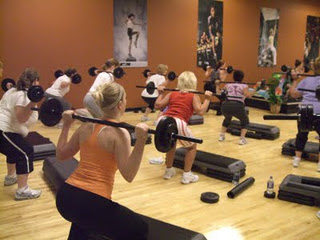 image source: studio360fit.blogspot.com
i know, i know, i KNOW. i am late to the party on this one. i don't know if bodypump is even trendy anymore! pretty sure it's been replaced with zumba or crossfit (which, by the way, i would like to try both of those.)  i have never tried bodypump. i am not big on group fitness. i am not big on working out with other people at all, in fact. i would much rather workout solo—whether it be cardio or lifting—i just like to be alone and concentrate on my workout.
some people benefit from group fitness and the energy that comes with it. i could take it or leave it. i have taken step classes back in the day and also a few spin classes here and there. bikram yoga is also a group class, but not quite the same as a class you take at the gym. bodypump intrigues me because you are working so many different muscles at once. it seems like you lift lighter weights for lots of reps, which is a great way to burn out your muscles. it's also a great way to lift when cutting.  i always love reading about it on erica's and teri's blogs.  i may try a class in the near future before i head to mexico.. but don't hold me to it.
*********************
5. versa gripps.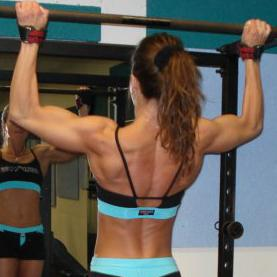 image source: versagripps.com 
i have been lifting weights a LOT lately. like.. six days a week. my hands have taken a beating. i have calluses on my palms that are almost worse than marshall's, and he works with his hands all day! i used to have some gloves that i'd use for weight lifting, but not anymore. i have been looking into investing in another pair of weight lifting gloves, but i think versa gripps might be a better option. i see a lot of people wearing these at the gym.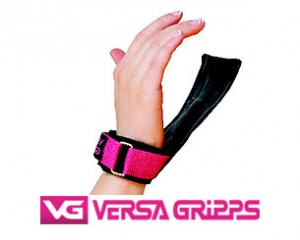 image source: versagripps.com
you wear them around your wrist and then when you are doing things like wide grip pulldowns, you wrap the versa gripp around the bar. this gives you a better grip, protects your hand, and allows you to lift heavier weights without hurting your hands. sometimes i have to go a little lighter on the weights solely because my hands hurt. i think i need a pair of these!
*********************
one health trend that i HAVE tried and liked is drinking raw apple cider vinegar. i have been doing this for about a week now.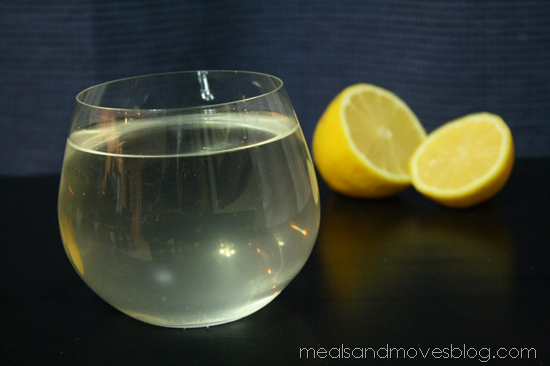 i mix 2 tablespoons of ACV with the juice of half a lemon and about a cup of water (and ice.) i drink this twice a day. i have read about several health benefits that come with drinking raw apple cider vinegar, including:
help improve bowel irregularity
reduce abdominal bloating
acts as a natural remedy for heartburn
clears up skin blemishes
relieves joint pain and stiffness
helps your body break down fats so you can use them instead of store them
reduces levels of glucose
source: globalhealingcenter.com
now, i am not sure if drinking my ACV cocktails is doing all of that for me, but i do know it has helped my bloating a bit. my digestion, however, is still really… slow. i am not drinking ACV in hopes to cure all my ailments, and am not betting on it to work miracles, but i figure it doesn't hurt to drink it. so why not? it is inexpensive and i actually love the taste (it reminds me of citrus kombucha) so i am going to keep it up and hopefully reap a few of the benefits!
and one fitness trend i am absolutely SOLD on is vibram five fingers. i have been using them since august and haven't worn a pair of "regular" gym shoes since.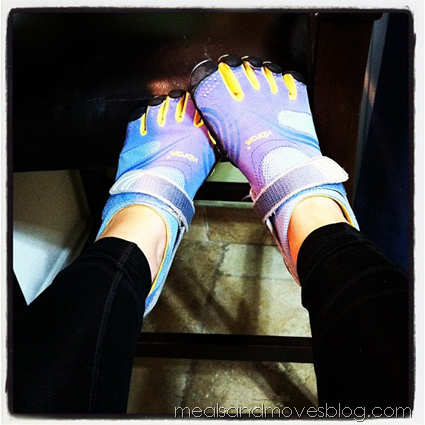 i have never had happier feet, knees, ankles, or shins. these babies have really changed my workouts for the better. i am hooked.
Qs~
are there any health/food/fitness trends you want to try?
how about ones you have tried.. how did that work out for you?
have you tried anything on my list? thoughts?
xo. janetha g.