hello! merry christmas!
this blog post is going to be hard for me to write. why, you ask? well, because of unexpected event #1.
friday night, my laptop decided to hate my guts and the hard drive crashed. pretty sure i have some sort of virus and it's fixable, but after spending 90 minutes on google trying to fix it myself, i cried mercy and will be taking it into an expert on monday. i am no genius. so, instead of blogging from my comfy windows live writer program on my PC, i am blogging from the wordpress dashboard on marshall's mac. i am not very mac-savvy , and uploading photos into this program is a pain, so let's see how this goes…
side note, if you have any suggestions as to what a great laptop would be, i would love an educated opinion. i want to buy a reliable laptop this week.. i would get a mac, but there isn't a great blog writing software on mac, so it'll be a PC. advice is wanted and welcome!
unexpected event #2 happened yesterday. i met up with three of my friends to head up the canyon. we were heading to brighton ski resort for some christmas eve snowboarding–a tradition we've had for years and years!  we decided to take two cars, so i hopped into lindsay's car and we headed up the canyon. only about two miles in, lindsay's gas light went on. she decided that it is better to be safe than sorry.  she turned around to head back down to the mouth of the canyon and fill up her tank.
we were heading back down the mountain and suddenly hit a patch of black ice. it was like the slow motion sensors kicked on as we slipped all over the road–heading straight for the huge mountain–and then BAM.. we crashed into the mountain. we hit on the passenger side aka the side i was on.
the next thing i knew, there was blood EVERYWHERE. my blood. in my nose, my mouth, all over the dashboard, my lap, my clothes, lindsay's clothes.. ouch. my face had smashed into the dashboard.
yes, i was wearing my seatbelt.. i will tell you that now because that's the first thing anyone asks. but for some reason, it didn't lock up. also, the airbags didn't deploy. because of these two things, my nose met the dashboard at full speed ahead.
everything is kinda hazy, but i remember being very scared. luckily lindsay was okay and was able to get out of the vehicle and get help. our cell phones didn't have service, but some passing vehicles stopped to help us and went to call the police and an ambulance. i just remember spitting up mouthfuls of blood and bawling my eyes out. i had no idea what to do! i am pretty sure i kept saying, "I DON'T KNOW WHAT TO DO! WHAT SHOULD I DO?!" and lindsay just kept apologizing over and over, and i kept telling her that it was an accident.
the ambulance arrived and a paramedic helped me into the back. i was able to sit up and the bleeding had slowed down quite a bit. they checked me out to make sure there were no life-threatening injuries. my teeth were in tact (thank GOD) and my arms and legs were fine. it was just my head–namely my face–that was throbbing. the paramedics helped clean me up a bit and gave me an ice pack.
they offered to take me to the hospital, but since my car was at the mouth of the canyon, we opted to have them give us a lift to my car and lindsay took me to the hospital. her car had to be towed and unfortunately it's totaled.. but the important thing is that we were alive and functioning!
we checked into the ER and were immediately taken back to a room. luckily the ER wasn't bumpin' so they were able to see me quickly. they laid me on a bed and gave me an ice pack. i tweeted and instagramed the situation, and i want to say thanks to all of those who replied with your sweet words!
i had a few x-rays right away and then had to play the waiting game for the results. in the meantime, marshall and my parents arrived at the hospital. eventually the doctor came in to confirm what i felt–a broken nose!
luckily there was no displacement and it is just a hairline fracture. it's still very swollen, so i can't tell if it's crooked or not. if it is, i will have to see a plastic surgeon to straighten me out. if it's straight, then i just have to wait it out until it heals.. just like you would with a broken rib.
i went home with an ice pack and a prescription for lortab. i spent the evening hopped up on pain meds, but i still participated in all the fun christmas eve plans with my family. turns out uploading photos using marshall's computer is a huge pain in my butt and my head hurts WAY too bad to deal with it, so i will recap the rest of christmas eve and christmas morning when i am on a PC.
but i will show you guys what i looked like as of this morning–i have a sore face and a really sore neck.
so yeah.. i am outta here. time to pop another pill and enjoy christmas with my little fam. plus.. there is a family feud marathon on the game show network. not just any family feud marathon.. the episodes with RICHARD DAWSON as the host. those are hard to come by, merry christmas to me!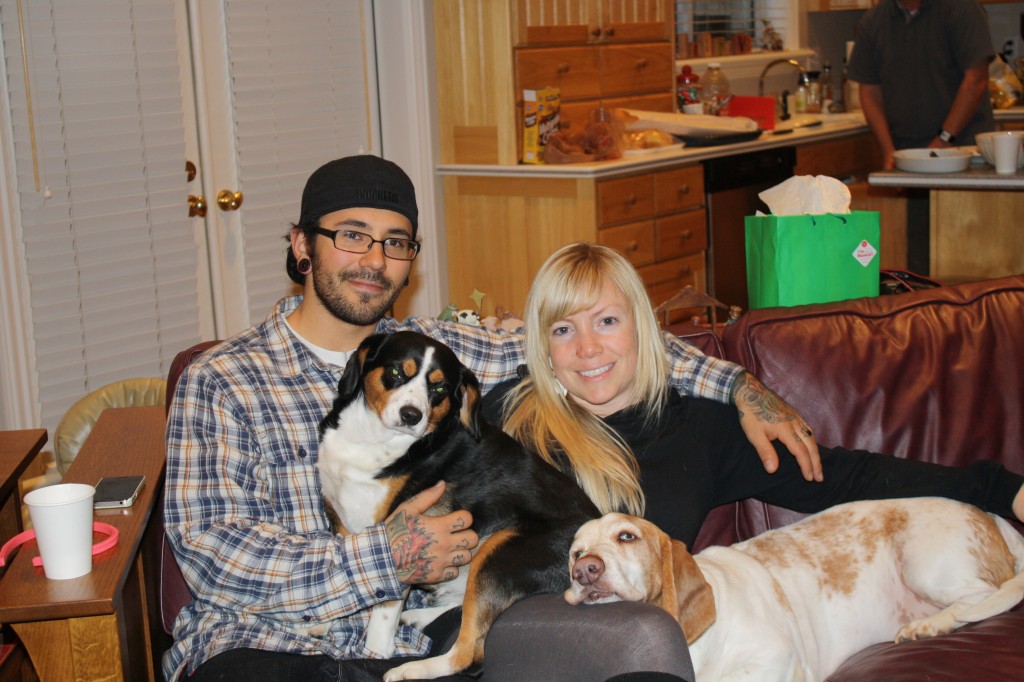 christmas eve definitely went down a lot differently than expected, but i am really grateful that lindsay and i are okay. i have never been injured in an auto accident until yesterday, and it really was a scary experience that shook us both up quite a bit. i am so happy that no super serious injuries occurred! i will definitely always remember this year's christmas eve.. the one when i broke my nose.
hope you all enjoy your day!
MERRY CHRISTMAS!!!!
xo. janetha g.