hello!
i have been absolutely, positively worthless for 92% of the day today. fabulous.
let's rewind to yesterday where i left off during the packers game..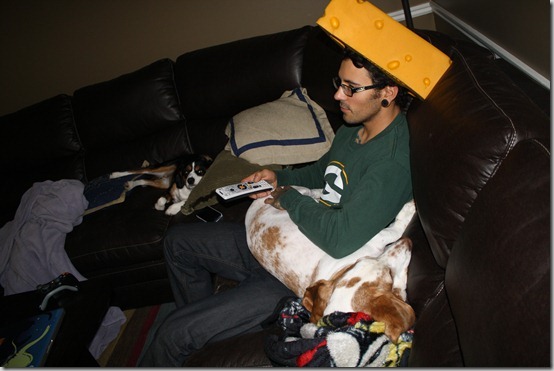 yes.. this is a typical randy position.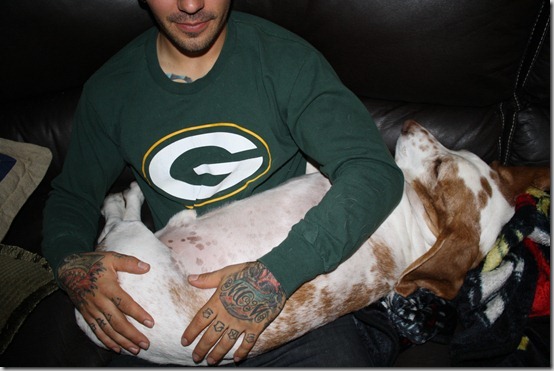 i got a couple good ones of the bean…
freaking love her.
anyway, they won! it's crazy that the packers have won 17 games in a row. i love it.. marshall hasn't been grumpy once for almost a year! well.. over football, at least.
after the game we headed to marshall's step mom's parents for a thanksgiving meal.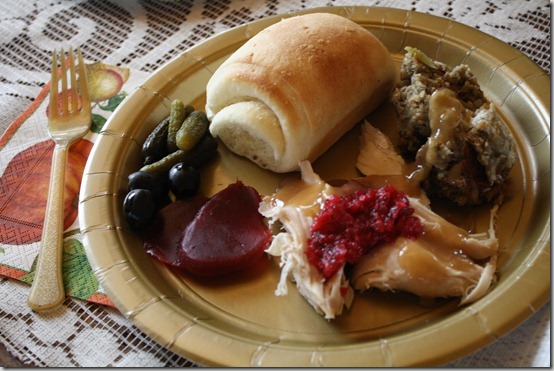 it was a little bit different eating a traditional thanksgiving meal away from my family—but it was every bit as tasty. i was glad there were black olives and sweet pickles—two things my family always has at the table! the rolls were piping hot, soft and buttery. the turkey was moist. but my favorite part was for sure the stuffing. that's what i dream about all year long!
there was a huge spread of dessert. i contributed a couple things to the spread.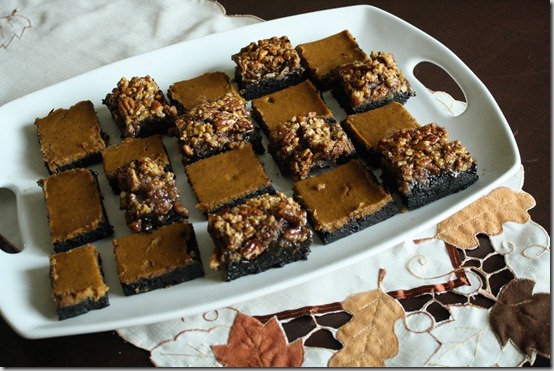 pumpkin pie brownies and pecan pie brownies.. i got both recipes from jessica's blog. the woman is a genius.
i followed her recipes almost exactly. i left out the bourbon from the pecan brownies because i didn't have any and i used special dark cocoa powder instead of regular—this made the brownies extra chocolaty.
we hung out and chatted for awhile.. i met this sweetie, sabrina.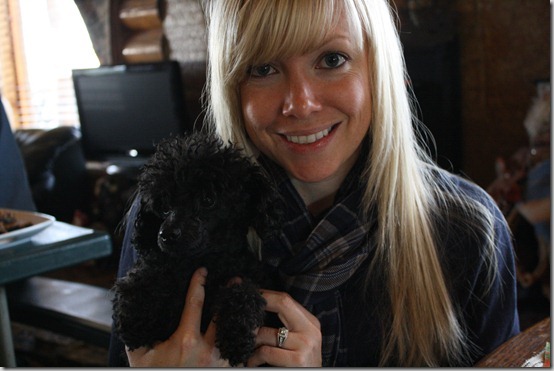 doesn't marshall look just like his dad??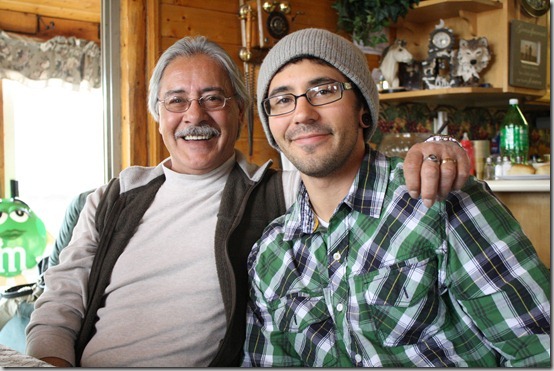 there was a pumpkin turkey with thankful feathers that marshall and i contributed to.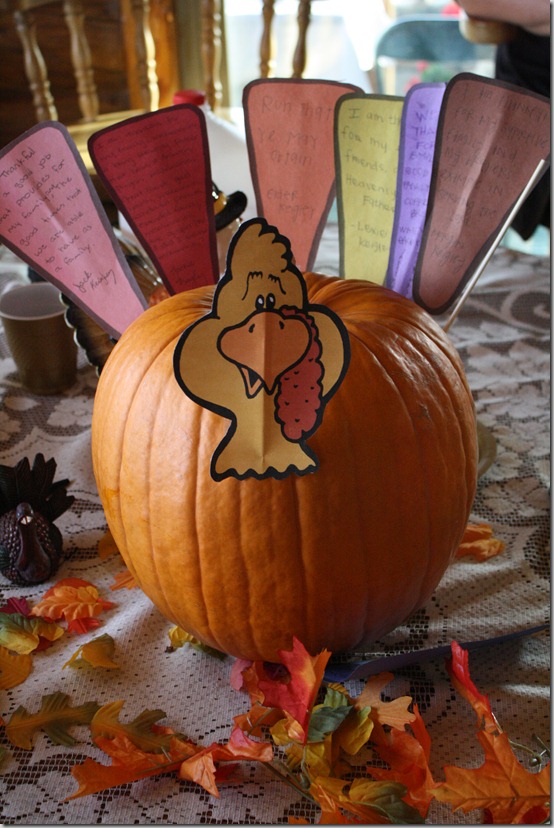 on our thankful feather? coffee and breakfast, of course! along with lots of other things.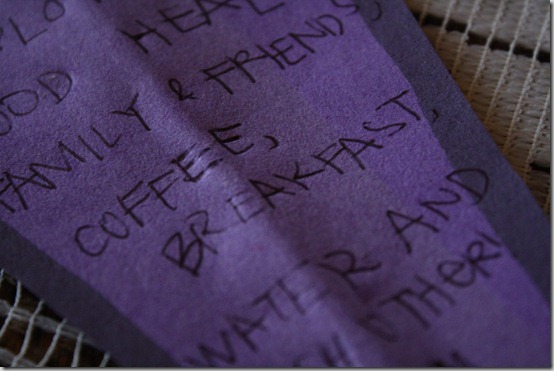 i thought this was such a cute idea!
thanks to michael and sandy for inviting us to a lovely dinner!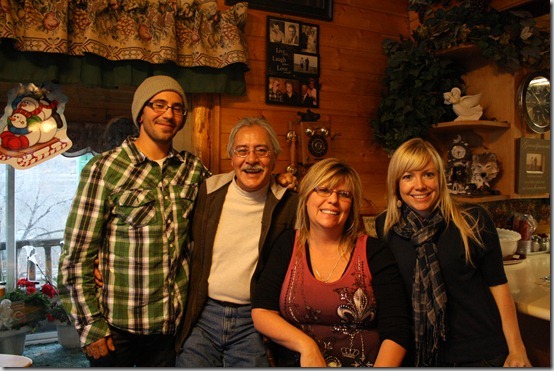 after heading back home, i immediately went up to my parents' place to hang out with my mom. she had a pretty intimate thanksgiving dinner with just my dad and my grandma. she made sure i knew that it was the FIRST thanksgiving since getting married that she didn't have any of her kids with her. her first thanksgiving after getting married she was pregnant with my oldest sister—so she technically really always did have one of us around (or in her belly.) 
i felt bad to leave her hanging (my siblings were all out of state) and i knew she needed a little evening entertainment. clearly, i am all the entertainment anyone ever needs!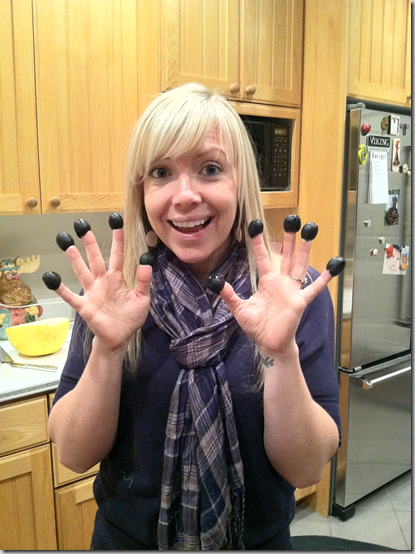 do you wonder where i get it?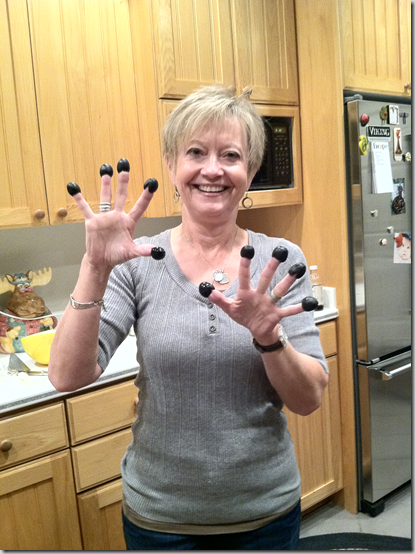 actually, we took these olive fingers photos to send to my sister in california.. who had sent this photo of my niece, sofi, earlier in the day: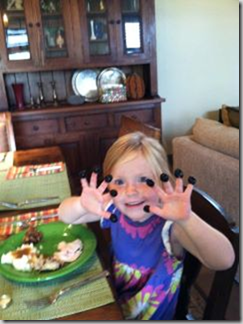 yes.. we are all very much related.
after stuffing my face with a few bowls of stuffing (my mom's stuffing is my FAVORITE thing about thanksgiving) and a few slivers of pumpkin pie with fresh vanilla bean whipped cream, we sat down to a very serious game of boggle.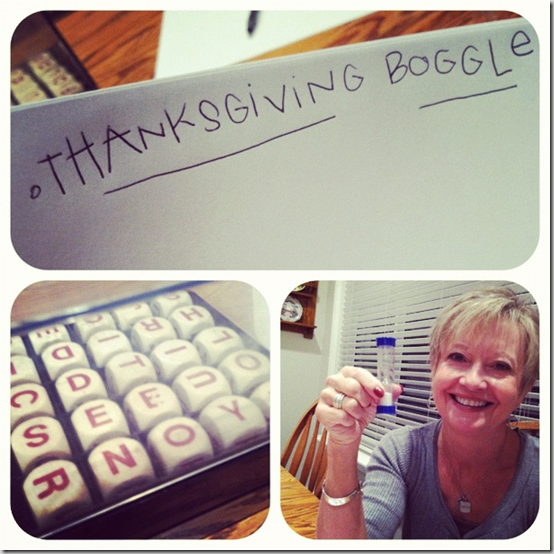 playing boggle with my mom is probably one of the greatest things ever. my sister, marisa, was in california and wishing she could be there playing with us. so, we did what any normal people would do.. we got marisa on speaker phone. we took a photo of the boggle board and sent it to her. she brought the photo of the board up on her iTouch, then we would tell her to "go" and started the timer. when the three minutes were up, we shouted at her to stop, and then went on to the scoring procedure with her on speaker phone.
yes.. we really did that.
yes.. it worked wonderfully.
i love technology! and boggle.
while i was doodling between rounds, i realized that "boggle" is ridiculously similar to "gobble".  just switch the B and G and there you have it! so, in honor of thanksgiving, i drew a boggle turkey.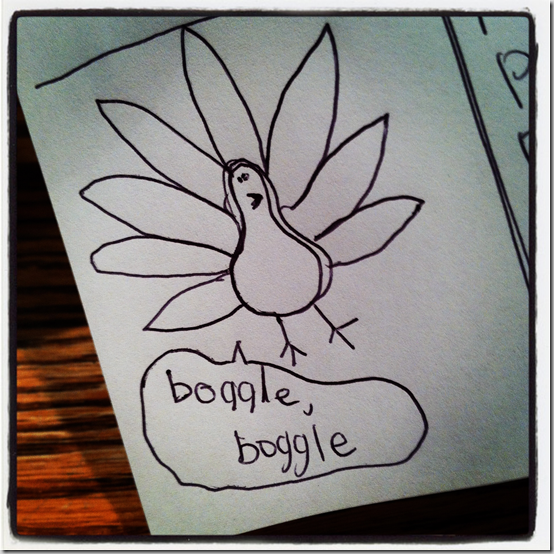 i never claimed to be normal.
after killing her at boggle, i finagled some leftovers from my mom and headed home.. where i proceeded to eat more whipped cream from the can. this is something i was doing all day long yesterday… okay, and today.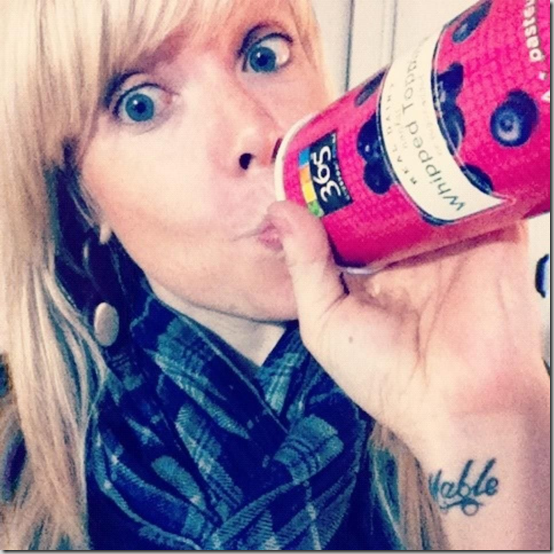 again.. i never claimed to be normal.
further proof? normal people go to bed on thanksgiving evening. instead, kristen talked me into heading out to the mall at midnight. no, not to shop. just to wear crazy adventure pants and people watch and be weird.
mission accomplished.
i didn't get home until 4 AM, which means i was worthless all day today. well, only 92% of the day, as i mentioned at the beginning of this post. the other 8% was spent on a lower body workout and getting a pedicure with my mom. perfect.
we are heading out to catch a flick with kristen and rory! we are going to see the rum diary.
hope you have a great night and a fantastic saturday!
xo. janetha g.