yo.
thanks for all the well wishes on my lumpy boob. i went to the hospital this morning to have it checked out. they said that it's nothing to worry about. i will keep getting weird lumps in my left boob, i will keep getting them checked, and they will keep saying it's nothing. thank goodness for insurance!
i had a fasting lipid panel taken immediately after my radiology appointment. apparently i have a fatty liver, so my GI wants to check my lipids and, umm, go from there? to be honest, i am not sure why i have a fatty liver nor what is done about it.. but that's why i pay a doctor to help me out.
because i had to fast before my bloodwork and i went straight to work from the hospital, i grabbed some breakfast on my way into the office.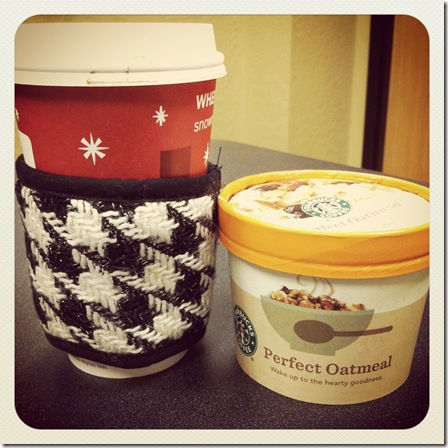 i had starbucks oatmeal and an americano with steamed soy.
guess what? i don't like starbucks. it's so overrated! i will go when it's convenient (like at the airport) or if it is the only option.. but honestly, i really just don't like starbucks. i hate their drip coffee (it's bitter to me) and always have to order an americano because their espresso is tolerable when paired with an inch of steamed soy milk. side note: today is national espresso day!
i would much rather brew my own coffee at home—it's cheaper and tastier (and i have almond milk in my fridge.) if i am buying a cup of coffee, i will most definitely not buy it from starbucks. however, i had a gift card and there is a starbucks on my way to work (let's face it—there is a starbucks on the way to everywhere!) so i stopped there. a girl needs her coffee and a girl needs to eat.
this was the second time i had starbucks "perfect" oatmeal. i will tell you.. it is far from perfect. i sprinkled in some of the brown sugar and the dried fruit that comes with it. i kept thinking "meh" the whole time i ate it. it just didn't do it for me. that's another thing i would rather make at home. oatmeal. i can make it cheaper and tastier. (and packed with protein.)
i should have just taken marshall's advice this morning…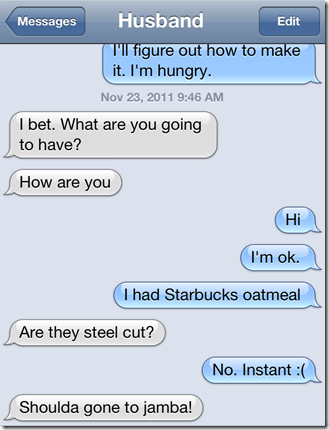 …jamba juice has the most delicious steel cut oatmeal! too bad there wasn't a jamba on my way to work.
and that, my friends, was the longest, most meaningless ramble ever! sorry for taking those 2 minutes from your life. you will never get them back. tough luck.
moving on…
so, uh, thanksgiving is tomorrow. tomorrow! how did that happen? where did november go? or october, for that matter. heck, this whole year seems to be a blur now that i think about it.
you may have noticed that i haven't been posting about thanksgiving at all this year. usually i blog about unique recipes i want to try out or ideas of how to use leftovers.. but this year? nada. there is a reason for that.
we are going to marshall's stepmom's parents' house for thanksgiving this year. (did you follow that?) i am excited to celebrate the holiday with them and to eat a new-to-me thanksgiving meal.  we really don't spend enough time with marshall's side of the family.. mainly because we are too lazy to drive out to their house. i know, it's a poor excuse, but at least i am honest!
i got to thinking about it, and aside from the year i lived in london when i was 19, i have eaten thanksgiving dinner with my parents every single year!  when i told momma b that we wouldn't be joining them for thanksgiving this year, i think i may have broken her sweet little heart just a bit.. but she also definitely understood and thinks it's fantastic that we are going to hang with marshall's fam.  i made her a promise that i'd head up to her casa tomorrow night for leftovers—namely stuffing (my favorite)–and a few rousing rounds of boggle (our favorite.)
so, tomorrow our plans are to sleep in (hell yes, four day weekend!) and then i am going to try my hand at huevos rancheros. marshall specifically requested this as our thanksgiving morning meal.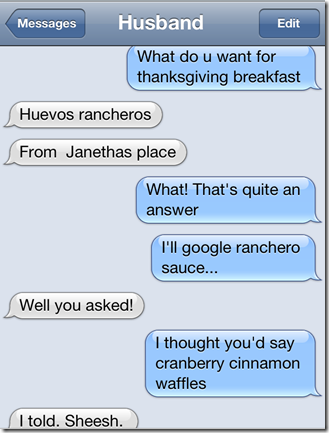 dangit. he never wants waffles. lucky for him, i love huevos rancheros and have always wanted to try making an authentic version.. so tomorrow that's what will go down.
after breakfast (or while we eat breakfast.. assuming we sleep 'til 10) we are going to watch the packers play the lions.

oh, i mean we are going to watch the packers beat the lions. yep.
and then it is off to herriman around 2 o'clock for thanksgiving dinner!
doesn't it seem like most people have their thanksgiving dinners around 2 o'clock? why don't they call it thanksgiving lunch?
this post is ridiculous. i am surprised if you are still reading.
anyway, i'm not making anything for thanksgiving lunch dinner, but my MIL did ask me to bring a dessert… so obviously i immediately turned to jessica's blog. she is my GO TO for dessert recipes. tonight i am going to make her pumpkin pie fudge brownie bars and her bourbon pecan pie brownies.. because who can decide between the two?! and who should have to??
not me. so i am making both.
and i am about to head out and brave the grocery store on the evening before thanksgiving. crazy me.
i am also going to head to the gym to work my chest for the first time in over two weeks! i'm excited. i will be doing day 45 of the live fit trainer.
like i said, i have a four day weekend… so you can bet i will be back later with more equally as entertaining rambles and for sure a gift spotlight and giveaway. get excited.
again.. sorry for stealing these minutes from your life with this random rambling post.
i love you all.
happy thanksgiving!
Qs~
1. where will you be celebrating thanksgiving this year? (sorry non-USA people.)
2. what's your favorite thanksgiving dish? i freaking love stuffing. and no, i have never called it "dressing".. dressing is something you put on your salad.
bonus Q because i am curious: what time are you eating thanksgiving "dinner"?
xo. janetha g.