our third and final day here in san diego was definitely the icing on the cake.
marshall & i woke up bright and early to snag some coffee & a breakfast sandwich from a nearby bagel shop.  after breakfast, we headed to the hotel where my parents were staying so they could say their goodbyes to my nieces before they headed to the airport.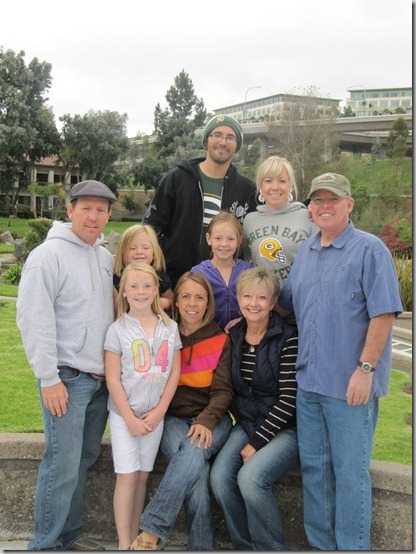 our next stop was the airport where we dropped my parents off. marshall & i ran in to talk to a TSA agent. why, you ask? well, because marshall's wallet is floating in the pacific ocean somewhere. or at least that is what we suspect.. it went missing yesterday somewhere between trader joes and the tide pools. he has zero form of identification to get through airport security.
the TSA agent told him he should be able to get through without ID, but he will have to go through additional security screening and we should arrive extra early. since our flight leaves at 6:15 AM, we are planning to be at the airport at four-something.. i may as well not even go to sleep. if i do, i might not wake up!
our next stop was the trolley station where my sister dropped us off so we could take the trolley to the football stadium. of course marshall was excited, that's a given, but even i was getting really excited for the game and i don't even like football!
we got to the stadium and found our seats.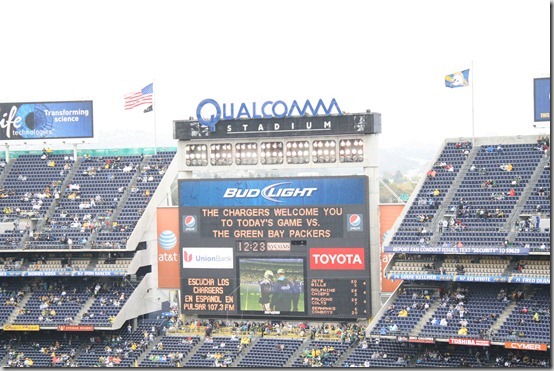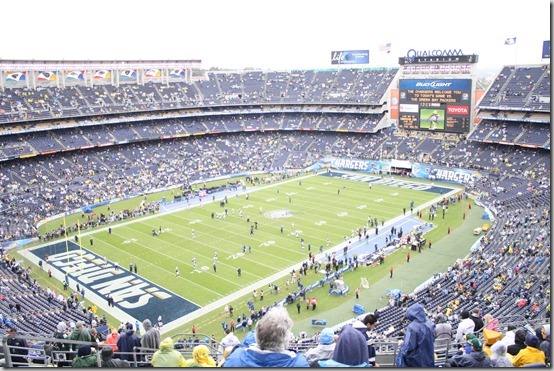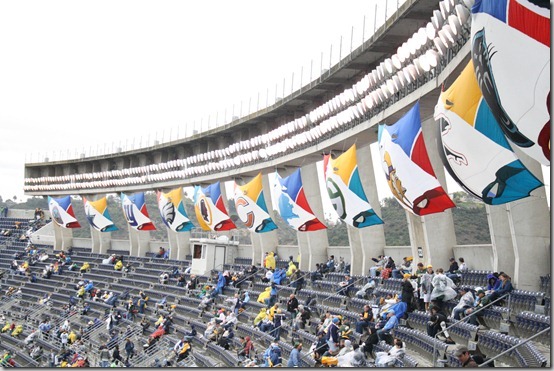 it was cold and rainy, but we grabbed some hot chocolates to keep warm and put our hoods up to keep dry. a little rain never hurt anyone.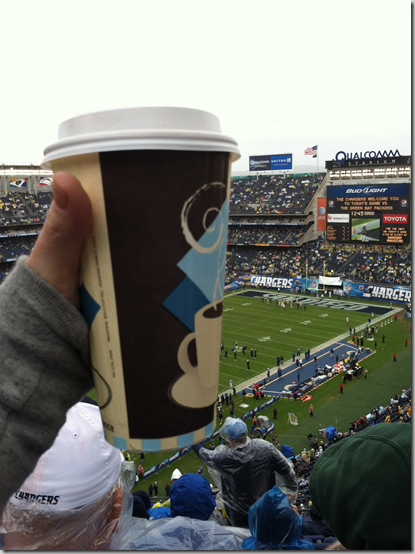 we were pretty high up in the stadium seating, but my sister lent me her telephoto lens so we could get a better view of the players' butts.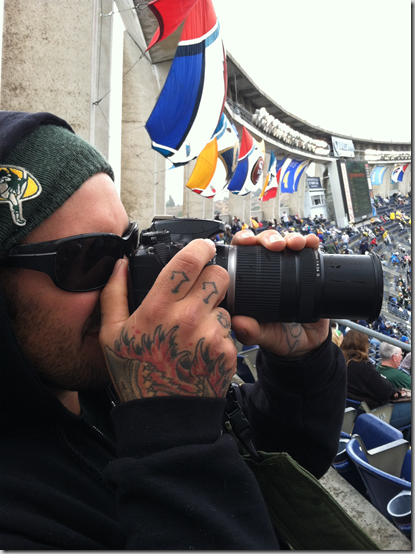 ohhh yeah.. football butts!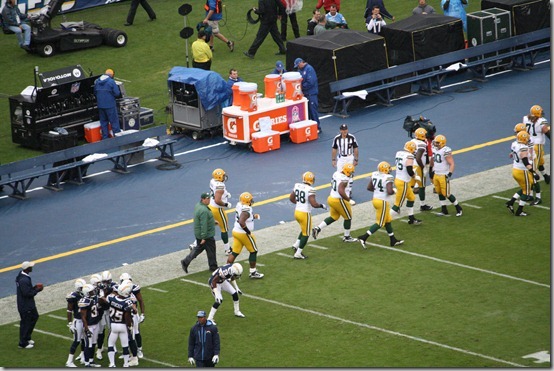 the game started with a not so beautiful rendition of the national anthem… but who am i to judge? i can't carry a tune if my life depended on it. then again, you don't see me belting it out in front of 68 thousand people…
the flag display was rad, though.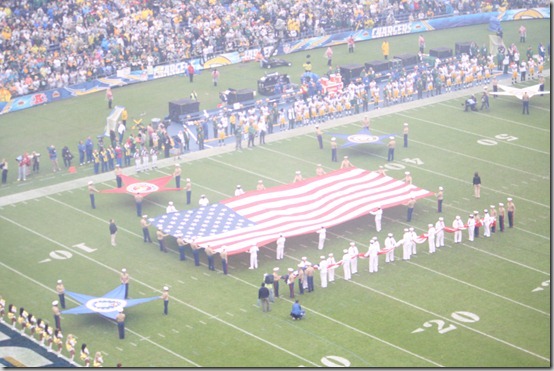 kickoff was promptly at 1:15. the first quarter was action packed! the chargers scored first, but the packers dominated with three touchdowns before the quarter was over. right after the second touchdown, marshall shook me like a rag doll. it was pretty hilarious, actually. seeing him soooo happy made ME soooo happy.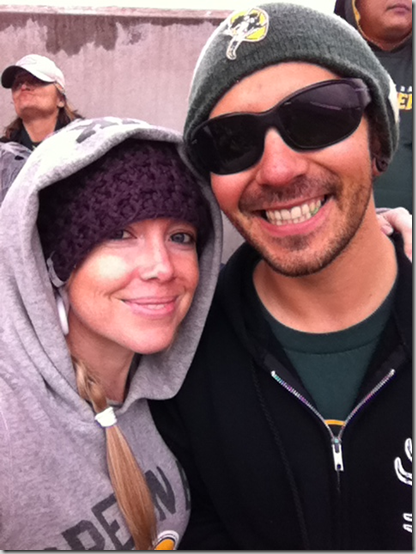 there were SO many packers fans at the game.  the abundance of cheeseheads was phenomenal. too bad marshall left his at home! we were surrounded by packers fans which made for a fun experience.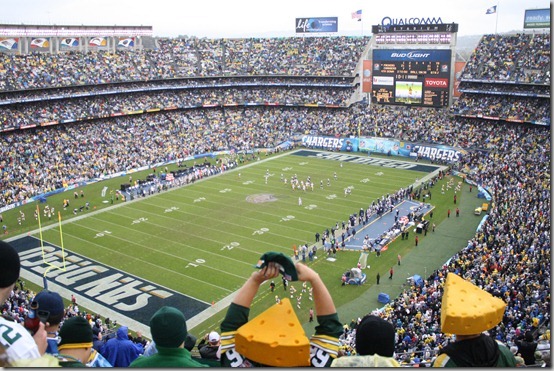 the next quarter was pretty even—the packers scored 7 and the chargers 10.. which left us ahead at the half.
we headed to the bathrooms and to grab something to eat. i was already wet and cold, but standing in puddles while waiting in line for food sealed the deal on my drenched feet. i definitely didn't pack for rain!
we headed back to our seats for the second half and to eat our pizza.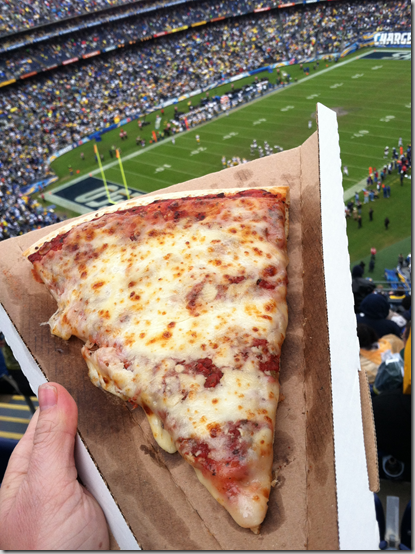 i was still super cold, so marshall snagged me another hot chocolate. it warmed me up a bit and i ran in place to try to get the whole numb feeling out of my feet.
i bet the cheerleaders were freezing.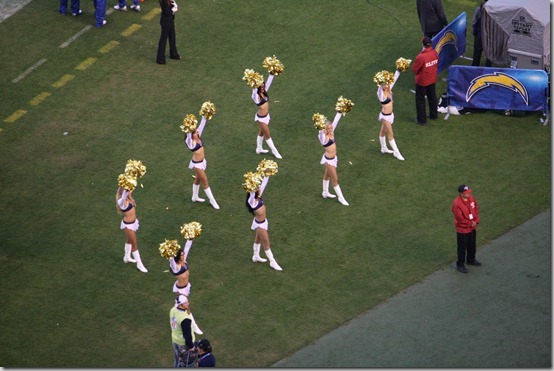 the chargers closed the gap a bit more during the third quarter. they ran away with a touchdown while the packers only made a field goal. the score was 31 to 24 at the end of the third.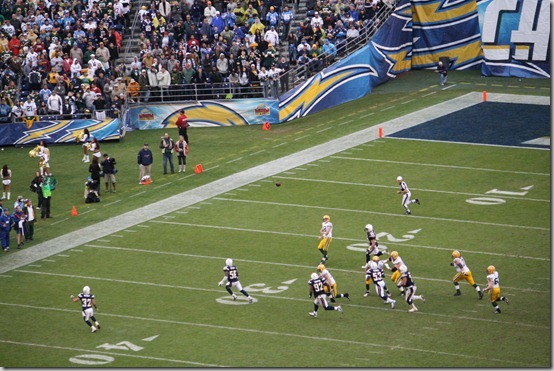 so… i really didn't know much about how football worked before watching the game today. to be honest, i say i don't like football because i don't get football. yep, i am ignorant. i never tried to get it because i never actually cared. i never know what is going on and it looks like a big jumbled mess on the TV. i get annoyed and usually go grocery shopping on sundays while marshall watches football all day. however, i really do want to like football. marshall is so into it and it's fun to have the same interests as him.  i wanted to enjoy myself at the game, so i asked him to explain it to me.  after a quick lesson in football and actually being at the game and seeing the action in a bigger setting than a TV screen, i got way more into it! i knew what was going on and by the end of the third quarter i was biting my nails from nerves!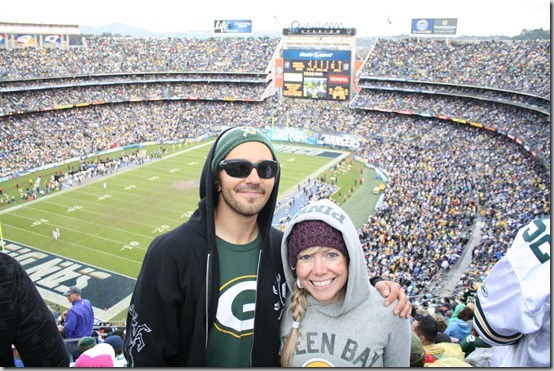 during the fourth quarter, the ball changed hands a lot. not gonna lie, i got super nervous near the end. at one point, the packers were ahead by 21 points. i basically figured it was over and we'd won it,  but then the chargers quickly scored two touchdowns in a row bringing the gap to just 7 points. every time the ball was in the chargers' possession i was a bag of nerves and literally had my fingers crossed and was repeating "don't score, don't score, don't score." who am i? a football fan?
i think we were all a bit nervous right up until the very end of the game. there was a lot of back and forth with the ball, but the packers came out  on top with a final score of 45 to 38. woohoo!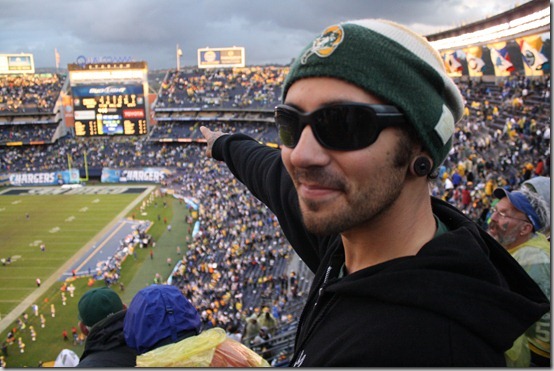 i am usually glad that the packers win for marshall's sake (c'mon, who wants a bummed out husband?) but this time, i was genuinely stoked about the win!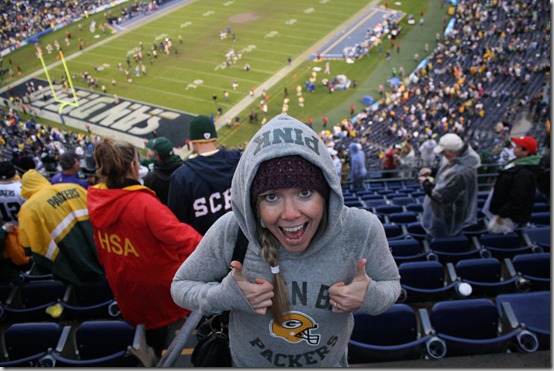 we headed out of the stadium and the sun was peeking out from the clouds as it set… at like, five o'clock. that's the downfall of falling back, i suppose.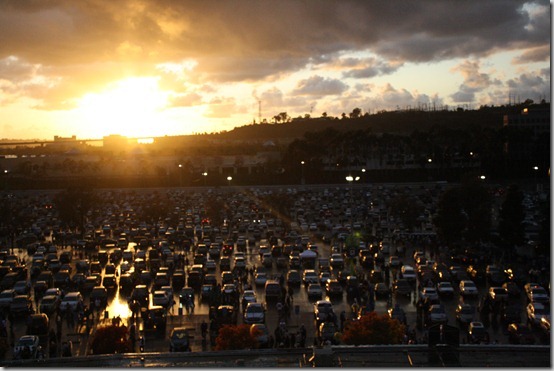 there was a never ending line to get on the trolley, so marshall & i walked to a nearby starbucks and grabbed a coffee and a treat while waiting for our ride.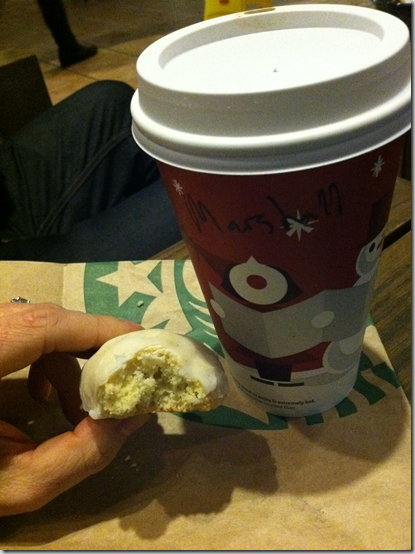 it was SUCH a great day and a great game. i am really happy (and grateful!) we were able to go. what are the chances that the packers were playing the chargers the same weekend as lucy's baptism? it was totally meant to be.
well, we are leaving for the airport in less than six hours. i better get packed and maybe squeeze in some sleep! hope marshall gets on the plane… fingers crossed.
later skaters!
xo. janetha g.