happy halloween! i'm at kristen and rory's tonight enjoying a traditional halloween dinner of chili & cornbread. i hope whatever you ended up doing for the holiday was fantastic!
here's my post about my class on saturday….
***********
about a month ago, a good family friend asked me to speak about getting fit at home with little to no equipment. i warned her that i am not a professional in anything except procrastination and that my advice wasn't official or anything. she was fine with that, so i happily agreed to speak. the presentation was scheduled for 8 AM last saturday morning. bright and early!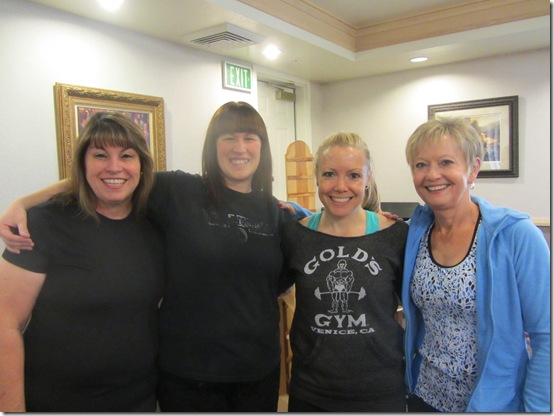 here i am with pat, her daughter (and my lifelong best friend!) melina, and momma b.
the presentation was about 30 minutes long and it went really well. while i am no expert, i was able to tell the ladies what i knew from my own experience and knowledge.  today i want to share some of the information from saturday along with the 30 minute at home strength and cardio workout that i led the ladies through after the presentation.
this post is going to be chock full of a bunch of fitness rambles, so if you are not interested in that.. come back tomorrow. you've been warned!
instead of retyping everything i said at the presentation, i am going to copy and paste the outline of the topics i discussed.  most of it i wrote from my own knowledge, but a few of the statistics and facts were pulled from various fitness magazines that covered specific studies.  you can print a PDF of the outline here!
Fitness at Home!
Saturday, October 29, 2011
Main Points
It is important to be physically fit because:
You will feel better! Being fit promotes psychological well-being. Exercise endorphins are real.
There are several health benefits! If you are fit, you reduce the risk of dying prematurely or developing health problems like diabetes, high blood pressure, depression and heart disease.
Exercise helps build healthy, strong bones and muscles.
The two main types of exercise: Cardio & Strength Training.
BOTH are important and one should never be neglected.
Both help support weight loss, relieve stress and make us healthier people.
Cardio is important because:
Regular aerobic exercise causes your lungs to process more exercise with less effort.
Your heart will be able to pump more blood with fewer beats so it doesn't have to work as hard.
Cardio increases body endurance and efficiency.
Strength training is important because:
It will spike your metabolism and turn it into a calorie-burning furnace.
You will burn more calories in a resting state if you possess more muscle. For every 3 lbs of muscle we possess, we burn approximately an additional 120 calories at a resting state because muscle takes more energy to sustain. Over the course of a year, that is 10 lbs of fat lost without even changing your diet!
It will improve your bone density.
If we have muscle and are strong, daily tasks are easier to complete.
Other facts about Cardio & Strength Training:
You burn more calories during cardio, you burn more calories after weight training.
If you are going to do both in one day, do strength training

first

and then do cardio. You will get the most benefits this way.
It does NOT matter what time of day you work out. Just do what works best for YOU and your schedule. You will see results no matter what time you choose to work out.
Lifting weights will NOT make you bulky, no matter what you have heard. So, unless you are taking steroids, don't worry about "bulking up"—that is a myth!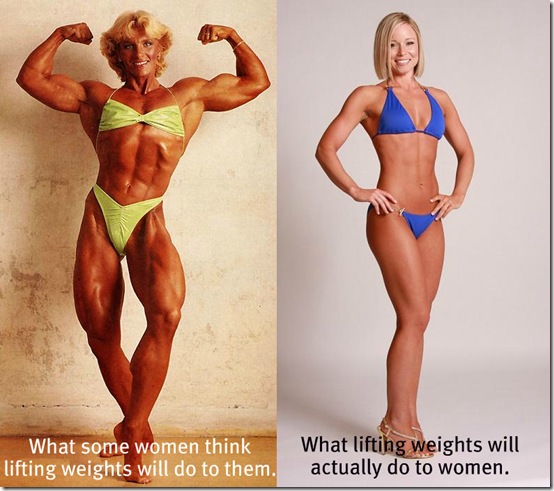 [sources: photo on the left, photo on the right]
The benefits of short, intense workouts over long, steady state workouts:
You will save time!
High intensity workouts raise your metabolic rate for 24 hours, which means you will burn more fat even after your workout is over.
You will increase your power, strength and endurance.
It will help you burst through a plateau.
High intensity releases fat burning hormones that target belly fat.
i went on to discuss various moves you can do at home to improve your fitness without a gym membership and either little or no equipment. here are some of the ideas i gave:
Body Weight Workout Ideas & What They Target:
Pushups (both wide, regular and narrow) target chest
Squats target quads/glutes (hamstrings): wide stance, single leg, plie, split squat, jump squat are just a few examples
Lunges target hamstrings/glutes (quads): walking lunges, static lunges, side to side lunges, lunge with kickback are just a few examples
Triceps dips using chair—try raising a leg to make it harder
Calf raises on a stair—try single leg to make it harder
Crunches of all kinds, dynamic core work, plank holds all target abs
Donkey kicks, laying butt bridge targets glutes
Plyometric moves to keep the heart rate up
Home Gym Equipment Workout Ideas:
Shoulders: overhead press, upright row, lateral raise (lighter DB set)
Back: bent over row, single arm row, reverse flyes
Triceps: overhead extension, skull crushers
Biceps: hammer curls, alternating curls, concentration curls
Chest: chest press, flyes
Abs: holding a weight on chest, standing on bosu ball for all moves works your core
Lower body: hold the weight while doing any of the moves, deadlifts!
Remember, these are all just ideas—the possibilities are literally endless! Make sure you switch your moves up every 2 to 4 weeks so your body doesn't adapt to one specific workout!!
i handed out a list of resources to the ladies, which can be seen below or you can click here to download the PDF:
Resources
Places home gym equipment can be purchased:
Sporting goods stores (Dick's, Sports Authority, etc)
KSL Classifieds or Craig's List
Target, Smith's, Kmart, etc
Basics for a great home gym:
Set of light dumbbells
Set of heavy dumbbells
Resistance bands
Stability ball
Jump rope
A chair
Even more equipment for a fancier home gym:
BOSU ball
Various weighted medicine balls
Various weights of kettlebells
A flat or adjustable bench
Interval timer
Awesome workout DVDs I can vouch for:
Anything by Jackie Warner (available at Target, Smith's, etc.)
Anything by Jillian Michaels (available at Target, Smith's, etc.)
Insanity DVDs by Shaun T / Beach Body (you can buy online on Amazon.com)
Exercise websites:
BodyRock (http://bodyrock.tv) requires minimal to no equipment, a whole database of exercises which are all around 20 minutes or less, video demos
Tuesday Trainer at Lindsay's List (http://lindsayslist.co/tuesday-trainer/) requires minimal to no equipment, a new topic each week, video demos
YouTube (http://youtube.com) simply search "home workouts" in the search bar or, to get more specific, search for the body part you want to train IE: "body weight triceps" or "home workout quads"
the presentation ended there and then it was time to get moving! here is the workout i led everyone through, you can print a PDF of it here!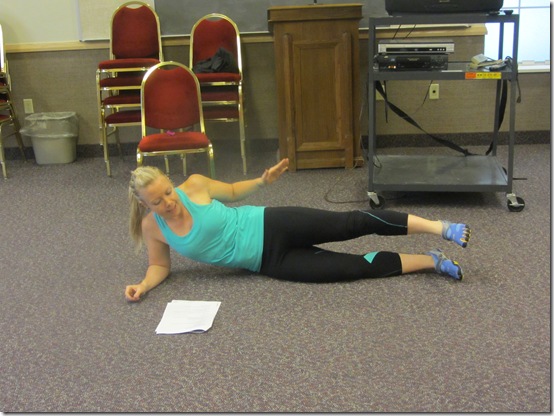 30 Minute Cardio & Strength Body Weight Workout
Warm Up & Stretch (4 minutes)
1 minute march in place
30 seconds jumping jacks
30 seconds butt kicks
2 minute stretch
Circuit One: 6 minutes (45 seconds work, 15 seconds rest for each move, cycle through twice)
Wide stance squats
Belly flutters
Triceps dips
Plyo (2 minutes)
45 seconds mummy kicks, 15 seconds recover
45 seconds high knees, 15 seconds recover
Circuit Two: 6 minutes (45 seconds work, 15 seconds rest for each move, cycle through twice)
Pushups
Laying bridge
Side leg lifts (right once, left once)
Plyo (2 minutes)
45 seconds jumping jacks, 15 seconds recover
45 seconds squat jumps, 15 seconds recover
Circuit Three: 6 minutes (45 seconds work, 15 seconds rest for each move, cycle through twice)
Static lunge (right once, left once)
Shoulder burners in plie squat position
Elbow-to-knee standing side crunch (right once, left once)
Plyo (2 minutes)
45 seconds skier, 15 seconds recover
45 seconds high knees or running in place, 15 seconds recover
Cool Down Stretch (2 minutes)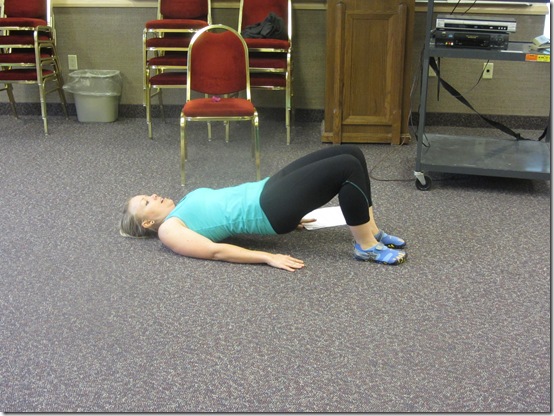 i actually had a ton of fun leading everyone through this workout. while they were doing each move, i gave ideas for variations to make each move either easier or harder. i realized that i'd really like to train people one day.. it's super fun.
my mom filmed the presentation, but it turns out it's taking hours and hours to upload to youtube.. i will post it later in the week when it's all uploaded and ready to go so anyone interested in viewing it can do so.
hope you've enjoyed reading about my fitness presentation. it was a lot of fun for me and i wanted to share it with you guys! again, here are the PDF links:
Qs~
1. do you like public speaking?
2. what is your favorite way to get fit at home?
xo. janetha g.