time for a new recipe!
not gonna lie, this is one of my better ones. i make recipes up regularly, but they don't always make the blog. of the ones that DO, i don't always make them time and time again. however, this recipe is fantastic and i honestly can't wait to make it again. sometimes it's OK (and totally necessary) to toot our own horns.
green enchilada pie
makes six slices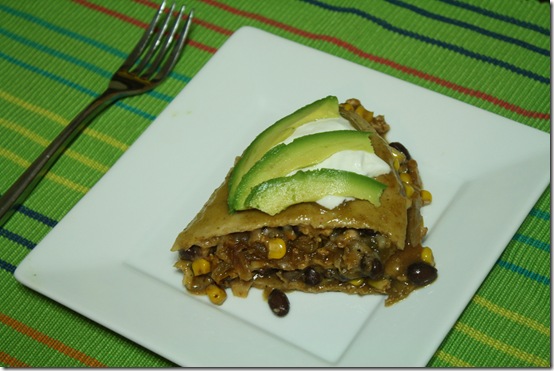 ingredients:
8 oz 99% lean ground turkey (or other protein of choice—chicken, beef, meatless crumbles, you pick)
3 high fiber/low carb la tortilla factory wraps (or other tortilla of choice)
1/2 of a medium onion, sliced thin
2 tsp taco seasoning + 1/4 cup water
1 cup frozen roasted corn kernels (i used trader joe's)
8 oz (2 small cans) diced green chiles
1 tsp cumin
1/4 tsp each of fresh ground sea salt & black pepper
12 oz (almost a whole can) black beans
15 oz (one can) green enchilada sauce
4 oz (1/2 cup) shredded cheddar jack cheese
6 oz (3/4 cup) plain, nonfat greek yogurt
6 oz (one medium) avocado, sliced
hot sauce (optional)
directions:
preheat oven to 375 degrees.
brown the ground turkey in a skillet.
cover and set aside.
heat a skillet over medium heat, spray with cooking spray and add onions.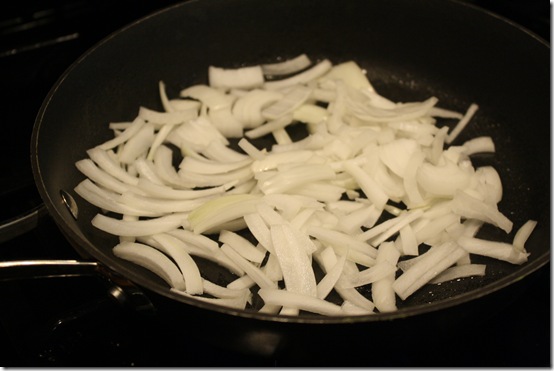 add taco seasoning and water to the skillet.
cook the onions until they begin to get a bit limp.
add the roasted corn kernels and cook through until they are no longer frozen.
add the diced green chiles and stir to combine.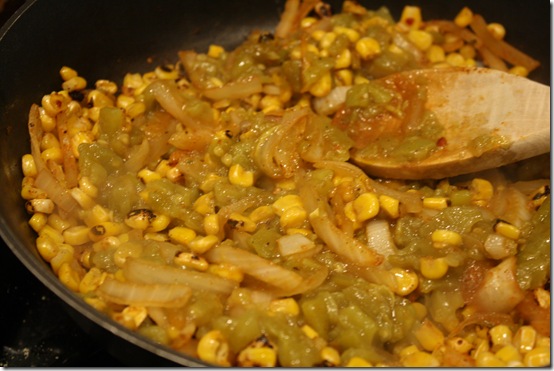 add the ground turkey and stir to combine.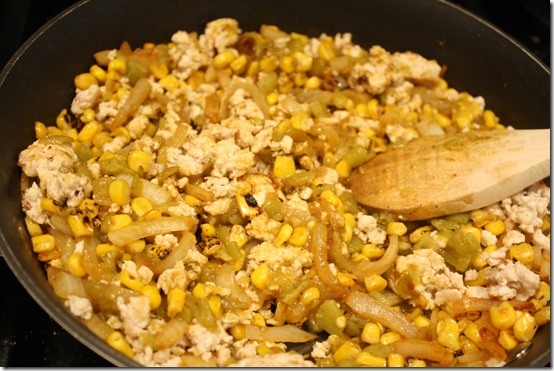 add cumin, salt and pepper. turn heat to low and simmer for about five minutes.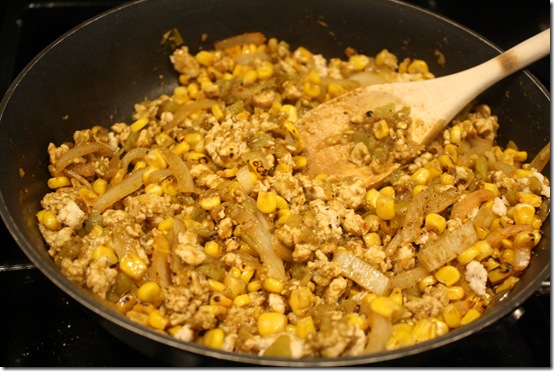 place one tortilla at the base of a springform pan or a round cake pan.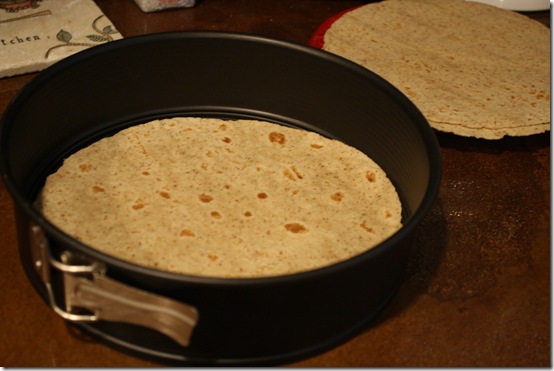 add half of the meat mixture directly on top of the tortilla.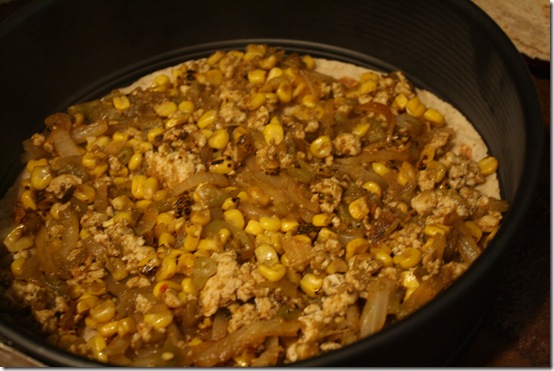 add 1/3 of the can of enchilada sauce.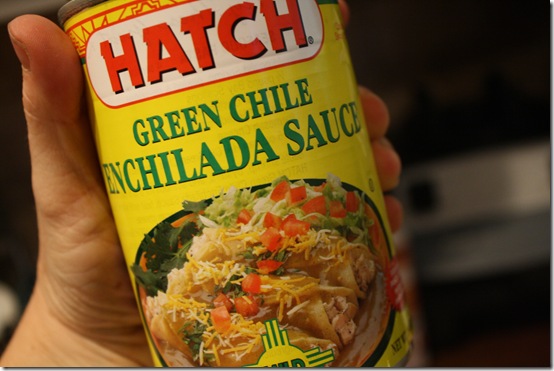 add 3/4 cup of the black beans.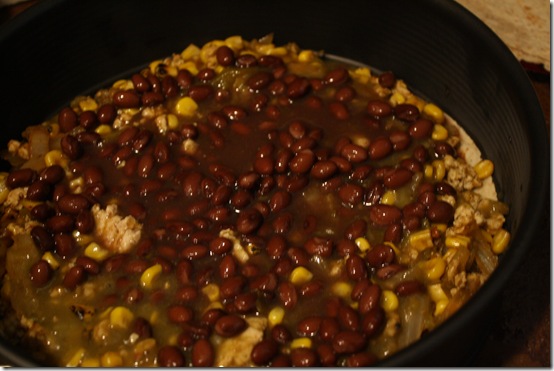 add 1/4 cup of the cheese.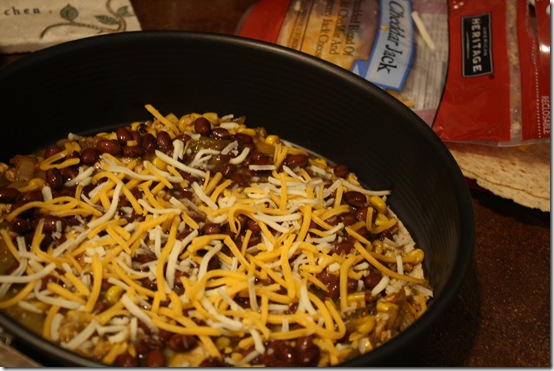 layer another tortilla on top of the cheese.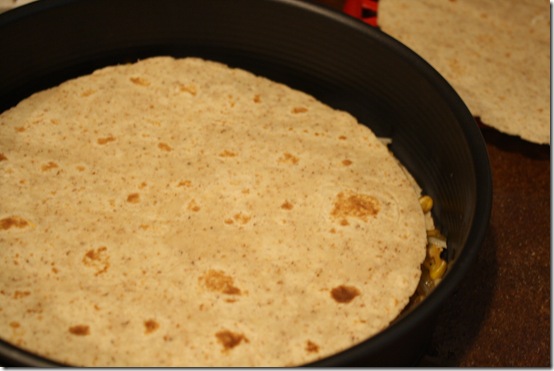 repeat the layering steps one more time.
place the third and final tortilla on top and cover with the remaining 1/3 can of enchilada sauce.
cover with aluminum foil and bake for 20 minutes.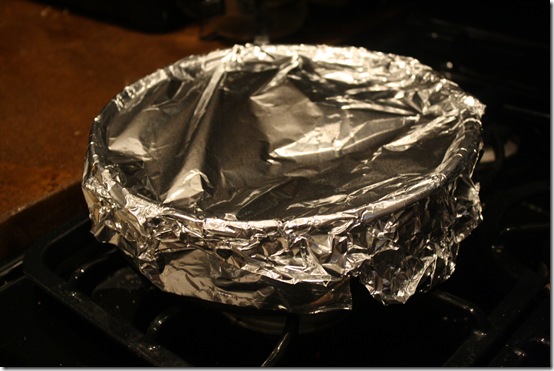 remove from oven and let sit for at least 15 minutes.  the longer you let it sit, the more firm it will become. if you dig in right away, it will taste great.. but it will not hold the pie slice shape because it will be too hot.  i was waiting for marshall to get home, so my pie ended up sitting about 30 minutes, but i don't think it needs that long to set up.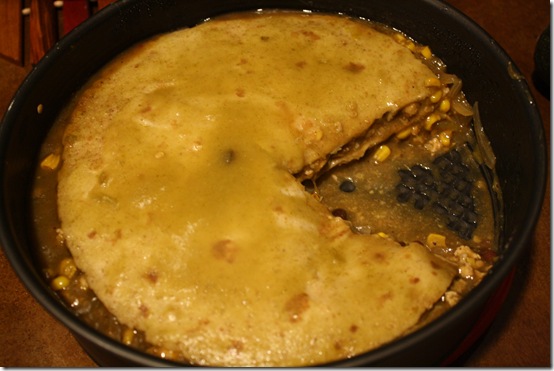 cut the pie into six slices and serve each one with 2 TB of greek yogurt and 1/6 of the avocado.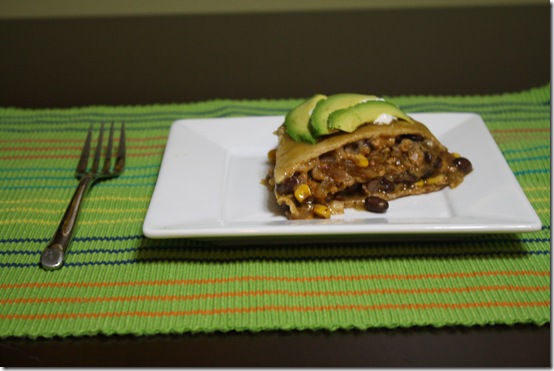 top with hot sauce (if you want!)
enjoy!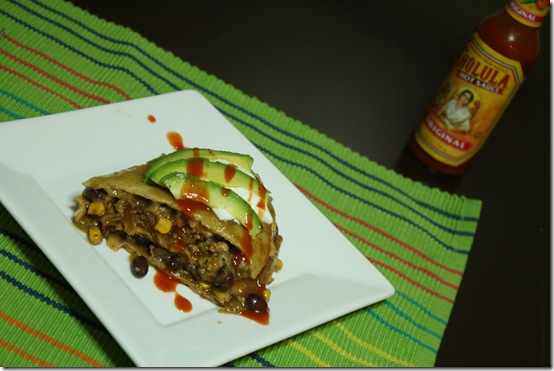 this tastes awesome.  i think that it is ESSENTIAL to use roasted corn so you get that smoky flavor. also, the cumin should not be omitted, as it really adds a nice punch.
nutritional information per serving, based on the brands and ingredients i used above: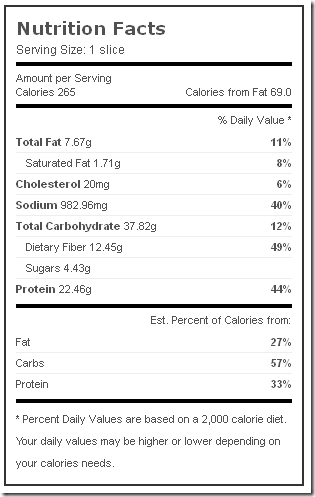 as you can see, the stats are great. the sodium content is a little high, so if you are watching your sodium, omit the salt and use reduced sodium items on the canned and packaged ingredients.
the fiber content is high, the sugar content is low and the majority of the fat comes from the healthy avocado.  this slice of mexican pie really is something to write home blog about.
BODY FOR LIFE FOLKS: because the carbs and protein grams are not quite balanced, this wouldn't be considered a body for life meal.. but it is very body for life friendly in terms of ingredients! if you want to tweak it to make it more body for life approved and get closer to 40/40/20 ratios, just up the amount of turkey you use (maybe to 12 ounces) and scale back a bit on the corn & beans. that should help you hit the numbers you are after.
hope you give this enchilada pie a try. i ate a slice for lunch today and it's one of those better-the-next-day recipes. yum.
************
SPECIAL announcement and call to action! by blogging babe of a friend, lindsay, has introduced a new weekly feature called tuesday trainer!
each week, there will be a new workout category (plyometrics, biceps, shoulders, glutes, cardio, etc). lindsay will announce the category every thursday, and you have until the following monday night to submit either a video or a photo tutorial of a specific move in that category. when tuesday comes around, lindsay will post ALL the tuesday trainer submissions!
this is a fresh, fun and new way to spice up your workouts and get great ideas for new moves.  it is also a way to get your own blog more exposure and meet like-minded fitness fanatics! i hope you all participate! i sent in my video for this tuesday.
the category this week is plyometrics!  everyone head over to lindsay's post to read how tuesday trainer will work and SUBMIT YOUR FAVORITE PLYO MOVE! go, now!
***********
your turn! we all deserve to pat ourselves on the back every once in awhile. PLEASE toot your own horn in the comments below… anything goes!
xo. janetha g.