Hi Janetha fans! It's me, Deb.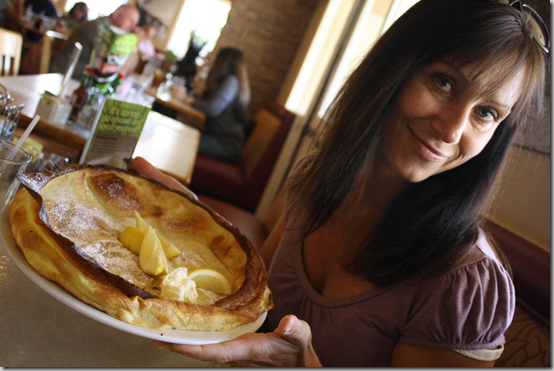 Guess what? I'm also a huge Janetha fan! Well, I'm not actually physically huge- not anymore.  I do have a weight loss story (about 90 pounds) and you can read all about that over at my blog.  But today, I'm here because I'm a Janetha fan and also a real-life friend.  I'm honored that she asked me to write a guest post for her freakin awesome blog…enjoy!
————————————————————————————
For those familiar with my blog, it's no secret that I am truly madly and deeply in love with Protein Muffins.  Thanks to the Fitnessista's love for them, I actually got a few more eyeballs on the blog, so that was fun.  Well, my 15-minutes of fame are now up and I'm back to living anonymously as I did before. No more running from the paparazzi. No more magazine covers. No more book and movie deals.
Oh wait, that never happened. But I did get a fair few people making and liking my muffin.  I can now die a happy blogger.
Very few ingredients
Three minutes in the microwave
Filling and delicious, honest!
What you might not know is that I change things up nearly every day that I make the muffin.  Sometimes I add spices, ground coffee, extracts or cacao nibs (for a great 'crunch').  Sometimes I use different 'flours' like Vital Wheat Gluten (thanks to Janetha for introducing me to this ridiculously high protein powder) and graham flour (thanks to Eden for showing me this tasty wheat product).  Typically those flours are subbed for part of the coconut flour and either the cocoa or peanut flour. Today I added something fun thanks to the girl who has tried just about everything with peanut flour: Julie GoLean.
First I made Julie's Peanut Candy in some handy ice cube trays I found at Ikea.  Then I chopped it up while frozen and put it in the muffin as 'chips'.  It was an extra special treat for an additional 15-20 calories.
Julie's Peanut flour candy.  I added cocoa (Hershey's extra dark) powder to one batch
The bottom
The top. It does melt quickly! Good excuse to eat it asap!
Both plain and chocolate 'candy' (15-20 calories each piece)
One piece of peanut 'candy' chopped into pieces
Candy added to muffin mix prior to nuking
Muffin straight out of the microwave- the candy did not melt to oblivion
Cross section
This was really good.  I'll definitely be making this again.
Qs~ 
1. Do you have any interesting uses for peanut flour? 
2. Do you know of any other interesting flours that make for fluffy muffins?
3. Do you have a good, easy microwave muffin recipe or have you tweaked this recipe with good results?