when it comes to italian food, there are certain things that, in my mind, fall into the "indulgent entree" category.  a few of these things include:
fettuccini alfredo
lobster ravioli
lasagna
the typical restaurant version of these items may contain a whole day's worth of calories.  it's a little ridiculous. i looooove lasagna, but i kind of like to eat more than one meal a day, so i decided to make my own version at home.
lightened up lasagna.
makes six pieces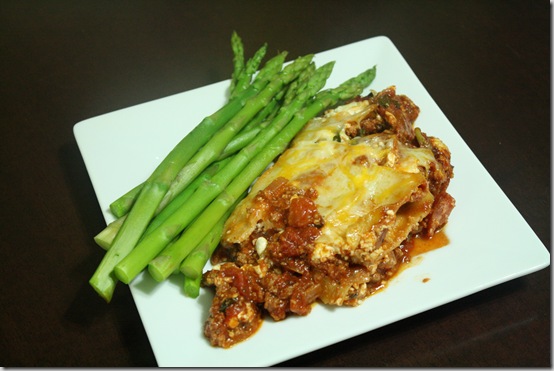 ingredients:
8 oz lean ground turkey (chicken or beef will also work)
1 small red onion, diced
1 (6 oz) can tomato paste
1 (14.5 oz) can diced tomatoes
1 cup fresh basil, chopped and divided
1 TB minced garlic
1 TB dried oregano
1/2 tsp sea salt
1/2 tsp black pepper
3.5 oz whole wheat lasagna noodles (6 sheets)–cooked according to package directions *update! you can skip cooking the noodles and just layer the uncooked ones in the lasagna.. they will cook perfectly in the oven!
1 1/2 cups lowfat cottage cheese
3 egg whites, beaten
54 grams (about 2 oz) shredded mozzarella OR colby jack cheese (mozzarella is best, but i only had colby jack)
40 grams (about 1.5 oz) shredded parmesan cheese
directions:
preheat oven to 375 degrees.
spray a skillet with olive oil and heat over medium heat. saute the red onion until it begins to soften.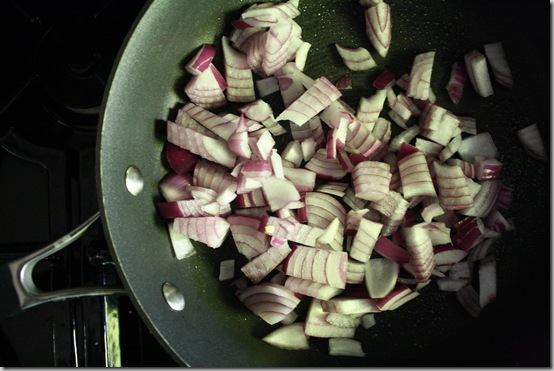 add the ground turkey and let it cook through.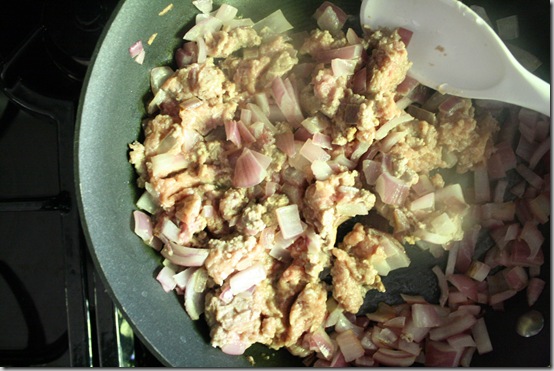 add the tomatoes, tomato paste, 1/2 cup of the basil, garlic, oregano salt and pepper.  let simmer for about 10 minutes.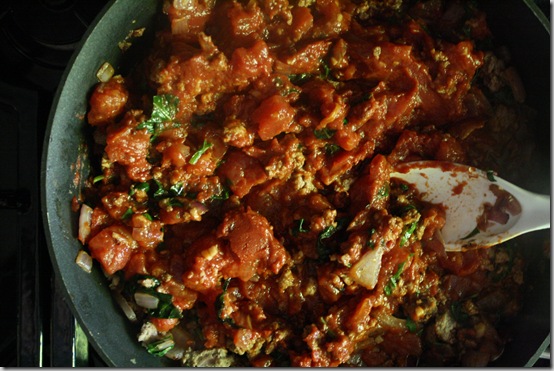 meanwhile, combine the cottage cheese, egg whites and remaining 1/2 cup of basil in a small bowl.
when the meat sauce is ready, it's time to layer!
use an 8×8 or 9×9 oven safe dish. first, layer half of the meat sauce.
next, layer half of the cottage cheese mixture.
next, layer 28 grams of mozzarella or colby jack cheese.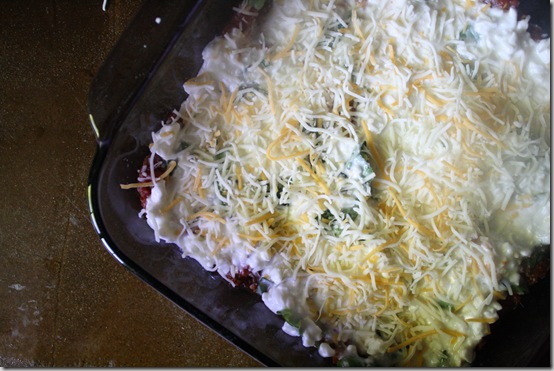 next, layer 3 lasagna noodles.
repeat this process.  do a layer with the rest of the meat sauce and a layer with the rest of the cottage cheese mixture. this is where i switched it up—i put the second layer of noodles atop the second cottage cheese layer.  then i finished it off with another 28 grams of mozzarella or colby jack cheese along with the 40 grams of parmesan cheese.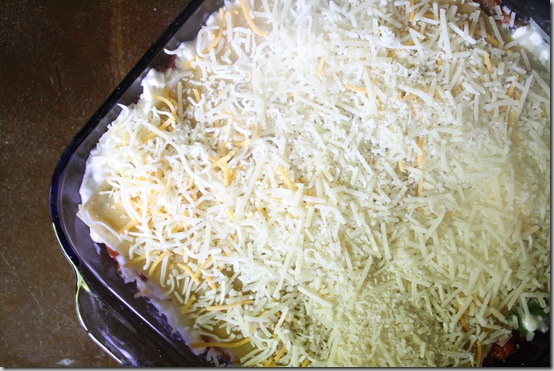 cover with foil and bake for 30 minutes. uncover and bake for 10 more minutes, until the top is nice and bubbly.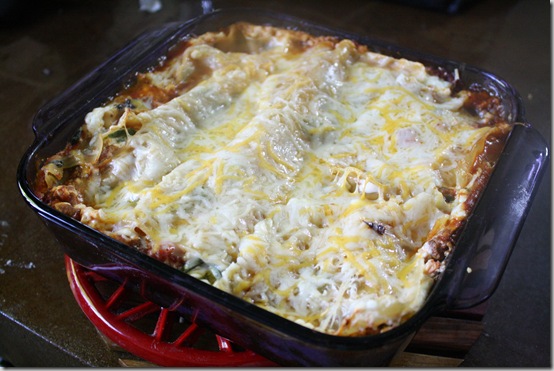 serve alongside your steamed veggie of choice.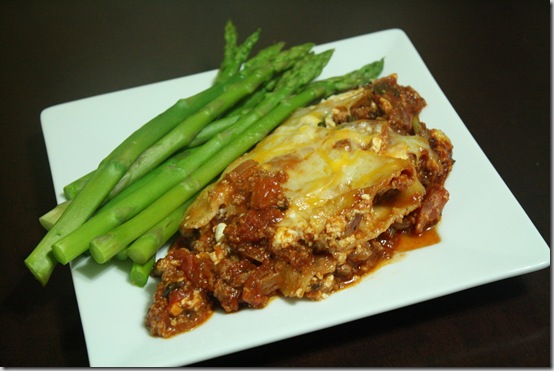 i love asparagus.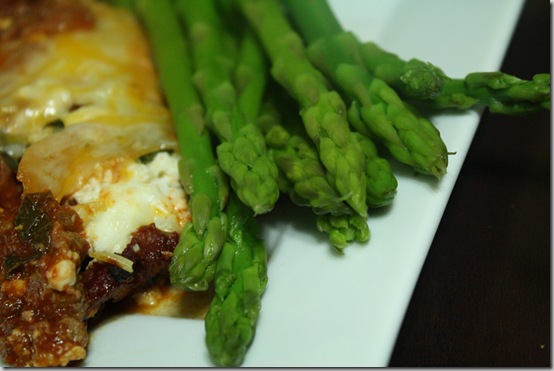 this makes 6 squares of lasagna that are roughly 3" x 4.5" in size (i used a 9×9 pan).  i had one square for my serving.. marshall had FOUR squares. luckily that left me one square for lunch today!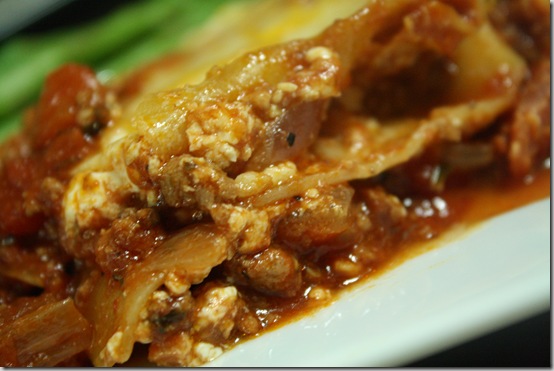 side note: this would be awesome with mushrooms! unfortunately, marshall hates mushrooms and i love him. (not unfortunate that i love him. just unfortunate that he hates mushrooms.)
here are the nutritional stats per square. remember, this is based of the specific ingredients and measurements i used. if you use different ingredients or amounts, your stats will be different.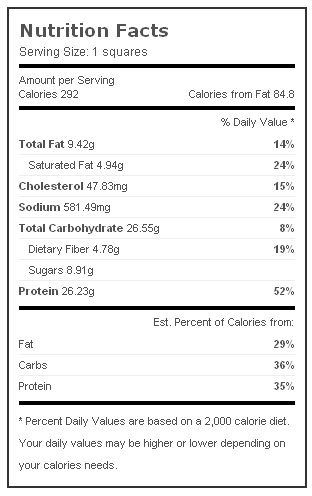 i didn't plug the information into my recipe calculator until after i made this dish up.  when i plugged everything in and saw the stellar stats, i got real excited. a big square of lasagna that is balanced in protein and carbs and is under 300 calories? good job, janetha. (what? it's healthy to pat yourself on the back.)
Q~
what is your favorite italian dish?
xo. janetha g.