it has been awhile since i have made up a recipe.  i feel like life has been flying by with no time for creating new recipes! but last night, i felt creative and got busy in the kitchen. no, not that kind of busy. get your minds out of the gutter.
i have been trying my best to stick to the body for life style of eating, so i knew i wanted to create a dish that was balanced in protein and carbs with a little fat for good measure. 
i threw all these ingredients together, cooked the whole meal and devoured the whole meal before plugging the ingredients into my recipe calculator.  to my satisfaction, this recipe was right in line with my nutritional goals. plus, it was super tasty.  score two points for the home team!
creamy asparagus & roasted tomato pasta with chicken
makes six large servings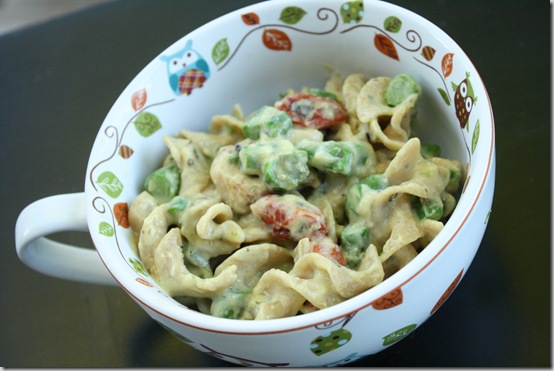 ingredients:
1 lb boneless, skinless chicken diced into 1" pieces
4 oz whole wheat wide noodle pasta (or other pasta of choice)
1 bunch (about 20 stalks) of asparagus
1 container (9 oz) grape tomatoes
1 (15 oz) can low sodium chicken or vegetable broth
1 cup blended cottage cheese
1/2 cup nutritional yeast
4 wedges of laughing cow light cheese
2 tsp dried basil
2 tsp dried oregano
1/2 tsp garlic powder
salt + pepper (to taste)
xanthan and guar gums for thickening OR corn starch will also work
directions:
for the pasta: prepare according to package and set aside. i am confident you can figure this one out.
for the tomatoes: preheat oven to 375 degrees. place tomatoes on a cookie sheet sprayed with cooking spray. pop into the oven and roast for about 30-40 minutes, flipping occasionally, until tomatoes are nice and toasty (but not burnt).
for the asparagus: dice into 1/2 pieces. place asparagus into saucepan with 1/2 inch of water. steam on the stovetop until al dente. can i use the term "al dente" for asparagus, or is that only for pasta? well, you know what i mean.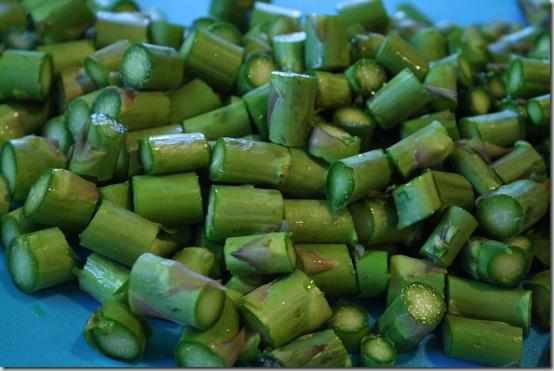 for the chicken: season with salt, pepper and a boatload of trader joe's 21 seasoning salute if you have it.  sauté until it is cooked through. no raw chicken, folks!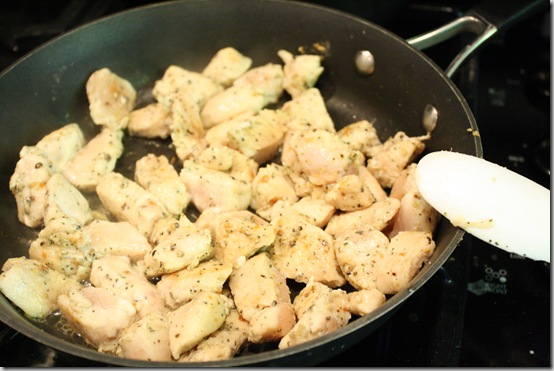 put all four ingredients in a large and in charge bowl.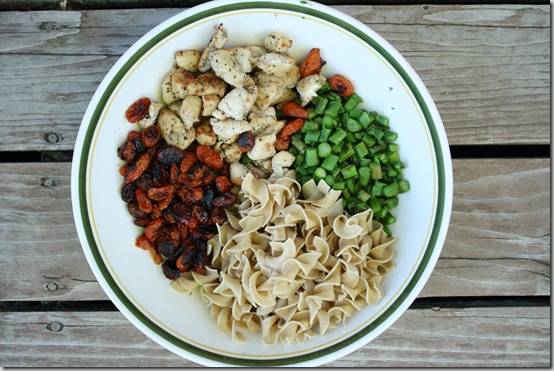 for the sauce:  first, blend your cottage cheese. you can do this in a food processor, blender or magic bullet. you may need to add a bit of water to get things moving.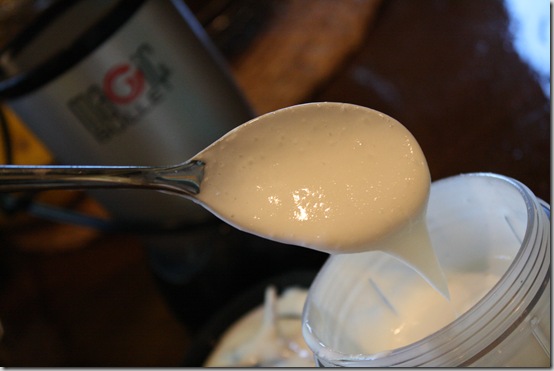 whisk together broth, cottage cheese, nutritional yeast and laughing cow cheese in a saucepan and heat over low heat.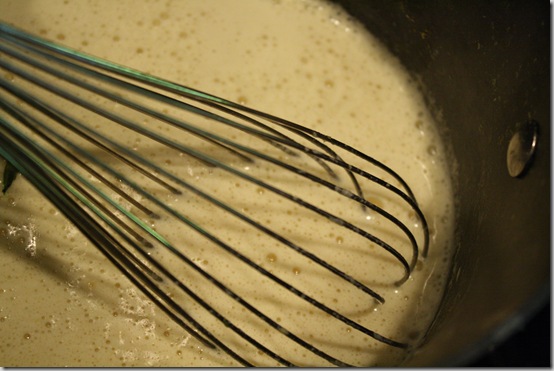 add oregano, basil, garlic, salt and pepper. and other seasonings if you feel the need.   simmer on low for about 15 minutes until the mixture reduces down quite a bit. and yes, i think "quite a bit" is a good way to tell you how much it should reduce. i am so technical.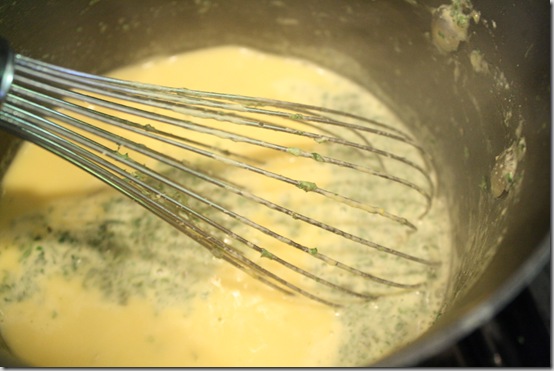 add your thickening agents until your sauce reaches desired consistency.  it should be like a thick cheese sauce that you can bathe in.  i used about 1/2 tsp of xanthan gum and 1/4 tsp of guar gum.
pour the sauce over you bowl of pasta, chicken and veggies and toss well.
eat!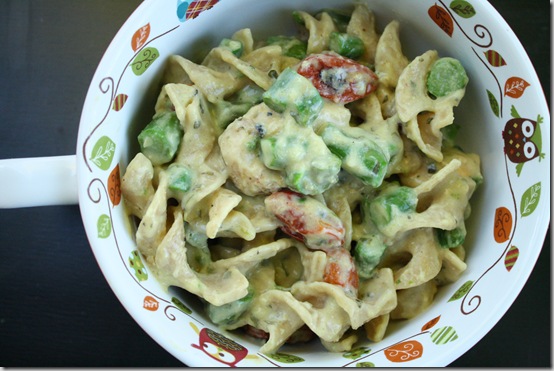 this made about eight cups—give or take. i am not quite sure if it was eight cups because marshall gobbled his up before i could measure.. BUT, he said he ate about four cups.  soo.. yeah.. who knows. all i know is my calculations are based on a sixth of the recipe.  a serving is going to be anywhere from 1 to 1 1/3 cups.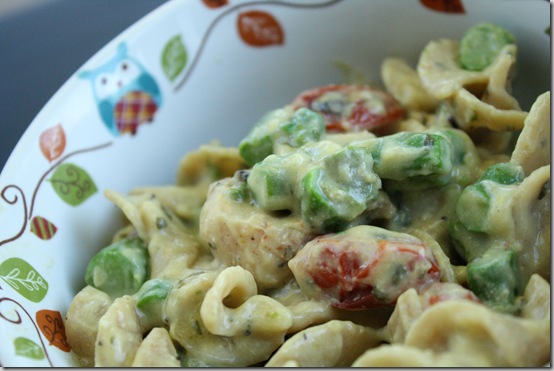 stats per serving (stats are strictly an estimate and were calculated using thedailyplate.com. they may vary depending on your exact ingredients.)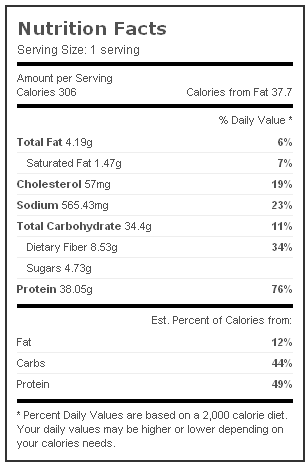 you can see why i didn't feel bad when i ate more than one serving.
i just ate the leftovers for lunch. this is one of those "even better the next day" recipes!
xo. janetha g.