happy friday everyone! let me be the first to say it could not come soon enough. it has been a stormy week here in the SLC and today the sun is FINALLY SHINING! yayer.
well i went to the thai cooking class last night.  some of my lovely friends, kristen, rory & cody, purchased this cooking class for my for the birthday because they know how i love cooking AND thai food. what a perfect gift for a foodie freak.  ima steal that idea sometime.
so instead of my regularly scheduled meals, this post is 100% thai food–recipes and all. if you hate thai food i suggest you click the red X in the upper right of your monitor now. or for all you mac users, i think it is on the left? i really don't know, i have never had a mac.
my friend CJ happened to be taking the same class (random) with a date (kelly) and another girl in my group (josie) happened to be from my home town! hi josie! also, i am sorry for the lack of amazing photos.. it was pretty busy in there and phenomenal food photos was not the top priority. i am sure you understand.
there were about 17 people in the class, so that was pretty full.. it was good because there was a big menu.  basically we broke up into groups and everyone tackled a couple recipes and also rolled some spring rolls. my group made green curry and the soup.  i have gone ahead and posted all of the recipes though because i ate all of it.  let me tell you, these recipes are definitely restaurant quality thai recipes. i couldn't believe i watched it all prepared and it tasted as bangin' as it did! if you are in the market for a night of thai-ness.. write these down.
so without further ado..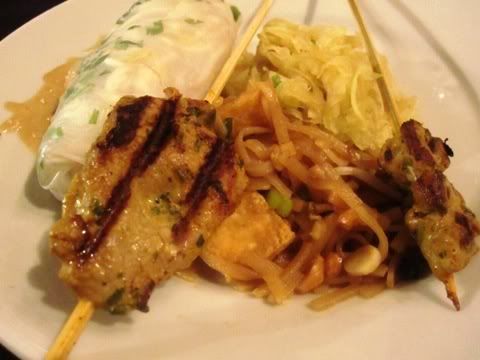 green papaya salad this was enough for the whole class.. check out the upper middle spot on my plate, that is the salad.
1 TB dried shrimp
4 thai chiles
4 garlic cloves
1/4 cup fresh lime juice
2 TB asian fish sauce
4 TB palm or brown sugar
1 LB grated green papaya
Directions:
Crush dried shrimp with the chiles and garlic cloves, then whisk in the lime juice, fish sauce & sugar.  Toss the dressing with papaya and serve.
comments: this salad was simple and tasted very fresh.  the fish sauce gave it a unique taste, but not at all fishy.  i had never seen fish sauce and had expected a fishy flavor. not the case. i would make this salad at home.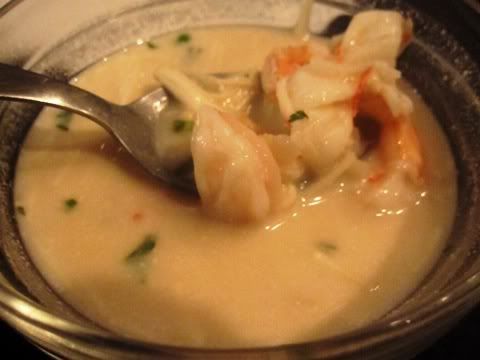 tom yum koong (sour & spicy prawn soup) serves 2, but we quadrupled the recipe and it served all of us
2 Green Bird's eye chiles, stems removed & roughly chopped
2 cilantro stems
2 cups seafood or chicken stock
6 thin slices galangal root
1 stalk lemon grass, tough outer layers removed, cut into 1/2 inch pieces and smashed
2 kaffir lime leaves, stems removed, torn into large pieces
6 medium shrimp, shelled & deveined, cut in half length-wise
4 white mushrooms, quartered
3 TB fish sauce
1/2 tsp sugar
1/2 tsp Nam Prik Pao (chile paste in oil)
1 cup coconut milk
2 TB lemon juice
2 springs cilantro, roughly chopped
Directions:
In a mortar crush the chiles and cilantro stems together.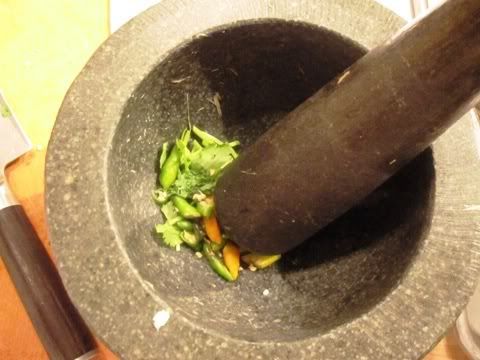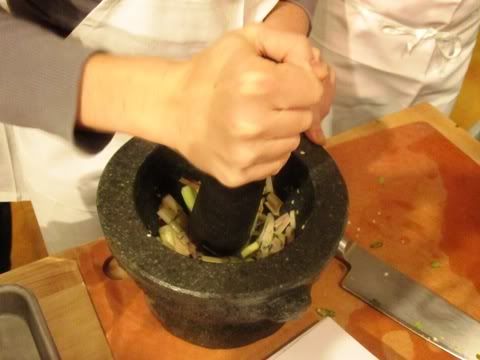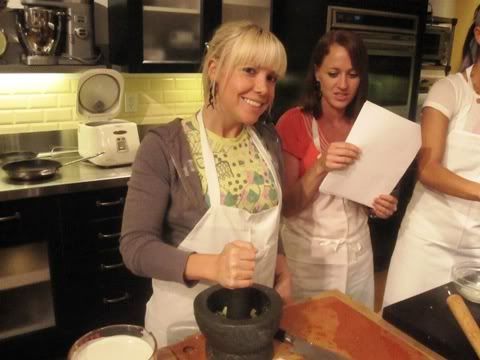 In a medium saucepan combine the stock, galangal, lemon grass, kaffir leaves and crushed chiles and cilantro.  Bring to a boil and simmer for 10 minutes.
Pour soup through a fine mesh strainer into a medium bowl.  Discard remains.  Return soup to the saucepan and place over medium heat.  Once the soup returns to a simmer add the shrimp, mushrooms, fish sauce, sugar, Nam Prik Pao and coconut milk.  Simmer until the shrimp are fully cooked, about 2 minutes.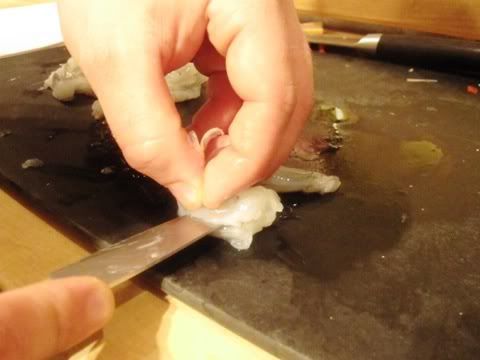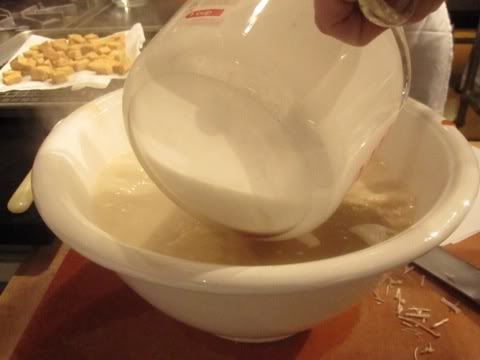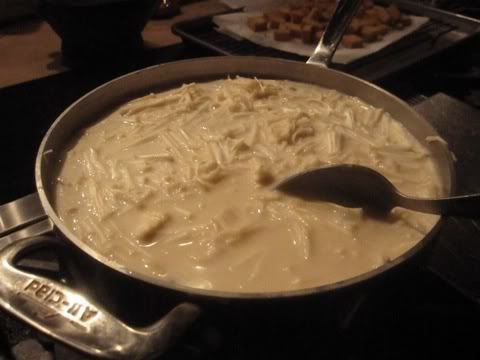 Turn off the heat, add the lemon juice and stir to combine.  Add the cilantro and divide soup into bowls and serve.
comments: this soup was SO delicious! it was just the right amount of spicy and the coconut milk added a mellow sweet taste to the soup.  anything with mushrooms is a winner in my book. this was a simple soup to make and leftovers would be really good!  you could also easily make this soup a meal by adding chicken or tofu, that would be phenomenal!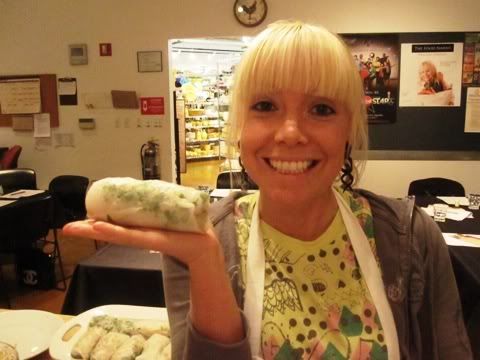 fresh spring rolls makes 4 rolls
4 rice paper wrappers
3 oz pork loin, cooked and sliced thin
3 oz shrimp, cooked halved lengthwise
2.5 oz vermicelli noodles, cooked, drained & chilled
4 oz mung bean sprouts
2 tsp cilantro, chopped
prepared dipping sauce of choice
Directions:
Submerge the rice paper in warm water for 15 minutes rotating if necessary to be sure all edges are soaked.  Lay the paper flat on a clean work surface and begin to assemble.  First sprinkle the wrap with 1/2 tsp cilantro.  Then, working in the center of the wrap arrange 1/4 of the noodles, leaving about 2″ of space at either end.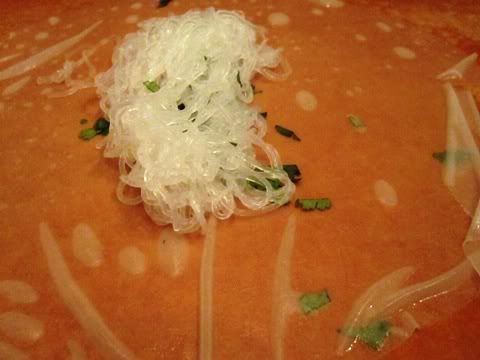 Top the noodles with sliced of the pork, shrimp and bean sprouts.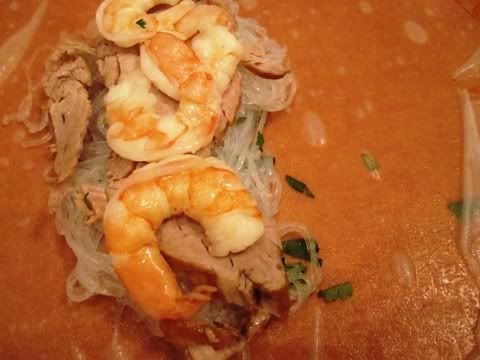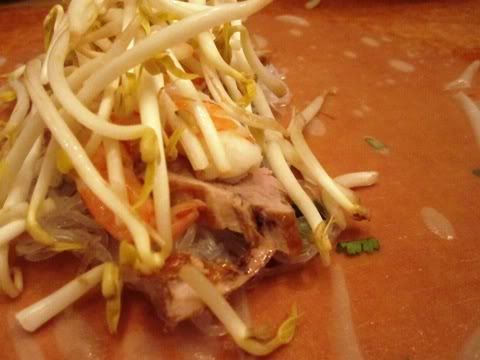 Fold one side of the wrap lengthwise over the middle of the filling.  Fold up one of the ends of the wrap, then roll the cylinder over once.  Fold up the other end and roll again to seal.  Repeat the process 3 more times.  If not consumed immediately, spring rolls can be wrapped individually in plastic wrap and stored in the refrigerator for several hours.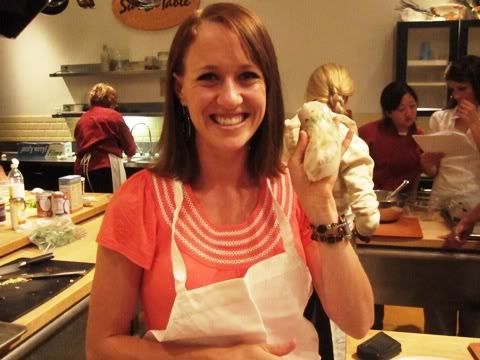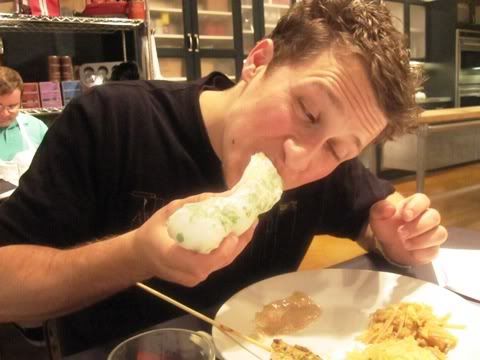 comments: i think the instructor had us make these way too big.  they would have been tastier if they were a lot smaller.  we dipped them in the dipping sauce shown below.  i didn't like the pork in there and i would have liked more veggies in them.  i may make spring rolls again, but not with this recipe.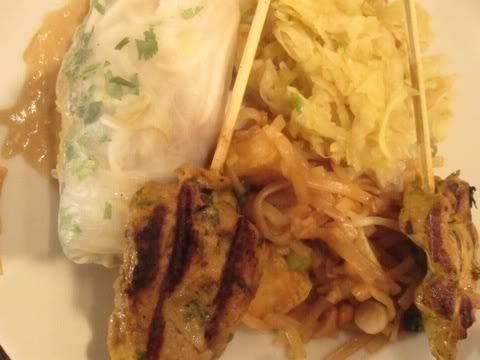 pork satay makes 24 skewers
24 bamboo skewers
1/2 cup coconut cream
2 TB cooking oil
1-2 TB curry powder
1/4 cup cilantro leaves, chopped
2 TB fish sauce
1TB sugar
1 pork tenderloin sliced into 24 1 x 1/4″ strips
Directions:
Preheat broiler or BBQ.
Soak bamboo skewers in water at least 30 minutes to avoid burning while under the broiler or on the BBQ.
Mix coconut cream, cooking oil, curry powder, cilantro, fish sauce & sugar well, then marinate for 20 min.  Insert bamboo skewers into the marinated pork.
Place pork skewers 6 inches away from the broiler or on top of the BBQ.  Cook both sides, about 2 minutes each side.  Serve with peanut sauce.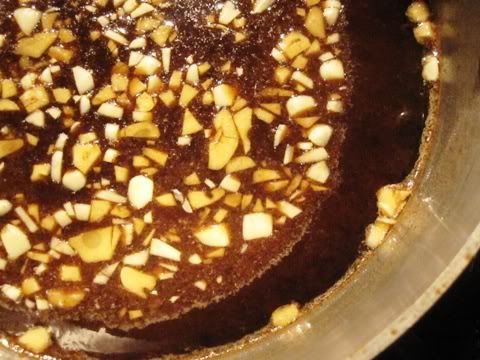 peanut sauce
2 fresh thai chiles
1 rounded TB tamarind from a pliable block
1/3 cup hot water
1 tsp fennel seeds
1 cup peanut butter
1/2 fresh lemongrass stalk
1 medium onion, chopped
2 tsp finely chopped peeled fresh ginger
1 tsp ground coriander
3 TB vegetable oil
1 can well stirred canned unsweetened coconut milk (10 fl oz; not low fat)
2 TB packed dark palm sugar or dark brown sugar
3/4 tsp salt
1 cup water
Directions:
Mash tamarind with hot water in a bowl using your fingertops until pulp is softened, then force with a rubber spatula through a medium mesh sieve into a small bowl, discarding solids. Finely grind fennel seeds in a grinder.
Very thinly slice bottom 6 inches of lemongrass, then mince with a knife, discarding remainder.  Pulse lemongrass, onion, galangal, giner, coriander, ground fennel and minced chiles in food processor, scraping down sides occasionally until finely ground.
Heat oil (3 TBs) in a 4 quart wide heavy pot over moderate heat until hot but not smoking, then add onion mixture and reduce heat to moderately low.  Cook, stirring occasionally, until onion mixture begins to stick, 5 to 6 minutes.  Add coconut milk and bring just to a boil over moderate heat, stirring constantly.  Add peanut butter, tamarind puree, palm sugar and salt and simmer gently, stirring constantly, 3 minutes.  Puree peanut sauce with water (1 cup) in cleaned food processor until the consistency of chunky peanut byutter, then cool to room temperature, about 30 minutes.  Reserve half for another use.
comments: the bomb dot com. for reals. all you PB lovers better make this and will probably want to drink it straight from the bowl from a straw.  just sayin.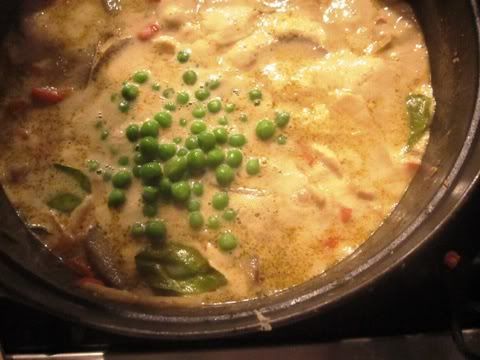 quick thai green curry serves 4 to 6

2 TB oil
1 LB chicken breast, diced
1 medium sized chinese eggplant, sliced
8 oz bamboo shoots
1 cup bell pepper, diced (we used red)
1/2 cup peas
1 TB garlic, minced
1 tsp ginger, minced
1 TB lemon grass (interior stalk only), minced
3/4 cup cashews
1/4 cup prepared green curry paste
2 kafir lime leaves
1/2 cup mirin
1/4 cup soy sauce
2 cups chicken stock
13 1/2 oz coconut milk (1 can)
2 TB honey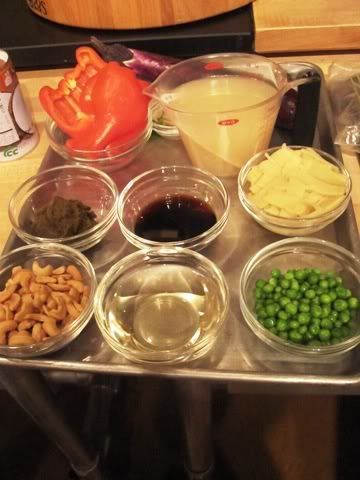 Directions:
Heat oil in a wok over high heat (if you don't have a wok, use a cast iron saucepan).  When the wok is hot, add the garlic, ginger and lemongrass.  Stir for 1-2 minutes until slightly golden.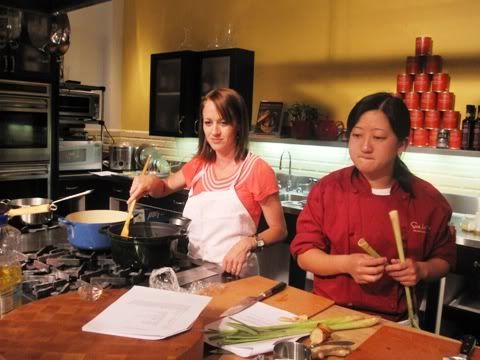 Add the chicken and continue to cook while stirring, about 2 minutes.  Add the bell pepper and eggplant and cook for another 3 minutes.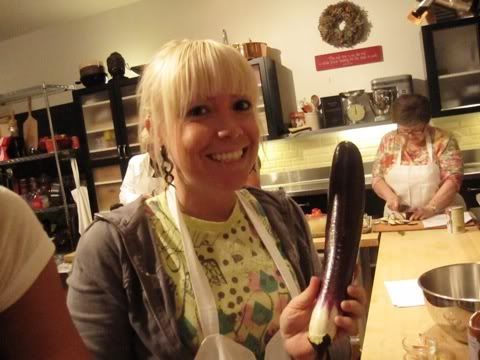 Add the curry paste, bamboo and cashews and cook for another 2 minutes.  Add the mirin, soy sauce, honey, coconut milk, chicken stock and kafir lime leaves and stir to incorporate evenly.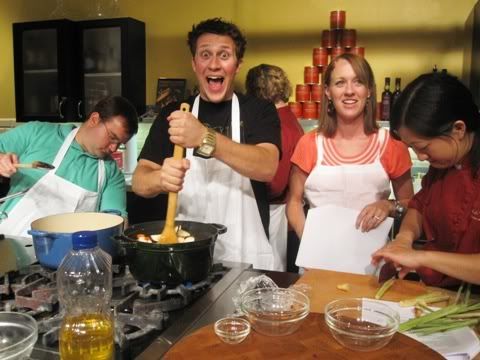 Reduce heat to low and simmer for 15 to 20 minutes until curry is thick.  Add the peas and season to taste with salt.  Garnish with Thain basil and sever over jasmine rice.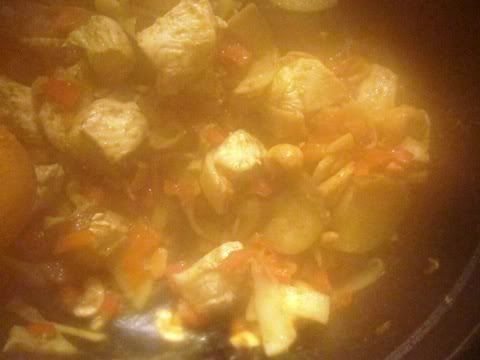 steammy
comments: my group made this dish and it turned out SO AMAZING.  i thought i was at my favorite thai restaurant when i ate it.  i had never heard of mirin, which is a white cooking wine.  the green curry paste we used was pretty spicy, which i loved.  i can't wait to make this again for my friends! the cashews were probably the best part.. i love my nuts.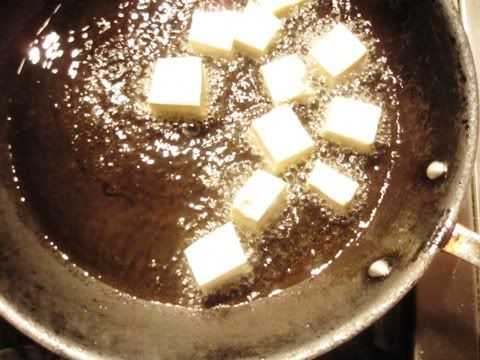 pad thai
2 handfuls soft Chantaboon Rice Noodles (4 oz)
3 TB oil
2 eggs, beaten
1 cup prawns or chicken (optional)
3 cloves garlic, minced
1/3 to 1/2 cup pad thai sauce (recipe follows)
1/2 cup diced, fried tofu
2 TB sweet radish, optional
3 TB chopped chives or green onion
1/4 cup ground roasted peanuts
1 cup bean sprouts
Pad Thai Sauce makes 2 1/2 cups (for up to 6 uses)
2/3 cup tamarind concentrate
2/3 cup white vinegar
1/3 cup light soy sauce
1/3 cup fish sauce
1 tsp salt
1 cup palm or brown sugar
3 TB garlic powder
1/4 cup cock sauce–err Sriracha chili sauce
Directions:
Place sauce ingredients in saucepan and bring to a boil on medium heat for 15 minutes or until sauce becomes thick.  Set aside.
To soften the noodles, soak them in warm water for 30 minutes, or until soft.  Drain, cover with towel and set aside.
Heat wok over high heat, add the oil and swirl to coat the sides.  Add the egg and fry one minute.  Add the garlic and chicken or shrimp, if applicable.  When the chicken is almost cooked through, stir in the noodles, followed by the sauce.  Let the sauce boil and cook the noodles at the same time; mix well until the sauce is absorbed.  Stir in the tofu and radish.  Check the noodles, if they are not done add more sauce.  When they are done, stir in garlic chives, sprouts and peanuts before removing the pan from the stove.  Be careful not to overcook the noodles or they will stick together.  If this happens, pour in some water to loosen them up.  When the water dries up, remove the pan at once.  Serve with fresh sprouts, lime wedges and extra peanuts.
comments: phad thai was my first thai lover.  i love a good phad thai and this recipe hit the spot.  i would make it again, but i would probably opt to make the curry over this dish because i make a much simpler version of phad thai on my own.  BUT.. this recipe rocks my face off. i even had seconds of this one.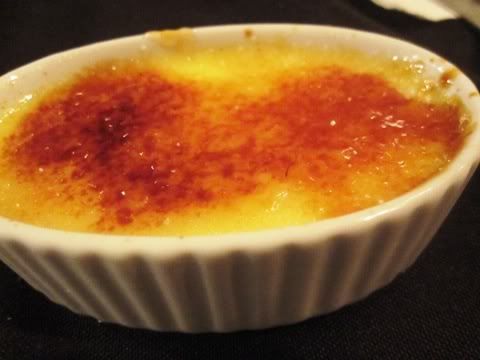 coconut lemongrass creme brulee serves 8
3 cups heavy whipping cream
1/2 cup granulated sugar
1/4 tsp vanilla extract
9 egg yolks
1 lemongrass stalk
1/2 tsp coconut extract
pinch salt
Directions:
Preheat oven to 350 degrees [f].  Using the lower section of the stalk with outer leaves removed, cut the lemongrass in half and bruise it with the backside of a knife to release the oils and chop into 1 inch long pieces.  Heat the cream, lemongrass and sugar in a heavy bottomed sauce pot to a simmer, stirring occasionally with a wooden spoon.  Remove from heat, cover and steep for 15  minutes.  Whick the yolks in a large bowl until smooth.  Return the cream micture to a simmer, remove it from the heat and add the vanilla and coconut extracts.  Strain the mixture and temper the hot cream into the yolks.  While whisking constantly, ladle a few ounces of the hot cream into the yolks.  Continue to add the cream a few ounces at a time until about half of the cream is incorporated.  At this point the yolks have been tempered and you can add the cream more aggressively.  Strain the mixture into a bowl trhough a fine sieve and pour back into a vessel suitable for pouring.  Place the ramekins in a baking tray with deep marshall straight edge sides.  Evenly distribute the mixture into the ramekins.  Fill the tray with warm tap water to reach about half way up the sides of the ramekins.  Cover with foil, being sure it is not touching the custard.  Bake covered for 30 to 40 minutes.  The custard should be set with a liquid center no larger than a dime.  Remove from the oven and allow to cool for 30 minutes uncovered at room temperature.  Chill for 4 hours overnight.  Blow torch that business.
comments: he didn't show us how to make this.  there was not time, and so we just ate it.  it was good, but i have had much better creme brulee.  i oculdn't taste the lemongrass at all really.  i won't make this one at home.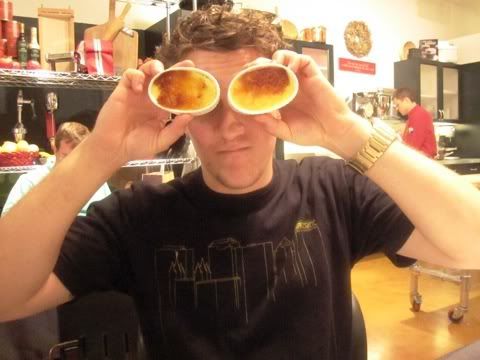 WHEW there you have it!  that was a lot of typing.  i did that more for my reference but i am hoping a lot of you try to make these fanfreakingtastic recipes too! they are great recips for entertaining and you are sure to impress anyone with the dishes listed above.
now i am going to do some things and come back for my regularly scheduled eating :)
xoxo!