peach pear banana muffins.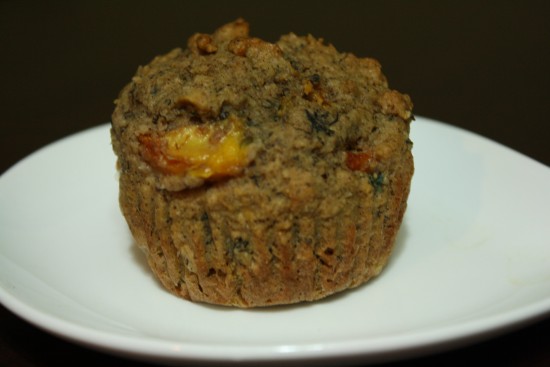 peach pear banana muffins
makes 18 muffins
prep time: 10 minutes
bake time: 20 minutes
ingredients:
dry:
2/3 cup whole wheat flour
2/3 cup all purpose flour
1/3 cup almond flour
1/3 cup coconut flour
2 TB powdered stevia (i used stevia in the raw brand)
1 TB baking powder
1 tsp baking soda
1 tsp cinnamon
1/2 tsp salt
wet:
2 large eggs
1 cup lightly mashed pears (i used 4 small pears)
1 cup lightly mashed bananas (i used 4 small bananas)
1 tsp vanilla bean paste or extract
2 TB almond milk (or other milk)
fold in:
3 small peaches, peeled and diced
note: you can use any combination of flours you'd like, just make sure to use 2 cups total.
directions:
preheat oven to 400* F.
line a muffin tin with liners.
combine dry ingredients in one bowl.
combine wet ingredients in another bowl.
add wet ingredients to dry ingredients and stir until just combined. DO NOT OVERMIX!
fold in peaches.
distribute batter evenly among 18 muffin cups.
bake for 20 minutes.
let cool completely before enjoying.
store in an airtight container in the refrigerator.