lemon bars.
this dessert is a great change from your run of the mill chocolate treats.. a fruity kick of lemon combined with the sweetness of sugar make these bars ultra addicting!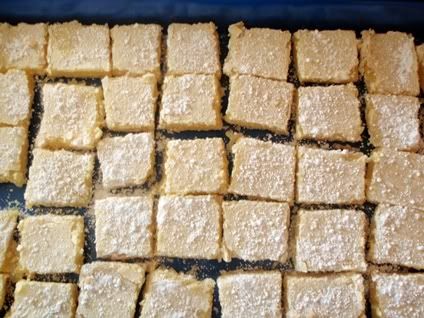 ingredients:
crust:
3 cups flour
3/4 cup powdered sugar
1.5 cups butter (3 sticks)
optional: chopped almonds or walnuts (i opted out)
topping:
3 cups sugar
1/2 cup flour
6 eggs
10 Tb fresh lemon juice
powdered sugar for dusting
directions:
cream crust ingredients together.

press dough onto 11″ x 17″ ungreased baking sheet.

bake at 350 degrees (fahrenheit) for 15 minutes.
edges will be light brown, set aside to cool.

mix sugar & flour together, then add eggs & lemon juice.




pour mixture onto cooled crust
bake at 350 degrees (fahernheit) for 18 to 20 minutes. it will not look done but any longer and it will be too hard.
remove from oven and let cool.

dust with powdered sugar.




cut into squares and enjoy!