january jumpstart!
hi there! thank you for visiting us at the what a woman wants show. we are so happy you came here to learn more about the january jumpstart 24 day challenge!!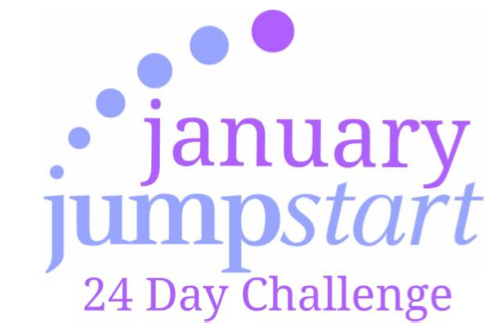 congratulations on deciding to make a change to better your health! the holidays can be hard on us and there's nothing like a new year to get a fresh jumpstart on your health, fitness, and weight loss goals. 
here are all the details of the january jumpstart. it should give you a better idea of what fun is in store!!!
when you sign up for the challenge, you will receive 24 days worth of advocare products along with a nutrition guide and challenge planner/checklist. the products include the 10-day herbal cleanse complete with probiotics, herbal cleanse tablets, and the fiber drink, 14 meal replacement pouches, two boxes of spark energy drink, 56 MNS pill packs for the max phase, and a bottle of omegaplex to last the entire challenge. basically, it's a lot of product. at a cost of less than $8 a day, it's a screaming deal and a sound investment for your health and happiness.
the challenge has two phases: the cleanse phase and the max phase. the good news is you get to EAT the entire time! i never do well with cleanses where you can't eat.. so this one is perfect for me. in the first 10 days i personally lost five pounds and 13 overall inches. the cleanse consists of a fiber drink, probiotics, herbal cleanse tablets, omegaplex, and spark energy drink. the max phase is days 11-24 consists of a meal replacement drink in the morning, spark energy drink, MNS pill packs , and omegaplex.
i want to let you all know that advocare products are informed choice approved, which means they have gone through rigorous testing to make sure they are all SAFE for you to use. this is an edge advocare has on most other supplement companies out there. you can take these supplements with peace of mind and know you aren't harming yourself. click here to read more.
i mentioned the challenge comes with a nutrition guide. it does not dictate your meals for you exactly, but it gives you guidelines of what to eat, when to eat, and.. most importantly.. what not to eat! it is very simple to follow and leaves room for customization if you have dietary restrictions or social events that force you to eat out. it seriously is the most flexible challenge i've ever done, and i am seeing so much success!
so, that's the stuff you receive from advocare when signing up for the challenge.. but we are making the january jumpstart extra special, so you will receive even MORE if you sign up!
email support throughout the full 24 days—have a question? concern? problem? we are here to help!
periodic emailed newsletters and videos throughout the challenge guiding you through everything.
exclusive healthy recipes to fuel you through the challenge as well as meal plan ideas and tips.
workouts for in the gym and at home along with demos, ideas, and tips.
supplementation information including benefits and how to implement certain supplements to reach your goals.
fun food and fitness-related challenges for all participants with over $300 in prizes up for grabs.
strong sense of community and full access to a private facebookgroup so you can interact with others during AND after the challenge.
now, no challenge would be complete without INCENTIVE, right? i know we all have a little competitive edge in us. sometimes that's what it takes to keep me accountable and on point. so here is how the incentive of the january jumpstart will work…
all participants will send in their day one photos monday, january 6. challengers will also weigh and/or measure and write that down for day one (optional but encouraged.) after day 24, challengers will take photos and also weigh and/or measure again. all participants will send in final photos and any changes in weight and inches to me along with any notes about how the challenge affected you. we will use this information to select three winners. these photos will be kept completely private unless your consent is given to share.
we call ALL use extra CASH, so we decided to take money out of our pockets and give it to you!
$300 to first place
$200 to second place
$100 to third place
$50 to a randomly drawn participant
as noted above, in addition to the awards just described, there is more chance to win stuff just by participating. throughout the 24 days, we will be holding various fitness and food challenges with prizes, random gift card drawings, and other fun incentives for all participants to have a chance to win.
ready to sign up?? LEAVE A COMMENT BELOW! make sure you enter a valid email (it will not be published) and we will contact you to get all the details worked out!
if you have QUESTIONS about the january jumpstart, the 24 day challenge products, the 24 day challenge itself, or the companion products.. please leave a comment below or shoot a note using the contact link above and we can answer any questions prior to you signing up.
this is for USA ONLY. unfortunately, advocare does not ship outside of the USA. if you have a USA address, you can join! the products do take anywhere from 3-6 days to arrive (advocare is based in texas so it depends where you live) so plan accordingly and place your order enough in advance to receive your products prior to the challenge start date—january 6!
okay, i think that covers all the bases! we cannot wait to have you in for the january jumpstart.. say hello to a NEW YOU in the NEW YEAR!!