about janetha g.
hello and welcome to meals & moves! thank you for taking the time to swing by and see what i am all about.
here's the short story (followed by the long story.. if you're into that sort of thing.)
i am a 32 year old married gal (did i just say "gal"? the word "woman" sounds to old and the word "girl" sounds too young.. gal it is.) living in salt lake city, utah. i am a new mom (as of august 2014) and i am trying to find a balance between momming, working full time, staying in shape, being healthy, and everything in between.  i love to cook and create new recipes. i love to lift weights and am always taking on new fitness challenges (body for life, insanity, jamie eason's 12 week trainer). i hate running, but i do it anyway (in short distances) because it's good for me. you'll never hear about race training here on meals & moves–the longest distance i've completed to date was tough mudder (roughly 12 miles) and i never plan to do that again!
i started blogging in 2008 and i started meals & moves in april 2009. i blog about recipes, workouts, day to day life, my son, my dogs, my family, my friends, things that make me happy, things that make me sad and sometimes weighty issues.  i don't blog multiple times a day, but i do try to post once each night. sometimes life gets in the way… consistency is not my forte.
if all of this stuff interests you, then pull up a chair and stay awhile. you can start by reading the long story….
about janetha g.
my name is janetha and i am sure that i am the only janetha you have ever come across.  if that is not the case, please let me know.. i would love to meet another janetha.  as far as pronunciation goes.. it is "ja-neeeeee-tha".  now you know.  the "G" is a somewhat recent addition, i am the blogger formerly known as "janetha b."… until i got married on july 17, 2010.
more about me:
i am 32 years old. gemini, in case you wondered. my birthday is june 1.. feel free to send gifts.
i was born and raised in utah, where i currently reside.
i live with my husband, marshall, our son, fox, and our two dogs, penny and randy.
i need to get updated photos on this page with my little man!
i talk about my family a lot. i am very close with them. my best friend is my mom, AKA momma b.
me & momma b, bowling in california.
i work five days a week, 8 hours a day.  i run a window company. you see, i don't have an actual job description, but i do a little of everything. so much, in fact, that my bosses call me the boss.  the CEO, if you will.. "chief everything officer". i am also the CFO.
i've been known to say that i like dogs more than most humans.
randy on the left, penny on the right.
i firmly believe that traveling is the best way you can spend your money. i have traveled all over europe on multiple occasions (i used to live in london), the majority of the western united states, hawaii and mexico multiple times, jamaica.. and canada. for a day. i was deported from canada.. that is a story for another time.  i can't wait to see more of the world. preferably with this guy:
here we are in hawaii, 2008.
about the blog.
i don't capitalize when i write blog posts.. i promise that i did not fail the second grade, i am well aware of where the capital letters should go, i just prefer to type this way.
i started meals & moves in april of 2009 because i wanted to hold myself accountable when it came to eating & exercise.
i used to do the whole "this is what i ate, this is what i did" every day post. after a little over a year of that, i have decided that i would rather post what i feel like and when i feel like it.  i work best when i am random.
to be honest, starting the blog caused me to gain weight in the beginning. i was focusing so much on making my food fun and interesting but i did not take into account the extra calories i was consuming.  i had to take a step back and get my ducks in a row. now i don't let the pressure of creating amazing meals get to my waistline. i still have fun with my food, but i don't over do it.
about my relationship with food & exercise.
as far as my relationship with food and exercise go, i think i am at a great point in my life right now.  when i was a teenager i had the metabolism of, well, a teenager!  i ate like crap, drank beer daily, didn't exercise.. and was still stick thin.  eventually my metabolism caught up with my habits and i began to gain weight.  around this same time, i also broke my humerus while snowboarding.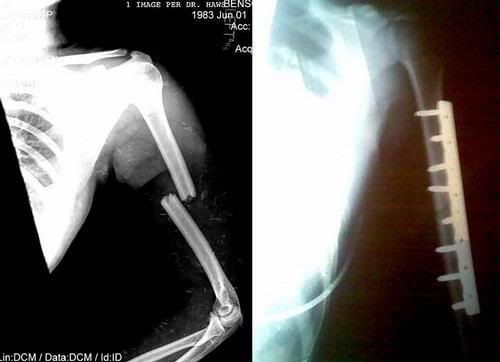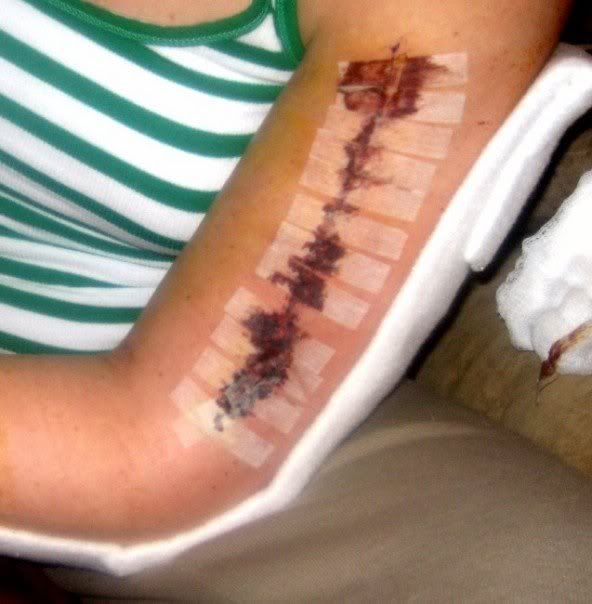 it hurt lots.
needless to say, this injury left me on the couch for a couple of months.  i was eating but not even moving.. and the pounds packed on.  and on.  and on.
this was when i became so unhappy about my appearance that i decided i should do something about it. it is not fun when you have been wearing pajamas for two months and when you finally get to put on some normal clothes and go out, they do not fit. it actually sucks. real bad.
enter: body for life. body for life is rad. i tried it out once in april of 2007 but i don't think the determination was there, or the fact that i found a new boy to love was just more important at the time, because i fell off the wagon less than two months into the ride. time went on, weight bounced up and down, adventures were had, lots of bread, ice cream and cereal consumed. i was back up to my old miserable chubby self.
august 25th, 2008. this is when i decided to start my hardcore challenge. my mom and i went full speed ahead and didn't slip a bit. we were hell bent on making it all 12 weeks. and we did it. we had phenomenal results. check out my body for life page on here for more on that. i was in the best shape i'd ever been in my life. ever. not only that, but the spark i had for eating right and exercising turned into a flame. i am so interested in both!
thank you, body for life:
sure, my metabolism caught up with me.  and no, i don't have amazing genes. i have genes of a fat kid, plain and simple.. so don't try to say "but you were just born that way" because no, i was not so lucky. my metabolism and body type fight to make me fat. but i fight back and now i know how to stay lean while eating healthy and exercising.  i have actually turned my metabolism into a lean, mean, fat-burning machine!
2009 was a rollercoaster of gaining and then losing the weight, but i am finally at a spot that i am comfortable with.  i am able to keep my meals fun and interesting while staying in a healthy calorie range for my body.  no, i don't count calories, but i am mindful of the number of calories in the things i eat and i make sure not to go overboard.  i also make sure to get plenty of exercise in, aiming for at least 5 days a week.
current view on eating & exercise:
"everything in moderation"
being a newlywed, i have learned to embrace intuitive eating.  it is the way we are meant to eat, after all.  up until i was in my twenties, i always ate when i was hungry, stopped when i was full, and stayed active.  this is how i believe everyone should live.  food rules and macronutrient nit-picking became tiresome for me.  it did help me lose weight, but it became too tedious in the long run.
i want to only have to prepare one meal at dinnertime.  instead of making my husband eat super, duper healthy ALL the time, i prepare meals that are good for us, but not necessarily insanely healthy. read: i am not afraid to use full fat cheeses, whole milk, real butter, white flour.  back in the day, i would make him one thing using whatever ingredients and make myself another thing, using only the ingredients on my "approved" list.  currently, i make one meal, we both eat it.. i just eat a smaller portion and make sure not to over eat.
this change in my eating has worked wonders. i don't worry about the next time i am going to eat or what it will be. i simply eat what i like, when i need to, and don't eat too much.
exercise has scaled back quite a bit since the wedding.  instead of religiously going to the gym 6 days a week after work, i have become more lenient on how i get my workouts in.  if i can't make it to the gym, i make up for the lack of exercise by sprinting with the dogs or doing body weight movements while watching TV with marshall.  there are always ways to squeeze extra moves in.  to be honest, my life is too much fun to stress about making it to the gym EVERY day.  i feel much more relaxed with this new schedule and i actually appreciate my workouts at the gym more because of this change.  i get more excited for my workouts and i put more effort into them. it's great.
a few other things.
before i go, i want to share a short list of my passions:
cooking & making up new recipes
baking & trying to veganize baked goods (i have vegan friends and it makes for a fun challenge!)
patterns of the houndstooth variety
owls
snowboarding in the winter
wakeboarding in the summer
traveling
all animals
spending time with family and friends
i love words.. acronyms, palindromes, any word games.. love love love
i am a big numbers geek.. i count my steps and find patterns in phone numbers
i LOVE lifting weights and don't really love cardio but i do it because i know it is good for my heart ;)
like i said, this is just a short list.  there are so many more things i am interested in~if you stay tuned and read my posts you are bound to find out more about little old me.  and yes, i mean little, i am a shortie: 5'1"!
hope you enjoy my posts and feel free to ask me anything! (there's a contact form in the footer below.)
xo. janetha g.