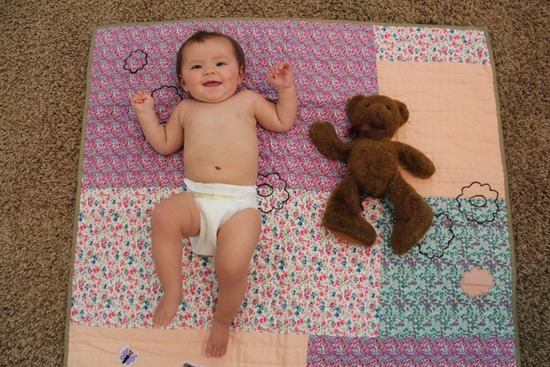 dear stella,
ten months old! my tiny human, how are you already in the double digits? i am really in denial, this has honestly been the fastest year of my life. the fact that your birthday is right around the corner is unbelievable.
you are a very, very mobile little lady. you crawl so dang fast and we can hardly keep up with your curious antics. you are always climbing things, pulling up to stand everywhere you can, and getting those little hands in places they shouldn't be. we have to keep a close eye on you. but it is so fun to watch you explore, learn, and move around.
you have made a few big changes this past month. the biggest being that you have moved out of mom and dad's bed and into your crib! it's sad and good all at the same time. i actually can't believe we kept you in our bed for as long as we did, but i was in denial that you were growing up, and growing out of your dockatot. so the time came to get the bigger dockatot (the grand) and transfer you over to your very own crib in your very own room. and it's very far away from me. okay, okay.. i guess it's not THAT far. but i have to say i do miss having you right next to me sometimes!
at first you did not do too well in your crib. well, first we tried it without the dockatot and you did horribly. you didn't make it through the night. but then once we had the cozy dockatot in there, you did a little better. you were still waking up multiple times a night for awhile there, but you have slowly narrowed it down to waking up once in the night, right around 4 AM. of course there are those nights that you still wake up 2 or 3 times, but overall you are doing a lot better!
you were still napping in your rock n play, even though you were doing nights in your crib. but then i told jordynn (your nanny) that we switched you to the crib.. and failed to mention that it had only been for nights.. and she took that as you were sleeping in there for naps, too! somehow she managed to get you down for your naps with her in your crib, so that's that! i tried a few times to get you in there, and was pretty unsuccessful. but after trying and trying, you have been getting better at napping in there. your naps definitely are not as long as they were in the rock n play, which i think has something to do with the fact that it's so light in your room for naps, and it was dark in the room with the rock n play. so maybe we need to get you some black out curtains for your room!
oh, yes.. you may have noticed i said your nanny was putting you down for naps. that's the other big change you went through.. you stopped coming to work with me! i am actually so sad and miss you lots during the days while i am away from you. but you were crawling everywhere and climbing on everything and the office was just not the place for a little wiggly lady like yourself. so you are now officially home every day! monday and tuesday with your dad, wednesday and thursday with jord, and fridays with nana sue. fox likes to have you around every day, and i know you probably prefer it to being at work with me.
you have had another bottom tooth poke through! still nothing up top. but those bottom teeth are sharp, sharp, sharp! you are biting down a little more often than i would like, haha. but i am still nursing you when we are together and pumping milk for you while we are apart. you have been drinking less and less milk, though, and are really into ALL the food. some of your recent favorites include string cheese (you hold the whole thing and gnaw on it until it's gone!), watermelon wedges, ravioli, chicken, mini bagels, and of course bananas.. always bananas.
you get really mad if we eat in front of you and don't share. you get especially mad when fox has a drink (juice, chocolate milk, etc) and drinks it in front of you. you don't like that he has something and you don't! but he is usually good to share whatever he is having, if it's something you can have.
actually, fox is great at sharing most things with you. he is a very sweet big brother. he gets very concerned when you are crying. he will pat your head, give you hugs and kisses, and say, "it's ok baby stewwwah, i lub you" – it melts my heart! nobody can make you laugh as hard as he can. it's so fun to watch you two play together. i know you love each other so much, and hopefully the love you have for each other will outweigh the bickering in years to come. we shall see. :)
you really want to be held more often than not. and if we aren't holding you, you want our attention. you are very good at shrieking real loud to get our attention. and once you have it, you grin from ear to ear and are happy as a clam. your smile is basically the cutest.. and don't even get me started on your laugh. it's hilarious and contagious and, oh, i love it!!
you really are happy more often than not, and you have a smile for everyone you meet. you don't always want to go to new people, though. you will go to them for a second, and then reach back and ask to go back to mom or dad. but at least you are giving people a chance! and, if nothing else, you will always give them a smile. you're so sweet.
the bath is a love hate situation for you, these days. you are fine splashing for a bit, but when it comes time to get your hair and face wet, you flip out. it's a struggle, so we don't wash your hair every night like we used to! one day you may like it.. but it's not looking like any time soon. you also aren't a fan of putting any clothes over your head. you are turning out to be a little particular about quite a few things! it's funny!
it was a fun month, things started out on a family vacation in st. george! mom's whole side of the fam was there – all your cousins and aunts and uncles and nana and paw. you had the time of your life! you loved the pool, playing with your toys in the living room, having everyone give you tons of attention, and eating anything and everything you could get your little hands on. it was a blast. we also had some professional photos taken while there, and you did great! you are one happy, photogenic baby.
you have been out and about quite a bit. summer is the time for outdoor activities! we headed up to snowbird for a little hike on stevie's birthday. we hit up the pool many, many times. some days we would just hang out in the backyard with a sprinkler and the dogs. you love penny and randy.
you have gone to lagoon quite a few times. you absolutely love the carousel and you are also a big fan of people watching. you have been great at taking little doze-arounds in your stroller while fox rides the rides. don't worry, next year you will be able to go on more rides! it has been hot, so we have done a few indoor activities, too. you loved the children's museum and could have stayed all day.
you celebrated your first fourth of july with a parade and popsicles and cute patriotic outfits and barbecues and ice cream.. all of the things! no fireworks for you, this year, you conked out a little early for that! you were a big fan of all the festive things we did, though.
the summer of baby stella is just the best. it has been so fun seeing how you've changed and watching you enjoy every last minute of life. it is exciting to watch your face light up with every little thing you encounter. you make things so, so awesome. i love you to bits, my baby girl!
love, your momma