hey! wild friday night over here.. I just reconciled all my bank accounts and credit cards for the month of january, and now I am having some mother's milk tea (supports lactation and it's delicious.)
I have been on a ROLL this week with making dinners. I made three new meals! all of them used the rotisserie chicken breast that you can buy at costco. and if you have bought it before, you know that is a LOT of chicken.. so I had to get creative to use it up!
monday night I made chicken quesadillas with cuban black beans, tuesday was book club so I had the most delicious food there (it's more about the food and less about the book at our book club!) and I will share more on that in another post, on wednesday fox and I made a chicken and veggie casserole (I will make it again for sure, and document it.. if you follow me on snapchat you saw it the other day haha), and last night I made this yummy pasta bake that I am sharing today! tonight I had leftovers of this, and it may even be better the next day!
I have to say, I am proud of my cooking efforts. it's been ages since I cooked regularly, let alone made up a new recipe. truth be told, I wasn't planning to take photos of this one along the way, but I had a feeling it would be tasty, so I did. and I really didn't measure or think about it.. I made it up as I went! so now I need to document it, so I can make it again, ha.
so, I knew I wanted to use the chicken, and I had a half a box of penne to use up. since we'd already had mexican and a cheesy casserole, it was time for some italian food. we can't go a whole week without italian SOMETHING.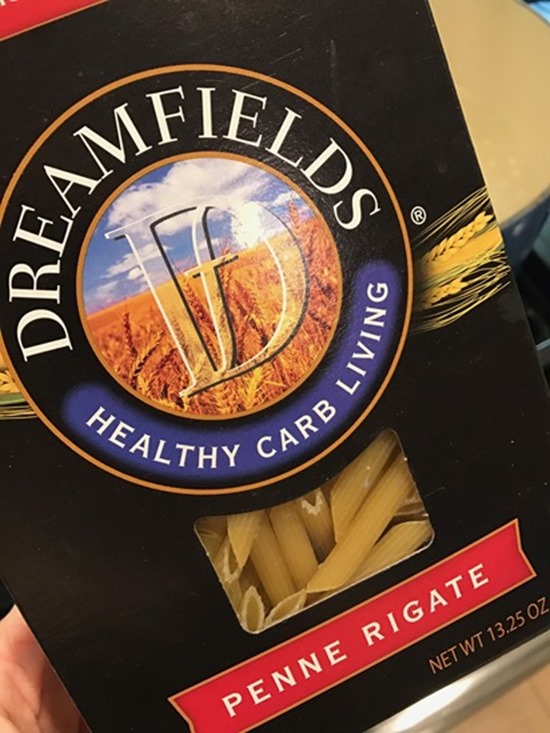 I pulled out all the veggies I had to use up… asparagus, onion, and mushrooms… along with some of the chicken breast. I diced it all up.
then I checked my cabinets and fridge for anything that would go good in an italian dish. I came up with diced tomatoes in a can, minced garlic, parmesan cheese, goat cheese, and pesto.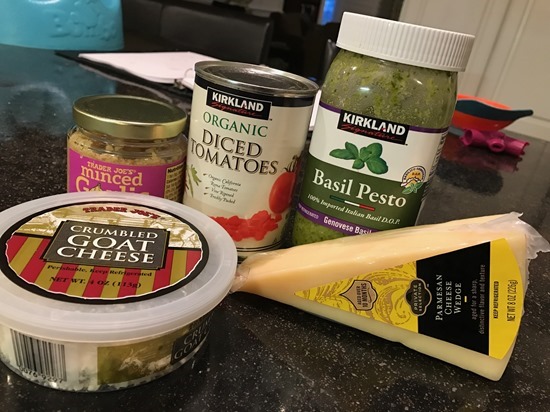 my #1 ingredient when cooking basically anything is this sauce.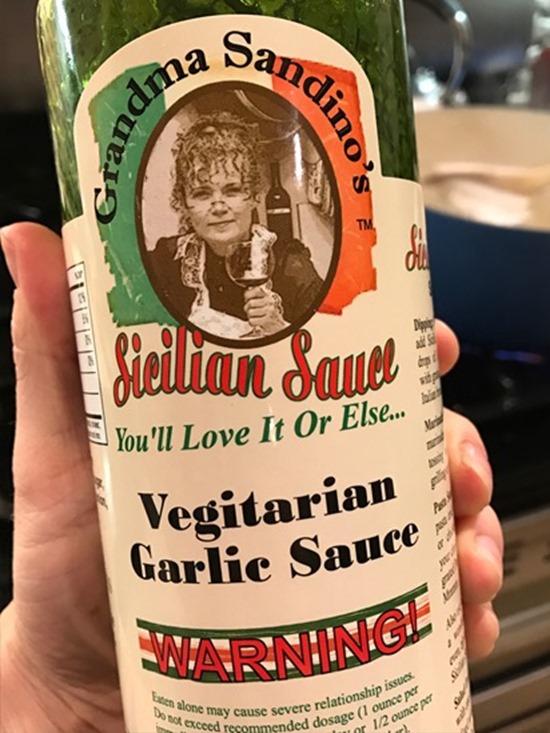 grandma sandino's garlic sauce goes in EVERYTHING. we first discovered it at the farmers market, but luckily a few local grocery stores sell it. we go through it like water in our house! I checked, and you can buy it online here. you totally need to! it's amazing!
so I had all my ammo, and I got to work. I cooked the noodles first, painted with fox while they cooked, then set them aside.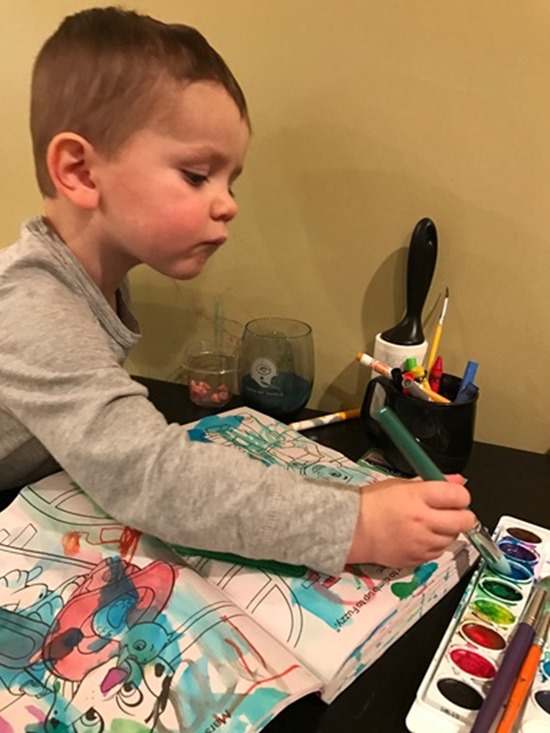 next I sautéed the onions and garlic in some of grandma's sauce. then I added the chicken and asparagus until it softened up. I kept adding a little grandma's here and there, and also added salt and pepper along the way.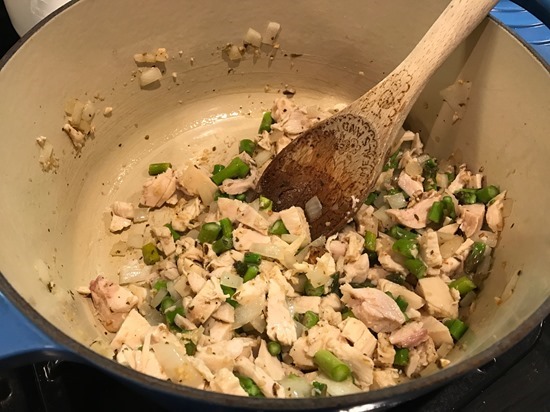 momma b stopped by to say hi to us.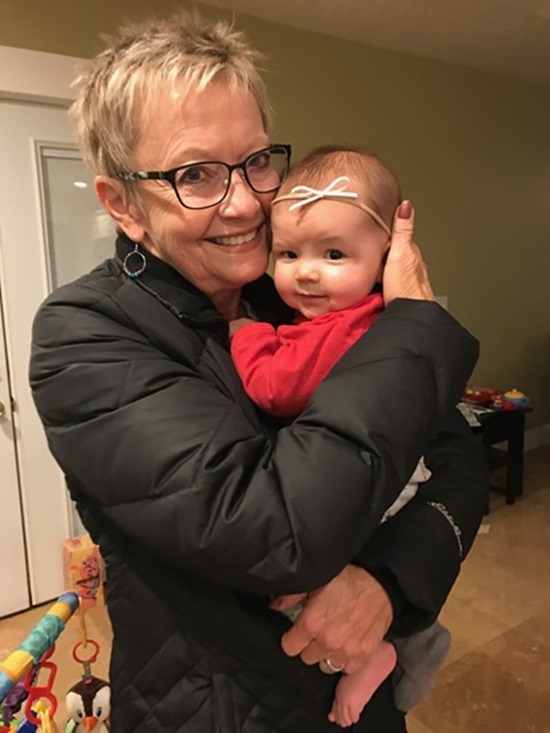 then I threw the noodles back in, added more grandma's, salt, pepper, the tomatoes with the juice, and a big spoonful of pesto. I let that simmer, but it was a little runny. I mixed up a tablespoon of corn starch with some water and poured that in to thicken things up.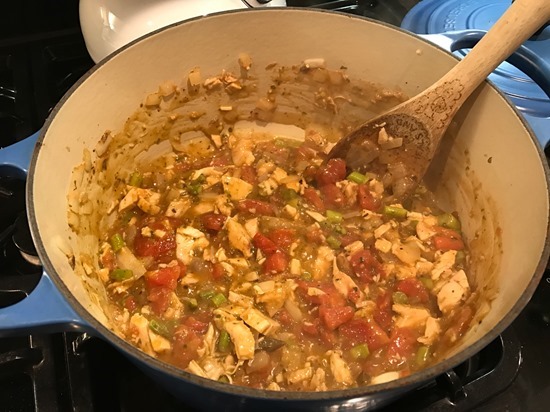 finally, I stirred in the goat cheese and I topped everything with parmesan and was about to throw it in the oven…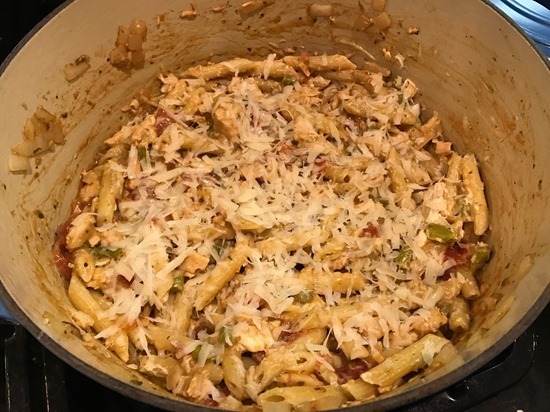 …when I realized I'd skipped the mushrooms. of course. so I sautéed those in a separate pan and then mixed them in. next time I won't be a space cadet, and will add them and sauté before the noodles go back in. once the mushrooms were safe and sound in the pot, I stuck it in the oven on 300 for about a half hour, while I did bath time and bed time for the kids.. marshall was gone, so I was on my own.
it came out looking (and smelling) so good! I am a huge fan of noodles & co. I like the penne rosa and also the pesto cavatapi. this dish was like a fusion of the two… only better!
I mean, I am just going to toot my own horn here and say it was amazing. marshall got home and had not one, not two, but three big servings. that is when you know it's a hit. next time I will have to have some garlic bread to serve with it.. that was the only thing missing!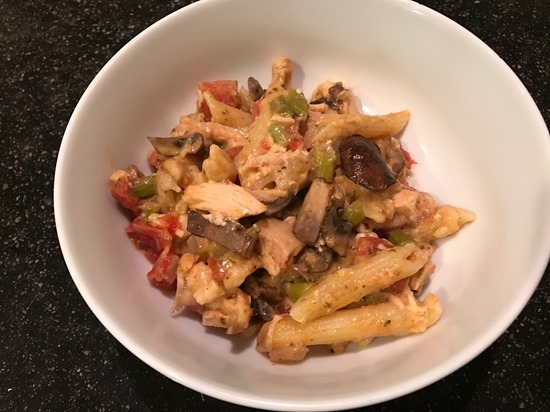 so now I will attempt to write the recipe.. haha.. a little of this, a little of that.. let's see how I do. oh, gosh.. it doesn't even have a name. hmm.
spur of the moment penne bake
makes six generous servings
ingredients:
8 oz penne pasta, cooked
12 oz chicken breast, cooked and diced
plenty of grandma's sauce.. alternately, you could use olive oil and italian seasoning
1/2 an onion, diced
1-2 tsp minced garlic
8-10 stalks asparagus, diced
6 oz mushrooms, diced
1 can diced tomatoes with juice
2-3 TB pesto
4 oz crumbled goat cheese
1/4-1/2 cup grated parmesan
1 TB corn starch, dissolved in water, if needed
directions:
cook pasta, set aside.
sauté onion, garlic, and about 2 TB grandma's until onions soften.
add asparagus & chicken, sauté until asparagus softens.
add mushrooms, sauté until mushrooms soften. add salt and pepper.
add noodles, tomatoes and pesto, let simmer until everything thickens.
use corn starch to thicken things up, if needed.
stir in goat cheese. top with parmesan. I also stirred a little parmesan throughout.
cover and bake for 20-30 minutes at 300 degrees.
enjoy!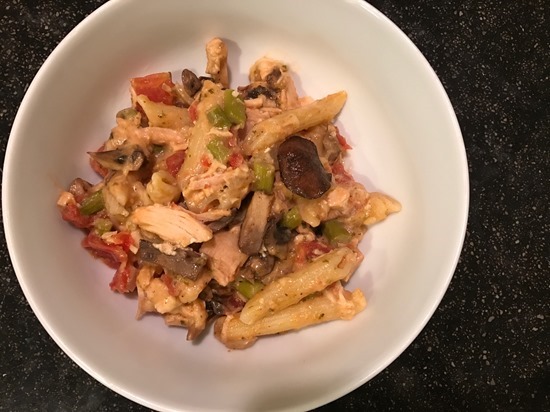 I am sad that all the leftovers are already gone! it hit the spot when I got home from the gym tonight. yep – I am sticking to my guns and have started working out again. but I guess that will be a post for another day.
as I was typing this, I was just laughing at my photos. I never take photos of my food anymore, let alone the whole process of a recipe. when you have a job, a toddler, a baby, and a life.. it is hard to whip out the DSLR for recipe creation. these pictures are so crappy. but, you know, who cares? they show the process, I enjoyed cooking this meal, and now I have it written down for time and all eternity. or until the internet explodes, at least.
I feel like these days, to have a successful food blog, it seems you have to know what's up in the photography department. you need to spend time not only on creating the recipe, but also capturing images that legit look professional. gone are the days of subpar pics of all the meals from the day (oh, sometimes I miss 2009, haha.) lucky for me, I am not trying to have a pro food blog. I just want to make yummy food, share it, and enjoy it. while I do love taking the time to take pretty pictures when I can.. life doesn't allow it right now. that DSLR of mine only gets used for monthly pics of that sweet little stella, haha! and that's perfectly fine.
anyway.. I'm going to call it a night! not a ton planned for the weekend.. I do have to take randy pants to the vet because he can't control his bladder or bowels (sad…) and we are going to a super bowl party. since the packers are out, it's not as exciting, but I am sure we will eat delicious food and have fun with friends!
hope you have a good one. check ya later!
Q~
what is the last recipe you made? (not made up.. just made!)
xo. janetha g.