hey! so, it's a new year. I hope everyone had an awesome holiday season! things over here have been great. super, duper busy.. but awesome and fun. I cannot even believe that it's been almost four months since I had my baby. it legit feels like yesterday! I am sure that is partially because the holidays are always a whirlwind and fly by.
I wanted to pop in and say hey.. and I really think I may start blogging somewhat regularly again, soon! I miss it, and now that life is getting a little more back to normal—or, a new normal, I guess—I have felt that tug that I get when I really want to blog again. I do love rambling, even though I don't have much time for it! but I do have time tonight, because stella took a 5.5 HOUR NAP today and fox took a 4 HOUR NAP. (guys, this is not normal.) so I got a ton done during the day.. and have time to kill now!
sleepy sleepers.
so of course I should just start back at it with a post of complete randomness, right? obviously.
if you follow me on instagram, you know my life is no longer full of meals & moves, but instead full of kids! I seriously just post about fox and stella and basically nothing else. but they consume me, for the most part, so that's expected.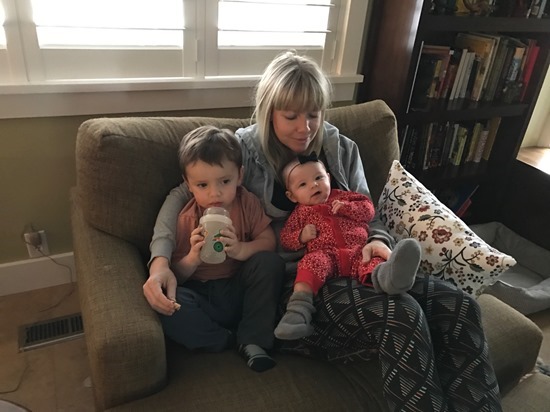 I kind of want to do a post about the holidays, just so I have it to look back on. that will be my next post, ha. but for now.. here is what we've been up to.
it's been snowing like crazy, crazy in the 84010. it's cold and gloomy with the inversion, so we have been trying to find ways to entertain ourselves indoors. we headed to kangaroo zoo, which is basically a giant room with tons of blow up bouncy contraptions.
it was a good way to relieve some cabin fever. fox bounced around with his friends, stella got her feet tickled, and I was able to have semi-social time with jessica and amber. I say semi because whenever kids are involved, you don't manage to have much adult conversation, ha!
some other ways to entertain ourselves in the winter.. lots of painting with water colors…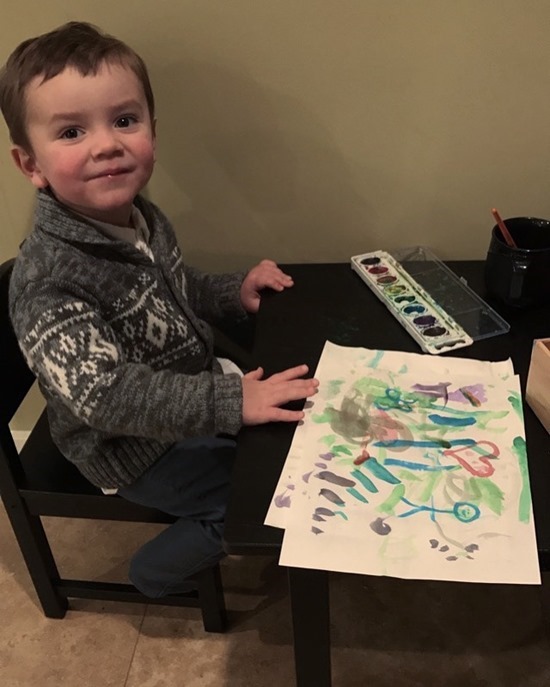 playing with christmas toys…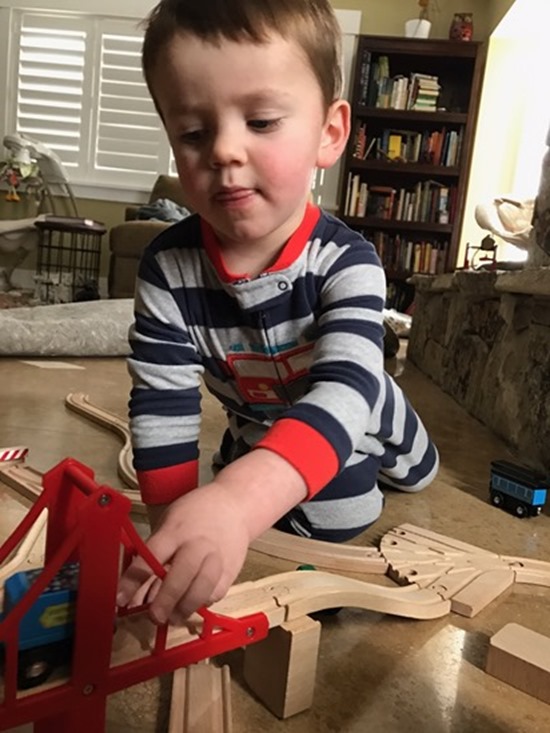 washing our hands with soap for literally hours at a time…
and marshall made this fun drum necklace from a coffee can, some speaker wire, and a couple of those hard plastic straws.
we have been sick, unfortunately. I am finally over it.. but it was rough for a minute there. fox had a fever for a couple days, and I had a cold which I passed along to marsh and stell. it was a huge bummer. we stayed in for over a week solid (aside from going to work… I don't take sick days.) but the humidifier was great entertainment!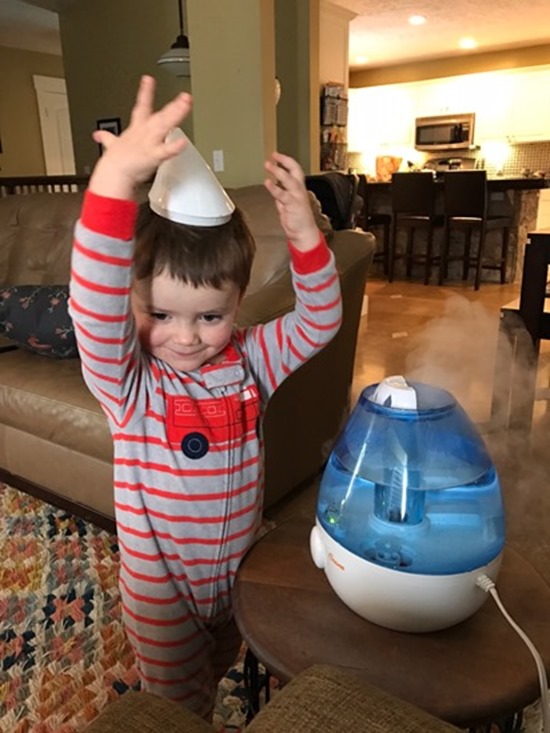 I had great intentions to start eating better for the new year, but I got sick and that idea went out the window for a bit. instead I had lots of soup… and yummy ramen from tosh's.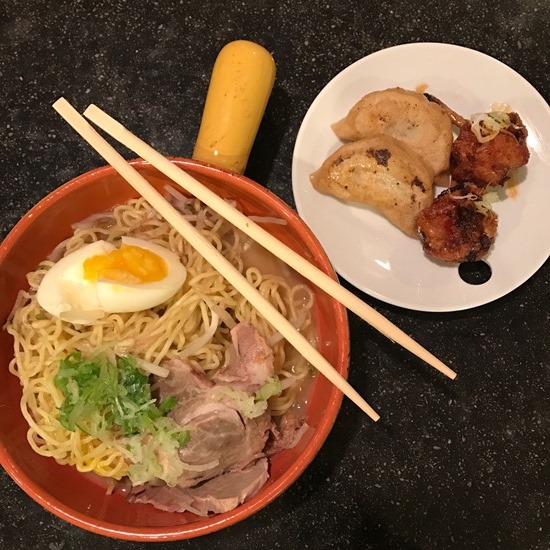 I am really trying to meal plan and make vegetables and get back in the swing of eating healthy. but it's been a couple years since I actually did that… so it's going to take time to get back to it. baby steps, right? I know I am doing my kids a disservice by not fixing vegetables or super healthy meals, ha, so I need to hop on board so they learn to love the good stuff.
this week we are having steak, baked potatoes and roasted carrots on sunday, spinach linguine with bolognese and a salad on monday, tacos on tuesday (always), and then trying to use the freezer stash up the rest of the week, with lasagna, cuban picadillo, and chicken pot pies. so, that seems pretty healthy, right? better than eating pizza and burgers every night like we are used to. ;)
for christmas, I gave my mom a voucher for a paint nite. she cashed it in and we invited my sister to tag along as well.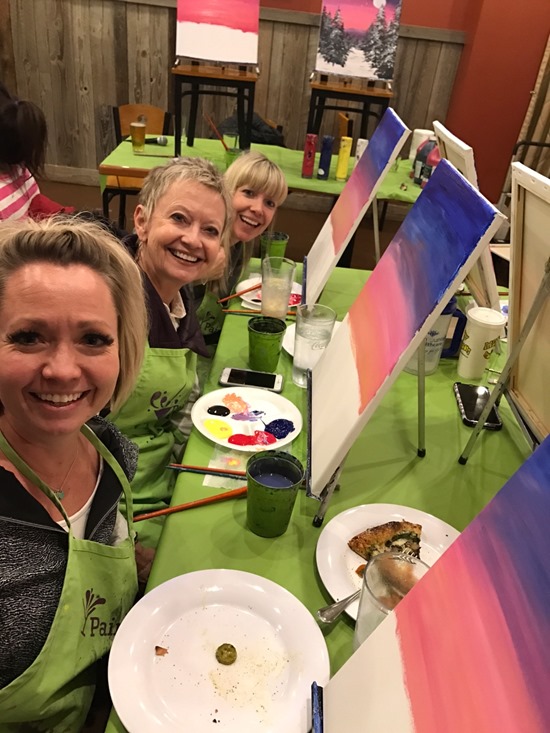 have you guys done paint nite? this was my second one and it was a lot of fun! my painting is not the best, but I am still amazed that I was able to make my artwork look remotely like the example, haha.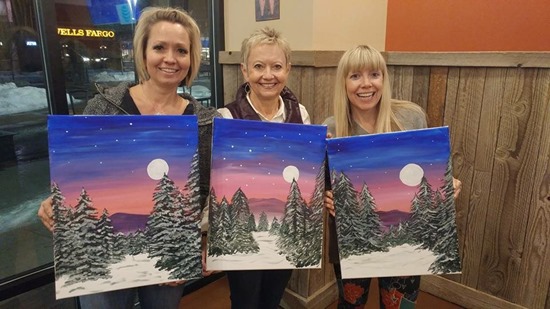 stella joined us and was sweet as ever. she's a dream baby.. I lucked out with her. she sleeps a ton, hardly ever cries, and is always smiling at everything. does this mean she is going to be a hard teenager? ha.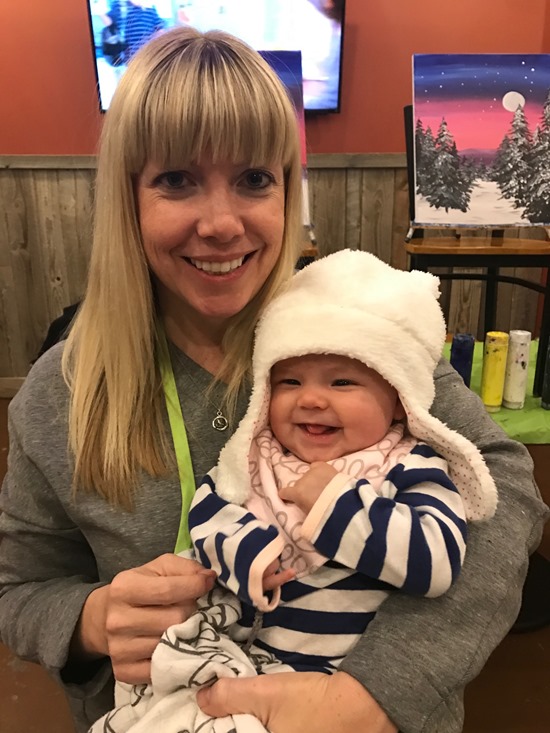 let's see, what else? oh, we were supposed to drive to boise the other weekend for my cousin's daughter's wedding. but it was legit the worst storm ever.. so we canceled the trip. we didn't want to brave the icy and snowy roads with the kids. I was super sad not to be able to go. I was also sad fox would not be able to wear his getup I got for the wedidng, haha. he never gets dressed up. luckily (well, not luckily-funerals are sad-but you know) he had a funeral to go to with his nanny the following week. (isn't she the best, to take him with her? he's part of their fam, for sure.) so long story short, he was able to wear his dress clothes and she took a ton of pics and now I am posting a few of them here, because he's adorable. doesn't he look 17?!
I told myself I would start working out again this year. I didn't make resolutions or anything, but I did decide I want to eat better and move more. I haven't worked out regularly since before my first pregnancy. I know, that's crazy. but it's true. and I haven't worked out at all since maybe june or july. so I really need to get back in the saddle. but then I got sick.. so.. yeah haha. but I am better now. so I went to GPP!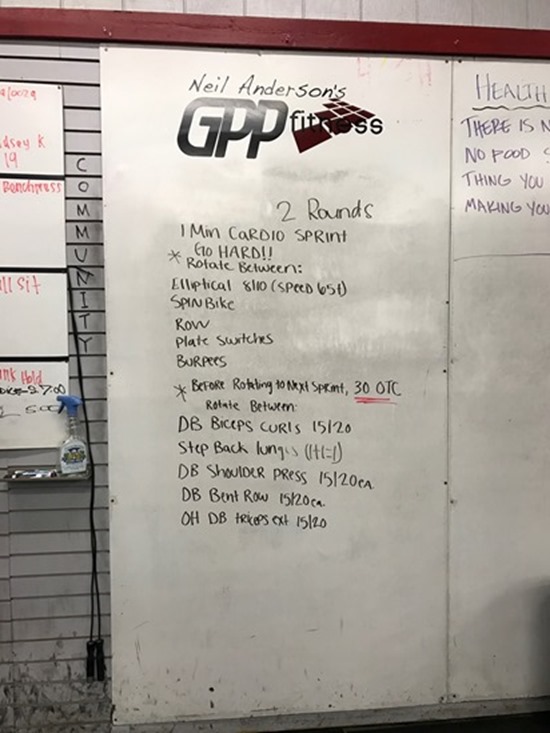 this workout was fun, it had a little of everything. I only used 10lb dumbbells and I skipped some reps.. but it was a great workout nonetheless. I have definitely lost a ton of muscle and endurance. I need to get that back.. I guess I have to start somewhere!
oh and because she's cute, here is my gym partner. she kicked and smiled the whole time.
I wasn't able to get back there again like I meant to.. so I did half a workout from home today. I did this one and only made it through the first round before stella woke up. I figure something is better than nothing, though. hopefully I will get better and better at fitting workouts in here and there, and eventually it will become a regular habit again. I am just away from fox so much as it is with work, the last thing I want to do after work is leave to the gym. he's too much fun to hang out with, and he won't be little forever! luckily I get to have stella at work with me 3 days a week, so I get to spend more time with her. but I know that will fly by all too quickly.
anyway, I think I will call it good for my first rambling post back on the blogging wagon! short and sweet, for me at least, I used to ramble on for hours.. haha. hope you are all having a great weekend! we don't have a ton planned for tomorrow.. just watching the packers play – go pack go!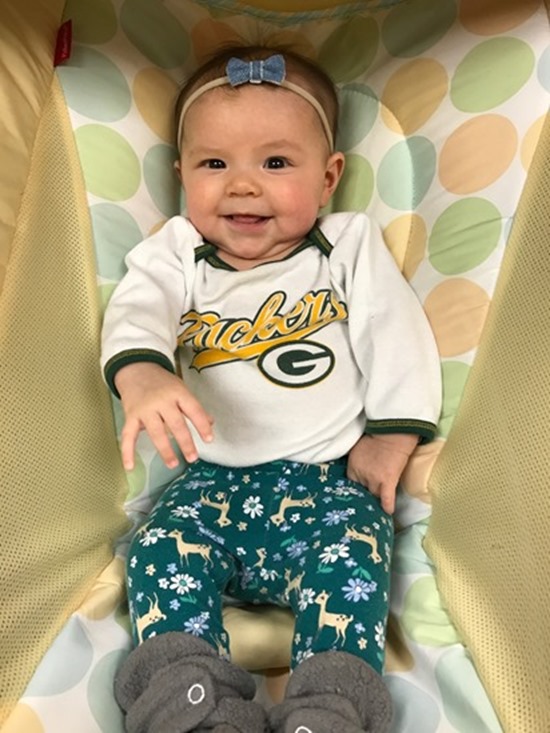 Qs~
1. did you make any resolutions for 2017?
2. what is your favorite way to get your veggies in? I need ideas!
xo. janetha g.