hello, and happy friday! and not just any friday, guys. it's the last day of my maternity leave. sad! those six weeks WHIZZED by in the blink of an eye. i can't believe it! i thought i would celebrate the occasion by blogging, because who knows how often i will get to do this once i am back to working. spare time is scarce when you have a newborn and a toddler, haha. but right now, fox is at momma b's and stella is content in her bouncer. i am trying to break the habit of her wanting (needing?) to be held at all times. as much as i love to hold her, i realize that once we are back at work, she's gonna have to enjoy the bouncer. so. yep.
i have got to share all our fun, festive activities from halloween weekend (which extended into monday, halloween day.)
first and foremost, this kid has been l-o-v-i-n-g all the leaves in the yard! we have lots of BIG trees, which means lottttts of leaves. not awesome for the grown ups, but he could not be happier.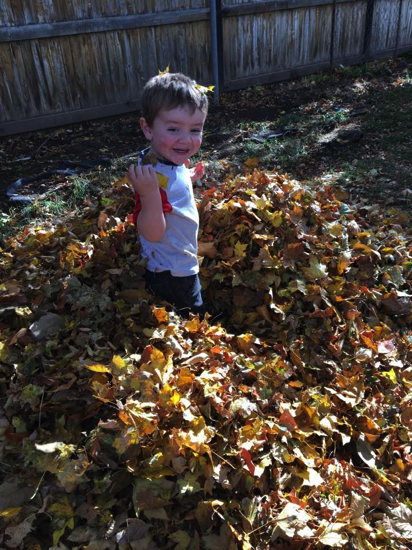 we attended/hosted not one, not two, but three pumpkin carving/painting events. on thursday, saturday, and sunday. that's a lot of pumpkining. i only took photos on saturday.
fox isn't too handy with a knife yet, so he painted.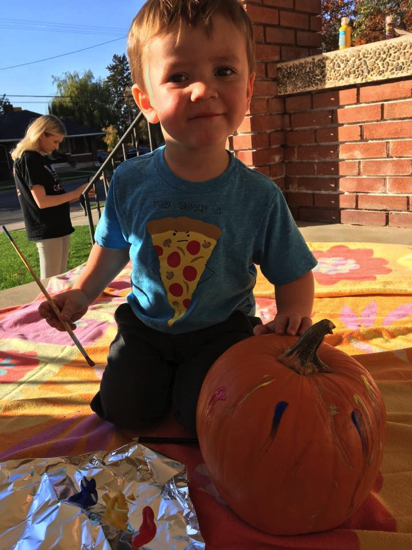 amanda isn't too handy with a knife, either. actually she just hates pumpkin guts.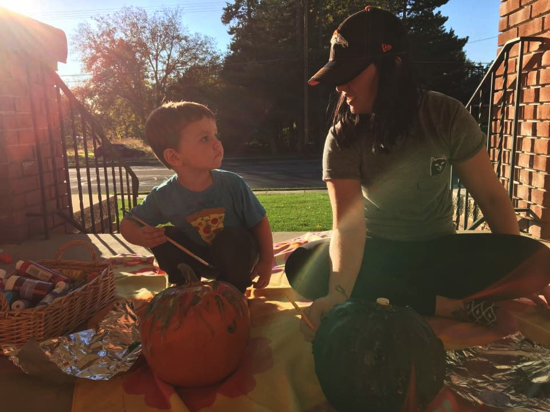 he took his pumpkin painting very seriously.
this sweet girl was just happy to watch the excitement all around her. that belly, though.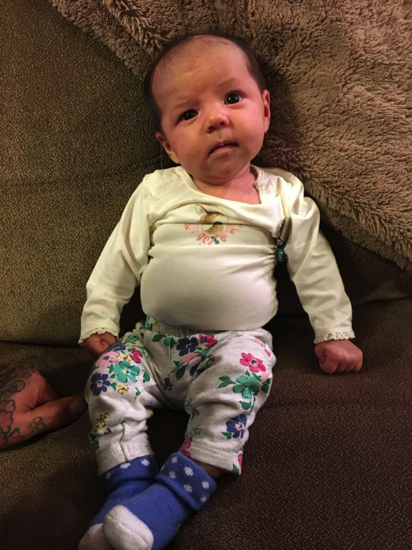 after pumpkins, we had soup and watched some football (well, i didn't.. because i am not a sportster) and then decorated cookies. with ALL the sprinkles!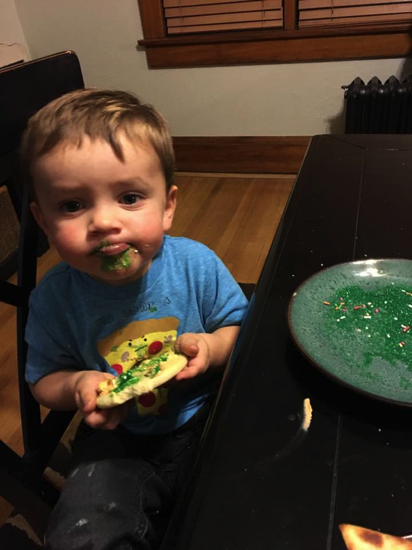 it was a fun-filled festive day!
sunday night, we busted out fox's halloween jammies.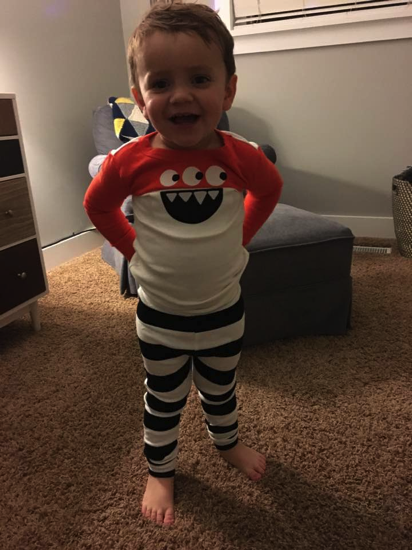 i told them they were for halloween, and he just started saying "how-o-ween!" over and over and over. the kid won't say "blue" (he calls blue "booboo") but "halloween"? sure, why not!? it was so cute.. he is still saying it today. he just loves halloween, i guess!
monday morning was the big day! fox had kindermusik, which i have had the chance to go to a couple of times while on leave. marsh usually takes him since he's off mondays. it's the cutest thing ever. he had fun playing and dancing and singing in his costume!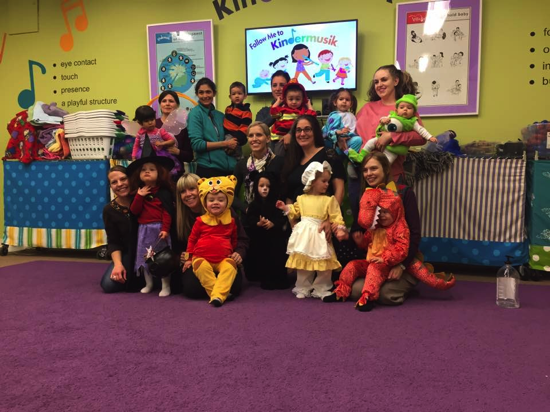 for you folks who aren't around toddlers much.. fox was dressed as daniel tiger. aka his favorite guy. it's a cartoon spinoff of mr. roger's neighborhood and, to be honest, i freaking love the show. haha.
after music class, we headed to my office for a luncheon. corner bakery catered, it was great! sandwiches, soups, and sweets.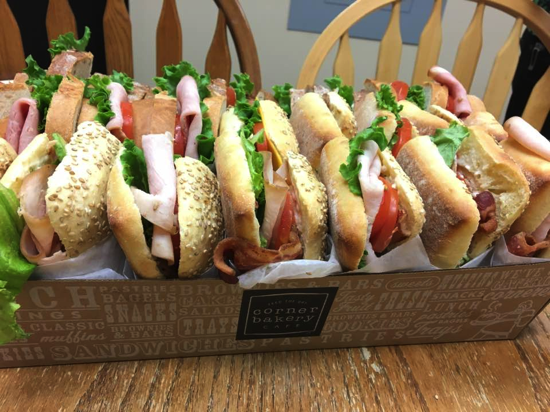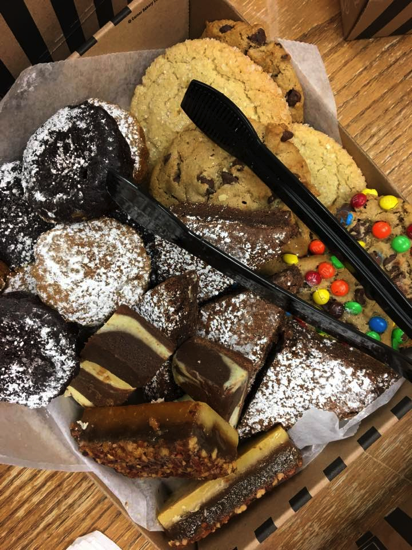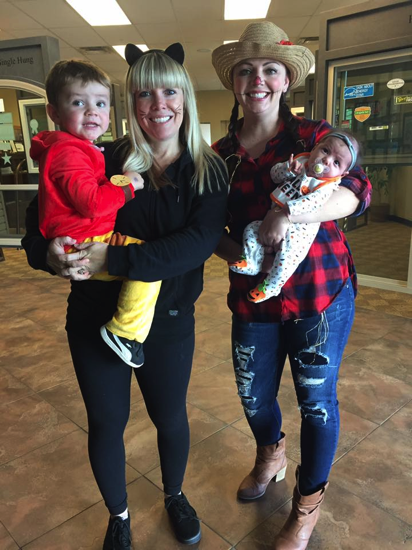 we headed home so fox could nap, and i had a little one on one time with this little goblin.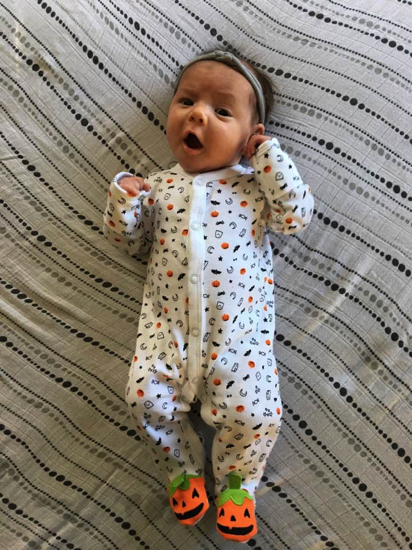 she eventually fell asleep, too, so i made some ghost cookies for the party we headed to later that night.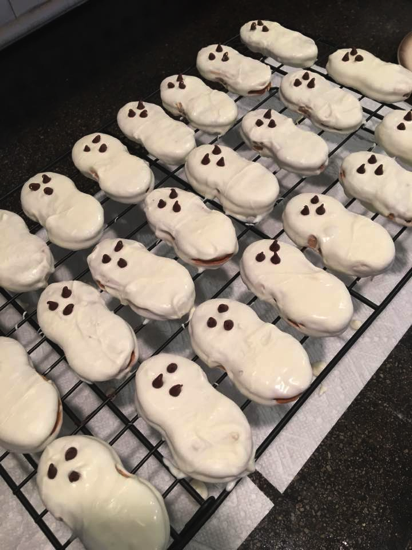 these were the easiest, ever. a package of nutter butters, a package of white candy melt, and some mini m&m's. that's it!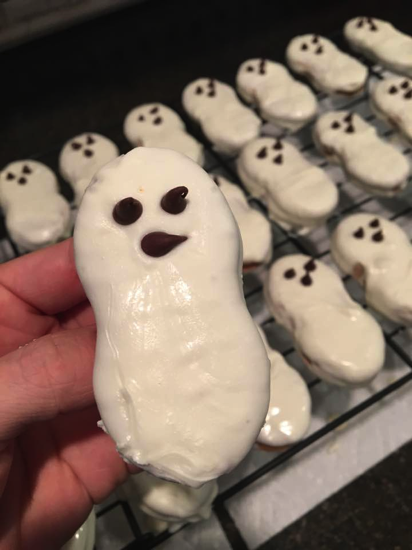 we headed to my sister's around 5 for a potluck dinner in her driveway. it's a fun event she hosts with the neighborhood every year. (we live around the corner! so fun!)
i love halloween and seeing everyone in costume! mine was kinda half-assed, kitty ears and some face makeup, but it did the trick! and then marshall did a last minute infusion of two of his costumes – a shark (from 2010) and big foot (from 2012) .. so he was big foot being eaten by a shark, haha.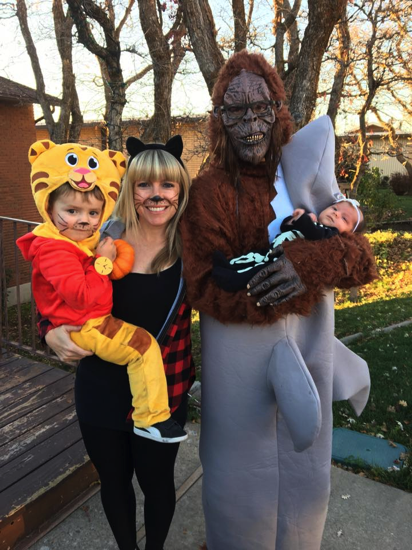 and, yes, many people have pointed out the unfortunate fin placement. haha.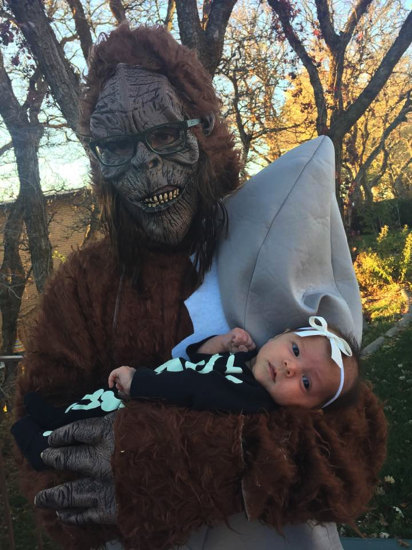 fox didn't love the tiger hat, but he did put it on for a few snapshots. thanks, bud. he is so dang cute.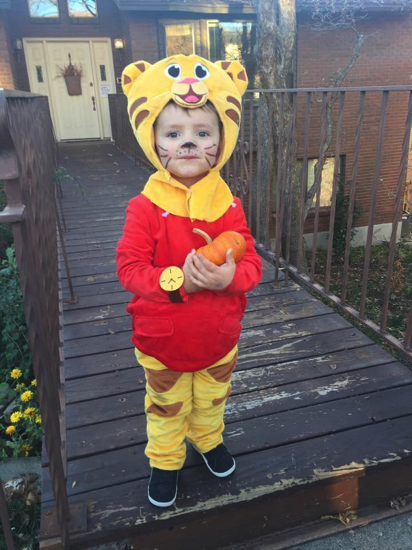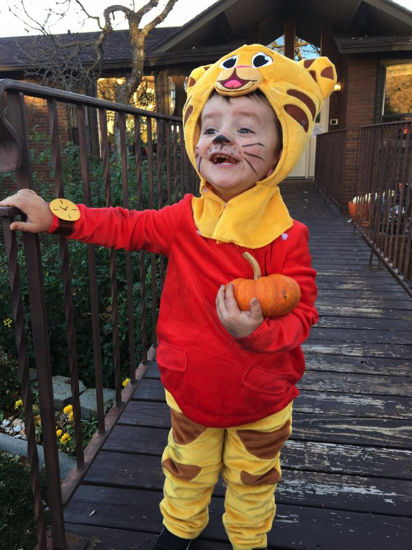 stella was the sweetest little skeleton!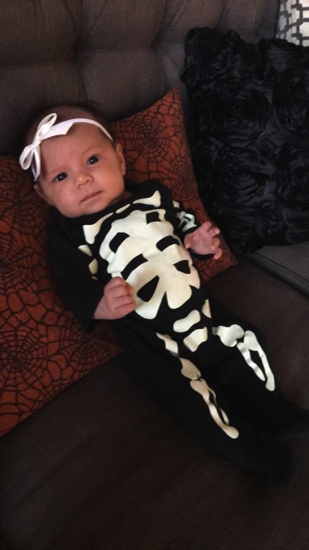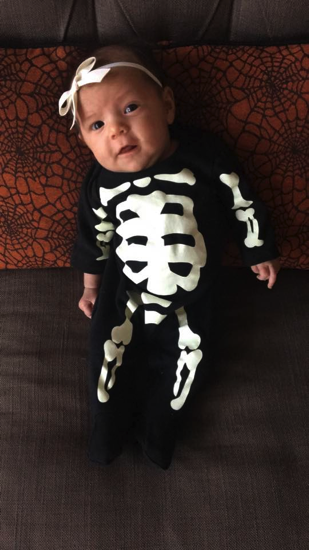 fox actually wore this when he was a baby:
sweet babies.
it was cold for trick or treating, so the little skeleton turned into a bear! haha.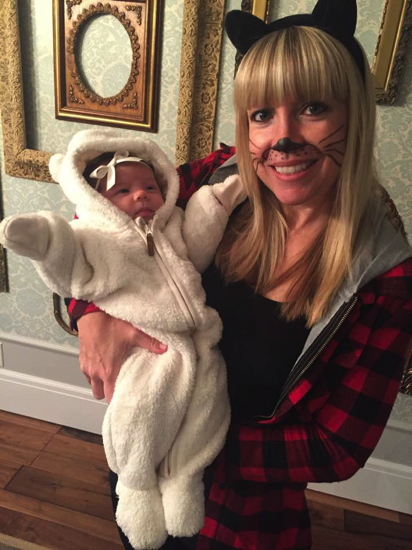 we trick-or-treated for about an hour, but it was pretty chilly! so we called it a night just before 8pm.
it was a fun halloween! kids make holidays and traditions so much more fun. i am looking forward to many fun-filled how-o-weens in the future with these two kiddos!
Qs~
1. did you dress up for halloween? 
2. what is your favorite holiday?
xo. janetha g.