hey! guys, i need to be on maternity leave more often.. i think this is the most i have blogged in months! and i am loving it. it's been so great soaking up the newborn cuddles. i will have to post about that sweet little newborn again soon. but it's nice to have a little extra time to spend on things that fell by the wayside when my life was overtaken by my first tiny human. guess what i did? i made a recipe! and i took pictures! and i am posting about it! it's a meals & moves blogging miracle, tell you what.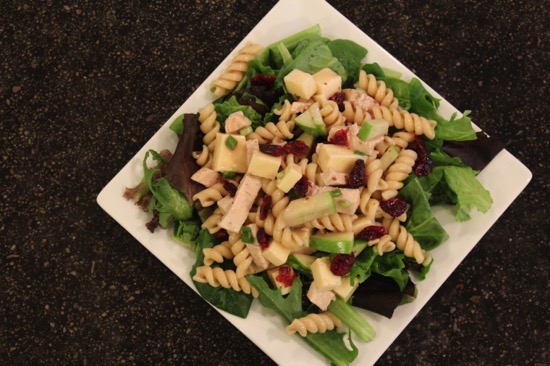 so, october is national pasta month. i have been celebrating all month long.. but, to be honest, i celebrate all year long. marshall and i are big pasta fans. if you made me pick a carb between pasta, potatoes, and rice.. i will go with pasta 93% of the time. and it was a huge pregnancy craving this second time around.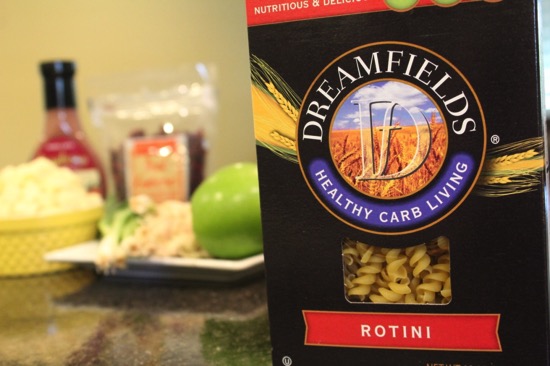 we always buy and eat dreamfields pasta, and that's not because i work with them from time to time. it's because we absolutely love their products – both how they taste and the nutritional profile. dreamfields makes eating pasta a little healthier without sacrificing flavor or texture, which is important to me! a 1-cup serving of cooked dreamfields has 5 grams of fiber and 7 grams of plant protein. it comes in spaghetti, elbows, angel hair (my personal favorite), penne, rigatoni, linguine, lasagna, and rotini.. which is what i used for this recipe today!
so, when we brought stella home from the hospital, we had lots of meals lined up for us. it's great living in a community where so many care and want to help out. we had dinners for more than two weeks, it was overwhelming in an awesome kind of way. after that, we used some of our freezer meals and also relied on momma b and convenience items. but then.. eventually.. i realized i should probably figure out a way to cook again since those meals weren't going to make themselves.
fox is pretty great at entertaining himself, but this new little baby of mine just wants to be held at all times. luckily she does like to be in a baby carrier (i use a ring sling most times) even though i am not a huge fan of baby wearing. and cooking while baby wearing is kind of intimidating.. nobody wants to spill ingredients on their baby's head, am i right? she will be put down in a bouncer or swing for a short while, which is all i needed in order to whip up this quick and tasty recipe (that made plenty of leftovers!)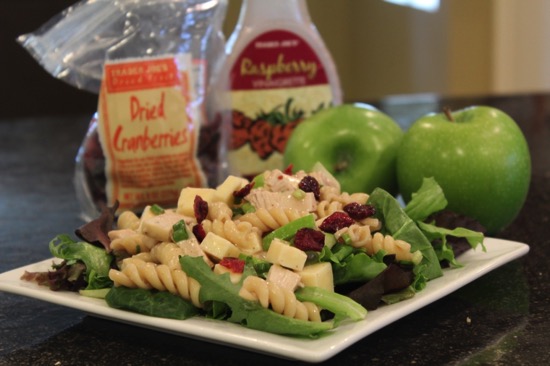 like i said, it's national pasta month, or #HealthyPastaMonth, and dreamfields is celebrating with posting a new pasta recipe every day on their website (and giving a case of pasta away each and every day this month! more on that in a few.)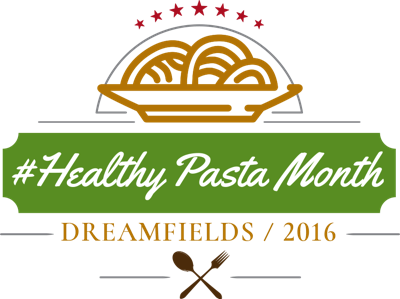 they have broken each week into fun themes, and this week's theme is "fall-ing in love" week, where each recipe focuses on the delicious flavors and ingredients we find in autumn. isn't the autumn harvest season the BEST?! apples are my personal favorite fall food. anyway, this recipe is super quick and super delicious, and you likely have most of the ingredients on hand.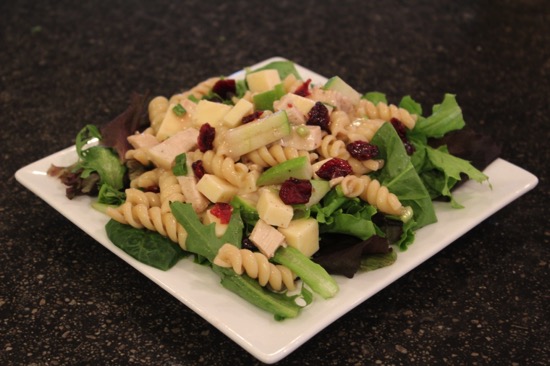 apple berry chicken pasta salad
prep time: 15 min, cook time: 10 min; total time: 25 min
serves eight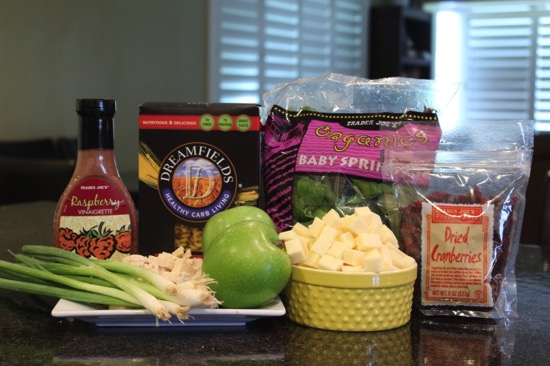 ingredients:
1 box dreamfields rotini
1 bottle (8 ounces/1 cup) light raspberry vinaigrette dressing 
12 ounces grilled chicken, diced (or could use rotisserie chicken)
8 ounces (1/2 pound) monterey jack cheese, cubed
1 large granny smith apple, diced
5 green onions, sliced
3/4 cup dried cranberries
mixed greens
directions:
prepare pasta according to package directions.
in a large bowl, combine pasta and dressing; toss well. add chicken, cheese, apple, onions, and cranberries; toss to combine.
serve over mixed greens.
per serving: 450 calories, 52g carbs, 25g protein, 13g fat, 6g fiber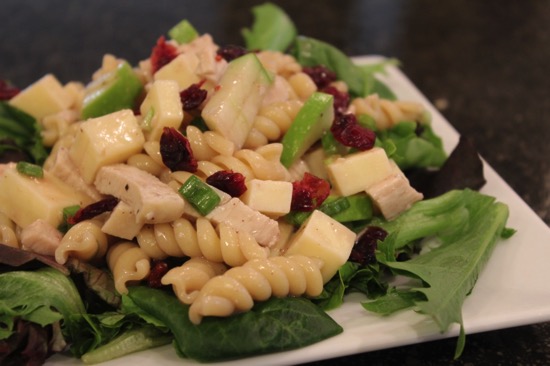 see, isn't that so simple?! and the nice thing about this recipe is you can switch the ingredients up to fit what you have on hand (or what you personally prefer.) you can use any type of apples, any type of cheese, any type of greens.. the possibilities are endless! and, like i said, it made plenty of leftovers and it keeps well in the fridge, so that's always a plus for busy days. (which is, like, every single day.)
like i said,
dreamfields
is giving away
a case of their delicious pasta
to one of my readers as part of the national pasta month celebration! there are a several ways to enter, you can do them all!
head to the dreamfields page and look at the awesome recipes they have on their site, and let me know which one caught your eye in the comments below.
tweet about this giveaway: "I want to win @healthypasta from @janeeetha for #HealthyPastaMonth http://wp.me/p1B7vY-flS" (leave a comment so i know you tweeted)
leave a comment stating how you try to be a little bit healthier in your life.
leave a comment below telling me your favorite pasta shape.
this giveaway will run until november 10th! random winner will be picked at that time.
good luck, and happy pasta eating!
xo. janetha g.