hi there, internet land! not sure if anyone really reads this corner of the world wide web anymore, but i have to say this post is more for me than anything. i have to share the story of how this little lady came into the world!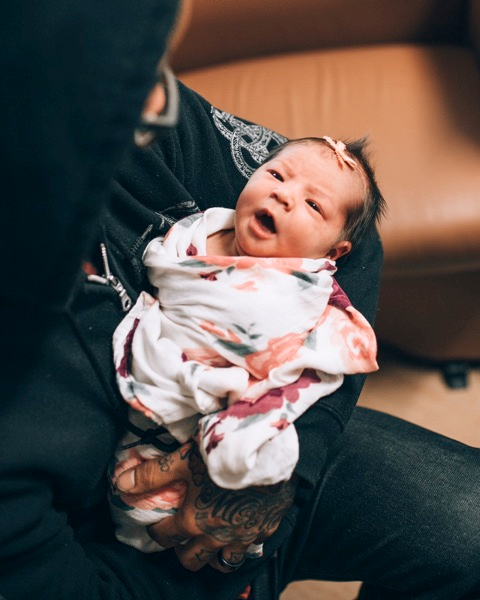 i have to say the second time around, things are much more relaxed. as was with pregnancy, i knew what to expect for labor and delivery. sure, every baby comes into this world in his or her own unique way, but i wasn't absolutely terrified of labor like i was with fox. it was definitely a unique experience, but i wasn't nervous going into it- i was thrilled and excited to finally meet this little one!
a few days prior to going into labor, i had my membranes stripped (at my 39 week appointment.) that was monday. on the following days, we took plenty of walks around the neighborhood and i was having more contractions than usual. i knew it would be soon. tuesday night, i snapped a few pregnant photos (i was real bad at documenting the belly this time around, but i did take a few!)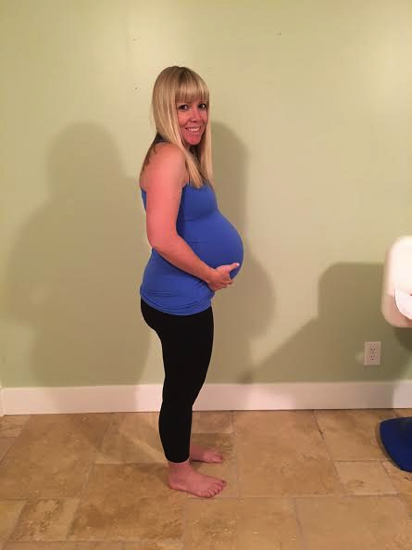 tuesday night, contractions started regularly, but i went to bed and they must have stopped, because i woke up the next day and went to work.
wednesday night, we went for a walk to the park and came home and had grilled cheese and tomato soup, a staple meal this entire pregnancy. contractions started around 8 PM and were ten minutes apart. i figured it was the same thing as the night before, so i went to sleep and left marshall up to set up the double stroller. i did snap a photo of fox man snoozing, thinking it might be the last creepy crib pic i took of him as an only child.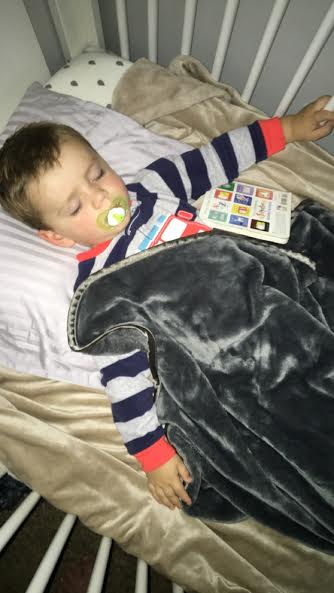 the contractions got stronger and stronger, and woke me up about 3 AM….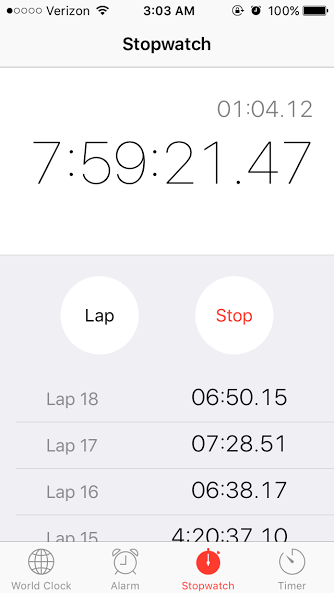 after timing them for awhile, i decided i should get up and shower, because they weren't slowing down. they were about 7 minutes apart and lasted around 45 seconds each. i woke marshall up around 4, and called my mom shortly after. we cleaned up and ate some oatmeal, and my mom came over to stay with fox so we could head to the hospital!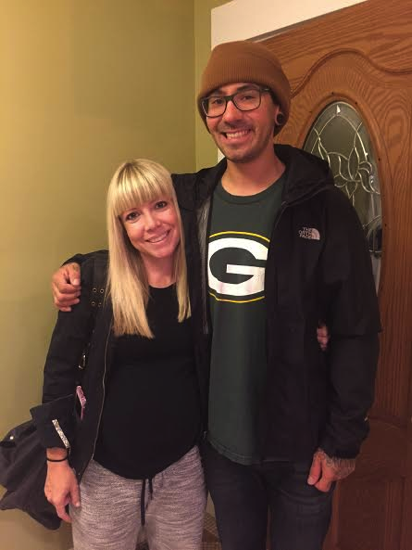 we arrived just before 6 AM, and they wanted to monitor me for a bit before admitting me. contractions were 4-5 minutes apart, painful, but bearable. i was dilated to a 4 and i think around 50% effaced.. it could have been 80%.. anyway, by 7:20, they saw that the contractions weren't going anywhere and i had progressed to a 4+, so i was admitted. they wrote down all our preferences and did all the necessary paperwork and got us our super sweet hospital wristbands.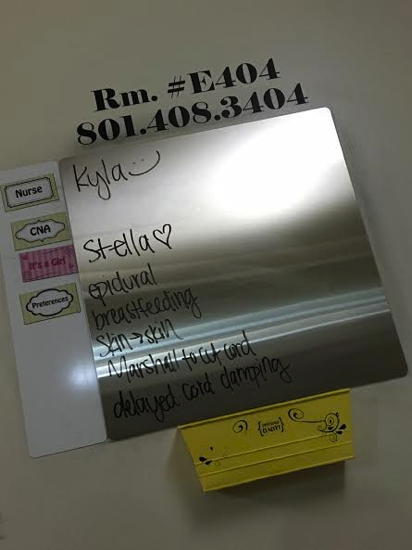 the next 90 minutes or so, the contractions got stronger and stronger. my mom arrived around 8 (my nanny had taken over at home) and i was just waiting for more progression. they told me i could get an epidural whenever i wanted, but i tried to wait a little longer because i could still handle the contractions.
i always planned on having an epidural, the question was when would i have it. i didn't want to get it too soon, since i know it can sometimes slow down progress. but i also didn't want to let things get too late in the game to not get one, because i would never want to not have one. i knew how great epidurals were from my first go-round! i was actually terrified of getting an epidural with fox, but i knew i would want one, and it ended up not being as scary as i had imagined. so i was much more calm and collected this time around when thinking about the epidural. the contractions made a quick jump from somewhat bearable to ridiculously painful between 8:30 and 9, so i had the anesthesiologist come in and doctor me up. 
the next step was to break my water, so i was waiting on my OB to come do that. just as she walked in the door, i felt a weird popping sensation. since things were numbed from the epidural, i wasn't quite sure what i had felt. but it turns out, my water had broken on its own. my doc joked with me that i just need to ask her to do things and have her lined up to do them, but then my body just does them on my own. i had initially had an appointment to have my membranes stripped again later that day, and i went into labor. she got called to the hospital to break my water, and it broke when she walked in the door. she then assured me that there would be no baby before noon (this was about 20 past 9) and to get some rest. 
around 10, fox and jord (his nanny) came to say hi. he was so excited to see us, albeit a little confused about what was happening. i was in a car accident at the beginning of september, and had to stay overnight in the hospital to be monitored and he came to visit, so at least it wasn't the first time he'd seen me hooked up to a bunch of stuff in a hospital bed. i am sure that false alarm helped prepare him for the real deal.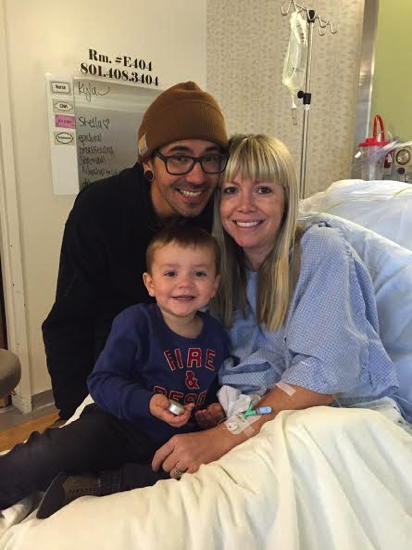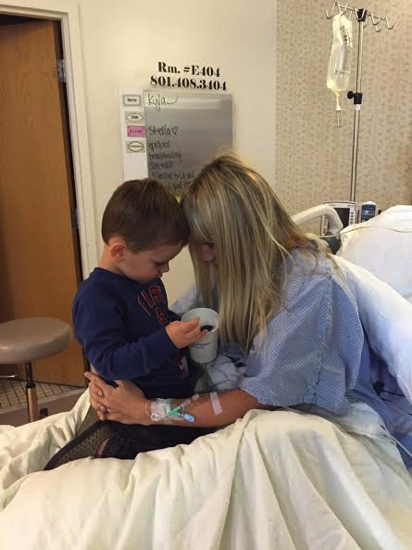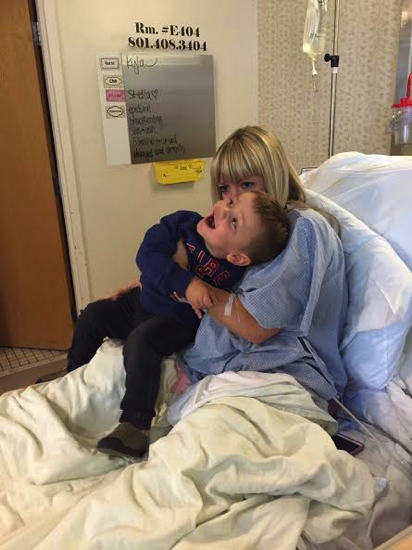 he's just the sweetest guy. he told us he was excited to see the bebe and then gave us big hugs goodbye. love that guy.
during all this, the contractions were getting stronger and longer, but luckily i couldn't feel them. i could feel this one tiny spot on the right side- kind of a weird pinching feeling- every time i had a contraction. it was bearable, but definitely hurt. they said the anesthesiologist could come back if needed, but it wasn't bad enough for that. it was pretty strange, though, that i could feel this same pain with every contraction despite the epidural. 
while fox was visiting, the monitors around my belly (one for contractions, the other for the baby's heartbeat) kept getting moved around because he was on my lap. they adjusted them a few times while he was there, but even after he left, the baby's heartbeat kept getting lost. she was always super active and wiggly in the womb, so i guess she was just up to her tricks of moving around and the monitor kept losing her. 
around 10:30, they kept struggling to find her heartbeat, and were going to wheel in an ultrasound machine to take a look at what she was doing. but then they got a good read of her heartbeat, and opted for no ultrasound. i have to say i was nervous during all this heartbeat drama – i knew she was ok because they would find the heartbeat and it would be perfect.. but this was a good 20-30 minutes of losing it and finding it, and they called in the head nurse to help, so i was a little anxious about it all. 
the heartbeat monitor stayed steady for a bit, and i did feel a little more pain during contractions, so i kept pressing the little button connected to the epidural to give myself whatever that was to get a little extra pain relief. i really wanted to rest, since the whole morning had been pretty go-go-go with getting admitted, the epidural, the water breaking, fox visiting, and the heartbeat stuff.. there was finally a lull in the excitement and i was going to take a nap. i even texted my BFF that i was going to take a nap and would text her later on.
of course, the heartbeat started falling off the monitors again like ten minutes later, so they finally just decided to place an internal monitor on the baby's head. i had this with fox, so i knew all about it. although they did have me put an oxygen mask on, which was new, and since i am claustrophobic i had a hard time coping with it.. but i dealt. a nurse came in to hook the monitor up, and when she went in to do so, she was like HOLD UP, you're not getting an internal monitor, you're going to have this baby now! 
apparently i had dilated all the way PAST a 10… but they hadn't checked me in two hours because of all the heartbeat shenanigans that they had been trying to get under control. everyone was super surprised that i had progressed so quickly! they called my doctor and she asked to have the nurses make me do a "practice push" to see if she should head over right away or if there was going to be some time. so basically i opened my legs and the nurses said NOPE STOP NO don't push! because that little baby was about to fall out! 
everyone was scrambling to get everything in place that was required for delivery. it all happened so quickly, and my doctor luckily arrived super quick after the call. once they had things in place, they got me in the position to push. and then i hear "OHHH she's so cute!" and my sweet little baby is being handed to me! i was so caught off guard, since she literally fell out before i could even push once, at 11:37 AM- 6 days before her due date! (fun fact, fox's birth had a similar story, where i didn't push and they weren't quite prepared for him to come so quickly.. i guess i am built for delivering babies??)
it was such a rush, and i am trying to remember all the tiny details so i can look back on this story. but what i really want to remember is that overwhelming feeling of love that hit me like a ton of bricks when sweet little stella was finally in my arms, instead of in my belly. i was so, so happy to be holding her, safe and sound, and healthy. seriously the best feeling in the world!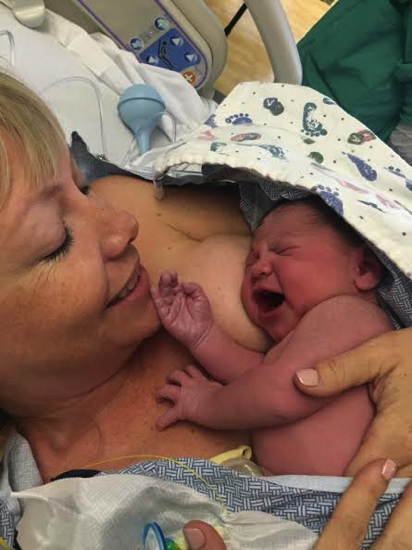 i admit that i am paranoid about a lot of things while pregnant, and i can never fully relax and let my pregnancy anxieties go until that baby is delivered and in my arms. (and then come the newborn anxieties, but that's a story for another day!)
marshall cut the cord (after delayed cord clamping, which i had actually no clue about but did it anyway because the nurses suggested it) and somewhere along the way i delivered the placenta and my OB showed us some cool things about it (i will spare the pics since not everyone wants to see that.) and then we took some time to stare at our sweet little bundle of joy. 
i tried to get her to breastfeed, but she was super sleepy and just wanted to cuddle up. annnnd she pooped on me. haha. 
after about 45 minutes of skin to skin, they had to take her and put her under the warmer to get her temperature up. that, and, i was losing a bunch of blood. apparently it was a scary situation, but i didn't know it, because the nurses were so calm and collected about everything. for that, i am grateful, because i wasn't panicked at all in a situation that i probably would have/should have panicked in. they couldn't stop the hemorrhaging, so they called my OB back in. she was going to check to see if there was any part of the placenta that broke off and was stuck inside. there wasn't, but she did find a clot. OH.. all the while, that sharp pain i mentioned earlier? it was hurting so, so bad. so i guess that turned out to be where the blood clot was. and egg-sized clots of blood were coming out of me. awesome… 
i am so glad i had the epidural and really couldn't feel what was happening, nor could i see it, but i knew something was up because they then proceeded to pump me full of about 8 different things to stop the bleeding and make things better. i really don't know all the details of it, but i do know i got super light headed and loopy. partially from the blood loss and partially from the demerol i was given. and, since i hadn't eaten anything since 4:30 AM, i got super nauseated from the demerol which then caused me to throw up. except i had nothing to throw up, so i was dry heaving.. and with every heave there was a piercing pain in that one spot. so that sucked a whole lot. i was sick and in pain and dizzy and nauseated and blah. turns out, i lost three times the amount of the "maximum amount of blood loss we want to see". so there's that.
once things settled down and everything was under control and i was not bleeding uncontrollably anymore, i was able to hold stella again! by then it was 2 o'clock, so well over an hour of drama. i was so happy to be holding her again!
in the meantime, they had weighed and measured her. 20" tall and 6 lbs 12 oz! a little nugget, just like her big brother had been. 
because of all the crazy blood loss, they had me stay in the L&D room longer than usual. i finally had something to eat (a grilled cheese, naturally) and was able to text family and friends the news. 
i was still pretty out of it from the meds and the blood loss, so they wheeled me to my recovery room on a stretcher. once there, we settled in and admired the newest member of our family.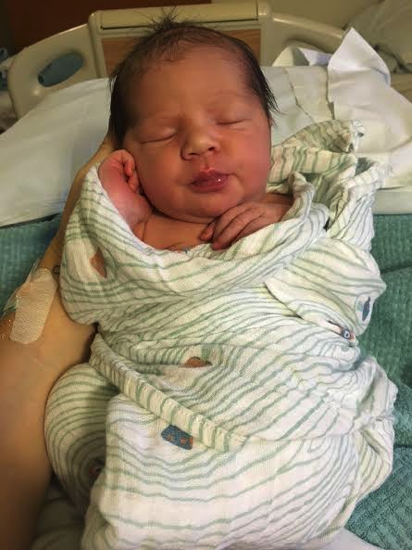 i have to say that wrinkly newborn thighs are one of the best things on the planet.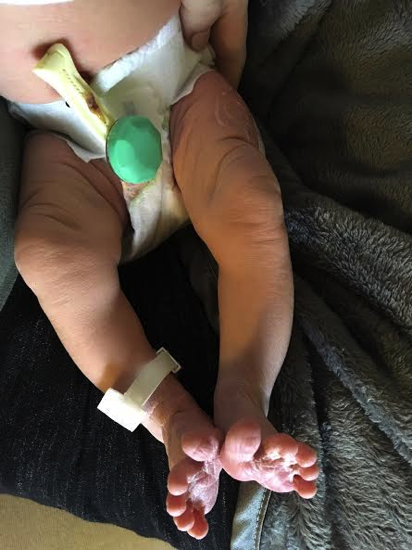 that night we had a few visitors. but the very most important one was big brother!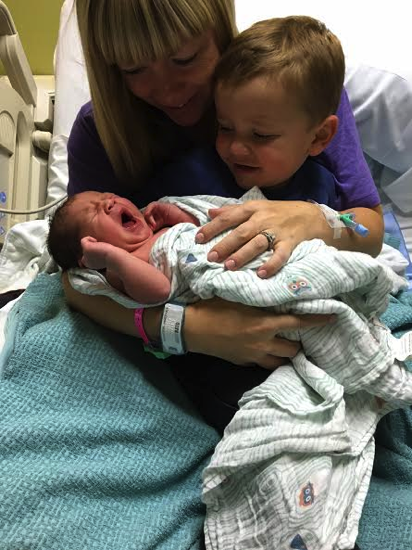 he was instantly smitten by his baby sister, and wanted to hold her and kiss her right off the bat. he continues to always want to hold her and kiss her, so we are happy that he is as head over heels for her as we are!
that night was definitely not restful. in addition to the usual uterus checking that comes right after having a baby, they had to do extra checking on me to make sure i wasn't losing blood. we wanted to give stella her first bath, but she would not wake up long enough to eat very much. they liked to have two really good feedings before the first bath, and all she wanted to do was sleep! turns out, she is a super good sleeper still.. i am crossing my fingers that it lasts. 
the next day, she did get her bath around 10 AM. then jord, fox, and my mom came out to visit. jord is not only a nanny.. she is also an incredible photographer. she was kind enough to take some hospital pics for us, which i shared in this post. i love them all!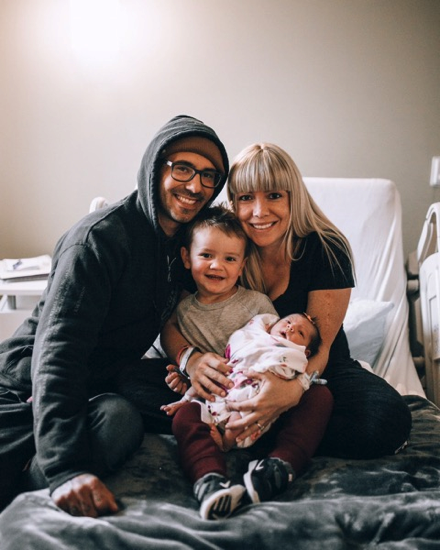 we stayed another night, and then were able to break out of the hospital on saturday around noon.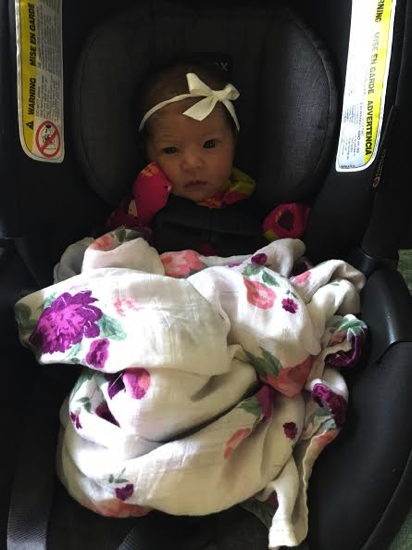 we were so eager to get home to our boy and just enjoy the comfort of our own home! i remember i didn't want to leave the hospital when i had fox, i was scared to take a newborn home. so much different the second time around!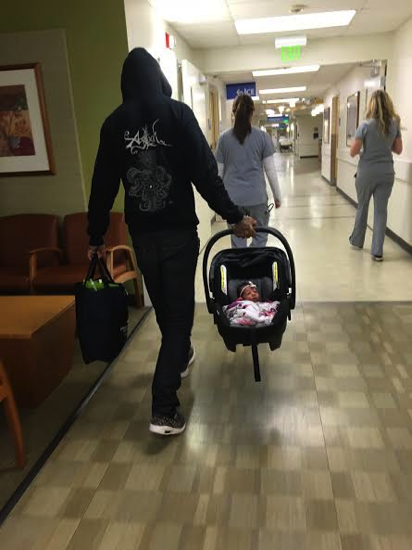 in fact, we headed to brunch at proper (a yummy place right by the hospital) before heading home. of course i didn't take a photo of my food, because i am a crappy food blogger, but i did get a pic of these two sweeties.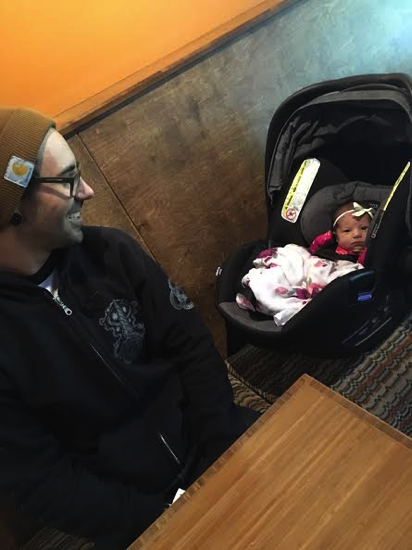 and now that little lady is nearly a month old. i can't believe how quickly it's gone by! we are loving every bit of her newborn goodness, and it's surprisingly not as tough as i'd imagined it would be with a toddler. i am sure a lot of that has to do with the fact that marshall helps a whole lot, we still have jord help out twice a week, and my mom is a huge lifesaver. my tune may change once i go back to work (in less than three weeks!) but for now, i'm going to enjoy this time to the fullest!
xo. janetha g.