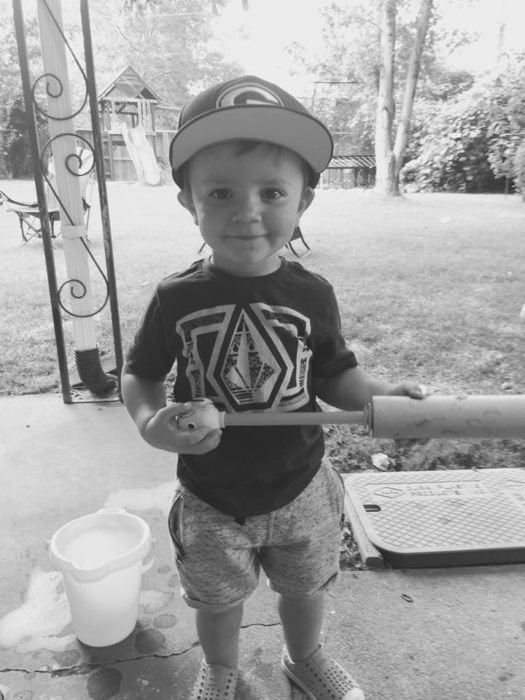 dear fox,
you are two years old! you made it two full orbits around the sun! it is crazy how quickly those two years zoomed by, and also crazy to see how much you have changed, even in just the past six months, since my last letter to you. let's be honest.. it's crazy to see how much you change each DAY. you are constantly learning new things and surprising us with your words and actions. you are one smart little man.
let's start out with the numbers, because you know i am a numbers nerd. at your two year checkup, you clocked in at 32 pounds, 10 ounces. this is the 90th percentile for weight. you are 35.5 inches tall, which is the 70th percentile for height. how you managed to be above average on height, considering how short your dad and i are, is beyond me. your head, which has consistently been too big to even make it on the charts for nearly your whole life, has actually slowed down a tad and is in the 95th percentile at 50 cm. you had to get just one shot at the doctor, and it didn't even phase you. you are right on track with all your expected milestones, and are healthy as can be. for that, we are grateful.
you are a chatterbox, and are always eager to have a conversation with everyone you see. you always have to point to everyone in the room, and either ask us their name or tell us their name, depending on who it is. "who dat?" is something we hear from you often. while you know who lots of people are, you will only say a handful of names: mama, dada, nana, paw, papa, jordynn (jew), dax, molly (bebe), peepee (penny), max, luke (yewk), and every little girl is "nono" to you–whether it be nora, oakley, or stevie.. or any other little girl. they're all nono.
your favorite things, in no particular order, are: the pool (dat poo), pizza (pee), daniel tiger (dada), popsicles (also pee), ice cream (ayeskeem), hot dogs, your binky (B) which you only get at naps and some car rides, mega blocks, going boom (jumping on the tramp), "pocket" (ring around the rosies), spraying us (me, dad, dogs) with your water gun, 1 mo' (one peanut butter m&m, you hold your hand up to your face and ask for one mo'), playing with the hose, going next door to the church to see beep beep (the little bulldozer that's there right now, not sure what we will do when it is gone!), the colors blue (boo) and green (ghee), and playing with your friends.
you love your crib and are great at sleeping, which we really never expected to happen. you go right to sleep after your bedtime routine, and sleep for 10-11 hours. every once in awhile you will cry out in the night for B, but once your dad gets up and gives it to you, you're good to go back down. you take one nap a day, usually around 11 or noon, and it lasts anywhere from 90 minutes to 3 hours! if you are at nana sue's, you nap for longer, because she's got a nice, cold basement that you love to sleep in. one funny thing you do is take a "B break", as we call it. when you are feeling like you need your binky, you go to your crib and tell us you need a nap. you hop in there and get B for a few minutes, then once you've had your fix, you put it back up on the windowsill and ask to get out of your crib. funny guy.
we are preparing you to become a big brother! your little sis is due to arrive in five weeks, give or take, and we are hoping you love her as much as you love everything else in life. you give my belly kisses every night, and when we ask where the baby is, you know just where to point. hopefully once she is on the outside, you can handle sharing the spotlight. you are really great at sharing and at giving loves, so i think you will do just fine.
 you are constantly surprising us with how observant, thoughtful, and smart you are. sometimes we wonder how on earth you know things.. but then we realize you probably soaked it up by watching one of us. (yep, we better be careful in setting good examples!) you are great at communicating and letting us know what you want. you make my heart burst every day, you are the sweetest little guy and are such a charmer. you give the best hugs, are always happy to give out kisses, and are seriously a tender little soul. i love you so, so, SO much. thanks for making life so amazing. you're the very best.
love, your momma