hi! i decided to get a little ambitious today and take photos of everything and post an old school type of meals & moves post. we shall see how long this takes me, and if i actually manage to get it published before i pass out hahaha. i just got the little dude to sleep, and marshall is at the store picking up necessities: my zantac prescription (because pregnancy heartburn is the worst) and some ice cream (because ice cream is the best) so we will see if i can knock this post out!
things started bright and early, as usual around our house. we have a tiny human alarm clock that wakes up anywhere from 5:30 AM to 6:30 AM, so when it's 6:30 AM we feel super lucky about it. this time around, i heard a "mama! dada!" around 5 AM (not cool, dude) so that was marshall's cue to go lay on the floor next to his crib and say "back to bed for a bit"… he made it until 6:15ish so that's pretty good. i rolled out of bed myself around 6:39 and showered, got ready, and got this gave this cute guy some loves before taking off for work.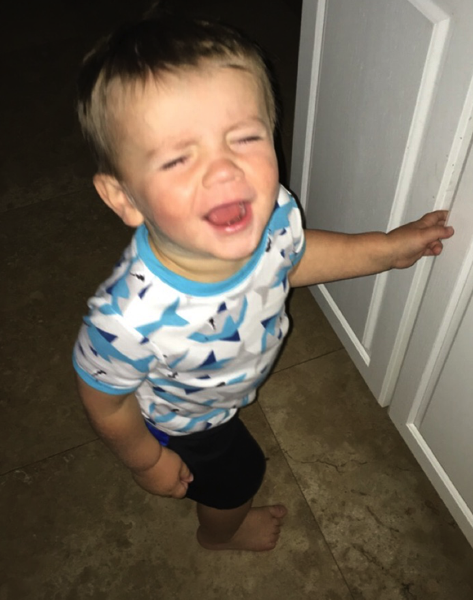 i have been making iced coffee at work lately because there is not a super decent coffee shop between my house and my office. i loathe starbucks and all the good spots are somewhat out of the way. i did come across this cold brew coffee concentrate from trader joe's, so i've been mixing that with 1 part coffee, 1 part water, 1 part milk and a splash of sweet cream. it's actually pretty tasty.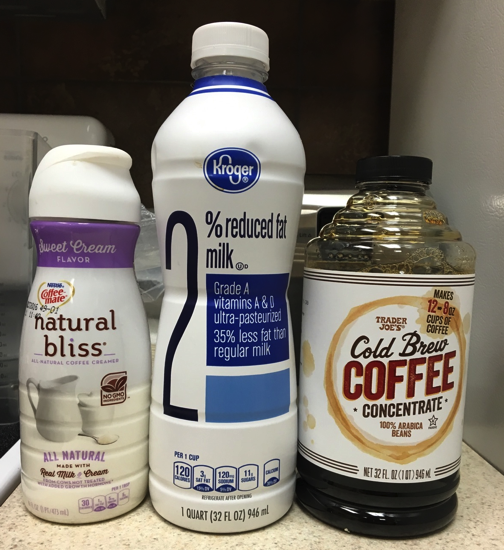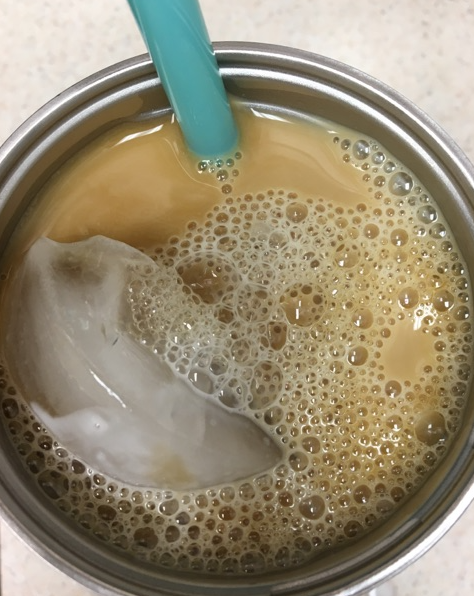 breakfast has been the same for weeks. i typically eat it shortly after i get to work, as long as i'm not too busy in the morning. today i managed to eat this around 8 AM.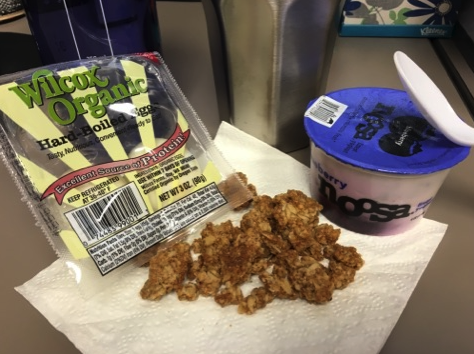 it's boring, but satisfying. i have a couple of hard boiled eggs and some yogurt & granola. i recently discovered noosa yogurt is sold at costco, and it's basically the best yogurt ever. if you haven't tried it, you really must. it tastes like cheesecake. so i pair one of those yogurts with some granola.. today's was this deliciousness thanks to a delivery from general mills.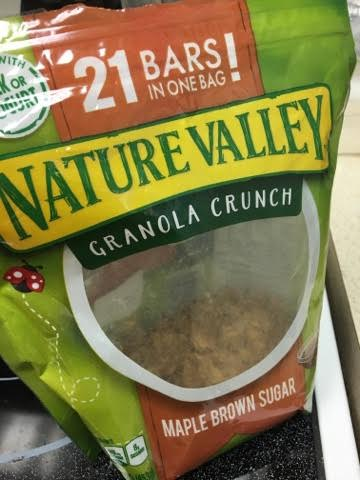 i have been SUCKING at water drinking lately. which, as a 7 months pregnant gal, is a bad thing. i am pretty sure my lack of hydration has been contributing to braxton hicks contractions.. so i made an effort to drink lots of water today. i feel lots better and can totally tell a difference. speaking of pregnancy stuff.. things are going great! i am 29 weeks along, have a checkup on monday (with my gestational diabetes test..yippee..), and this little lady never, ever stops moving! she's so wiggly and i love it. i can't wait for her to be on the outside, haha.
anyway, i worked the day away, it was unusually busy for a thursday, which is a bummer.. but at least it's almost the weekend! i broke away to grab a sandwich around 12:30.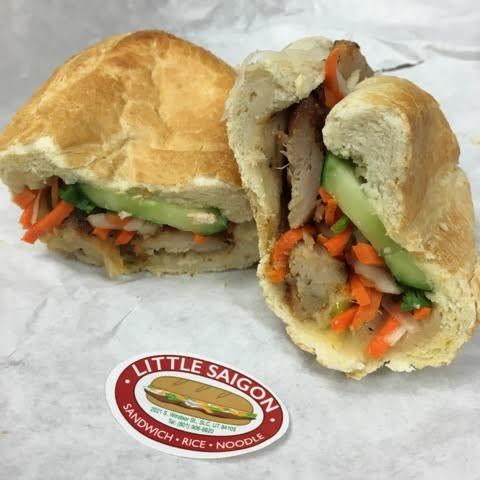 i don't know why i am so late to the vietnamese food party, but i am. i hadn't tried banh mi nor pho until this year! isn't that weird? i mean.. they are both delicious things. and i love food. it's weird to me that i took so long to try vietnamese food. anyway, this was a chicken banh mi and it was delicious. the bread was a little bit crunchy, which hurt my mouth… any other have-been-pregnant-ladies have sensitive gums while pregnant? mine are suuuuper sensitive and it's annoying! i have a dental cleaning tomorrow and while i usually love those, i am kind of dreading it because my gums are so dang sensitive right now.
anyway! i left work about 10 minutes to 2 o'clock so i could go hang out with the boy. he was in the best spirits today, thanks to lots of fun with his sweet nanny and a nice, long nap (nearly 2 hours today, yay.) 
i think i remember why i don't blog my whole day anymore. well, aside from the fact that i don't have any time to do so… every post would just be filled with toddler photos! seriously all i do is work and then go home and play with toys or play outside or do whatever his little heart desires. it's a fun gig, but not much in the way of blogging material, haha. 
but, i've committed to blogging my day today, so toddler photos it is. first things first, we opened a package and it came with a whole lot of bubble wrap. so we spent some time popping that with our feet and that got basically the best reaction.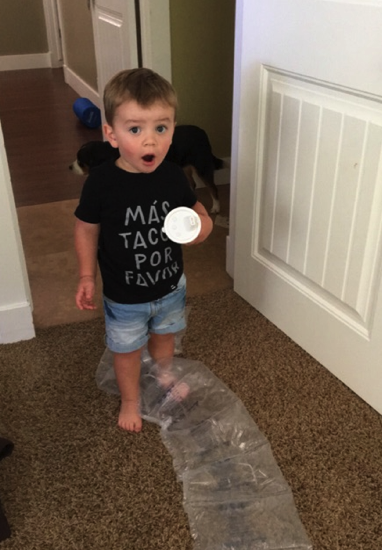 then fox wandered into the kitchen, got himself a popsicle thingie (it's like these frozen juice pops from costco that are so dang good. lindsay told me about them) and opened it and went to town on it. so i guess he's pretty self sufficient when it comes to snacks.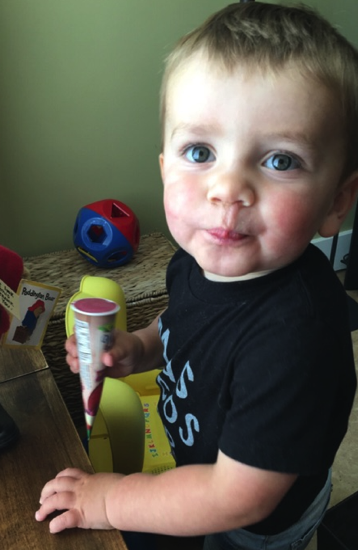 i had plans to make taquitos for dinner, so i put a couple chicken breasts in the crock pot along with chicken broth and taco seasoning. it was a recipe i found online and i will share it below.
after that we played outside for awhile. it was 90 degrees, but we have a nice shady patio so that's good. we drew with chalk and played with the dogs and i didn't have my phone so no proof. but i think you probably will live without photos of all that.
we headed inside and played with toys for about an hour and a half. if you follow me on snapchat you saw some of that action.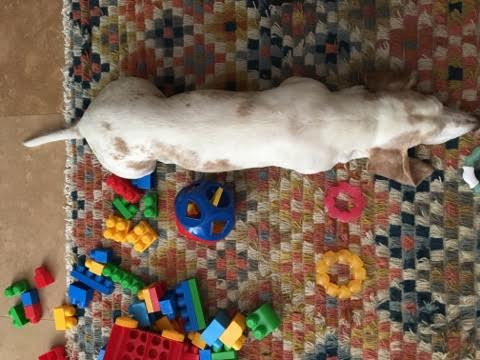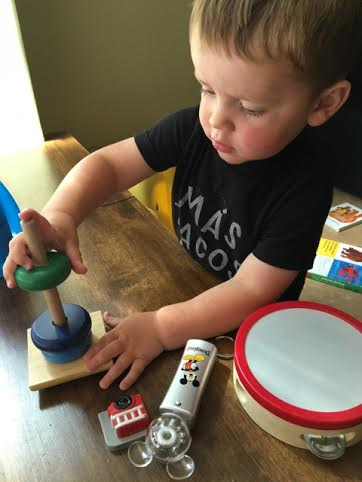 marshall got home around 5 and so i did a few more dinner steps while he played with fox. i added cream cheese to the crock pot and once it was warmed, i shredded the chicken, added seasonings, and mixed it all together. i was supposed to roll the mixture up into taquitos and bake them… but i was having a tortilla crisis. i had the corn+wheat tortillas from trader joe's, and they would NOT roll up. they kept crumbling. sooooo i made a layered casserole type thing instead. just layered the tortillas, then the chicken mixture, then some olives and salsa, then repeated.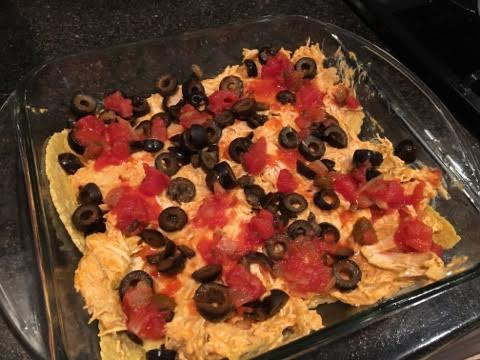 i finished off with a layer of tortillas and put them in the oven and headed to the basement to exercise. 
i skipped the past two days because my braxton hicks contractions have been ridiculous and my freaking stomach is stretching beyond belief and, truth be told, it really hurts! so i laid off any sudden movements, haha. or any movements at all, for that matter. but i felt pretty good today… so i popped in the 21 day fix DVD and decided to do lower body.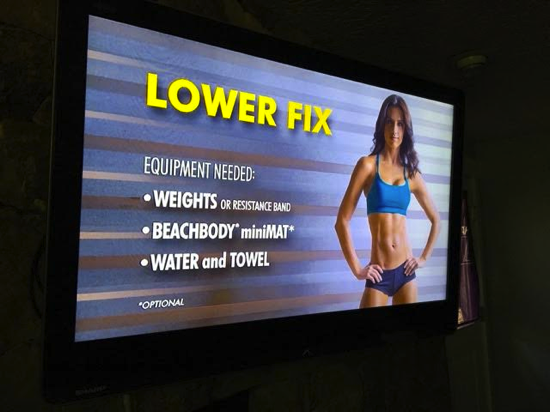 fox came, because he loves to hang while i exercise.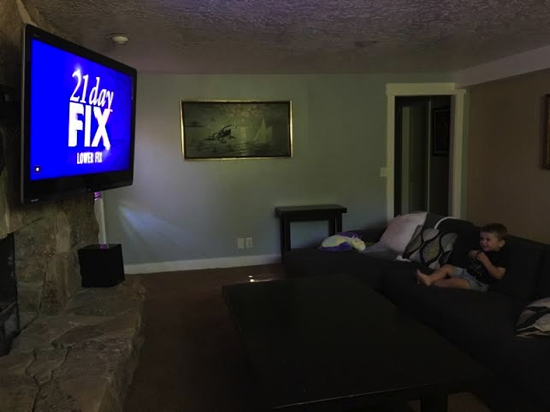 the workouts are a half hour, and he usually gets bored about halfway through so i give him my phone to mess around with in order to get through the full workout. but today he was all about playing in his tunnel and with his toys, so that was good. i am not anti-technology and he's no stranger to the iphone, but if i can avoid having him play with my phone, that's a plus in my book.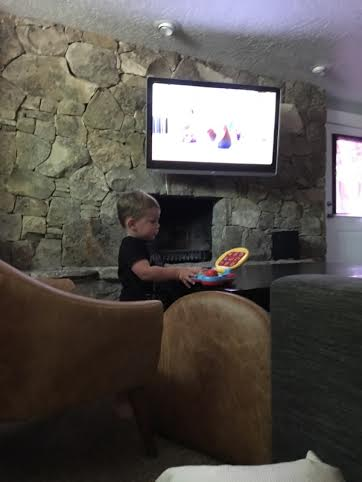 at one point he picked up his 3 LB weight and joined in with me on some squats. haha.. cutest kid.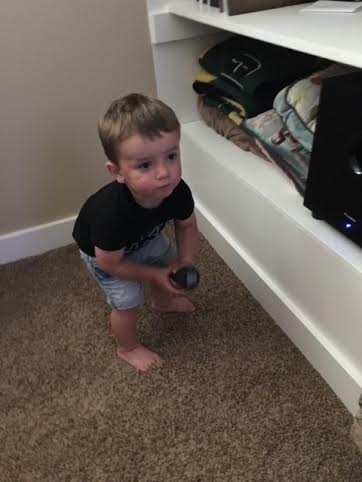 after my workout i realized that i didn't set the timer for the taquitos-turned-casserole… oops. sooooo the top layer was nice and burnt. whoops. luckily we had some flour tortillas in the fridge, so we just took that top layer of the casserole off and scooped the insides into flour tortillas.
the best part about this recipe was the avocado lime crema.. mmmmmmmmmm!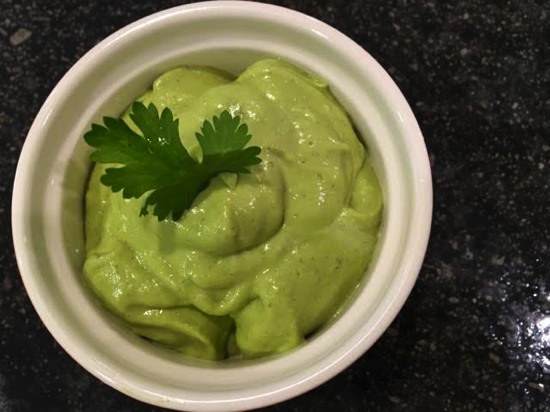 ok so i will share the (loose) recipe i followed for this dinner. i will tell you how it's SUPPOSED to be done.. not what happened tonight. ha. i got it off a message board, so nowhere to source.
ingredients: 
taquitos:
1 lb boneless, skinless chicken breasts
1/2 cup chicken broth
1 packet taco seasoning
6 oz cream cheese
spices such as cumin, garlic powder, onion powder (i used about 1/2 tsp of each of these)
1 cup shredded cheese
10-12 tortillas that actually roll
other toppings such as sliced olives, green chiles, salsa, green onions (i only had olives and salsa on hand)
avocado lime crema:
1-2 avocados (i used 1 1/2 and gave half of the second one to fox)
1-2 cloves garlic (i used a tsp of jarred minced garlic)
juice of 1 lime
big handful of cilantro
1/4-1/3 cup sour cream 
1/4-1/3 cup salsa
salt & pepper, to taste
frank's hot sauce, to taste
directions:
cook chicken breasts, broth, and 1/2 of taco seasoning packet in crock pot on high for 3 hours or low for 5 hours (or until cooked through).
once cooked, drain excess liquid and add cream cheese to crock pot. 
once it softens, shred chicken breasts in the crock pot, add the rest of the taco seasoning and other seasonings, and the cheese, and stir to combine. 
fill tortillas with mixture and roll up into taquitos. place in baking dish and bake for 15 minutes at 400 degrees.
make the avocado lime crema: blend all ingredients until smooth.
serve taquitos with the crema and other toppings of choice.
so, next time i will try it again with other tortillas and also will set the timer so they don't burn! whoops. but this was still SO dang delicious! and i was surprised that fox tried the chicken and liked it. he's not a huge fan of chicken usually. he also had avocado and grapes.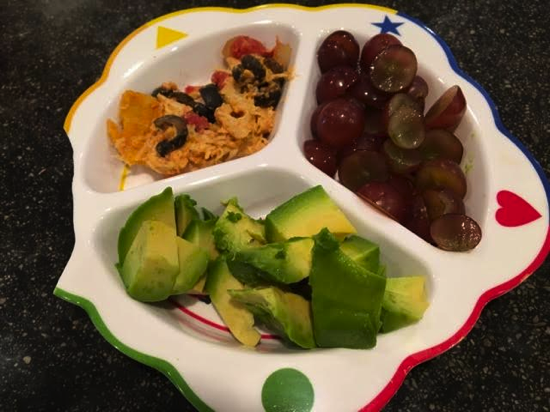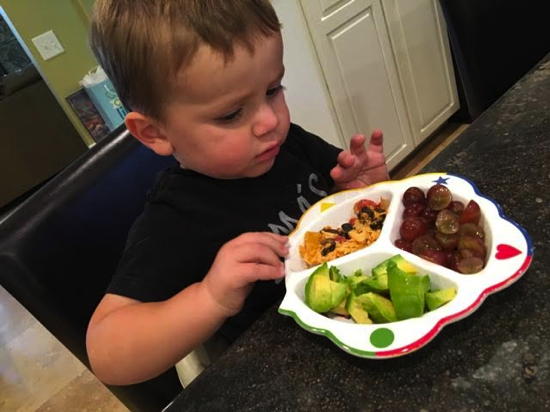 after dinner, we played with toys for another hour or so. fox put on his snow boots that are two sizes too small (on the wrong feet, mind you) and got to work on bringing me every single stuffed animal from his room. so that was a good time. (also can be seen on my snapchat.) 
the UPS man came and delivered a bunch of my amazon prime day purchases!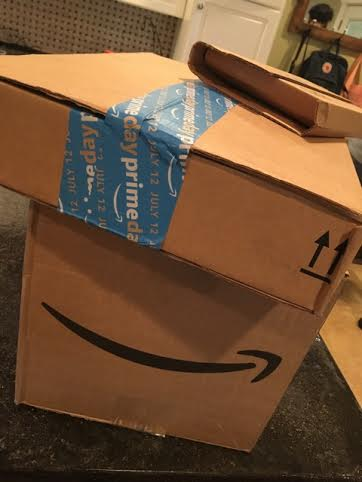 i got a bunch of great deals, i was pretty excited about it. not everything came today, but some of it did. today i received diapers (they were SO cheap!) for both fox and the baby (stocked up on newborn and size 1 for her) and i also got fox this daniel tiger treehouse for his upcoming bday (shhhh, don't tell him), a new diaper backpzack since we will have two kids soon and need something bigger (it's super nice in person! and was so cheap!), and a reusable swim diaper for the pool. i also have a few other things on the way, including a toddler pillow & case, a doorknob safety cover thing because fox opens the front door now (yay), and the baby's crib! my mom got a convertible carseat for a killer deal, too, because the one she has has expired. i love amazon prime day and this was the first time i actually paid close attention and got some sweet bargains.
after all that, it was tubby time. the kid loves water.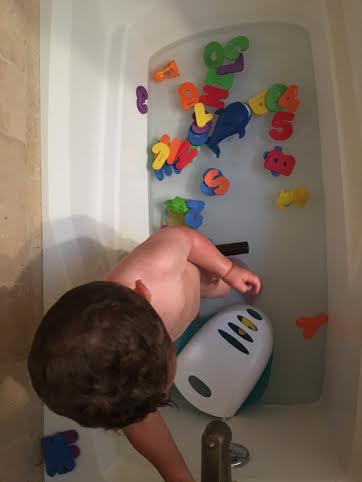 and then we did our bedtime ritual… which is always so fun. after the bath, we all do "the baba dance" which is basically fox spinning around in a circle (naked, haha) and falling to the ground, then pointing to us and having us do the same (but we are clothed.. hahaha) a few times, and then he drinks his milk, gets his PJs on, and marsh reads him stories while i lay on the floor and listen. it's the same every single night and when the new baby comes it'll be interesting to see how that bedtime ritual changes. hopefully it's a smooth transition. after all that, i lay on the floor next to his crib until he dozes off. i could probably leave the room if i wanted, before he falls asleep, but i like laying there with him. especially since i probably won't be able to in a couple months!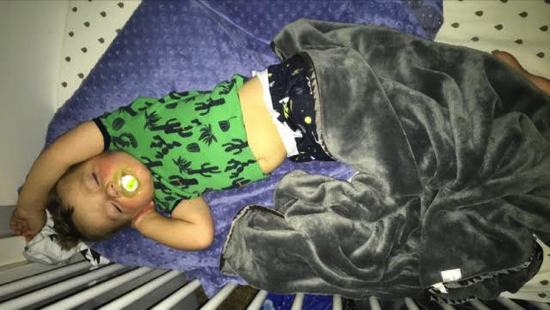 once he zonked out, i came out here and got to typing. it's been 45 minutes and i still have to insert all the photos into this post. oh me, oh my. how funny that this was a daily routine for years and years. not sure how i did that. not sure how some bloggers used to post THREE TIMES a day! does anyone still do that, even? i don't even get a chance to read blogs these days, so i actually have no clue.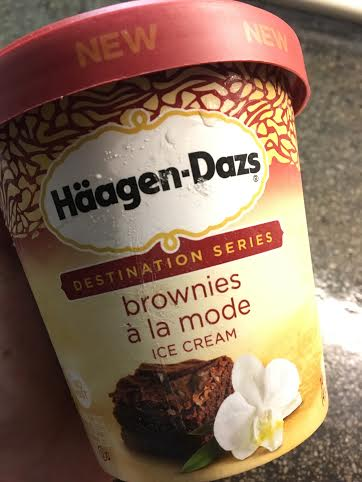 well, i just took an ice cream break, then inserted all the photos into this bad boy, and now i am going to watch an episode of game of thrones. we are rewatching it for fun, and are on season 2 right now. it's actually really great the second time around, because i understand things a lot more!
friday tomorrow.. hooray! aside from the dentist, nothing else is planned. i am excited for the weekend, though. it's our sixth wedding anniversary, and i think we will go to the lake to celebrate. :)
i hope you have a great weekend! 
Qs~
1. did you score any deals on amazon prime day? if no.. what is the last thing you bought online, not necessarily on amazon?
2. have you tried/do you like vietnamese food?
xo. janetha g.