hey! how's it going? happy june! now that it's nearly 1/3 of the way over, haha. i thought i would pop in and tell you about our recent trip to california!
we headed to san diego & san clemente last week. my sister lives in san diego and my brother lives in san clemente, so we hit two birds with one stone and visited both families! as an added bonus, it was my birthday and my brother's birthday last week, so there were lots of celebrations to be had. and lots of food to be eaten… which is basically all this post is going to contain, ha!
i am always a little nervous to fly with fox, because you never know if there is going to be a toddler meltdown mid-flight or what. but he was a star student this trip, thanks to some 'nacks (what he calls snacks) and daniel tiger on the ipad.
we landed in san diego on tuesday and had to try to get fox to nap for a bit, after being up all morning, so it was straight to my sister's house. when it wasn't super successful, we headed to carnitas snack shack for lunch. they have all different varieties of pork offerings.. marsh got a BLT that legit had a pound of bacon on it. my sister and i both got the carnitas tacos, which were too good to be true! and too huge, too.. we should have shared, because each of us could only manage to eat one.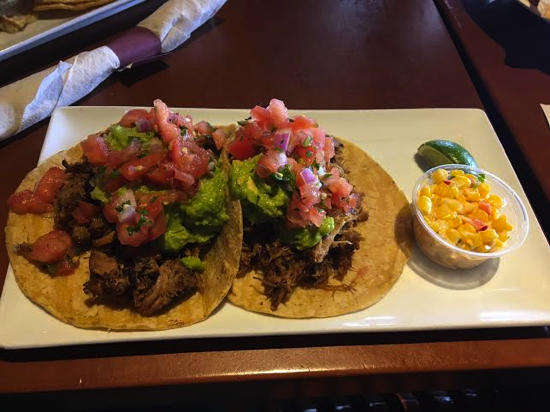 after lunch, it was back to my sister's to try for a nap again, and this time it was a success! the majority of the day was pretty lazy, but it was fun to see my nieces and hang out and just be lazy and not be at work!
for dinner we tried the burger bench, which was freaking delicious. i had a burger and fries and tots, because deciding between fries or tots was too much.. and i guess taking a photo of them was too much, too. but here's the burger!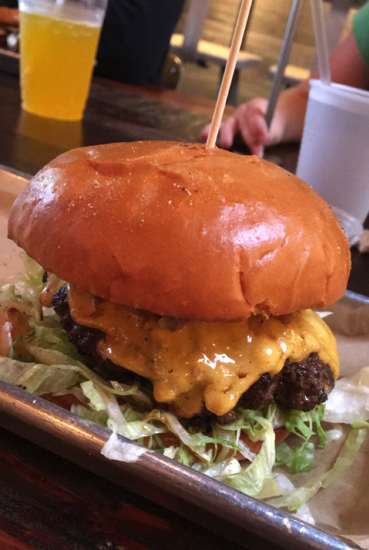 they had tasty looking shakes, so we got a couple to go on our way out and shared amongst the fam. one oreo and one chocolate peanut butter banana.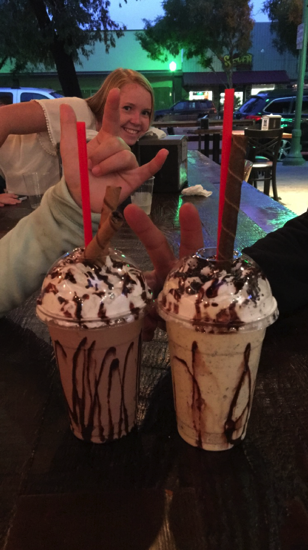 my nieces are so great with fox, they helped with bedtime and he loved reading stories with lu. i wish they lived in utah!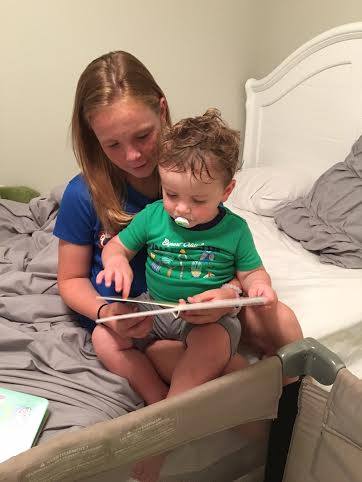 the next day was my birthday, which happened to be the birthday of all birthdays because it was a PALINDROME birthday! if you know me, you know i love my palindromes… and the date was 6-1-16 AND i turned 33.. two palindromes in one. that's gotta count for something.
fox helped get the girls ready for school while watching some daniel tiger.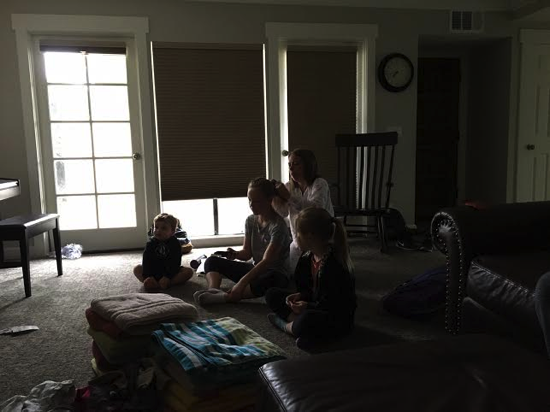 once everyone was on their way, we headed to solana beach for brunch at claire's on cedros. i had to get the infamous eggs benedict and fox had the lemon ricotta pancakes, which i stole some bites of. way, way good!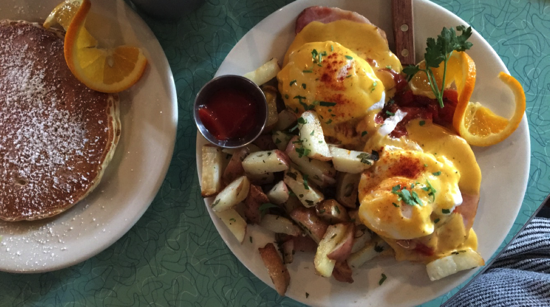 after brunch, we did some shopping on cedros.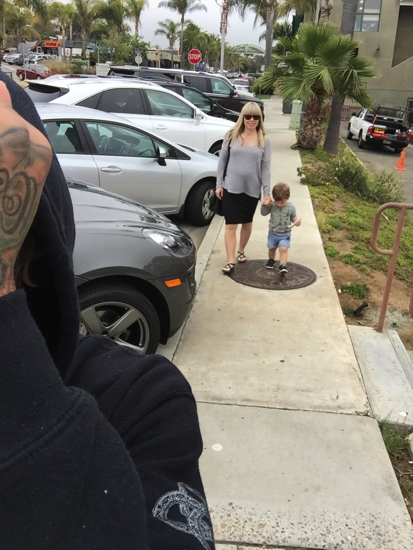 there was the cutest store, called solo. i picked up some artwork and gifts and also got fox these cool magnetic blocks. i really wanted this mobile for the baby's room.. but $160 is kinda steep, no?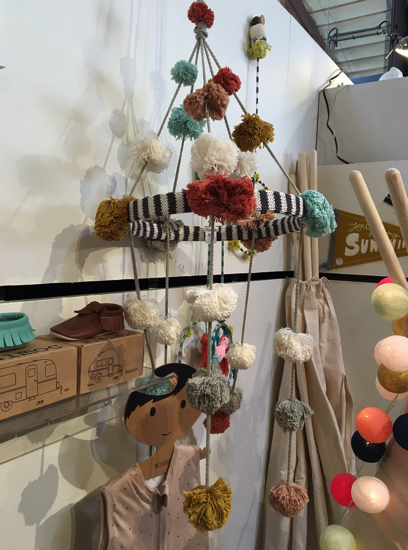 we headed back home for naptime, and my sister and i took off. she treated me to a birthday pedicure! it was so nice to have some one on one time! the gals at the place asked if we were twins.. haha.. hmmm. first time that's happened! i'll take it. :)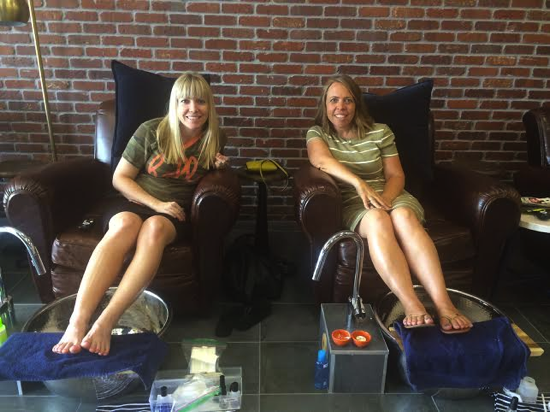 later on, we headed across the street to the park and pool. fox was more about the park than the pool, but at least he looked adorable in his swim trunks.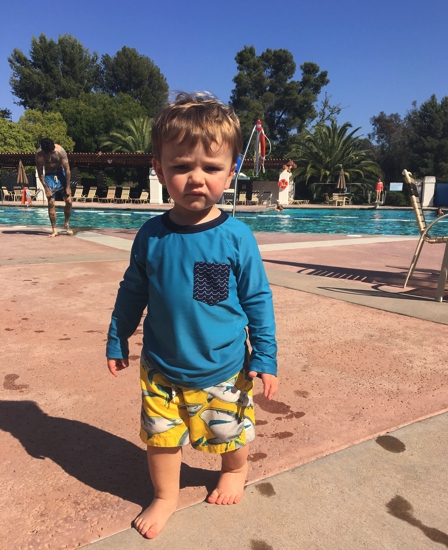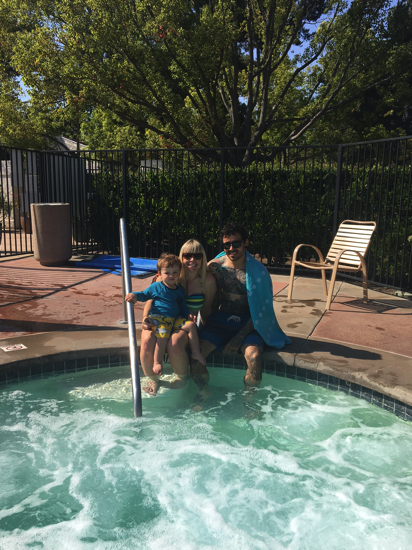 that night, marshall and i went out for my birthday dinner just the two of us. we tried a cute italian place called villa capri.
we shared the artichokes to start, don't they look like lamb chops or something?! ha. they were SO dang good.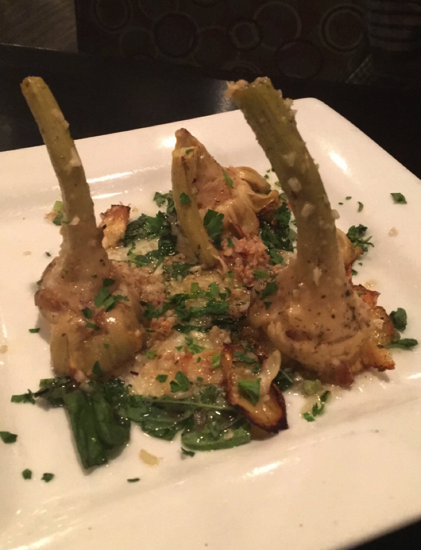 i had the portobello ravioli for my entree and marshall had the lasagna. both were super tasty.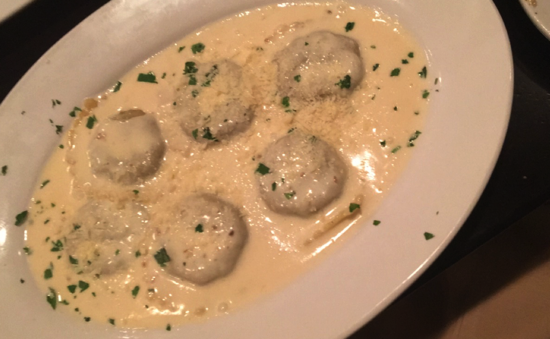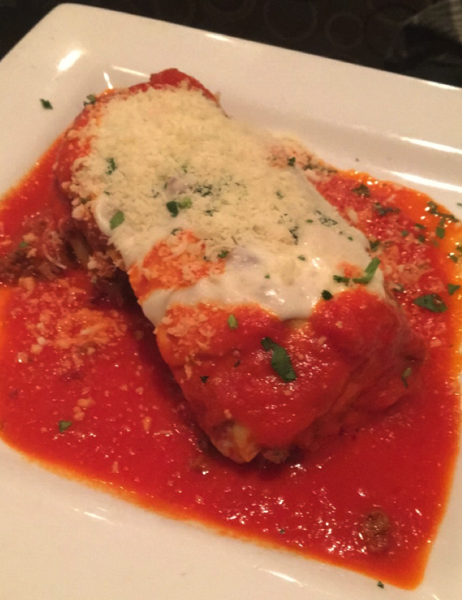 back at my sister's, we had dessert. she had made the most delicious oreo dessert— layered oreo crust, homemade hot fudge, oreo ice cream, more fudge, and crumbled oreos. it was so good! they sang to me and there were no candles, so we improvised with a sparkler.. haha..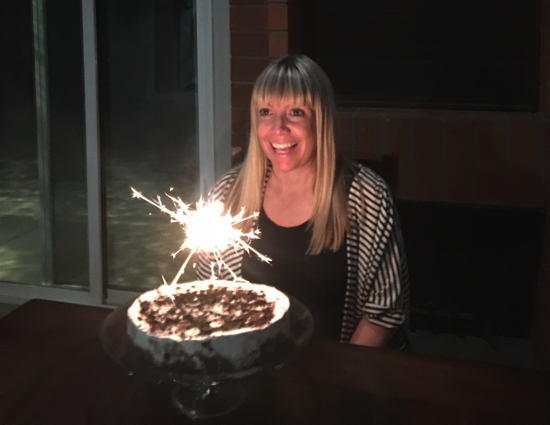 which i could definitely not blow out!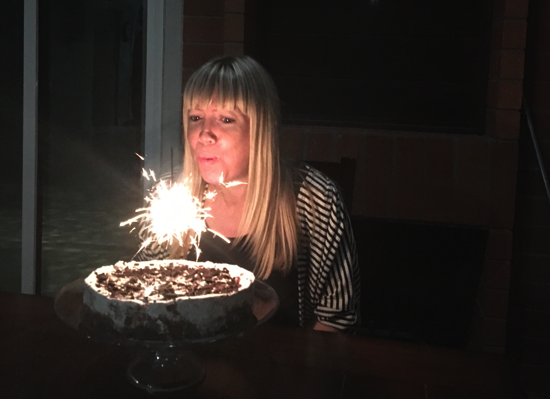 fox was a big fan of the dessert, and i am shocked he was able to get to bed right after eating all that sugar. but he's a pretty awesome sleeper these days, so that's good.
thursday morning we said goodbye to my nieces and headed to carlsbad to meet up with my sis in law and her kiddos. we stopped at swami's on the way for a pitaya bowl. they are my new favorite thing.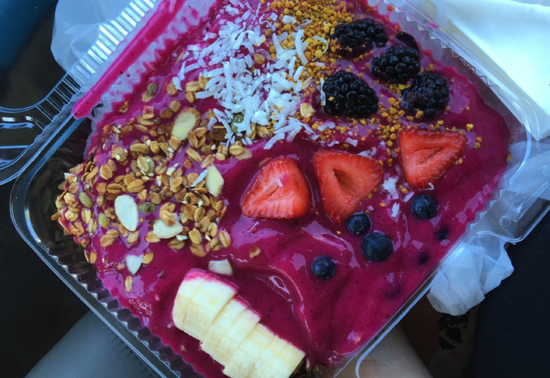 we made a pit stop at moonlight park in encinitas for the kiddos to play for a bit. this park was so awesome! and i took zero pics of it. but trust me, it was great. then we headed to knockout pizza in carlsbad for lunch. it was thin crust and perfect, i loved it. so did the little dude!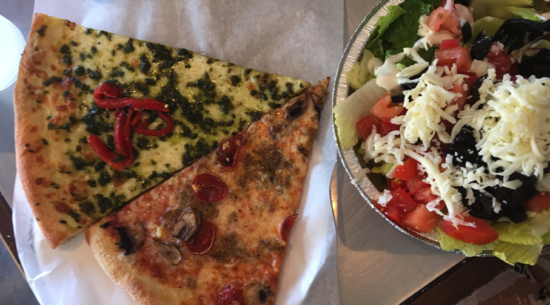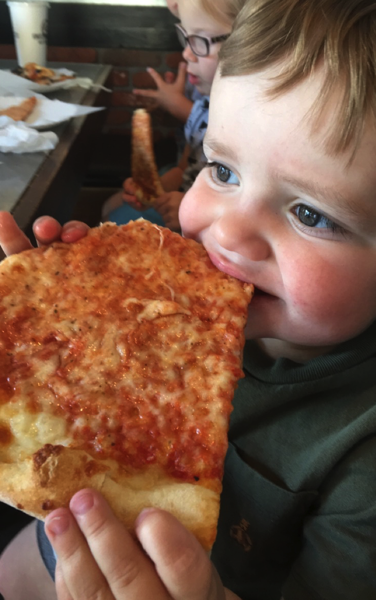 nap time rolled around again, so we headed to my brother's house for that. after the kiddos slept, we made a plan for more food (of course) and what to do with our evening.
we decided to head to dana point and get some takeout from the shwack beach grill. we took our food to salt creek beach park, which was so, so awesome. lots of grass and a killer view!
i had the fish tacos for dinner, which were super good.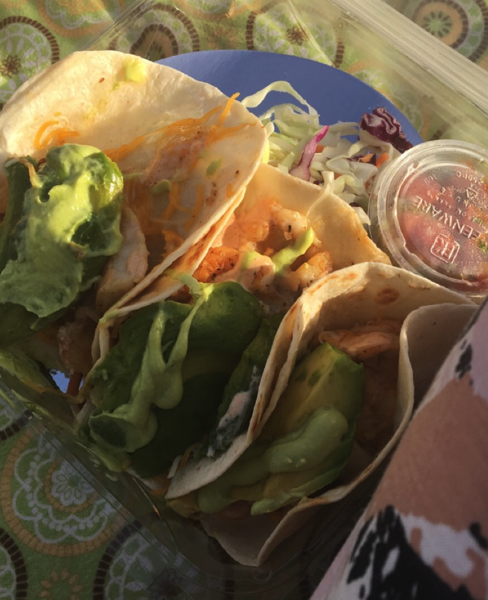 after eating, we just watched the sun slowly set and i watched everyone kick around the ball. i am not one for kicking around balls, ha.
it was the perfect evening, i could seriously live in cali and not be mad about it.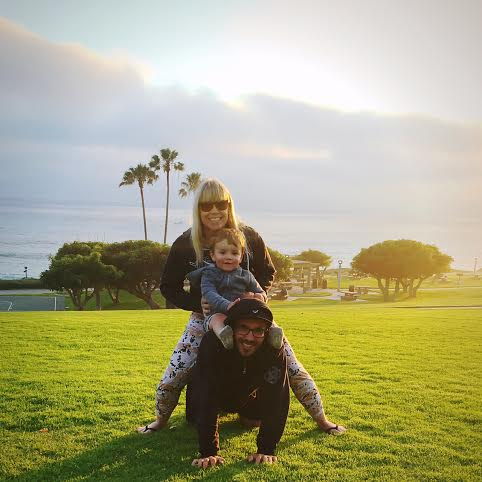 the next morning we woke up and hung out for a bit, watching daniel tiger until the rest of the household woke up. fox is an early riser.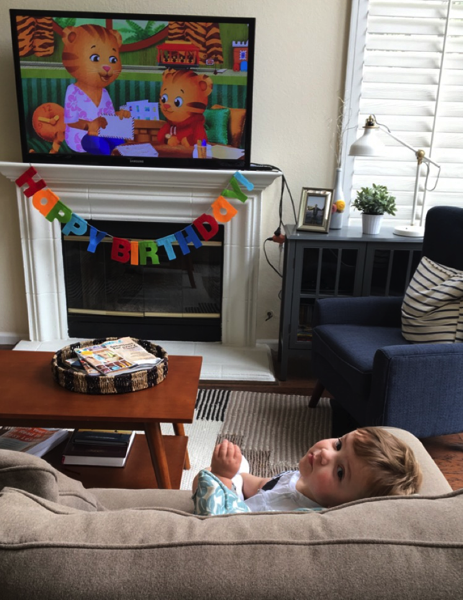 we headed out to the beach trail in san clemente. we made a stop at banzai bowls first, because food is always on the forefront.
there is something unique about banzai bowls, i think it's their granola, and i can't find anywhere else that has a better pitaya or acai bowl. too bad there isn't a banzai in the SLC!
we headed out for the beach trail and walked for awhile before stopping to play on the beach and swing for a bit.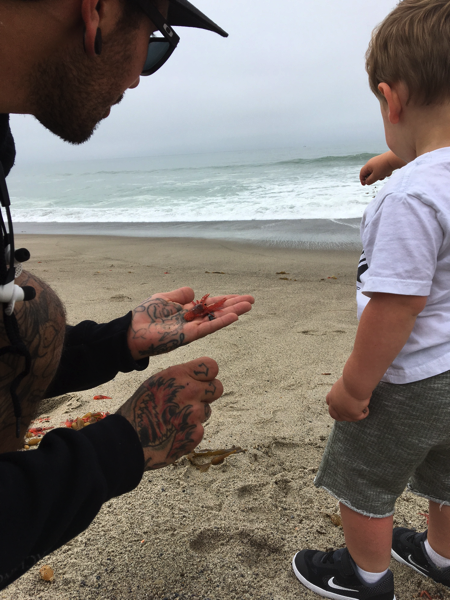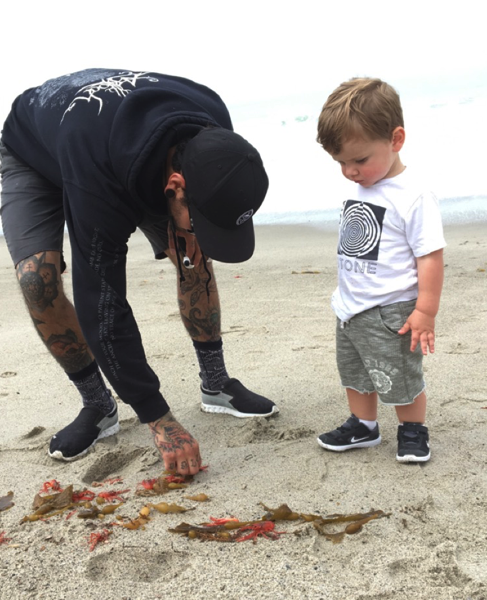 then, wouldn't you know it, it was nap time again! so we headed back to my bro's so the kids could nap. fox was super worn out, i guess, because he took a three hour nap! that's pretty unheard of, especially in a pack n play away from home.
i didn't get a photo, but we had lunch from humphry's sandwich shop, which was super good. i had the hot turkey & swiss wrap with honey mustard. for some reason, honey mustard is a big pregnancy craving this time around.
we eventually had to wake sleeping beauty up from his nap so we could head to the beach. it was my brother's birthday, so we packed up lots of food and beach toys and firewood and headed to san O beach.  we were lucky enough to snag the last fire pit!
the next five or so hours were spent playing on the beach. it wasn't exactly hot out, so we didn't get in the water (well, my brother did, to surf.. but not the rest of us haha) and we just stuck to playing on the sand. fox is a HUGE fan of the beach!
we grilled burgers, had tons of snacks like chips, dip, watermelon, cookies, lemon bread, and s'mores made with reese's PB cups. brilliant. try it.
here are a plethora of photos from the celebration.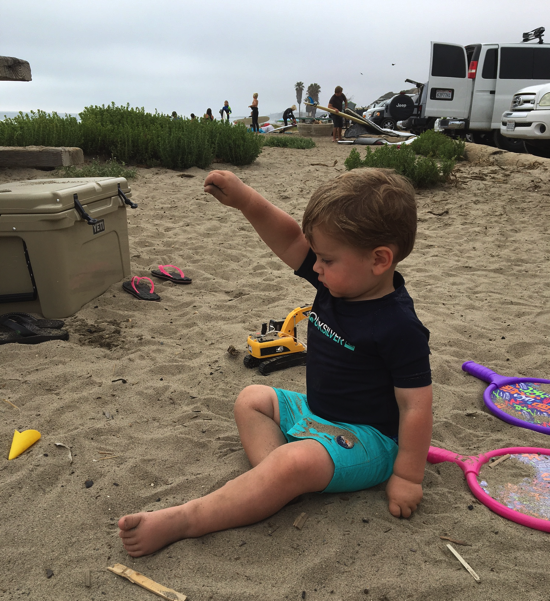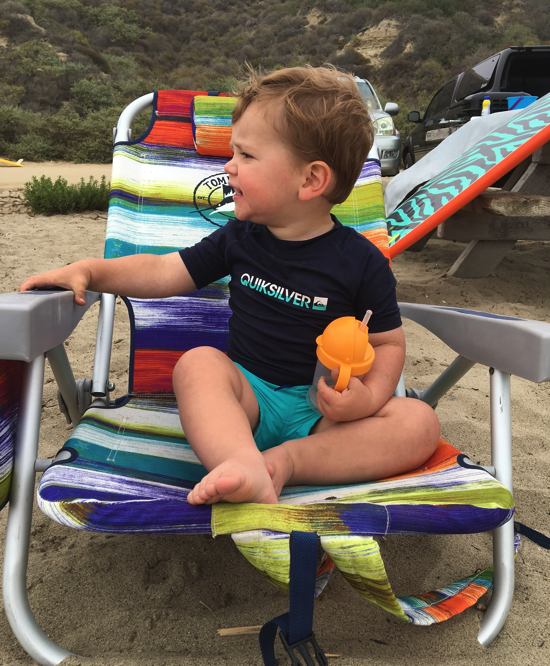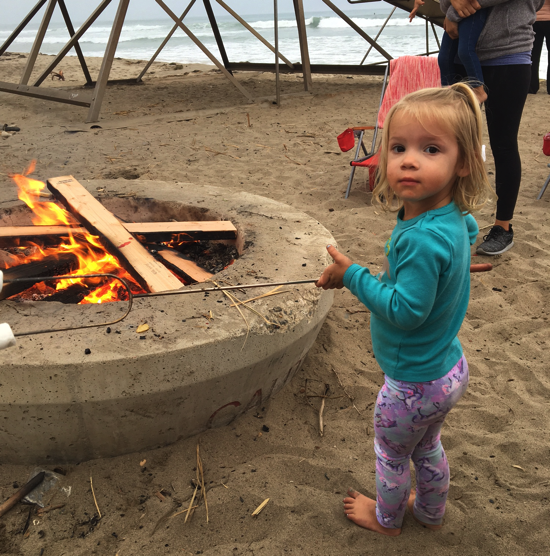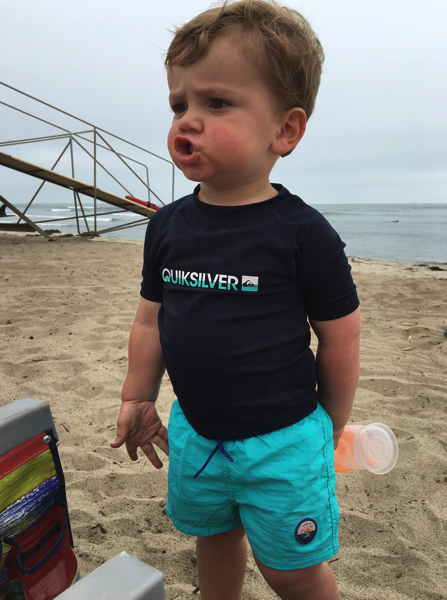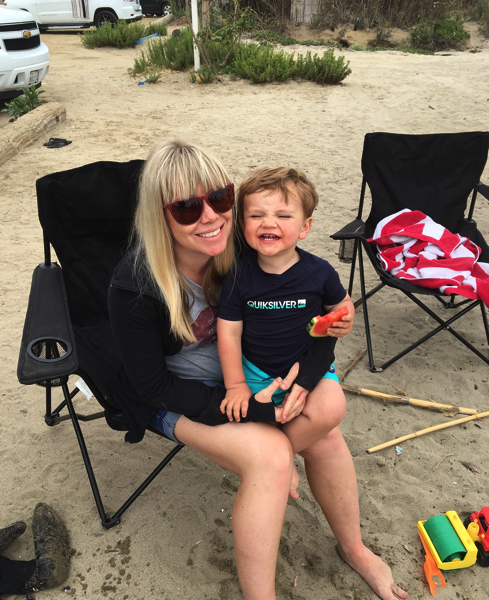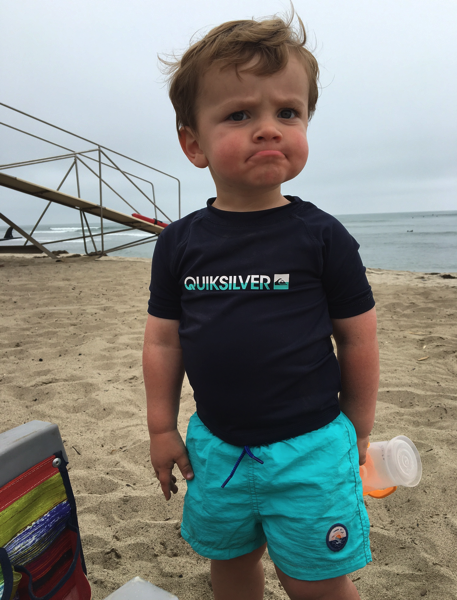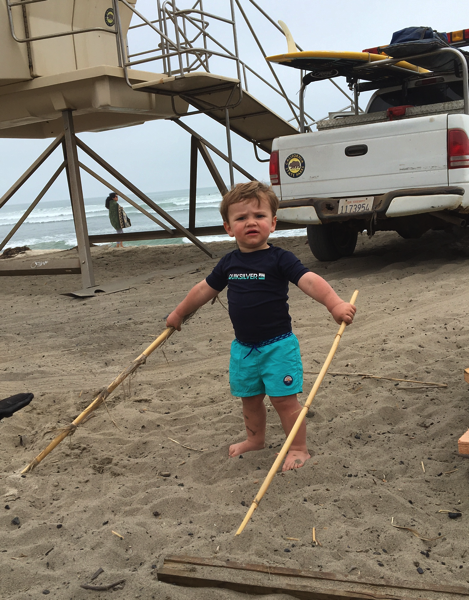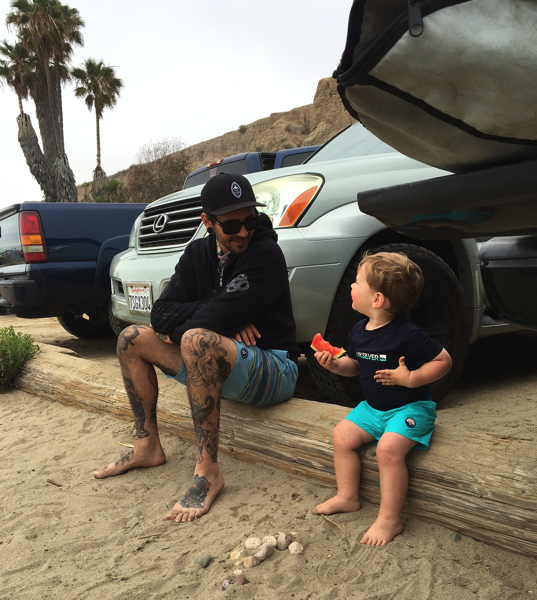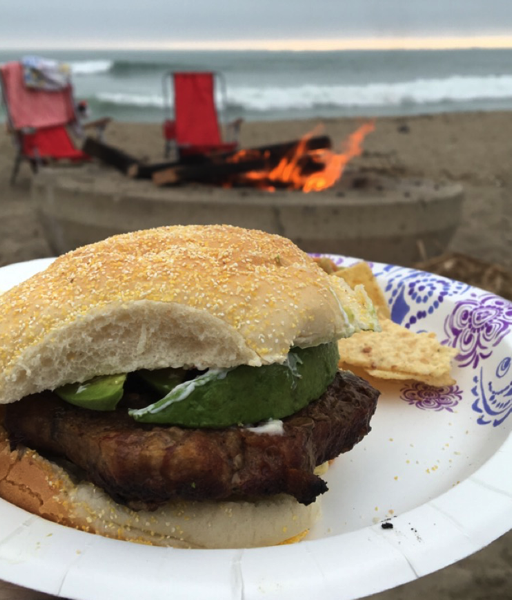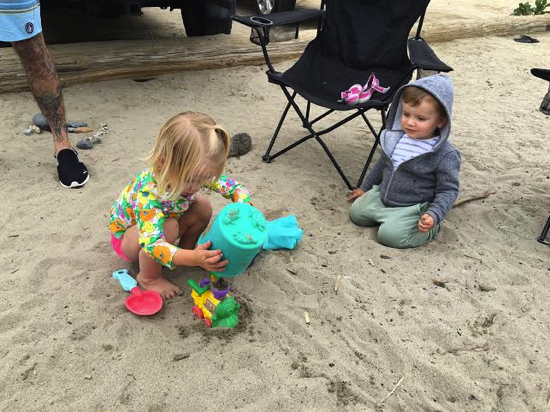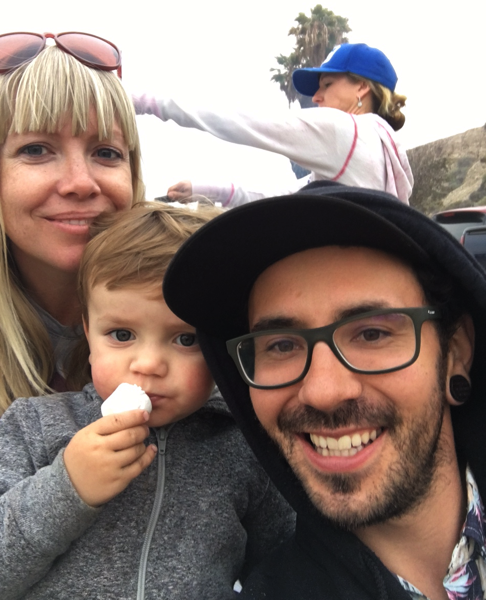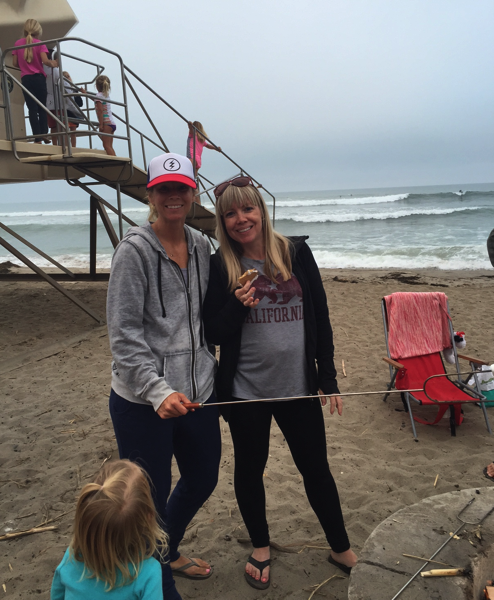 it was such a fun night! and all the kiddos were up way past their bedtime, so the next morning everyone slept in a bit. we only had a half day to spend in san clemente before heading to the airport, so we didn't plan much.
my brother made crepes in the morning and we hung out and packed our things up.  the kids painted with watercolors, and now i know we better get fox some. he loved it.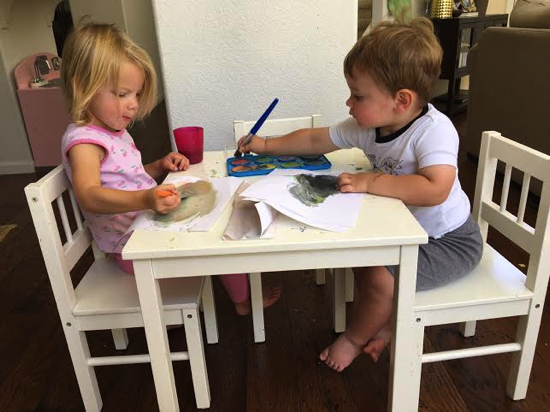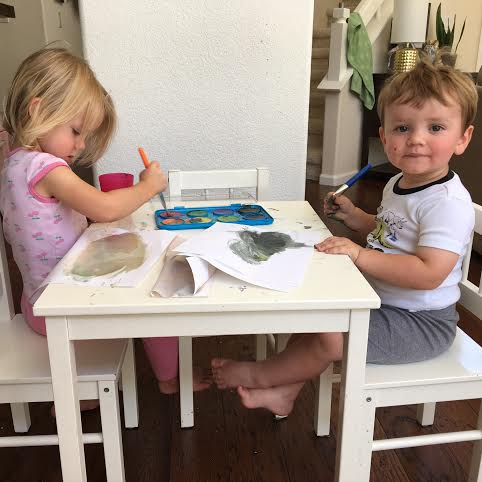 we headed to a nearby park so the kids could play, and snagged bagels from the bagel shack. i got the "old man" on a swiss bagel, which had cream cheese, avocado, and lemon pepper. super tasty.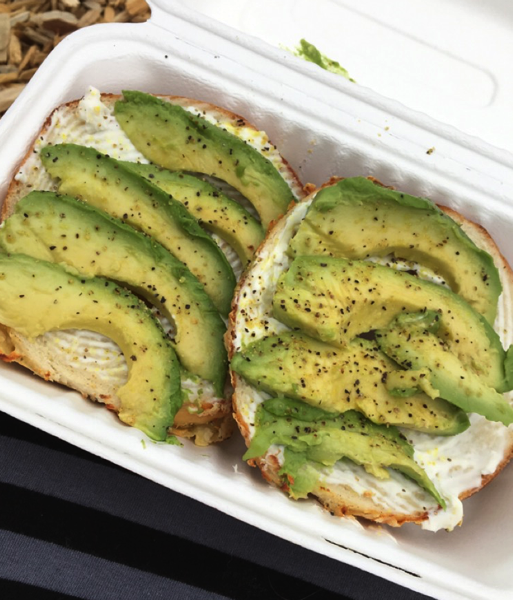 we were going to head to costa mesa to shop at land of nod before our flight, but fox ended up sleeping for centuries again. we decided it was better for him to be happy and rested for the flight rather than wake him and risk a cranky kid, so we just lazed around while he napped.
on the way to the airport, we snagged a late lunch on the fly. i got a rice bowl from active culture, it was so dang good!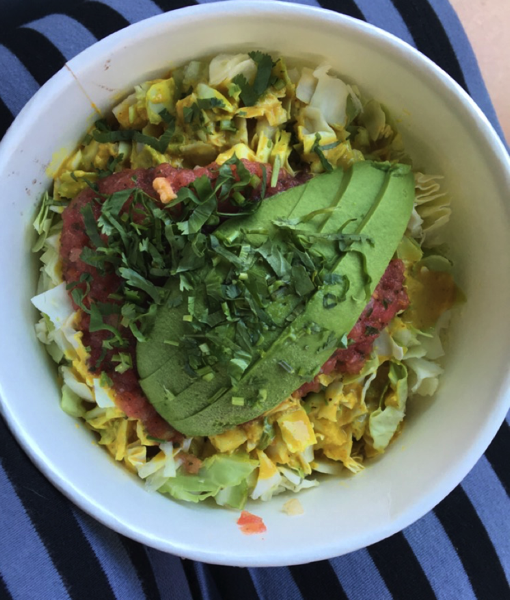 the flight home was quick and easy, and i am grateful that traveling this time around was such a breeze. i am usually happy to get home after a trip away, but i can honestly say i wish we had been able to extend this trip another day or two… it was just such a great time!
well, that's a wrap of our delicious trip out west. it's sad to think we probably won't be going back for quite some time, since we will have a newborn come october. hopefully we can manage to get out there with two kids come next spring or summer! we do have one more trip planned, to portland in july, before baby comes.
Qs~
1. where was your last vacation, and what was the best thing you ate on it?
2. any fun summer trips planned?
xo. janetha g.