hello and happy rainy saturday to you. well, it's rainy here in the 801, not sure about where you are. but it's been coming down all morning! since we can't play outside, i will just ramble about our recent backyard adventures.
as you may recall, we recently moved into a new home. we have a nice, big yard at the new place, complete with an area for a garden. i haven't gardened since, well, i was in single digits. my family had quite a large garden in the yard of the home i grew up in. but i basically forgot everything there is to know about gardening… so i am starting from scratch.
on mother's day, we headed to a friend's farm to get some starter plants. we got lots of things, in hopes at least one of them will grow! our selections included five kinds of tomatoes, two kinds of cucumbers, spaghetti squash, four kinds of peppers, and various herbs.
since the area for our garden hadn't been used for a garden in years and years, we had to get it ready. or, i guess i should say marshall had to get it ready while fox and i watched. ;)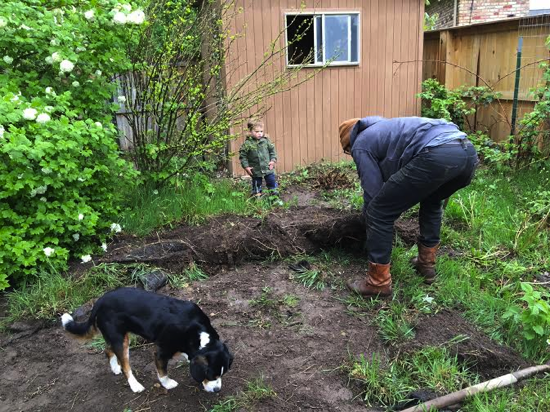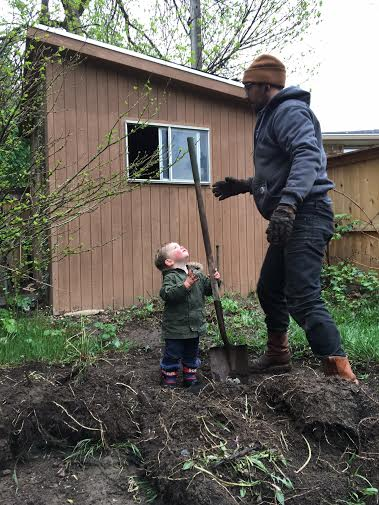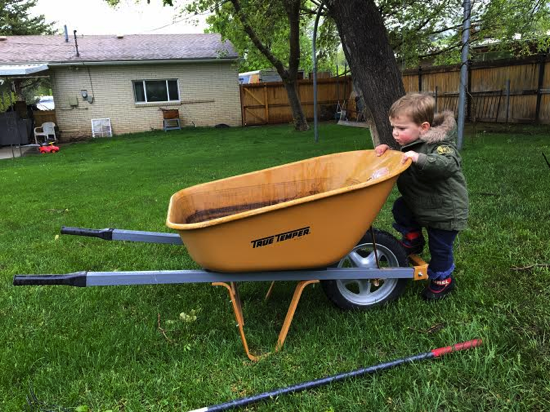 there was a large, black tarp covering the area, and weeds and grass had grown around the tarp, so it was pretty hard to pull up. but underneath the tarp was some great soil to work with! we needed to add some amendments to the soil, so we headed to snag some ecoscraps compost and mixes.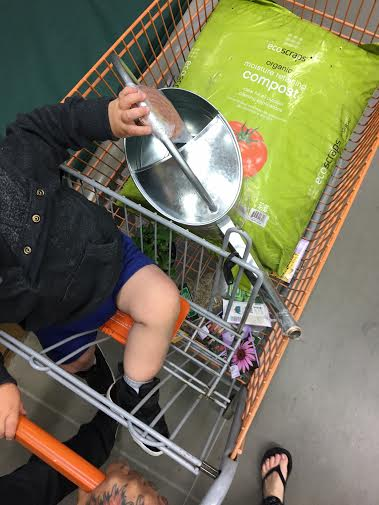 i actually wasn't sure how to get my garden going, i had googled a few things and asked my brother in law about it. then i was coincidentally contacted by ecoscraps to see if i wanted to try out their garden soil and potting soil, and i feel like that was a sign! of course i hopped right on board and went on to learn all about ecoscraps and the ins and outs of starting a garden.
i was actually stoked to find out about ecoscraps because they are different from other brands in the sense that they make their product by reusing waste that would otherwise end up in landfills. the USA wastes 40% of the food produced (holy crap that statistic is high!) when the waste sits in landfills, it produces methane, which is 20 times more harmful than CO2.  SO.. ecoscraps takes that waste and recycles it into usable products. they recycled 75 million pounds (!!!) of wasted food between 2011 and 2015. they hope to recycle another 75 million pounds in 2016. to put it in perspective, recycling just 15 million pounds of food waste is equivalent to keeping half a million cars off the road for an entire day! so, yeah, pretty sweet stuff and a product i feel good about using and promoting. bonus: they are based here in utah.. yay, local. you can find ecoscraps lots of places, including their preferred distributor, walmart. you can check out a video about ecoscraps by clicking here!
we planned to do a vegetable garden in the ground and also some potted flowers and then decided to grow our herbs in pots as well. since we had these plans, we got some compost as well as some potting mix and moisture retaining garden soil.
we also had to get some other gardening essentials, like a watering can, small shovels (are those called trowels? i forget), plant food, pots, and various wildflower seeds for good measure. we got home and got to work!
marshall got the vegetable bed all ready to go, mixed the soil in and raked it out.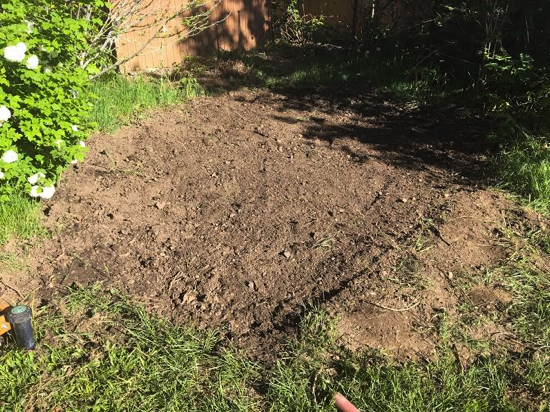 i got a fun pot at our local garden shop, and some flowers to go with it, so i got started on the flower pot with the potting mix.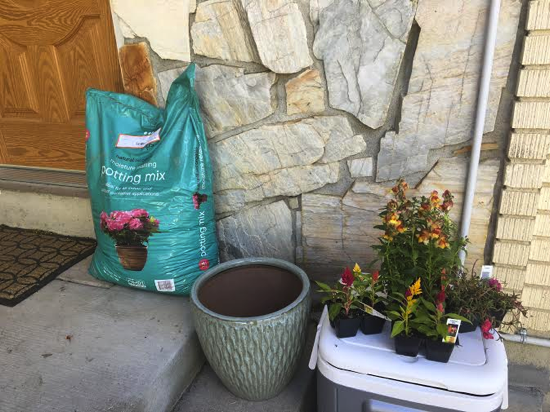 to save on soil and create a better draining system, i put gravel in the base of the pot. that was a tip from momma b!
i think it turned out pretty cute for my first flower potting attempt!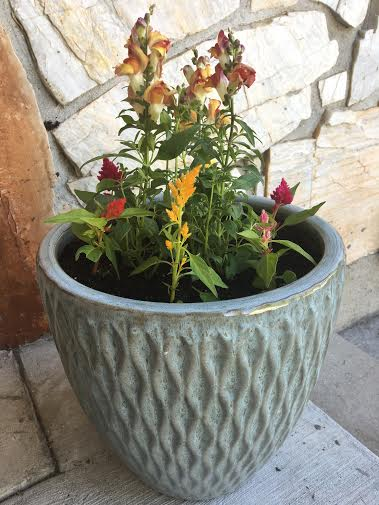 fox loves smelling flowers. not sure where he picked up on it, but it's pretty darn cute.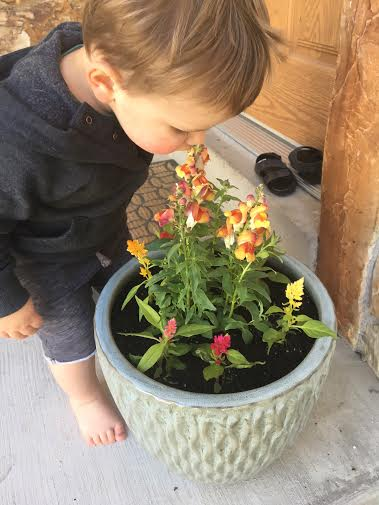 over the next few days, we worked on planting all our vegetables. randy helped.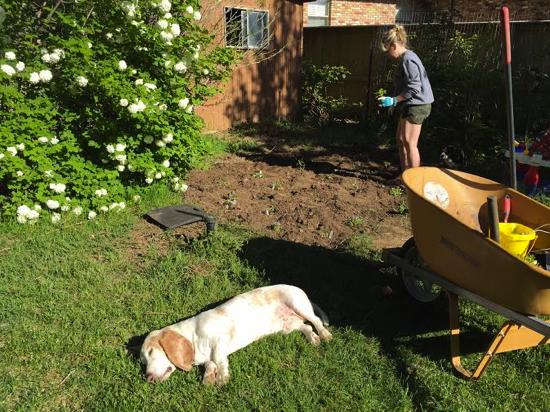 it was kind of a joke the way we tried to lay everything out and then didn't follow the plan exactly… but all that matters is that everything got planted and we've been caring for the plants diligently! haha.
i am sure the addition of the ecoscraps will give our garden a fighting chance at thriving! i really hope the tomatoes work out, that's all i REALLY care about.. i just love garden tomatoes!
if you want to pick up some ecoscraps for yourself, enter to win a $50 walmart gift card below!
well.. i guess the one good thing about all this rain is that it will help my garden! i am going to go make another pot of french pressed coffee and wait for the pizza we ordered to come. haha.. wild saturday over here. :)
Qs~
1. do you have/have you ever had a garden? 
2. what's your favorite garden veggie?
xo. janetha g.
this post was sponsored by ecoscraps. all content presented represents my own opinions.