hey! so, it only took me half of my second pregnancy to get around to blogging about it. ha. yep! halfway there! i am 20 weeks along, hallelujah.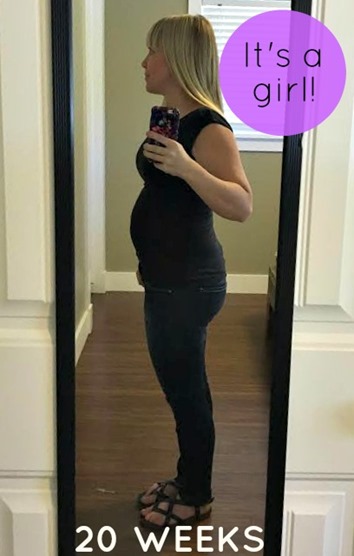 i had my anatomy scan on monday, and everything is great with the baby. healthy brain and heart, growing on track, and we found out it's a girl! so we will have one of each, which makes for a fun adventure in parenting. i am excited to see how having a girl is different from a boy, and i would be lying if i said i wasn't excited for the necessity to buy new things. haha. if it had been a boy, we have all the clothes in the world.. but now i am *forced* to get some girl stuff. darn it.
this pregnancy has been way different from my last. a lot of people told me it was because i was having a girl, and i guess *technically* they were right, but i know many people that have vastly different pregnancies, but end up with the same sex. so, who knows.
as some may recall, it took me a real long time to conceive my first time around. i had lots of tests done, tried for some time, and eventually took clomid in order to conceive, which worked like a charm. (luckily, because one round of that nonsense is all i could take—it made me crazy!)
anyway, fast forward, and this time around i figured it would probably take some time to conceive again. i was also having some unexplained abdominal pain, and my doctor thought it was possibly the way my IUD was laying in my uterus. even though i'd had my IUD for nearly a year, she said things can change over time. after an ultrasound of my IUD, showing that it looked normal, they suggested i just take it out all together. this was in december, and since i was hoping to get pregnant in 2016, i decided that was a good idea.
less than a month later… i was pregnant! ha. it was shocking how quickly it happened. shocking in a good way, of course, but very unexpected! i actually took a pregnancy test just one week before my company trip to mexico, and when i saw it was positive, i was so surprised.
and then, just days before my mexico trip, the CDC released the travel warning about the zika cirus, urging pregnant women not to travel to certain areas, including mexico. yikes! i wasn't sure how serious it was, but i didn't take the warning lightly, so i researched it some more. my doctor told me if i was her daughter, she would advise me not to go (but that she couldn't straight up tell me not to go, ha) and that mexico would always be there. i also visited the travel health department at my local county building and spoke with a professional. she told me that it is very rare for the CDC to tell people to cancel their trip all together, rather than just take precautions, and after a good chat.. i decided it just wasn't worth going. not only the risk, but the paranoia that would swallow me whole during my pregnancy had i been bitten by a mosquito while on the trip. there were actually two of us who were pregnant and planning to go on the trip, and both of us opted out.
so, i didn't go. which also meant i had to announce my pregnancy to my bosses and everyone at work just a week after finding out myself, haha. not something i would typically have done, but that was the circumstance and it turned out just fine. and they actually issued me a travel voucher because of the circumstance and we are using it to take a trip to portland this summer! one of the few places we can go for a few days that is safe from the virus and is not deathly humid in july. (travel tips welcome!)
it's probably good i didn't end up going on the trip, because i started getting nauseated about ten days after finding out… and it only got worse from there. i was mildly nauseated the first time around, but this was way different. i was throwing up daily, sick from morning to night, it was practically debilitating. and that lasted for two months! i was miserable and also probably super miserable to be around, haha. sorry, friends and family.
is this a food and fitness blog? or maybe it once was? how about i tell you about the meals & moves part of my pregnancy, then.
even though i was really sick, i did manage to eat something every morning. i started out eating an egg, cream cheese, and bagel sandwich from einstein's every day… but then i remembered that i love the starbucks bacon & gouda breakfast sandwich, and they have a drive through, score! ha. so i have legit had one of those at least 4 out of 5 work day mornings for the past three months. they never get old.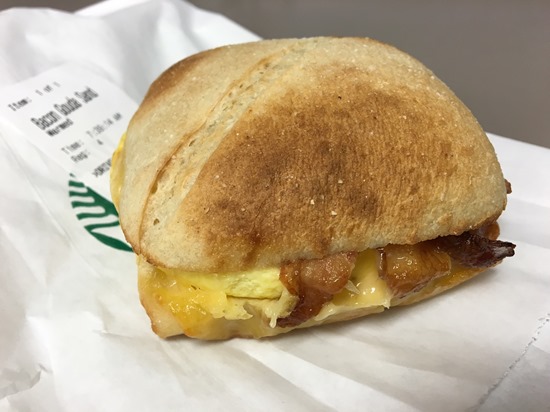 during my first trimester, anything sweet sounded awful, as did coffee. i swapped my coffee for english breakfast tea for quite awhile. but starbuck's tea is so expensive (like $2.50 for a tea bag and hot water) so i would buy my own tea bags, and get a free cup of hot water with my breakfast sandwich.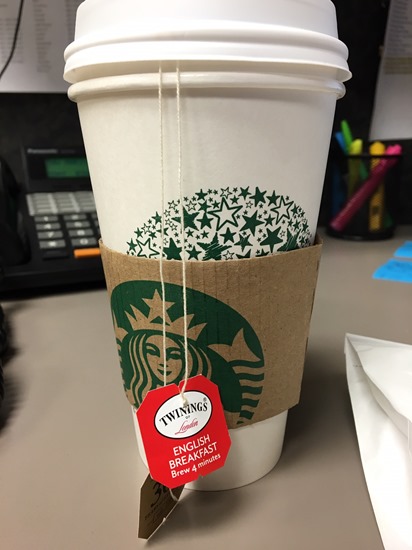 i couldn't do raw veggies, either. i think i survived off of toast, cheese, crackers, salami, and marshall's homemade bolognese over angel hair pasta. it's the best. my last pregnancy, all i wanted was mexican food, and now it's all italian all the time. give me all the pizza, pasta, and garlic bread.
now that i can do sweeter stuff again, i have been craving lots of fruit! i also had my first acai bowl in cali last month, and now i am after finding the perfect one in salt lake city. so far, i haven't found one as good as the one i had in cali.. but i will keep trying!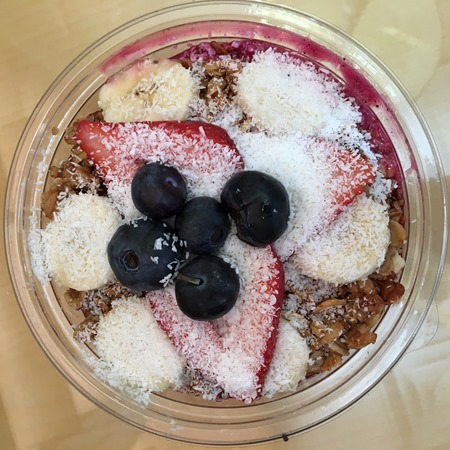 momma b has also been very accommodating, haha, making anything i was craving at the moment! she's the best. (mashed potatoes in the works in this pic.)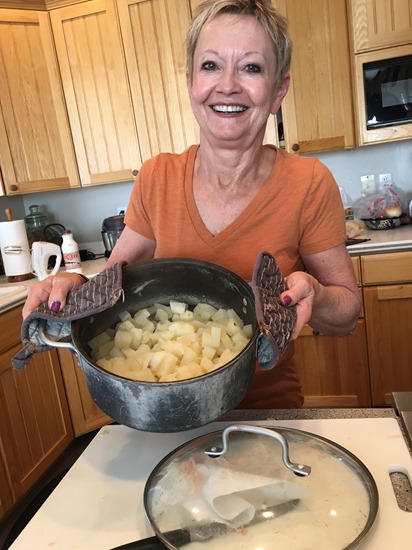 i wasn't really working out prior to getting pregnant, fitness has seriously fallen by the wayside in my life… whoops. but i did manage to exercise 2, maybe 3 times a week. and now? zero, zip, zilch. ha. exercise was totally out of the question during my first trimester, being so sick. but now that i am feeling a little better and the weather is nicer, i do try to take walks with the little guy when i can. we love our new neighborhood and it's perfect for before-dinner or weekend morning strolls.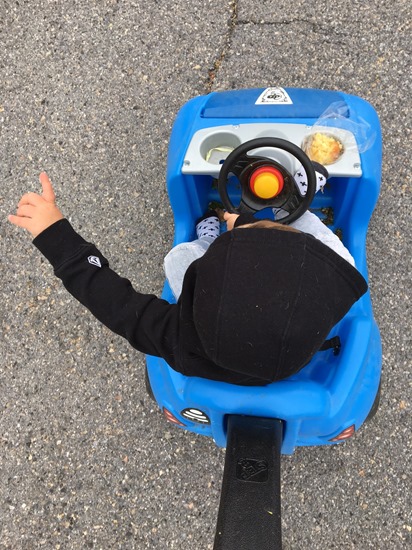 i lost a lot of muscle over the past couple years, what with not really lifting weights anymore, having my first pregnancy, having a baby, having no time.. and so this pregnancy, i actually started out at a lower weight than my first time around. i attribute this all to muscle loss, though, and not fat loss. haha. i was still weird and squishy from pregnancy #1. i gained about 35 pounds with my first one, so it will be interesting to see if this pregnancy is similar or if my body decides to gain more. i am pretty sure i'm on track to gain more, but we will see at my doc appointment next week. my sister had three pregnancies, and started out at a different weight for each one, gaining different amounts each time, but delivered all three babies weighing the same exact number. isn't that crazy?! the body is pretty cool, how it knows what it needs to gain to have a healthy pregnancy.
i expected to start showing sooner, since everyone told me that's how the second pregnancy goes, but i would say i am showing about the same or a little bit less in comparison to my last pregnancy. and i am definitely carrying a lot lower (something people say means you are having a boy, guess that's not true for me, haha.) pregnancy 1 on the left, 2 on the right.. both 16 weeks along.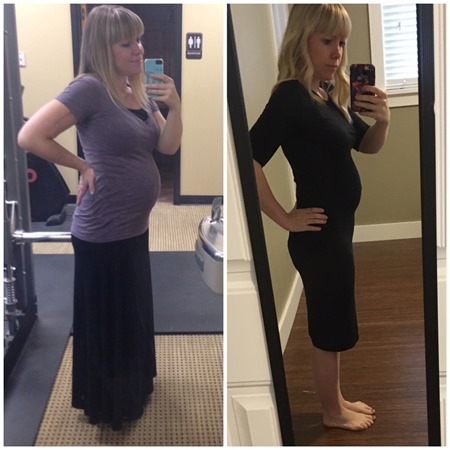 i haven't kept track of anything this time around, i actually forget how far along i am when people ask. i am taking way less progress photos (i think that one up there is the third or fourth i have taken, period, where as before i took one each week and made a production of it, ha.) and i am much busier with a little toddler to keep me occupied when i am not working, so the pregnancy details tend to slip my mind.
but now that we know it is a girl, we can start trying to think of a name (we really have zilch for ideas right now) and getting her room ready. since fox is still in his crib and likely will be for at least another year, we will have to become a two crib family. plus, his pediatrician pointed out that fox probably would throw a fit if we took his bed away from him and gave it to the baby, ha!
i know he will be a great big brother, though. he already gives my belly kisses all the time, and says, "hi, baby!" it's SO cute!
he loves being around the babies that he has been around (my BFF has a 6 month old and he loves her), so i am hoping that is an indication of him handling a new baby fairly well… but it's a whole other story when that baby lives with you, haha. he will be a little over two once the new one is born, so hopefully he understands things a little better and takes it well. in the meantime, i will soak up the moments of him being our only child. he is just so dang sweet.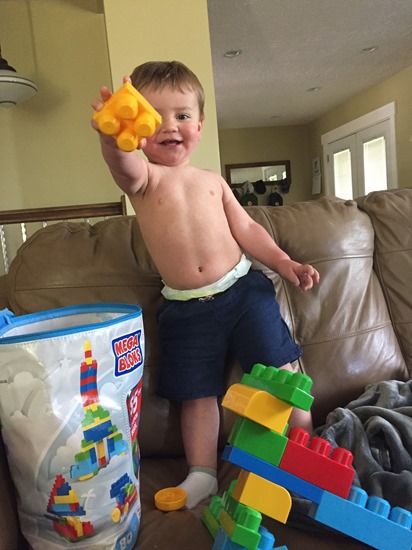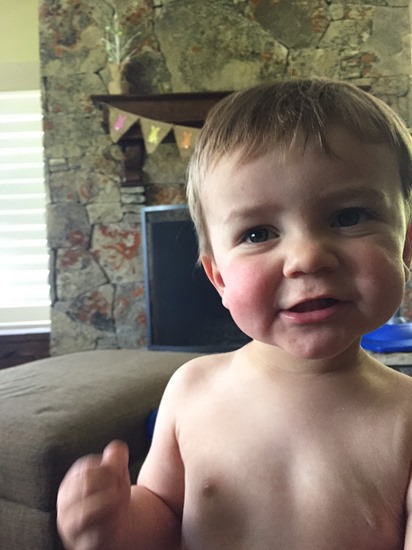 so that's my pregnancy #2 story in a slightly big nutshell. i am happy to be halfway through, and also so grateful to not be super sick anymore. now days i just am exhausted and have horrible heartburn, which are two things i would take over nausea any day!
that explains why this blog has been so, so silent this year so far. i know i had slowed down on posting quite a bit after baby #1, but it has legit been at a standstill since i was so sick in that first trimester. but i am feeling like myself again and wanting to post more frequently.. so here's hoping i can achieve that! i mean, my 7th(!!) blogging anniversary came and went, and i didn't even muster up the energy to post about it! the old me would never let that fly, haha. but here's to making a comeback, right? we shall see.
thanks to all of you who still read this little corner of mine, you guys are the best.
have a WONDERFUL weekend! hooray for that!
xo. janetha g.