hey, guys! already halfway through the month! are you all used to writing (or typing) "2016" yet? not me.. which tends to be a problem in my line of work.. i do a lot of data entry and keep messing up, haha.
as i mentioned, i have some goals i want to implement in this new year. long time readers know i was once very, very goal-oriented. and then that behavior and dedication went right out the window once i had a kid.
it's funny.. i am a totally different person than i was just a couple of years ago. i know there is a time and season for everything, and i guess this is my season to not exercise and to eat a whole bunch of candy.
but i do know that the new me is not doing any favors for my future self. so what should i do? well.. i should do something about it. nothing huge. nothing crazy. i am not trying to set a goal to work out 5 days a week or eat clean 90% of the time. i know i would fail, and why set myself up for failure?
instead, i am making some small goals. some small changes that, in the long run, will add up to more. they will lead to healthier habits and a better way of life. i am hoping by implementing these small changes, i can be a little healthier than i was in 2015. it was a doozy of a year in terms of falling out of being physically fit and eating well. but i am still here, ready to take on a few changes. i wanted to share them with you today! i have also added a #healthyhack along with each goal, giving a simple way to achieve each one.
1. move more.
i definitely move more than i did pre-toddler. but aside from chasing fox around, i am pretty sedentary. that's what a full-time desk job will do to you. i purchased a jawbone up2 with some of my christmas money, and i am excited to see how many steps i can get in throughout the day. every step counts!
#healthyhack: set a timer on my jawbone to move every 30 minutes. it's a super cool feature, and it will vibrate to the interval you set it to! if you don't have a device, you can set an alarm on your phone.
2. do a formal workout at least twice a week.
going from 5-6 workouts a week to zero was probably the worst thing i did for my physical fitness. i didn't make exercise a priority, and my cardiovascular health has really suffered. while i don't have an issue with my weight or how much i can lift, it really does bother me that i get so winded so quickly. i plan to do two formal workouts each week. i like HIIT-style workouts, because they are fast an effective. i have equipment here at home, and i also have access to my mom's gym and i have a gym membership, so i really have no reason to not do two formal workouts a week. wish me luck!
#healthyhack: put the workout on my calendar, as an appointment. i don't miss appointments for work, or other things on there like the dentist or doctor, so setting an appointment to actually do the workout will keep me on track.
3. drink water.
i was the gallon-a-day queen for years. now some days go by where it is dinnertime and i realize all i've had to drink all day is my morning coffee, and sometimes a dr. pepper. hydration is crucial to health, and i really need to step it up in the water drinking department. hold me to it.
#healthyhack: become the water bottle warrior! put a bottle of water in all places i might be.. the car, at my desk, by my bedside, in the living room.. as long as it is in plain sight and readily available, why not drink it?
4. incorporate vegetables into my diet.
as with the previous two points, there are days that go by where i don't eat a single vegetable. i eat lots of eggs, bread, mac n cheese, cheese, deli meats.. but veggies typically consist of the lettuce on my sandwich. ha. i have never really been a veggie lover, and eating veggies has definitely always been hard for me. now that i don't focus on clean eating, vegetable consumption has plummeted drastically. so i want to try to eat more.. at least a couple servings a day!
#healthyhack: prep veggies on sunday, right after grocery shopping. chopping them up and bagging them into individual portions for easy, on the go access will help with actually consuming them!
5. reduce sugar consumption.
typical busy mom, full time worker trap=eat lots of sugar to stay energized. not a great idea. i drink soda, eat candy, cookies, donuts.. and that's gotta stop. well, not stop, just slow down. i need to be more mindful of my sugar consumption and cut back.
#healthyhack: have alternatives to the sugary treat. fresh fruit, jerky, or other snack items that are a healthier choice are great to have on hand.
as you can see, the five small changes above are all very do-able. nothing is over the top or impossible. i feel like having realistic goals is a surefire way to improve my health and fitness.
as a part of #4, i fixed a nutritious and veggie-filled dish for dinner last night. as you may know, i am a dreamfields pasta ambassador.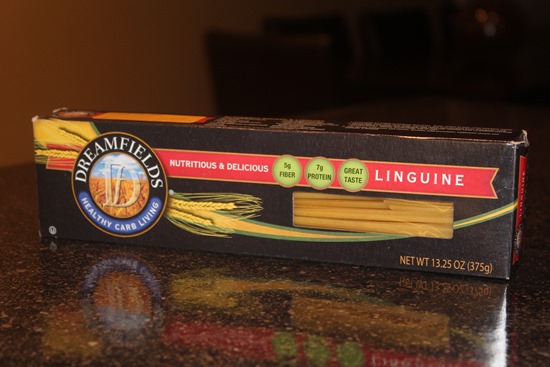 dreamfields is encouraging us to be a little healthier in 2016, by using #healthyhacks along the way. i already am making a healthier choice by using dreamfields pasta, which is a great option for any pasta lover. their pasta has 5 grams of fiber and 7 grams of protein per serving. the prebiotic fiber aids in healthy digestion, and you would never know it wasn't the same as traditional pasta. it tastes the same and has the same texture. that's not typical of "healthier" pasta choices. plus, it's fox and marshall approved.
i amped up the veggies in this recipe, in hopes to incorporate veggies into my diet. notice i didn't say "more" veggies. i just said veggies. because, yes, there are days more often than not that i don't eat a single, solitary vegetable. i know, it's stupid, but it's true. so i am working on that!
here is the recipe i created last night. it is quick and simple, and the whole family loved it. i hope you try it and love it, too!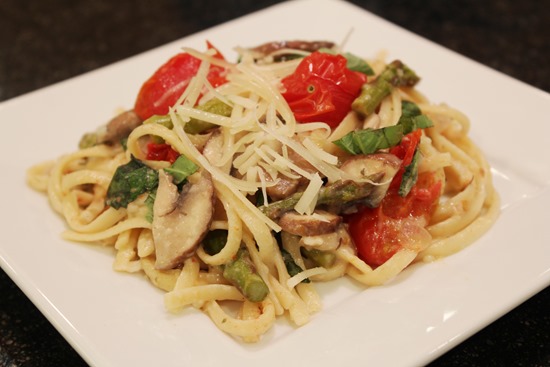 roasted tomato, mushroom & asparagus linguine 
prep time: 10 minutes, cook time: 30 minutes
serves 6

ingredients:
1 package dreamfields linguine
8 oz grape tomatoes
1 TB olive oil
2 cloves garlic, minced
2 small shallots, peeled and diced
1 lb asparagus, chopped into 1" pieces
8 oz crimini mushrooms, sliced
3/4 cup milk
1/2 cup white wine
2 tb flour
1/4-1/2 tsp salt (to taste)
1/4-1/2 tsp black pepper (to taste)
1/4 cup fresh basil, chopped
3/4 cup freshly grated parmesan cheese, divided
directions:
cook pasta according to package directions. set aside in large bowl.
preheat oven to 400 degrees F. spray a rimmed baking sheet or with cooking spray, arrange tomatoes on sheet in a single layer, and roast for 25-30 minutes or until tomatoes are soft and begin to shrivel.
meanwhile, heat olive oil in skillet over medium heat. add garlic and shallots, and saute until translucent, about five minutes.
add asparagus and saute 5 minutes, until softened.
add mushrooms and saute 5 more minutes, until softened. remove from heat and set aside.
heat milk in a saucepan over medium heat. once it begins to simmer, whisk in flour, continually stirring until it thickens. whisk in wine, salt, pepper, and 1/2 cup parmesan cheese. (start with just 1/4 tsp of each salt and pepper, and add more at the end as needed.)
combine pasta, tomatoes, veggies, fresh basil, and sauce in a large saucepan.  toss until everything is coated. top with the remaining parmesan cheese. add salt & pepper, as needed.
enjoy!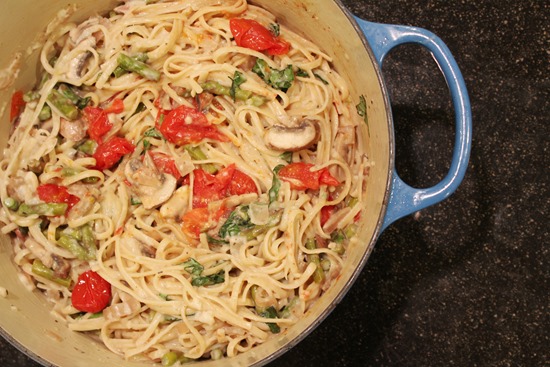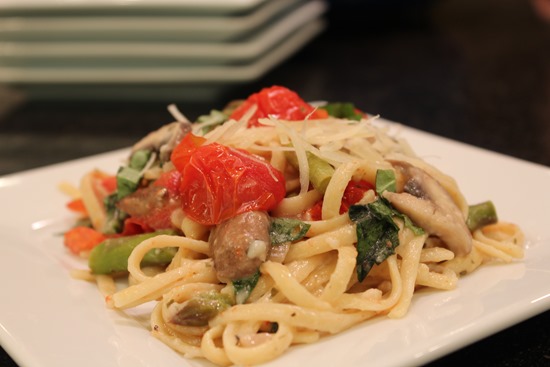 nutrition information (1/6 of recipe): 350 calories; 16 g protein; 59 g carbs; 7 g total fat; 2 g saturated fat; 10 mg cholesterol; 300 mg sodium; 8 g total dietary fiber. not too shabby!
i love using shallots instead of onions in dishes like this. they are a bit more mild and sweet, and pair really well with the sweetness of the roasted tomatoes.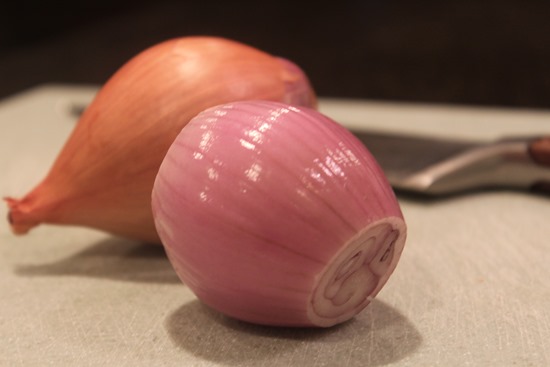 speaking of roasted tomatoes.. aren't they the BEST? fox was eating them up like candy! they are so, so good.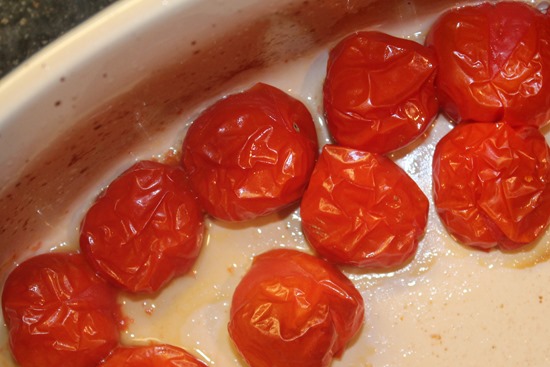 we served the pasta alongside a grilled chicken breast for added protein. it was delicious!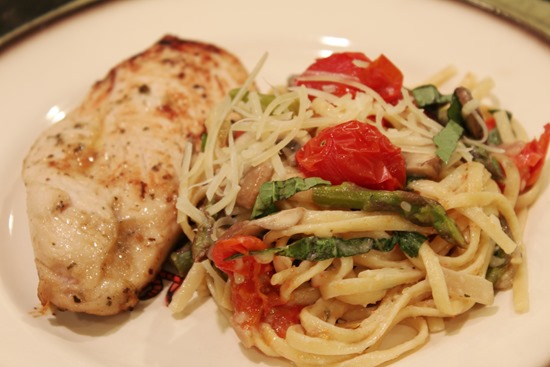 if you would like a chance to win some delicious & nutritious dreamfields pasta to try this recipe for yourself, and to implement some #healthyhacks into your new year, just enter the giveaway below! one reader will win a dreamfields pasta prize pack.
i would love to hear what changes (big or small!) you plan to make in 2016. and i wish you (and myself) luck with those changes!
Qs~
1. what's your favorite recipe that is veggie-filled? <—this is more for me than for you, i would love some ideas! especially ideas on how to get fox to eat them with me!
2. are you a resolution-setter? what are your resolutions for the new year?
3. what is a #healthyhack you are going to implement in 2016?
xo. janetha g.