it's been quite awhile since i just posted a good, old fashioned survey! yesterday i was hanging out with candice, and we were talking about how we miss the old days of blogging. when people just posted casually about their day, crappy photos were a-ok, and it was more of just a hang out type of fun thing. now it seems all super professional and you have to have a perfectly polished post prior to publishing. (yes, i still have that alliteration obsession, strong.)
anyway.. i like the casual blogging style.. and this survey fits just that! blogging is a hobby for me, not a job or a chore, so i choose to keep it casual. :)
i've done these currently surveys in the past. they are fun because they change every time you do them. no clue who originally came up with it, but good on whoever did!
Current books:
so, i used to never read books! whenever i filled out this survey my answer was like.. um.. nothing. BUT, since i moved into my new neighborhood, i joined a book club! last month we read the rosie project which i loved—i read it in three days.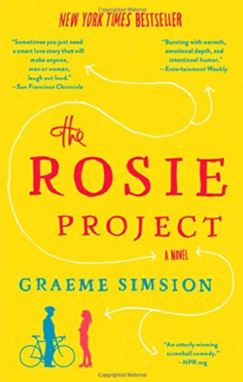 this month we are reading the light between oceans, which i got ridiculously engrossed in.
it was slow going at first, but after the first few chapters, i couldn't put it down! i stayed up until midnight last night, and then picked it right back up after work today (fox decided to take a 2 hour nap, i think because he wanted me to read my book.. not because he wanted me to fold laundry), and then i had to finish the last bit during tubby time, haha! i could. not. stop. reading.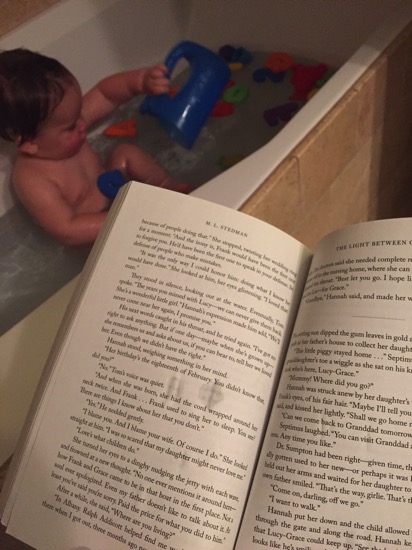 i am loving being a part of book club. all the gals are super awesome and it has given me a chance to get to know my new neighbors. we eat food and chat about the book and everything else all the way until midnight. i am so happy!
Current music:
well, right this very second i have itunes on shuffle and "beating heart baby" by head automatica is on.. blast from the past.
but my current CD in my car is a new one that marsh got me for christmas, the asteroids galaxy tour, and it's way good!
Current guilty pleasure:
hmmm these are always hard for me to come up with. maybe wearing beanies instead of washing my hair every other day like i usually do? i just got this cute obey one and i dig it.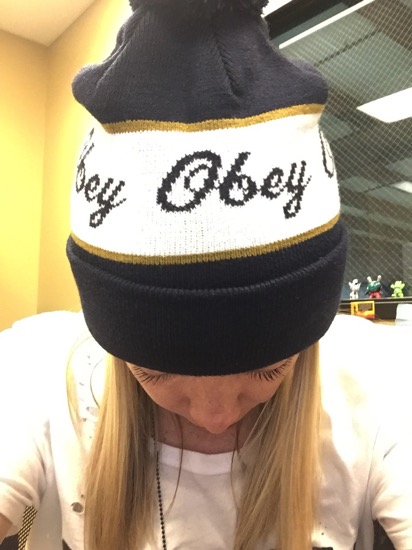 oh, just thought of another. laughing at this snap my nanny sent today, when fox got a sucker stuck to him and threw a fit about it. i can't help but laugh when he throws his little fits, they're actually pretty cute.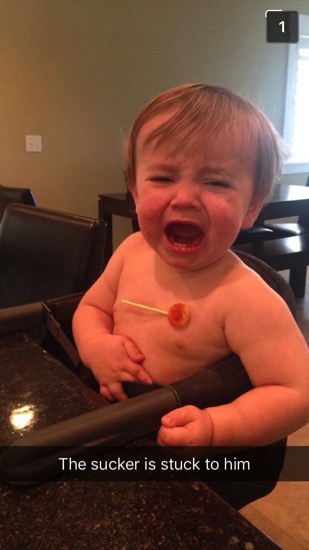 Current nail color:
nada. my toes are always painted, but my nails are never. regular polish chips too quick, and shellac makes my nails super weak.. so bare nails it is. i will spare you a photo.
Current drink:
i have been diligently drinking more water this week! but i have also been drinking coffee, hot chocolate, and theraflu.. the latter because i have a cold right now.
Current food:
i rediscovered my love for trader joe's coconut strips, so i've been eating those quite often..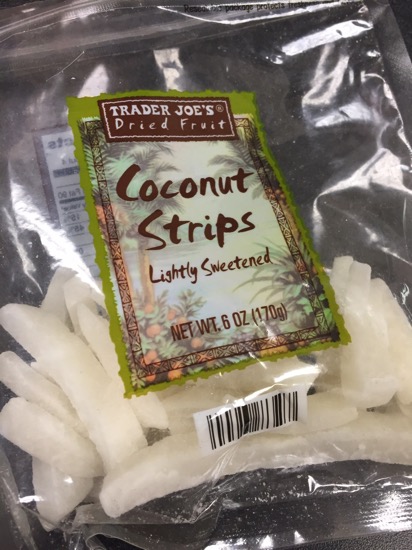 and i also rediscovered my love for peanut butter m&m's and we have.. well, had.. a big dish of them in my kitchen. they're almost gone and i am sad.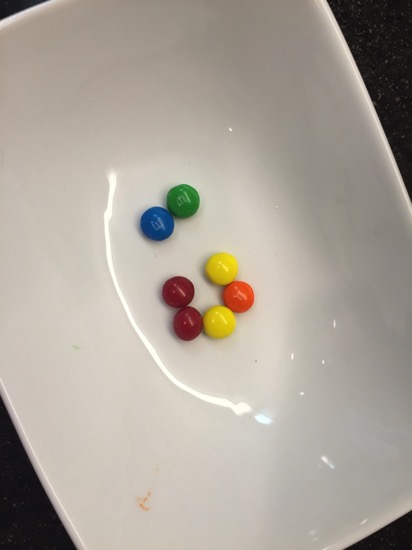 and dinner tonight was hello fresh! marshall made the swedish meatballs and we all loved 'em.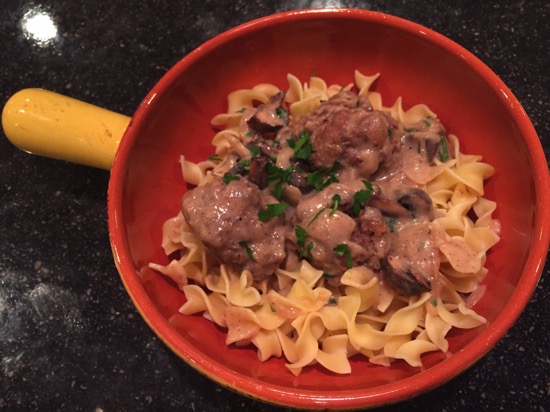 for $40 off your first box, use the code 246NM9! you won't be sorry.
Current favorite show:
i went ahead and binge watched making a murderer on netflix with the rest of the nation, and fell down the internet rabbit hole reading articles after finishing it. i want to know what really, truly happened! gah!
and now i don't have any shows.. i am excited for game of thrones to come back, and also for the walking dead to start back up next month.
Current wish list:
a Z pack! that's an antibiotic, in case you didn't know. i am sick and it's like pulling teeth to get one of those, so i am not even going to go to the doctor to try. last time, it was just a waste of a copay.
i also want these jeans from gap, but i refuse to pay full price, and their sales always exclude jeans. so i am waiting for a no exclusions coupon code, ha.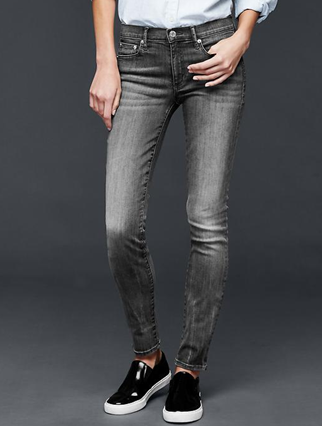 Current needs:
more sleep. between staying up all hours to read (my own fault) and waking up at 4:30 AM to a screaming tiny human, all while sick, i am beat. haha this morning, fox was wailing, so i went in to see what the deal was. i was feeling around on the floor around his crib for his binky, and he just picked up his pizza shaped pillow and threw it at me! little stinker. the pillow is cute when it's not being hucked at me, haha. pic from a previous night..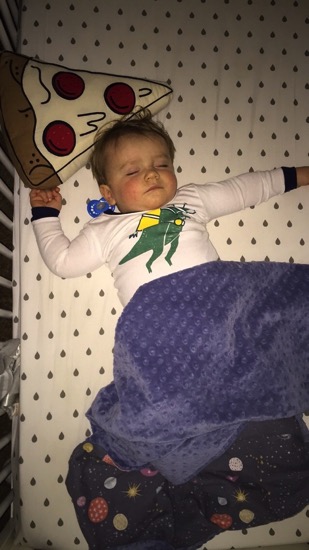 so i took him back to my bed and tried to get him to go back to sleep. after about an hour and a half he did doze off, except that was ten minutes before i had to get up for work. go figure.
Current triumphs:
well, i was pretty proud that i worked out on new year's day. and then i got sick. haha. so i guess i am just pretty stoked that i've made it to work every day this week! go, me!
Current bane of my existence:
i never thought i would say this, but the cold and snow is killin' me! i just want to play outside with fox. long gone are the days when i prayed for snow and snowboarded like it was my job. but.. yeah.. i am ready for spring.
Current celebrity crush:
can't say i have one. i really don't follow celebs. but i will say amy schumer is pretty awesome. particularly this article.
Current indulgence:
at my new house, i FINALLY have a bathtub! i am so jazzed. i got some lush bath bombs and now i see what all the rage is. it's been a decade since i had a decent bathtub in my house, so i think baths are going to have to be indulged in very often.
Current blessing:
this little man! growing and learning every day, i just love him! i am really loving this age, it's super fun.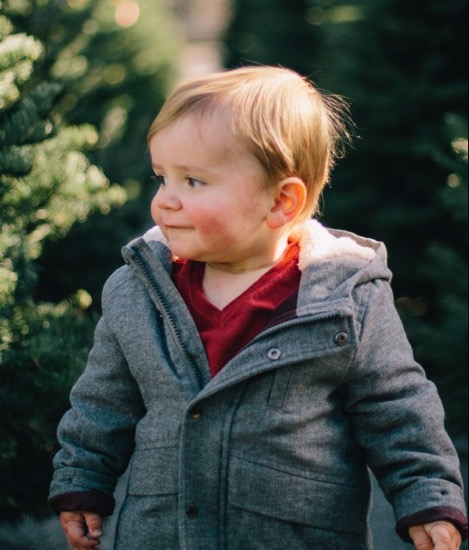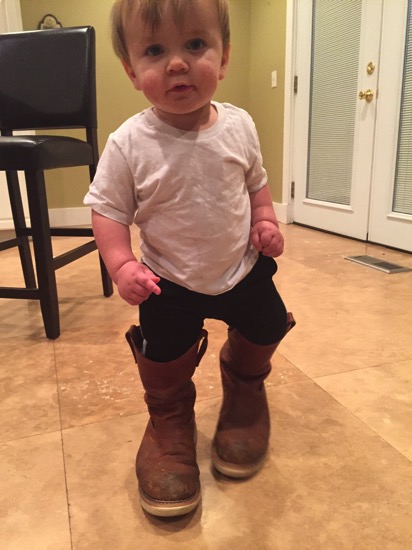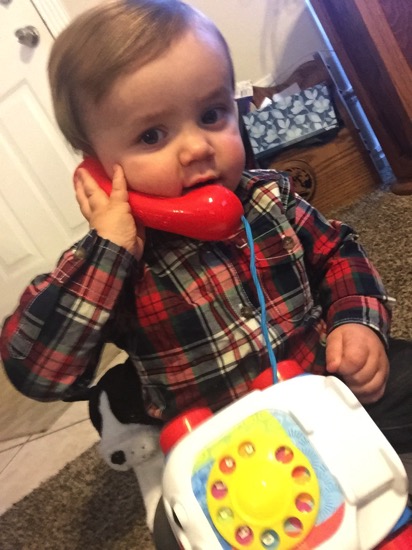 Current slang:
well this isn't really slang, but it's a way of communication. i am currently obsessed with bitmoji. how i did not know about it before is beyond me. but it's a keyboard feature on your phone where you create a little dude that looks like you.. and then you can send texts with said little dude. i am having wayyy too much fun with it, haha! and my friends and marshall and my mom are all on board, so it's fun to send them back and forth.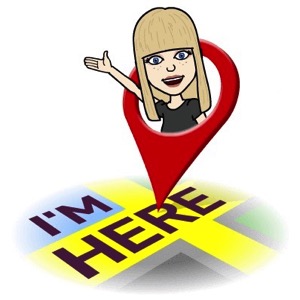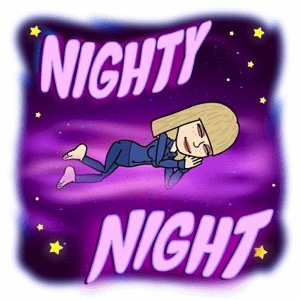 because i know you want to see.. here is marshall's:
and momma b's: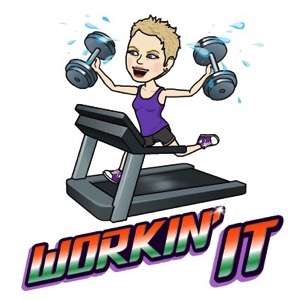 haha. love it.
Current excitement:
i have a tropical vacation on the horizon. i am pretty excited to escape the cold and catch some ZZZs. i will no doubt miss my little boy, but i am still excited to go.
Current mood:
sick of being sick. it makes me lazier than usual, and i feel like my head is in a bubble. geez, all this sick talk makes me sound like a whiny baby. sorry 'bout that.
Current link:
this one.. our farewell to blend retreat. after deliberating a whole lot about doing a 2016 retreat (we even looked into several venues and had unsigned contracts in place), we decided it just didn't feel right. as i said at the beginning of this post, the blog world has changed. sponsors are putting their marketing dollars in social media and other avenues. bloggers are more interested in sponsored trips than trips to just hang with blog buddies. and lindsay, lauren, and i have all changed quite a bit, too. as has our original partner in crime, katie. (between all of us, four new tiny humans have been born since blend began!) we love blogging, but the time blend takes—between planning and executing—is something we just can't justify any longer. we had a GREAT run, i am so grateful for the event and how it has changed my life. i loved it, and i love the people i have created strong bonds with from it. so thank you, sponsors and attendees and family and friends who helped with making the event so awesome.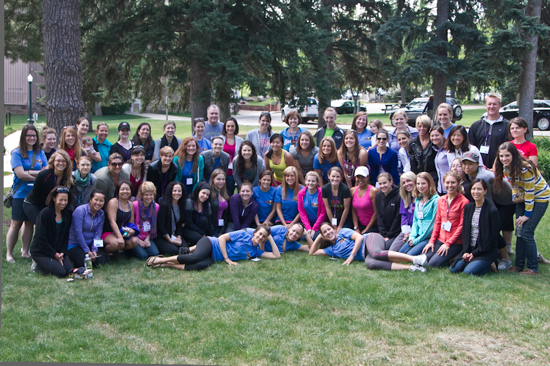 2012

2013

2014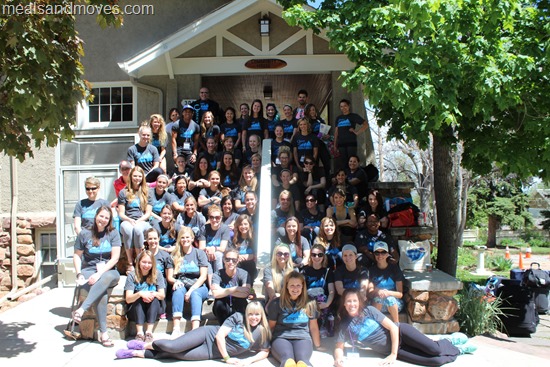 2015
whelp.. time to call it a night! i hope you have a lovely friday tomorrow. yay, the weekend is upon us!
Qs~
1. read any good books lately?
2. what's on your current wish list?
xo. janetha g.