hey, guys! you know what i love? that it feels like sunday night, but it is only friday, and there are still two more days before i have to go back to work. hooray!
so, happy 2016 to you all! i wanted to share my workout here, because.. well.. i not only worked out, but i made up a workout. turns out, i still can do that whole exercise thing if i want to! i actually just opened up my laptop and marshall was like… "ARE YOU BLOGGIN?" like he had just seen a pig fly through the living room. so, yeah, i guess it's out of the norm for me to not only work out, but actually blog about it. ha!
so i decided i want to work out twice a week from now on. i am setting the bar low, since right now i work out zero times a week. i'll start with twice a week and go from there. so i dusted off my lulu and threw on my pizza socks, ready for action.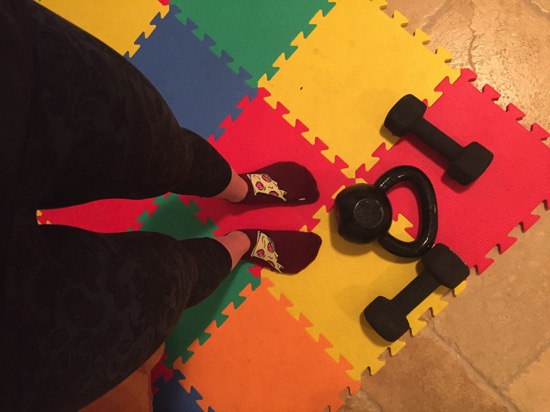 initially, i was going to do five different moves, 20 reps each, for five rounds.. and i started going, making it up as i went. but once i got to the fifth move, i was doing math in my head (i do that too often—i count my steps and find patterns in phone numbers and all sorts of weird things with numbers) and i decided i wanted to do 2016 reps for 2016! so i ramped it up to ten moves and started out with 20 reps each round, but then played with the partitioning a bit (30 reps some rounds, 40 reps some rounds) and ended up with a total off 200 reps for each move x 10 moves = 2000 reps. then i finished it with 16 burpees.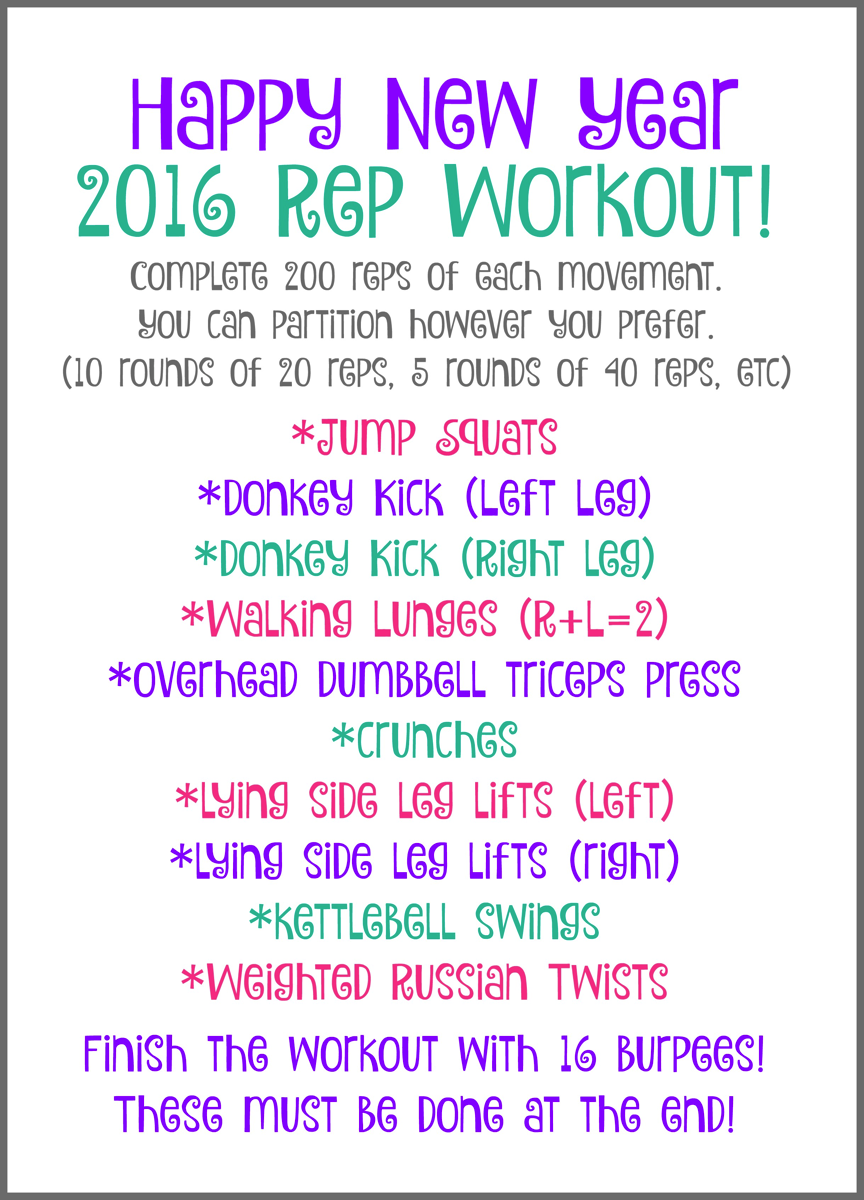 it took about 50 minutes, all while marshall and fox were taking a nap. i didn't have a rhyme or reason to the moves, but i did want to focus on my glutes since they seem to be what have suffered the most since i went into exercise retirement. ha. so there was a lot of glute work and a little triceps action and some core. it turned out to be a great workout and i am already kind of sore. not sure if that is surprising or not. usually a bodyweight-focused workout would never get me sore, but then again, i am out of practice.. so it makes sense. 
anyway! the rest of today was spent with a good mix of laziness and productivity. rewind to last night, we went to a mad men theme party for NYE. i've never watched mad men, so i had to google '60s attire, but i think we ended up pulling it off??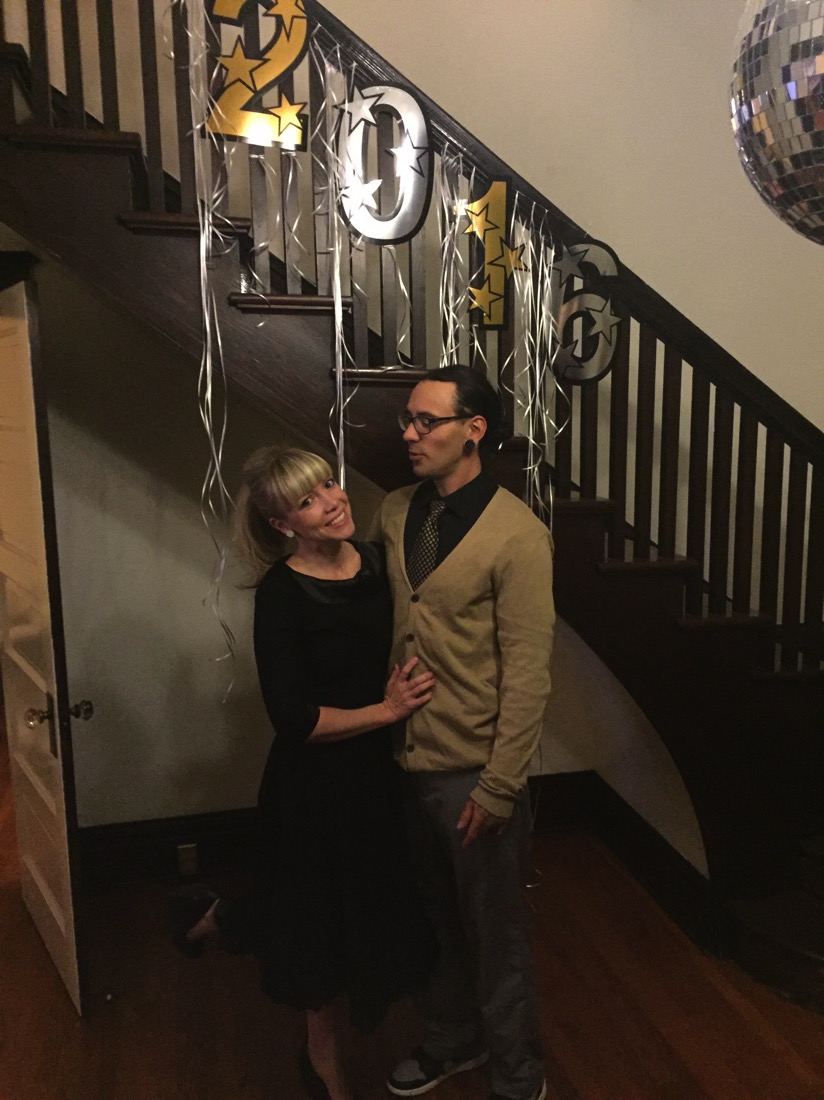 i got my dress from amazon, thanks to free 2-day shipping with prime since this was a last minute party theme! marshall found the cardigan at a consignment store, the retro nikes at my friend corey's shop, fice, and had the rest of his getup in his closet. i had some volume thingamajig to boost my hair up, haha.
amanda got her dress from a consignment shop as well, she totally pulled off the '60s look!
we took fox to the party and put him down before things got started.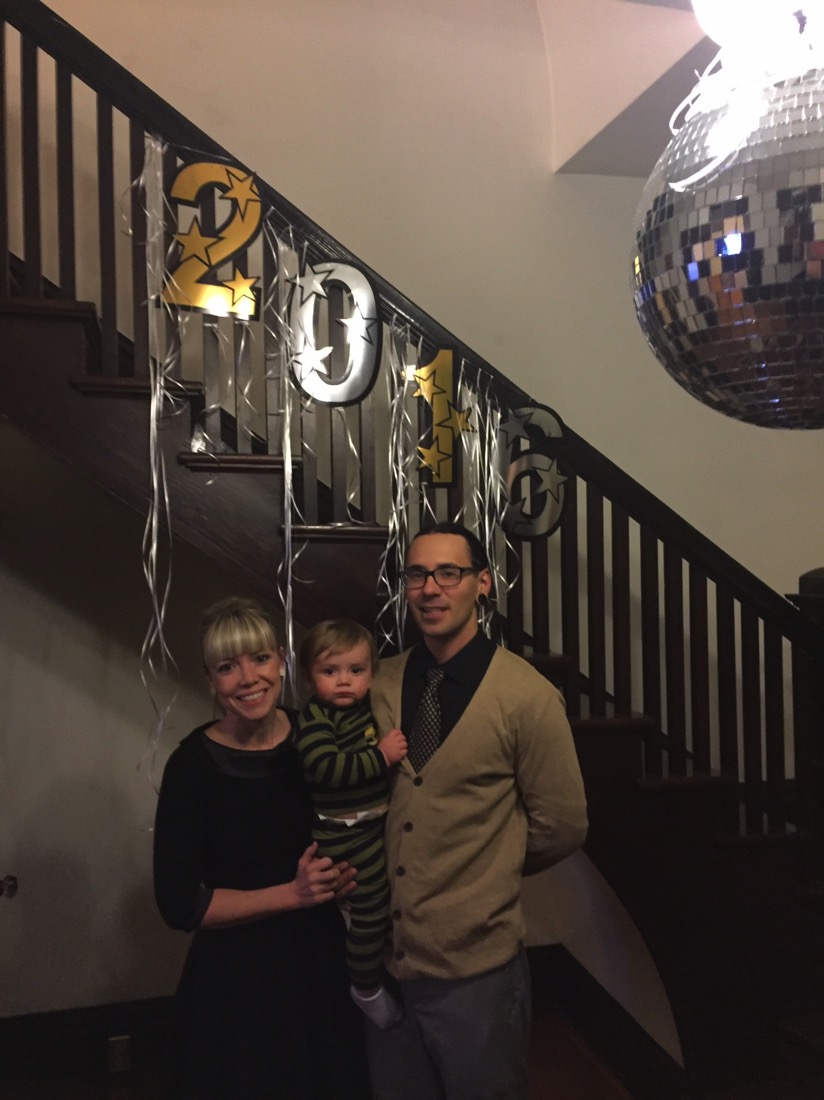 but marshall ended up going upstairs to cuddle (aka nap) with him for awhile, and i woke him up just before midnight.. haha.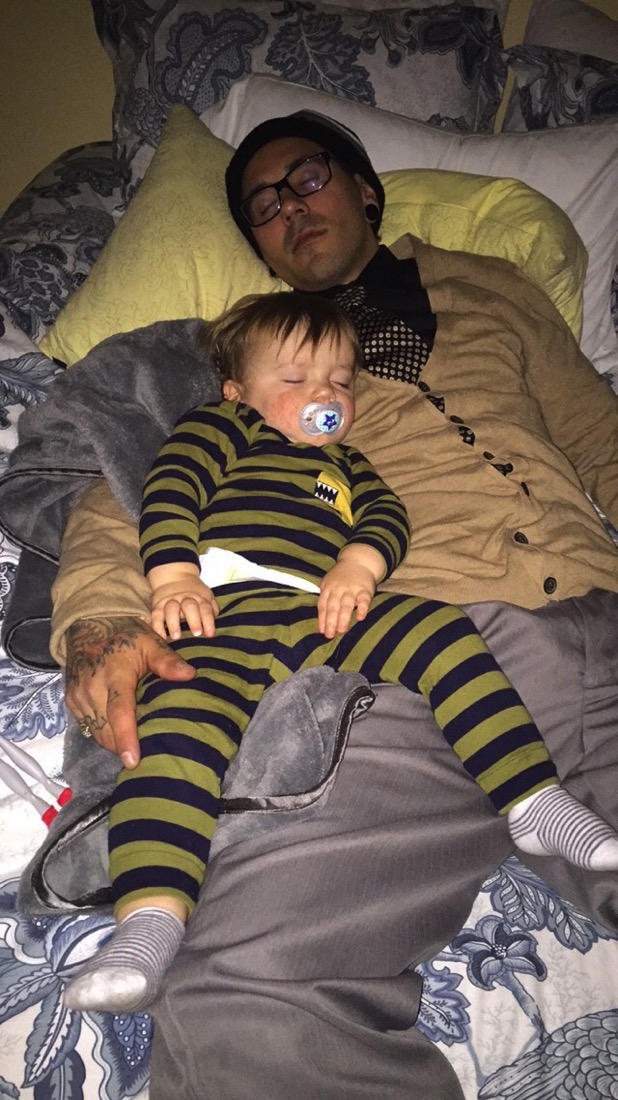 we got home a little after 1, and i was beat. since fox wakes up at 5 or 6 each day, staying up that late was brutal. luckily marshall took charge this morning and i was able to sleep in until 9 or so. a couple hours later, he made the tastiest brunch!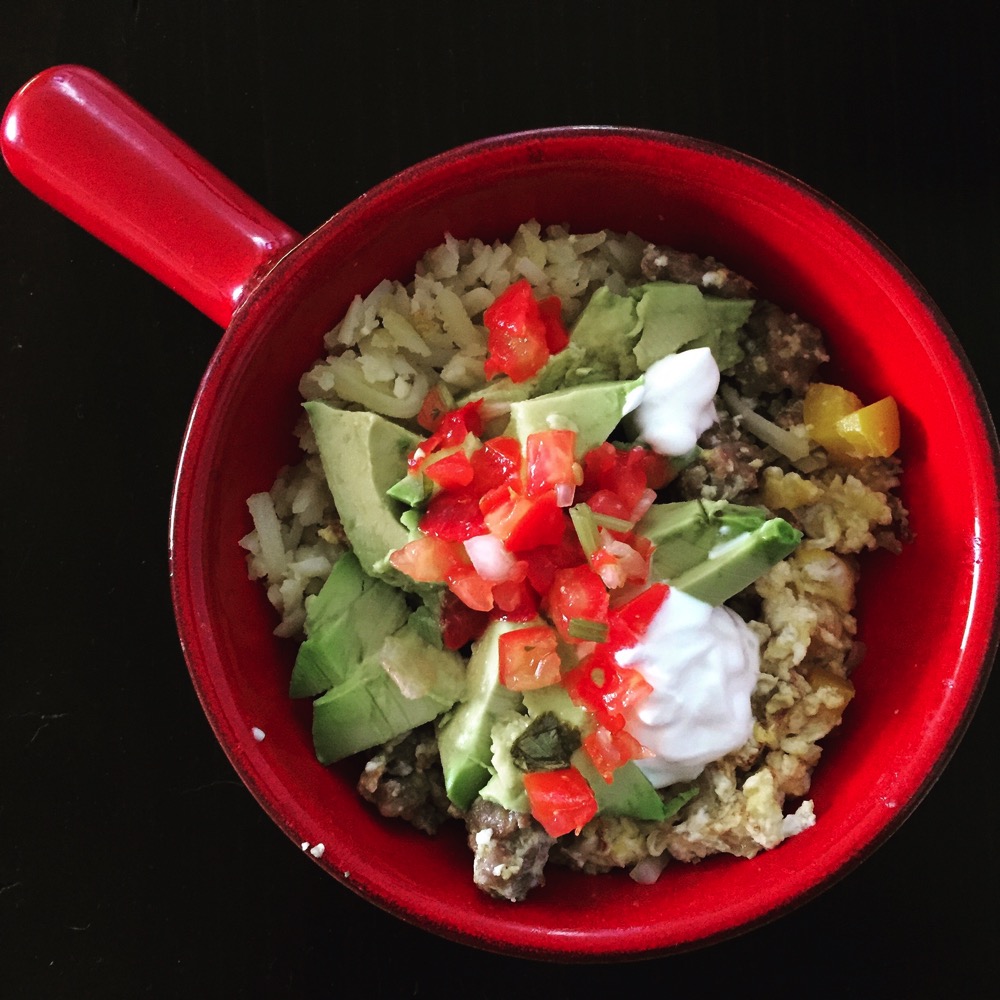 this had hash browns, sausage, eggs, scallions, avocado, pico, and sour cream. so good!
we seriously just lounged around for a good four hours today, goofing around with fox and watching football (well, marshall did.)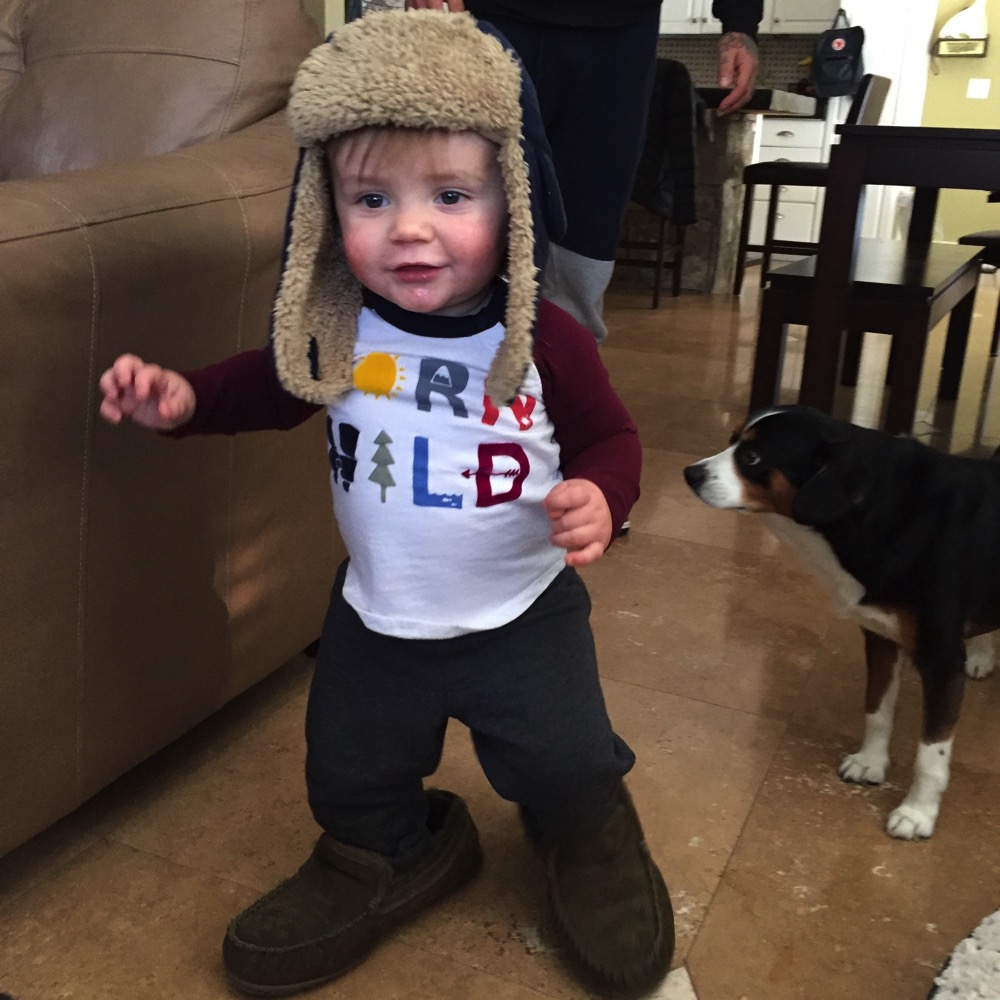 i contemplated working out all day long. i finally did that workout a little after 4. and then i guess that kicked me into gear, because i wasn't in lazy mode anymore and i got super productive!
we cleaned the house top to bottom, folded all the laundry, and did some organizing. i'm glad we went to the effort, it's always nice to get housework done at the beginning of the weekend so it can be spent on other things. 
for dinner i made a hello fresh meal and of course forgot to snap a photo.. but here's the stock image.
Steak au Poivre with Cheesy Hasselback Potatoes, Creamed Kale, and Shallot-Peppercorn Sauce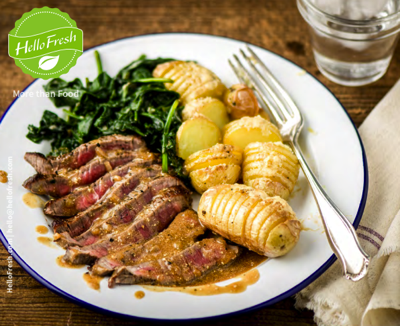 i had never tried creamed kale before, i have to say it was delicious! and so easy to make. we are still loving our hello fresh subscription. it cuts down on grocery shopping, gives us variety in our dinners, makes me eat a vegetable or two, and is always super tasty. as always, for $40 off your first box, you can use the code 246NM9.
after dinner, i went to target to get some eczema cream for fox. poor dude has it way bad all over his cheeks, arms, and legs! he's never had it before, but has broken out super bad the past few days. any tips?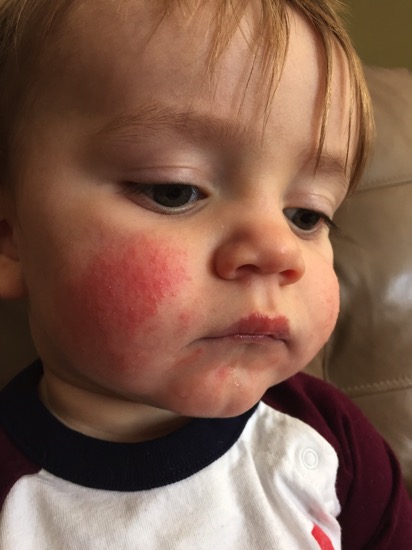 poor little dude. i hope it clears up soon.
and now.. i'm blogging.. and looking forward to the weekend!
i still haven't blogged about christmas.. that'll be my next post, because i like to document holidays before i forget them completely! 
i also plan to share some goals i have for 2016. i am not huge on resolutions like i once was. i am more of a fly-by-the-seat-of-my-pants kind of person now days. i don't plan many things and i don't really set goals anymore. i just live day by day and hope things turn out for the best, ha. so far, so good. but i do know i need more structure in my life, so i will make a few small goals for the year and share them with you soon. 
i hope you all had a great holiday season! chat soon.
Qs~
1. what was one of the highlights from your holidays?
2. what was your first meal of 2016? 
xo. janetha g.