do you guys use the timehop app? it shows you what happened on this day in time on various platforms, like facebook, twitter, instagram, and your camera roll. every morning, i get real excited to look at my timehop. why? well, because a year ago, i had a tiny, squishy three-month-old and i took about 183 photos/videos of him daily. if that's not something to look forward to looking at, then i don't know what is.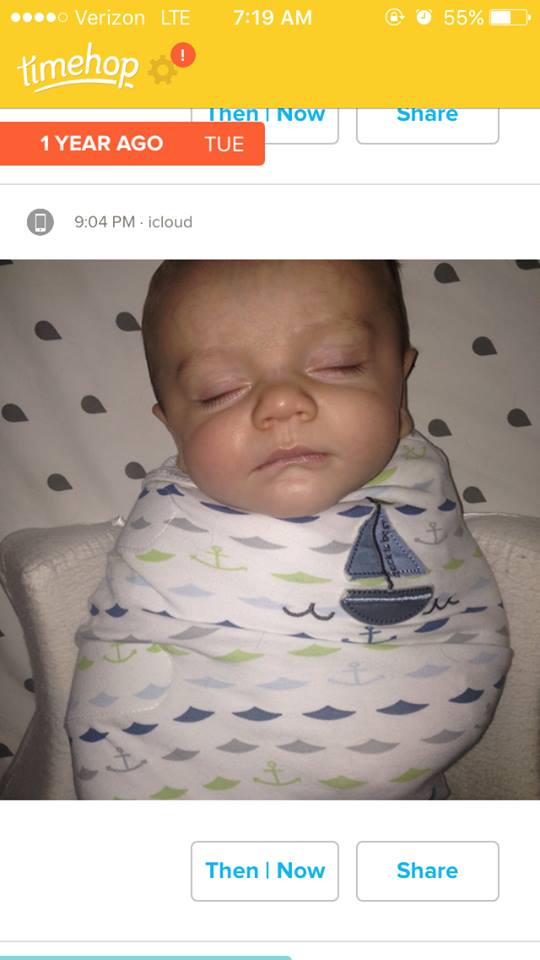 but when i scroll a little further.. past the 183 photos and videos of fox from a year ago.. i see the pre-child janetha posts. the posts from 2 or 3 or 4 years ago, where i went to GPP or gold's gym five (sometimes even six!) days a week. the cook-almost-every-meal and eat-80%-clean janetha. it's kind of like i don't even know who that is, even though it was me!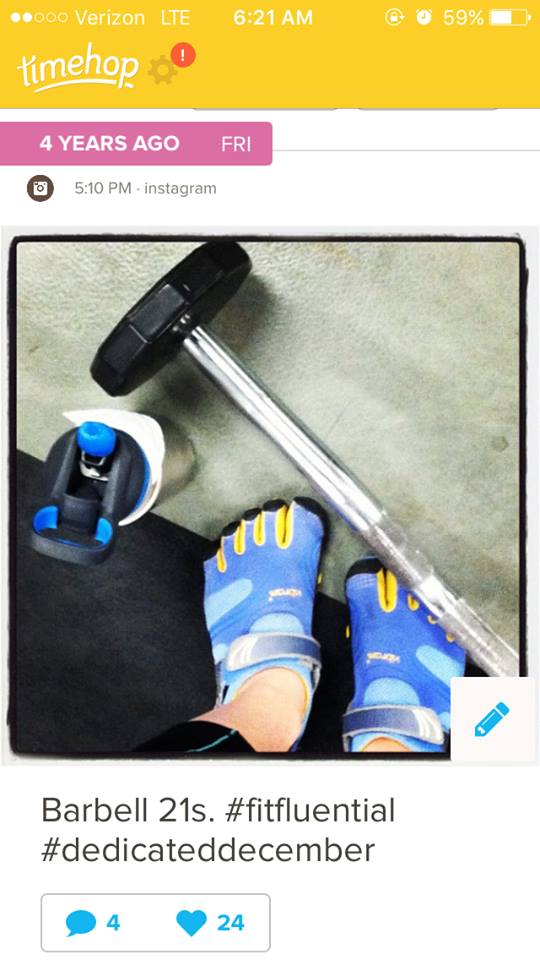 what i'm getting at is.. times, they have changed. i can count on my fingers how many times i have worked out this year, and it's december! before i got pregnant, i honestly never thought i would end up reverting back to my old ways (not working out, eating out all the time, not caring much about fitness or nutrition.) but, here i am! not caring! haha.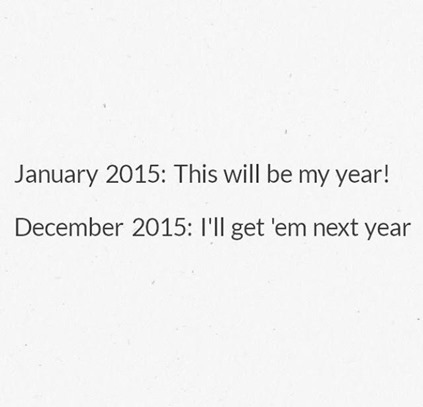 now that i have powered through the newborn stage and infant stage, and now have a busy one year old, i seriously do. not. get. how you gals with kid(s) hack a regular gym schedule and meal making each week. it's beyond me. you people must have super powers. or you have better time management. or working out must take priority over watching all the new episodes of fargo, the walking dead, and the leftovers. hahaa.. kidding. sorta.
anyway! my ways have changed over the past two years. a whole lot. actually, almost two years to the day! i found out i was pregnant about two years ago, and my ways have never been the same since. i threw in the towel once i got pregnant, and had great intentions of picking back up where i left off once i had fox, but that never happened. so here i am.. looking for a new way to live a healthy life and find my fitness that i lost along the way. side note: i'm not talking about weight. i'm talking about fitness.. you can lose all the baby weight you want, but that won't make you fit.
i tried the gym.. i hate mornings. after work i wanted to see fox. and after his bedtime i didn't want to move a muscle. yes, they are excuses, but they are good enough ones to keep me out of the gym, i guess. i tried an 8 week bootcamp, even paid money for it, but life got in the way (i moved, i went on vacation), and i couldn't manage to stick to a schedule. i think i managed to complete about 17% of the workouts… oops.
last week, i went to the gym with my sister in law. she was in town for a very short trip (funeral) and the only possible time to see her and spend some time with her was if i went to her old gym at 6 am. shoot me.. but i went. it was a GPP-style workout-of-the-day type of gym, and so i went right ahead and powered through the workout. the strength segments were challenging, but i could manage. muscle memory is a beautiful thing, folks. the cardio aspects, however, were a freaking joke! guys, cardiovascular endurance must be the first thing to go. because while i can whip out plenty of biceps curls and barbell squats, any type of cardio throws me through a loop! i was winded after a mere 30 jumps of the rope.
it wasn't a surprise. i knew my cardio was shot long ago. but when i actually put my fitness to the test and realized how much i struggled, i decided i need to do something about it. no, i can't commit to 5-days-a-week workouts. and the idea of sticking to a rigid schedule is enough to make me throw my hands in the air and say forget it.
but i CAN do SOMETHING.
and, you know what? something is better than nothing.
enter: grokker.
grokker is an online database of over 1500 videos for fitness, yoga, cooking, and more. whether you have a whole hour to devote to your fitness or only minutes, grokker has something right for YOU, right NOW.
because i have been really short on time and energy lately, i started with the 7 minute HIIT video. seven minutes? no equipment? do it from where ever, when ever? i can do that. i dare say anyone can do that.
so i've been doing this seven minute total body HIIT workout.. here it is:
i feel like it is a challenging routine, as you can see, but since it takes less than ten minutes from my day… it's totally doable. i can bust out some high intensity movement for seven minutes. i can, and i will. and fox can play in the background.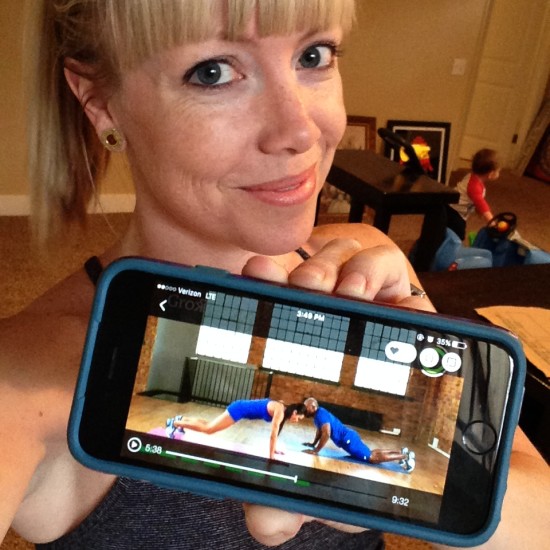 and when i have more time, or more energy.. i can pick another video that looks appealing. and i can complete it when my schedule allows. it's usually hard for me to come up with great strength workouts at home, but there is such a huge database on grokker.. all the info i need is literally at my fingertips. they add new content and videos each week, so i can always find something fresh and new. i love variety.
i do have quite a bit of equipment that i can utilize at home. and my new house has a nice laundry room/playroom/workout room in the basement.. so i should really take advantage of it and find some videos to put these weights to use.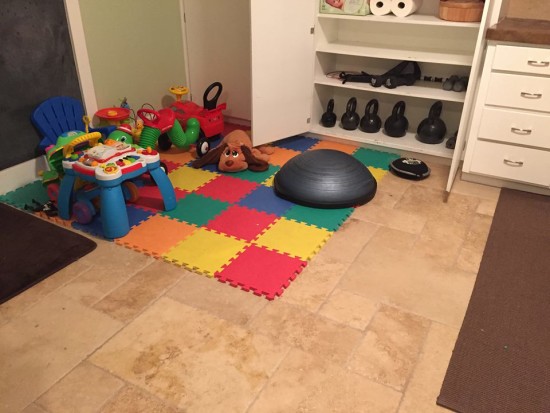 grokker is great because it caters to anyone and everyone. you can find things that fit your mood, your fitness level, the amount of equipment you have at home, you name it.. you can find something. check out all the fitness video topics!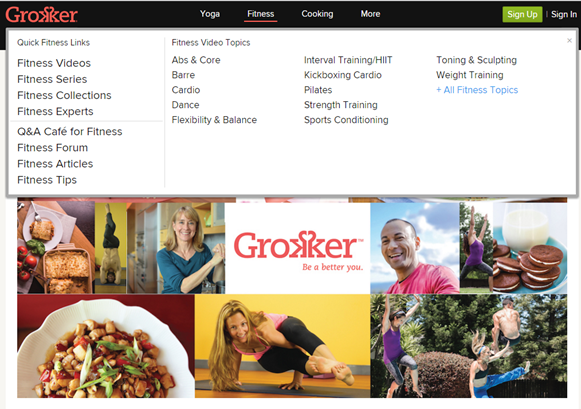 the videos range from under ten minutes to over an hour. like i said, there is such a wide variety. all videos are full length, expert led, and high-quality. it's like you bought every single exercise, yoga, and cooking DVD out there and dialed them into a searchable database. it's fantastic.
the videos are informative. they are made by professionals that educate you while bettering your fitness level. getting professional fitness advice in the comfort of my own home is really appealing to me, considering where i am in life and how much time i have to go places. i always have to have fox in tow, so knowing i can do this stuff at home and have the same resources i would have at a gym is really cool.
also, there is an online community to interact with. the expert instructors at grokker will answer your questions, share advice, and offer motivation. you can also engage with grokker users, who are like-minded enthusiasts from over 170 countries worldwide!
everyone wants to be fit and healthy. but we all have a different agenda. now that my agenda has changed dramatically since i was a regular gym-goer, i have had to find a new path to finding my fitness. having this at-home option is going to be awesome for me. i know you can find stuff online on various blogs or websites, but having this one-stop-shop that is searchable and caters to what i need, when i need it is legit amazing! i am so excited to utilize it!
if you want to give grokker a try (and you seriously should) you can sign up here for a free 14-day trial. additionally, if you decide you love it and want a membership, you will receive 40% off the premium membership price by using this link. give it a try and see if you love it as much as me… and let me know what workouts or recipes you try!
check out grokker today. you can find them on facebook, twitter, instagram, pinterest, and youtube. or, if you are ready to give them a shot, head to their website for your free 14-day trial.
Qs~
1. how has your path to fitness changed over the years? how do you stay fit right now?
2. what are your thoughts on at-home workouts?
xo. janetha g.
This post is sponsored by FitFluential on behalf of Grokker.
Comments submitted may be displayed on other websites owned by the sponsoring brand.