heyo! december seventh.. how did that happen?
guess what?! i took a vacation! like, a real life, week-long vacation. i never take vacation these days, so this was a pretty big deal for me!
the monday before thanksgiving, my mom, marshall, fox, and i boarded a plane for sunny san diego. we were heading there to spend the week with my sister & her family AND my brother & his family (they recently relocated to san clemente.)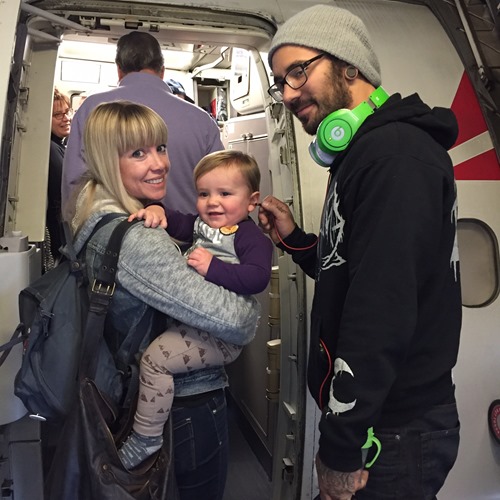 i was super nervous about the flight, because fox is so wiggly and active, but he ended up doing really well! he slept for about 40 minutes, and spent the rest of the time going from lap to lap between us all. luckily we had a whole row for him to move back and forth between.
we didn't waste much time once landing in cali. we met up with the fam in san clemente, and headed to state beach to soak up some sun and play in the sand. it wasn't the warmest time of year, but it was still wayyyy nicer and warmer than utah! fox absolutely loved playing on the beach with his cousins.
that night, we had a delicious meal from guicho's. my sister and i shared two dishes: the tortellini and the pesto. i guess i suck at food blogging, because there isn't a photo in sight of either dish. but if you go there, GET THE TORTELLINI! so good.
the next morning, we ate at stacks in dana point for brunch. kind of a long wait, but well worth it! my mom and i split two dishes: eggs benedict (added avocado, obvi) and the florentine scramble.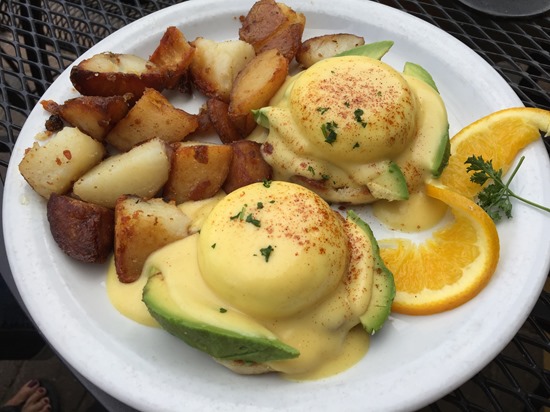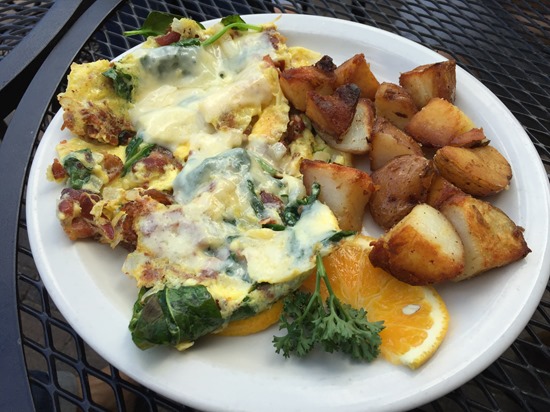 the potatoes were crispy and tasty. both egg dishes were awesome, but i preferred the benedict. good stuff.
fox loved his pancake.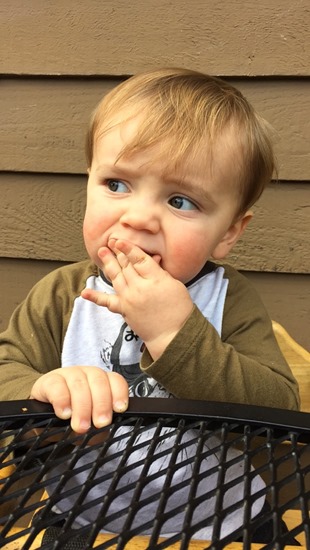 later that day, my dream came true when we went to the volcom employee warehouse. the company my brother works for also owns volcom, so he was able to get us into the store for a special shopping trip! a little background.. i was obsessed with volcom from the age of about 11 to 25, and then my obsession tapered off greatly. but i used to HAVE to wear volcom EVERY day. my sister made volcom things for me each year for christmas. a quilit, a pot, a mirror, the list goes on… this was back when volcom stuff was hard to come by, so her making all that stuff was pretty rad. now days, it's trendy and everywhere, but i still hold a special spot in my heart for volcom. we shopped for a couple hours and i got lots of fun stuff for myself, marshall, fox, and some christmas gifts. thanks to my brother for hooking us up with the appointment!
that night, the whole fam headed to poche burger & kitchen for some dinner. i had the avocado burger and added mushrooms. super good! i loved the presentation, such a cute lil' basket for the fries.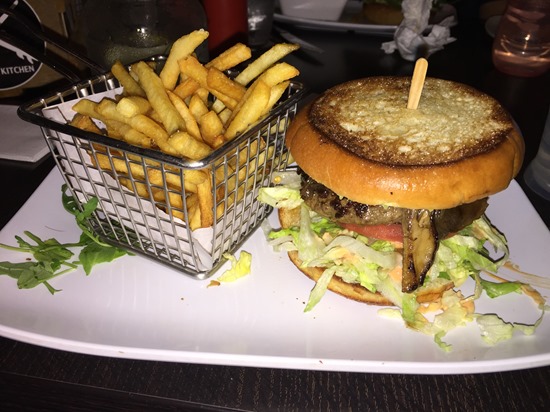 wednesday morning, we watched my brother kite surf at the beach for a bit. there was a little playground and the kiddos had fun.
then we went to lunch at board & brew. i LOVE sandwiches, and this was the highest rated sandwich shop in san clemente, so i had to try it! i had the baja chicken and it did not disappoint!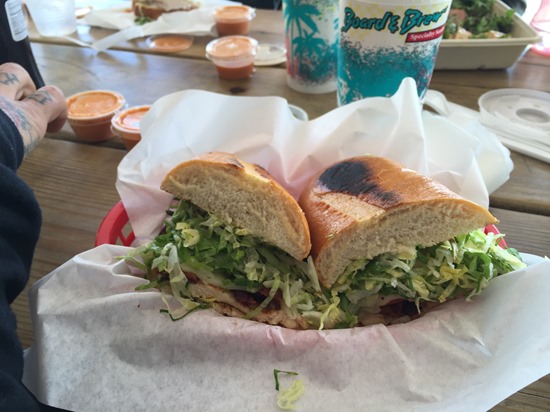 my dad got into town that night, and we had the older kiddos look after the littler ones, so all the adults could go out and enjoy some mexican. we headed to fidel's in solana beach. i had a chicken quesadilla and it was giant… but tasty.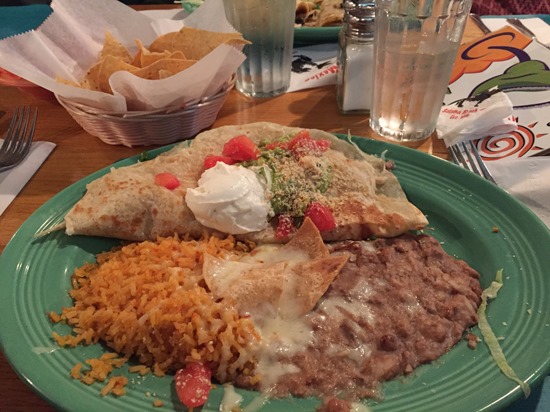 it was fun to have all the adults together, minus my other sis and her husband.
thursday was thanksgiving! every morning of the trip, fox woke up at 5 am or earlier.. (yep…) and thanksgiving was no different. luckily, his cousins didn't wake up too much later, and they had a good time cuddling on the couch and watching daniel tiger. did i tell you that fox's head is still off the charts percentile-wise? well, it is.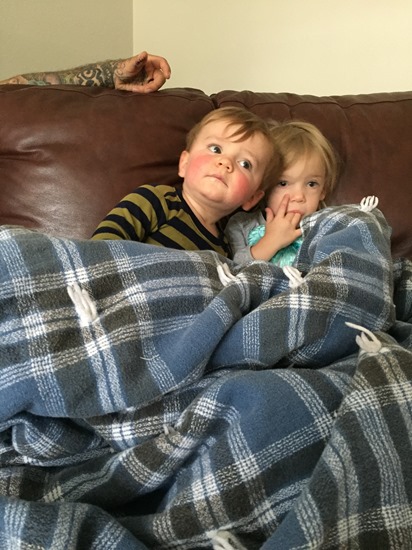 thanksgiving morning/early afternoon was spent cooking and lounging. we did a puzzle, watched some football, and fed the tortoise some flowers.
it was fun to get everyone involved in the meal prep… my nieces and nephew are great helpers in the kitchen!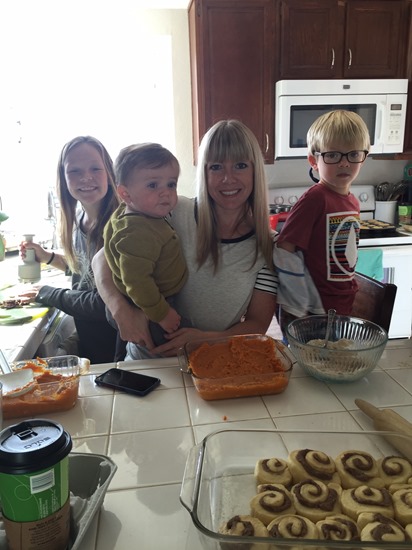 momma b did a great job on the bird, as usual!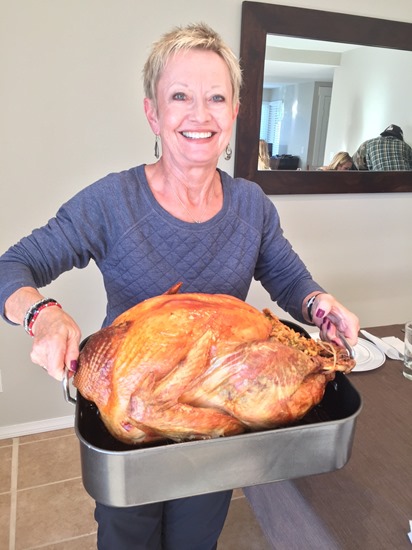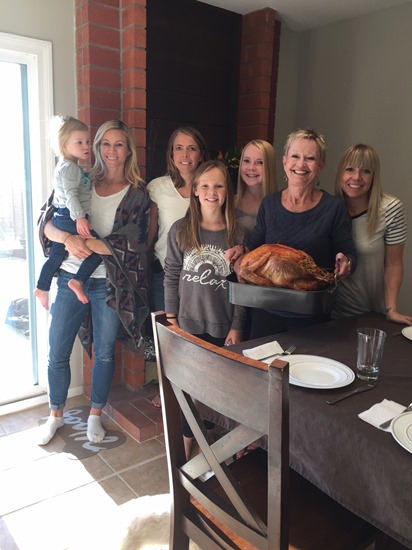 i love thanksgiving food! (so much, in fact, that i made my mom make us thanksgiving food again yesterday so i could have leftovers haha.)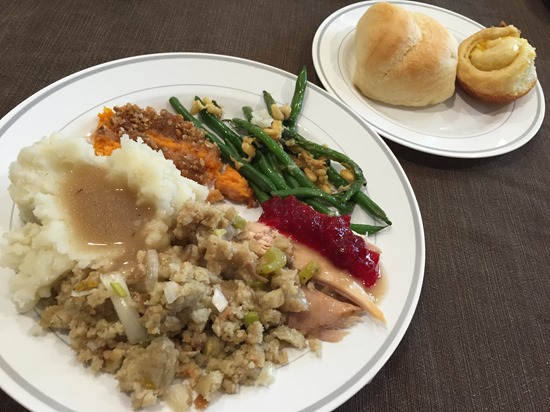 after our feast, we spent time playing bingo, pogo-sticking (i suck), and watching more football (sad, packers lost.)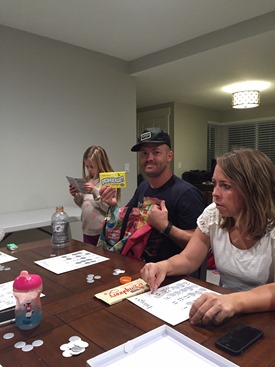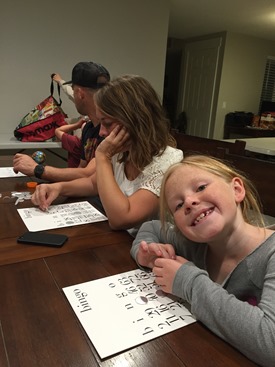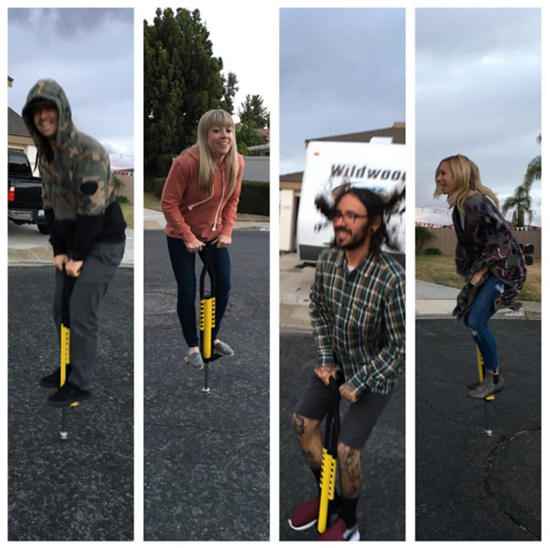 such a great day! so much to be thankful for. especially my fam.
friday was spent at the san diego zoo! i didn't take many photos, but i will say the red panda was my favorite creature.. so cute!  the regular panda was pretty dang adorable, too.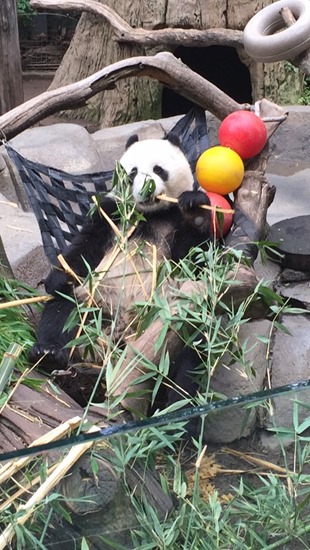 fox slept the entire time. well, almost. i would say 87% of the time.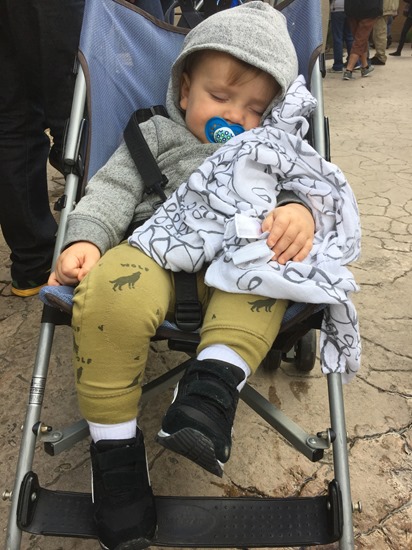 it rained a tad, but not for long. we had lots of fun!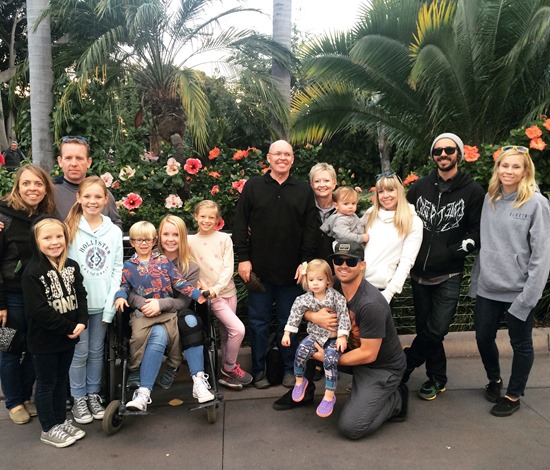 saturday was our last day in cali, and we went to carlsbad for a short visit. we ate at the pannikin, one of the spots i tried (and LOVED) back in 2007. happy to eat there again, and even got the same thing.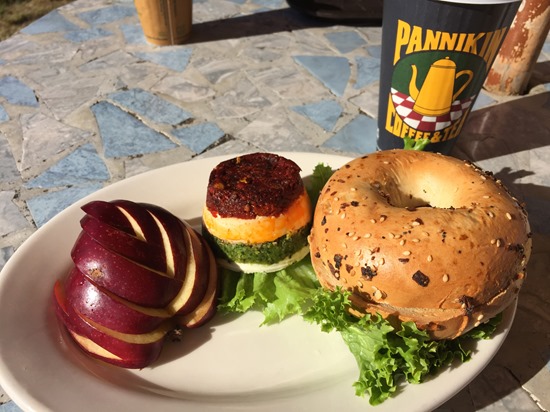 we had a little spare time, so we headed to the nearby beach and let the kids play in the sand.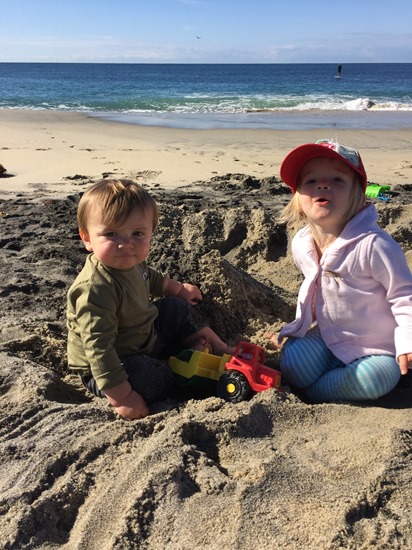 fox loved it, and kept trying to charge into the ocean. the kid needs to live in cali.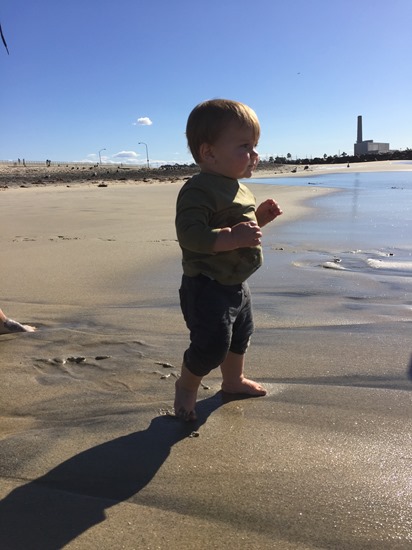 we had one last tasty meal at blue water before heading to the airport. i wasn't too hungry, but i had a kid's fish & chips and it was good!
unfortunately, our flight was delayed about 90 minutes, but we survived. fox took a nap on the airport floor, and then he actually slept the whole flight home. success! i think flying around bedtime is the way to go.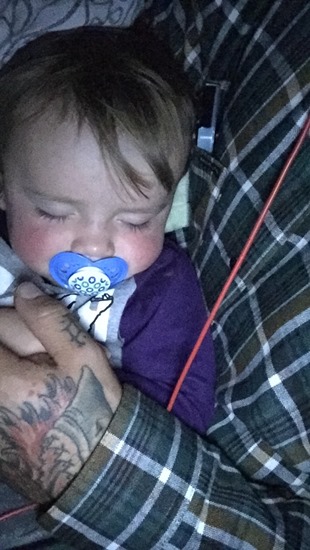 it was SUCH a nice little vacation. i already am missing cali so much. it's hard to have half of my family live there, but at least they live close to one another, and it's a fun reason to visit sunny california. it's my favorite place to go! i am sure it won't be too long before we head back to visit again. especially since when we landed in utah, it was cold and snowy! sigh.. 'tis the season, i guess.
and now… it's the christmas season! hooray!
Qs~
1. where/how did you celebrate thanksgiving?
2. where is your favorite place to visit?
xo. janetha g.