hey! happy monday. is that an oxymoron? i wore my monday shirt (from zara), just to let everyone at the office know how i felt about showing up at 7:30 AM after a jam-packed weekend.
it's so weird, some weekends i have literally nothing planned, and i complain about how bored i am. and then i have weekends that are nonstop, and i am just sitting there wishing for another day to be lazy on the couch. i swear there is never a happy medium, haha.
but no complaints here about the busy weekend, because it was all fun stuff and i would love to ramble about it!
first off, on friday, amanda and i went to a cool consignment sale called just between friends. i had never heard of it, but apparently it's a nationwide thing! it's basically a gigantic, organized yard sale with a jillion people contributing their items.
it was a little hard with fox with me, because he isn't a fan of sitting in his stroller for long.. but i did manage to find some cute, name brand stuff for him and for jessica's kiddos. it was all just baby, kid, and maternity stuff. clothes, toys, gear. so if you have a kiddo or you are pregnant, you should check out their website to see if there is a sale near you. there is another utah one next month, and i plan to go! (without fox next time, ha.)
saturday morning, jess and i had plans to go to the harvest festival at thanksgiving point. those plans shifted from the morning to afternoon, because fox decided to be totally out of the ordinary and take a 2 hour nap! of course, on the day i am off and want to play with him. that's how it goes.
once he was up and at 'em, we picked up jess and stevie and headed down south to the festival. we weren't sure what to expect.. but it was basically a few vendor booths and a slew of GIGANTIC pumpkins! so, naturally, we tried 2357 times to get a good photo of our kiddos on said pumpkins. here is what we ended up with…
they are so dang cute. i love that my best friend has a kiddo fox's age!
oh, and fun fact that jessica told me.. they carve out those giant pumpkins and have boat races! how fun would it be to paddle in a pumpkin?! hilarious.
afterward, we headed to a new-to-us restaurant for lunch. have you guys ever eaten at zaxby's? it's all things chicken and it was actually really tasty!
i had a plate with wings, chicken fingers, fries, and toast. i also got some fried cheese balls because, well, cheese.
later that day, marshall and i headed up to park city to hit up the gap outlet. we were in search of halloween pajamas for the little dude. i had initially bought some off their website.. under the baby boy's section.. but they were actually girl's PJs. ghosts with pink bows.
good thing i know a little lady i could give them to! we ended up finding a couple cute sets for our guy. can't find the halloween-y "boo" ones, but we also got this spider set. creeeepy!
my brother and his fam were up in park city as well, so we met up for some dinner and big plans to ride the alpine slide. we ate at el chubasco, an authentic mexican restaurant in park city. failed as a food blogger and didn't take a photo.. but i had three tacos: carnitas, chicken, and carne asada.  they have an INCREDIBLE homemade salsa bar. that right there is the main reason you should go.
they also had awesome homemade horchata.
we headed up to park city resort to go on the slide.. only to find out it closed 20 minutes before we got there! huge bummer. we made the most of the nice evening and played around and chatted. they are moving to california next month, so it was nice to spend some time with them while we still can. :(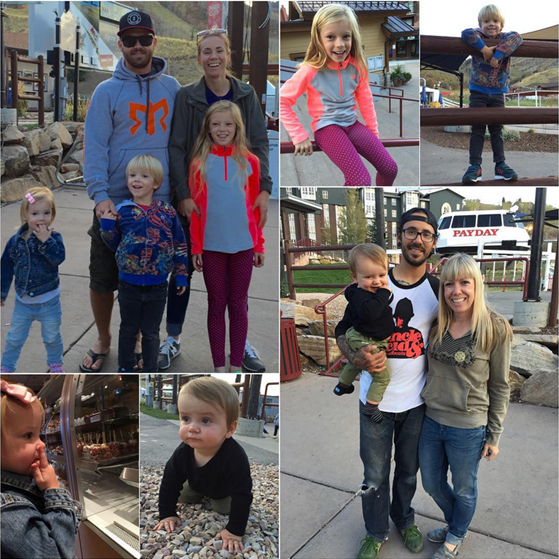 sunday brought more fun with oktoberfest. it's something i look forward to every year! here are a couple pics from the past..
last year.. omg TINY BABY FOX!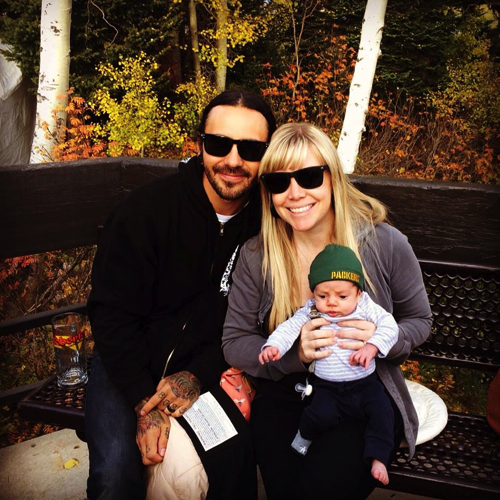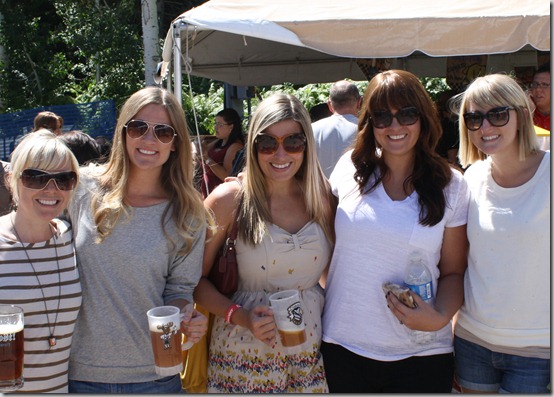 and seven years ago!
this time i left the boys at home and headed up with some friends. it's just so hard to maneuver a stroller up there, and marshall wanted to watch football, anyway.
the highlight was definitely this schnitzel i ate for lunch. i swore i took a photo of it and.. well.. nope. weird. the warm potato salad it came with was amazing! i need to find a recipe for it!
it's so pretty up at snowbird this time of year. all the leaves are changing and the mountains are beautiful. i need to make an effort to go up the canyons a few more times before winter hits.
i hope you all had a fun weekend, as well! back to the grind for another work week. can't believe it's going to be october on thursday!
Qs~
1. what was the last new-to-you restaurant you tried? how was it?
2. do you have any fall traditions?
xo. janetha g.