should we talk about boobs today? yeah? ok.
so, one thing that happens when you get pregnant, have a baby, and nurse that baby for a year is your boobs go through 2,734 different sizes. glamorous, i know. my boobs have gone from an A to a DDD and everywhere in between over the past (almost) two years. (crazy to think it's been nearly two years since i found out i was pregnant with fox. it's such a distant memory.)
my poor boobs. they've been through the wringer.
i was recently contacted by title nine, the popular apparel company for women, to try out their sports bra fitting service as well as one of their awesome sports bras. obviously i was very eager to join this campaign, because i have zero clue what the proper size of sports bra is after almost two years of fluctuations.
here are a few things i learned about the company upon joining this campaign:
title nine was founded in 1989 and has 23 locations across the united states.
they are evangelical about women's participation in sports and fitness activities!
they believe that a great bra is the foundation of a fit woman's life and that your two best training partners are the right shoes and the right bra
they have tested, worn, designed, and rejected thousands of bras and have found the ones that fit and work.
now, i had heard of title nine before—but i had actually never visited their website, let alone their store. in fact, i didn't even know there was a location here in utah! it's nestled right in the heart of the adorable 9th and 9th district.. i can't believe i'd overlooked it all these years!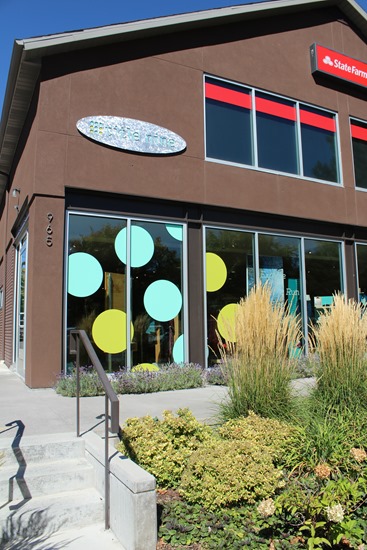 something else i didn't know about title nine, that i learned upon walking into the bright, open, showroom, was that they carry all sorts of brands! i always thought title nine was the only brand they carried. not the case!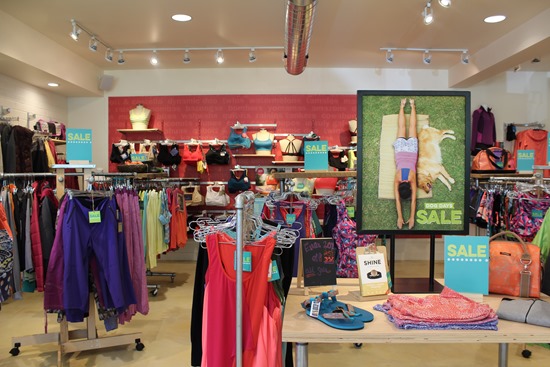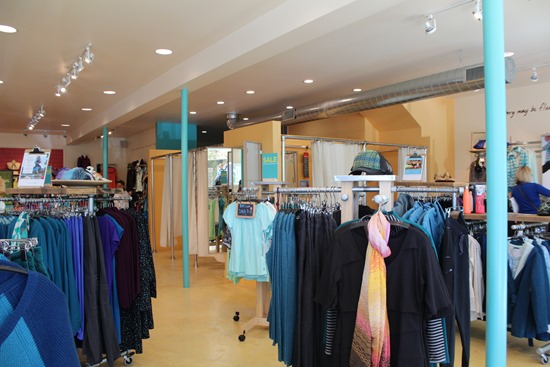 i was immediately greeted by the cheerful staff. they were ready and willing to help me with all my bra fitting needs!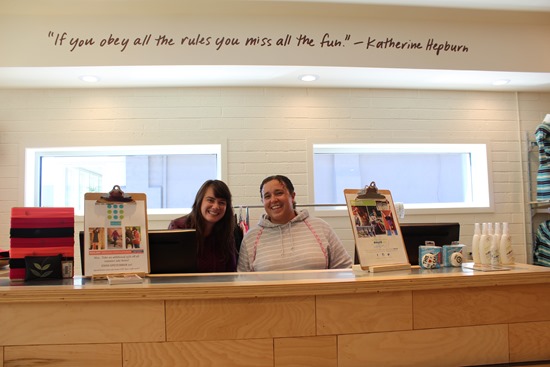 like i said, there are lots of different brands available at title nine, so i was welcomed with a large selection. to be honest… kind of an overwhelming selection!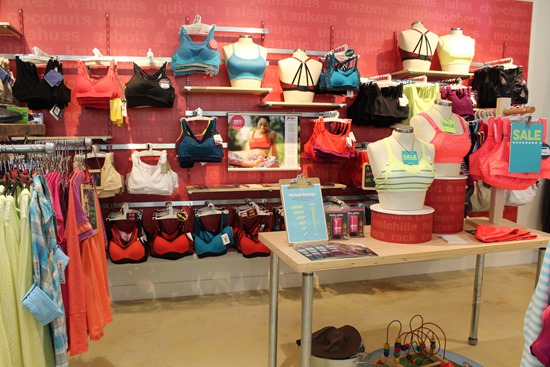 i have shopped at several exercise apparel stores, and never have i been offered to be custom fit for a sports bra. i feel like title nine has something special going for them with this service. i mean, we go to running stores to buy shoes from the running experts, why don't we go to the bra experts to buy our sports bras? 85% of women are wearing the WRONG size bra! that's crazy! everyone needs to get measured.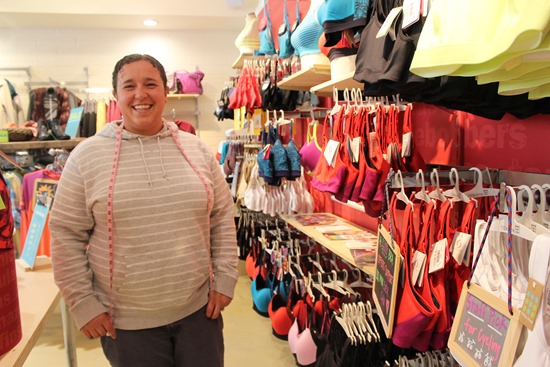 the representative was incredibly helpful and knowledgeable. she did a typical bra measurement with the tape (for band size and cup size) and then we got to talking about their barbell system. kind of a cute way to determine how much support you need in a sports bra. one barbell=laying on your couch thinking about exercise (haha) and six barbells=the most high-impact, high-intensity workout you can imagine. needless to say, i didn't need a six barbell bra.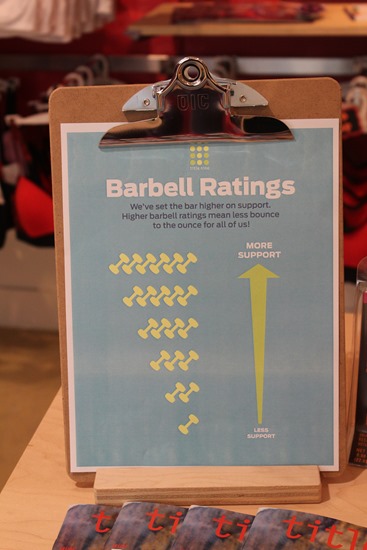 once we determined my size and the type of support required, it was time for the fun part of picking out bras to try on. the bras were conveniently sorted in order from one barbell to six barbells.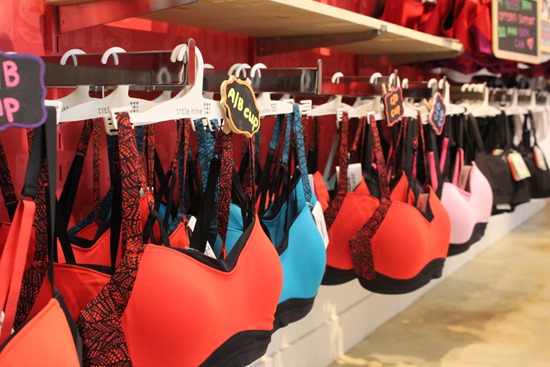 we picked out some bras for me to try. there were a lot of options, but they were easily narrowed down by process of elimination. i didn't want underwire, i didn't need a ton of support, and i really liked a soft, seamless fit. since my boob size is still kind of fluctuating (i still nurse fox once a day), i fell somewhere in between a C cup and a D cup. i was happy to see several options that were sized as an A/B cup or a C/D cup. perfect!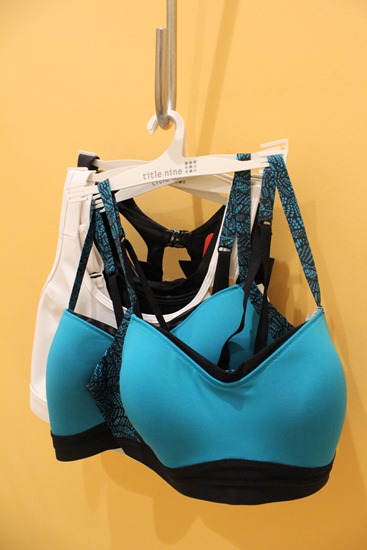 nursing moms will appreciate this 3-reasons support bra they showed me.. the straps unhook from the front for easy nursing access.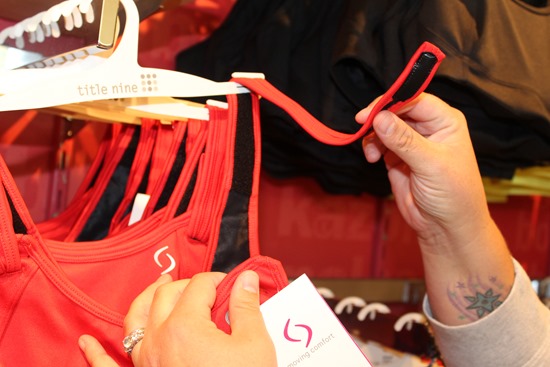 pretty handy, huh?!
once we had some candidates picked out, i headed to the dressing room. i appreciated this handy guide hung inside the room. it was helpful to check all aspects of each bra when trying them on—knowing what to look for in order to find a perfect fit.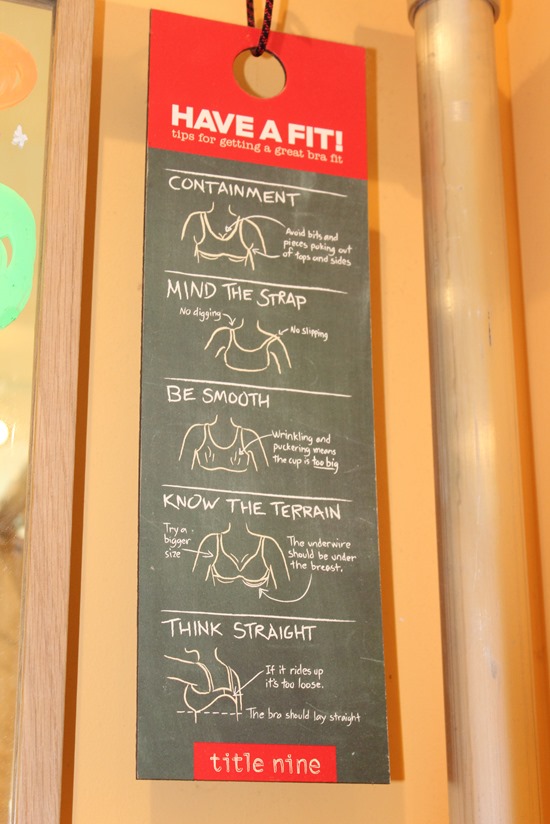 i tried on all my options, but quickly realized what i loved and what wasn't my favorite. for example, i am really not into the double closure back on the left. it felt too confining. and i also didn't love the thick straps of the white one on the right.
i guess i am more of a sports bra minimalist. probably because i am more used to not having big boobs, and only recently have had to deal with them. i used to not wear a bra any time i could get away with it!
i ended up trying the form first bra and really loving it!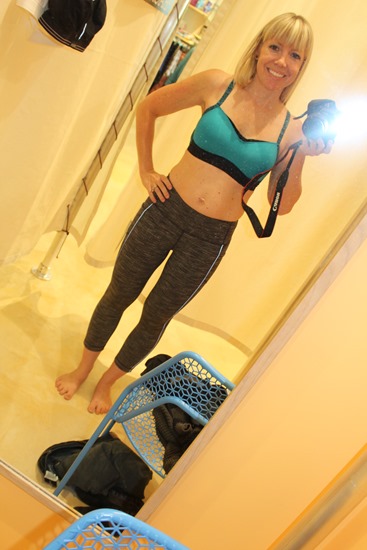 the seamless design and thin straps were two selling points for me. plus, look at the cute back—you can wear it two ways!
oh, and did you know—when trying on bras (any bras, really) you should try it on on the loosest setting? this is because bras tend to stretch over time, and then you can use the tighter clasp settings as they stretch. good to know! i never had thought about it and, to be honest, usually tried bras on using the tightest clasp setting.
i was thrilled with my selection and—wouldn't you know it—getting a new sports bra last friday motivated me to get my butt into the gym over the weekend! yep. first time i've been to the gym in months. thumbs up and high fives all around!
i kept it simple with a 20 minute HIIT routine on the treadmill (body for life style).. basic, but very effective. and a great way to try out my new sports bra.
i am happy to report that i loved the sports bra, it supported my ever-changing boobs just perfectly, and it was comfy and not confining. i also wore it another time to run errands (because i prefer sports bras to regular bras) and it was seamless and stylish enough for that task, as well. great bra, all around.
to get a custom bra fitting yourself, find a title nine store near you. not to worry, if you don't have a title nine in your area, you can use their bra genie online fitting service! it will walk you through a series of questions to find the perfect bra for you. and if that still leaves you with questions, the helpful bravangelists are available for an over-the-phone bra fitting. they are SO knowledgeable!
i also wanted to mention there is a 360 guarantee on their bras! if, for some reason, the bra is not right for you.. return it within a year! you can get an exchange or a full refund, no questions asked. that's stellar service right there.
of course, title nine is awesome and has offered up a free bra to one of you! to enter to win a gift card for any bra of your choice off their website (or in their stores), enter using the rafflecopter below!
oh, and one more thing to remember…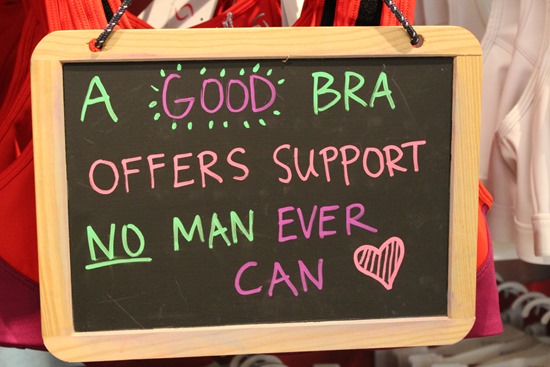 haha!
good luck on the giveaway!
xo. janetha g.